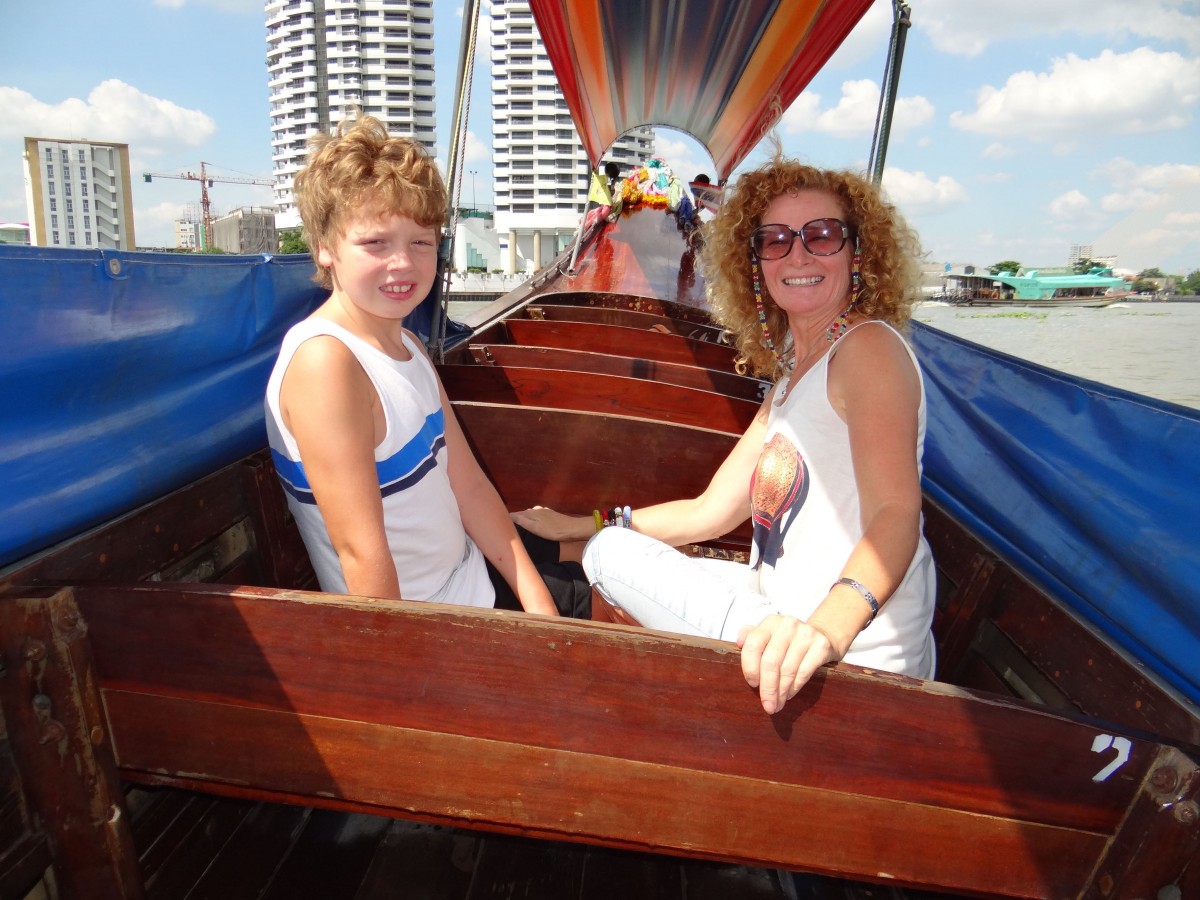 What is a Long-tail?  It is not a long tail of a monkey. Nor has it to anything to do with the long tailed reptiles that lie on the banks of the rivers in Thailand.
As we are in Thailand we will tell you just what they are soon.
But first; did you know Bangkok is known as the Venice of the East?
Where canals used to be more popular that roads?
Where houses on stilts were suspended over the water, and where locals could literally step outside and catch their dinner?
On our recent trip to Bangkok, Thailand we wanted to explore how the locals lived, and get away from the concrete jungle that can sometimes swallow up tourists caught being eaten up by 'the shopping monster that never sleeps'.

So we decided to organise a customised private tour.
And on this occasion we wanted a little luxury and to have it 'all to ourselves'.
A lovely chauffeured and air-conditioned vehicle, and some comfort and style.
So we were pleased we went with Buffalo Tours.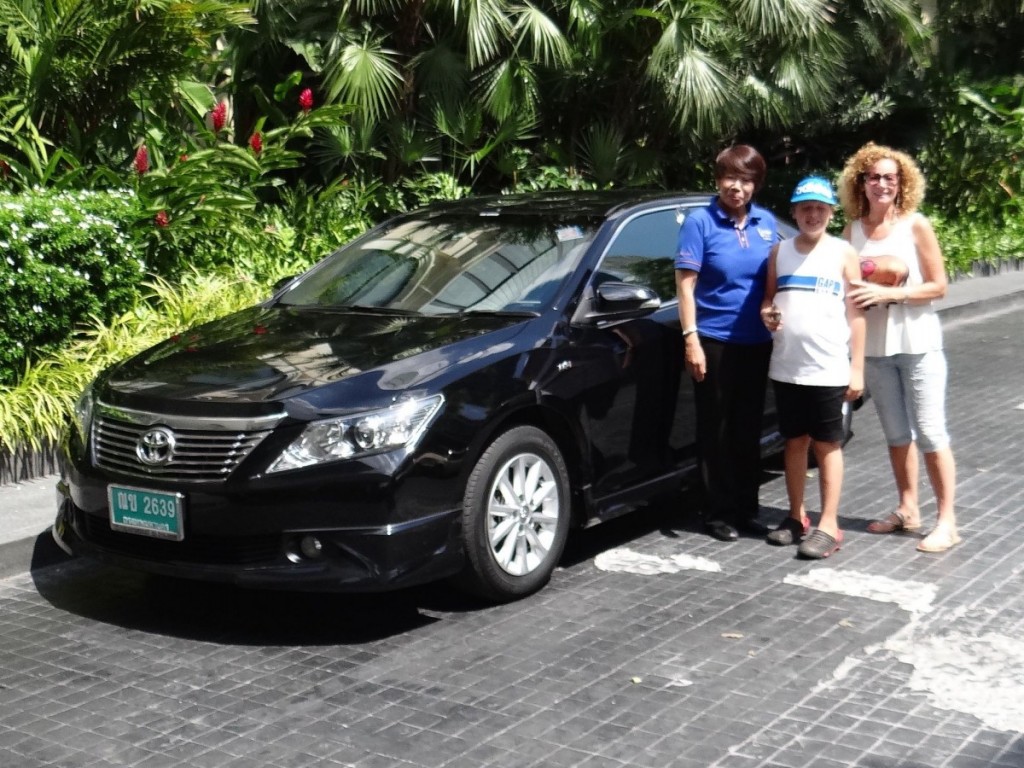 And we want to go on a Long-tail.
So you might ask "what is a Long-tail ?

A long-tail is a motorised boat.  Traditionally made of wood, with the body of the boat being narrow and long.  These long-tail boats are colourfully decorated with flowers, and these days mainly used by tourists to explore the back waterways and canals of Bangkok.
Now they have a motor, but in days gone by, things were not so sophisticated.
We had driven about 30 minutes in fairly hefty traffic to get to the pier where we were to depart.
Because we were on a customised private tour with Buffalo Tours, we had a long-tail boat all to ourselves.
And our guide had organised for us to be dropped at the exact location. There was no long line in a queue, and we had a lovely bottle of refreshing drinking water waiting for us.
We motored along the river, past Wat Arun (currently under restoration), and many other temples and famous Bangkok landmarks.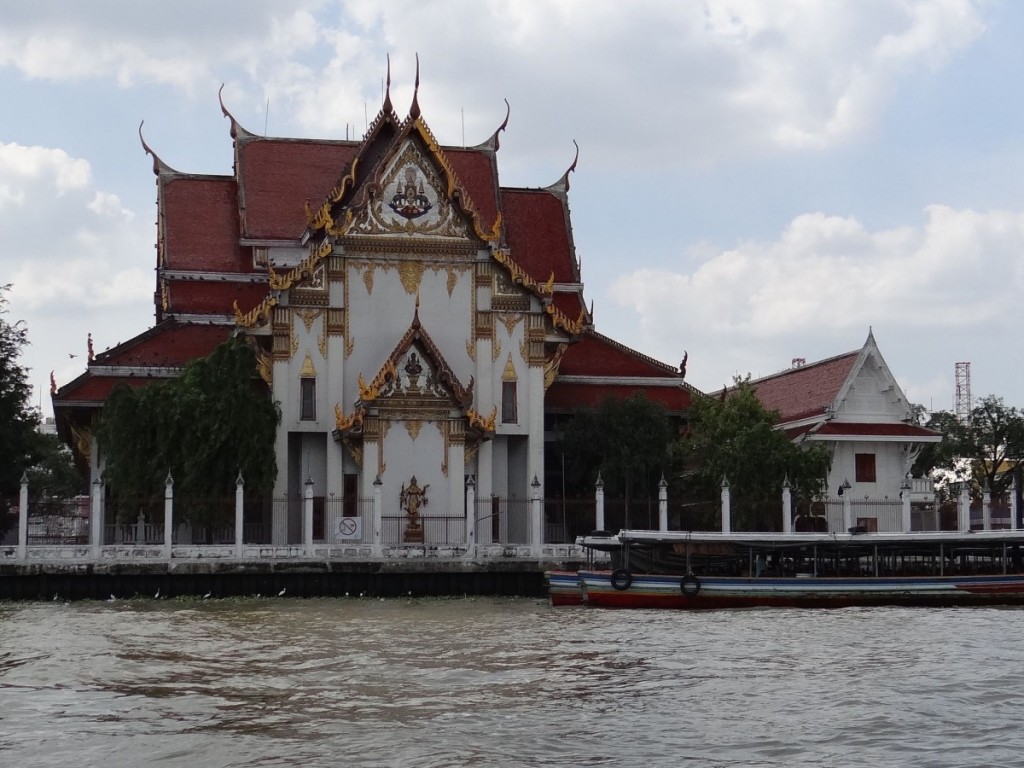 It was early in the boat trip, but already we found it to be a really interesting tour.
I liked it when we turned off the river, and entered the canals.
As these canals narrowed, the local houses became more plentiful.
And we did spy quite a few of these beasts as we glided along the water.
Looking a little like a miniature crocodile, and commonly known as a Water Monitor or Varanus Salvator, these are some of the largest lizards in the world.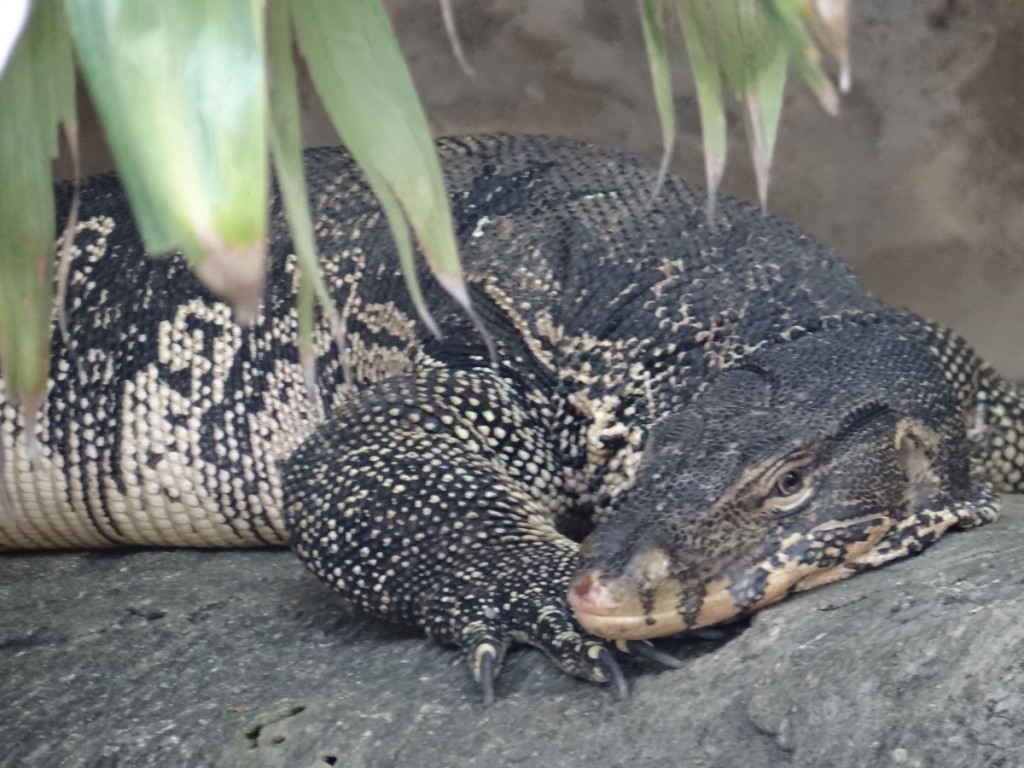 Along the way we met happy sellers paddling along selling their wares.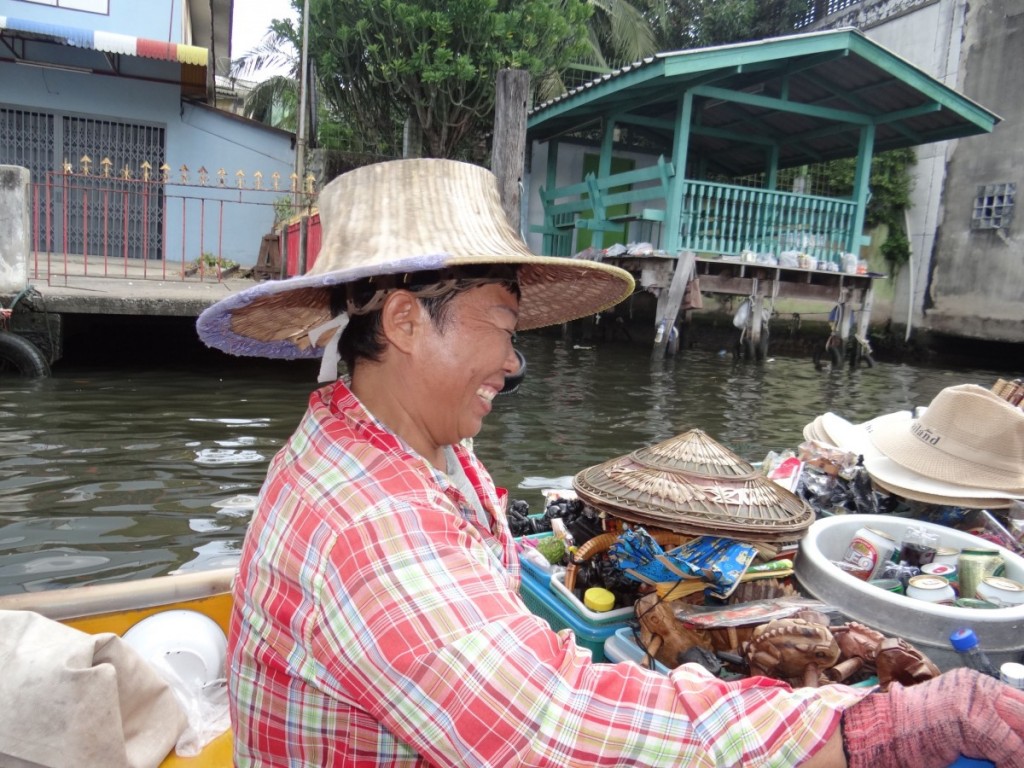 I loved the fact we could see right into the local houses.
One of my favourite moments was finding these children busy at home in their 'kitchen' – really the room area is shared.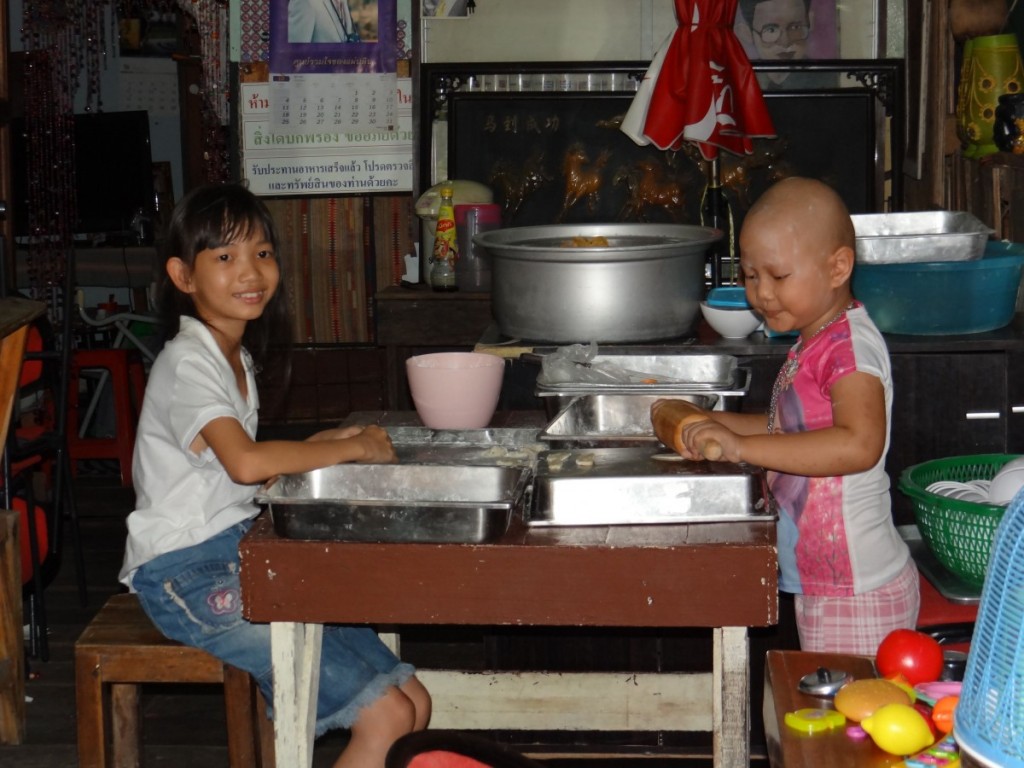 It was school holidays, so we watched as several boys jumped off a bridge into the canal.
The long-tail boat then stopped and we climbed onto some wooden walkways that seemed to 'string the houses together'.
Here we entered a local community. It was an Artist Village.  In Thai it is called 'Baan Silapin' in Klong Bang Luang (which is translated to English as Artist Village).
This once struggling local village now experiences a boom in tourism. Most days there is a traditional Thai puppet show, and this attracts a myriad of both Thai and international visitors, and school groups.
It is a mixture of legend, drama, and some fun too.
The performers bring this traditional style of puppetry alive, and also make it fun.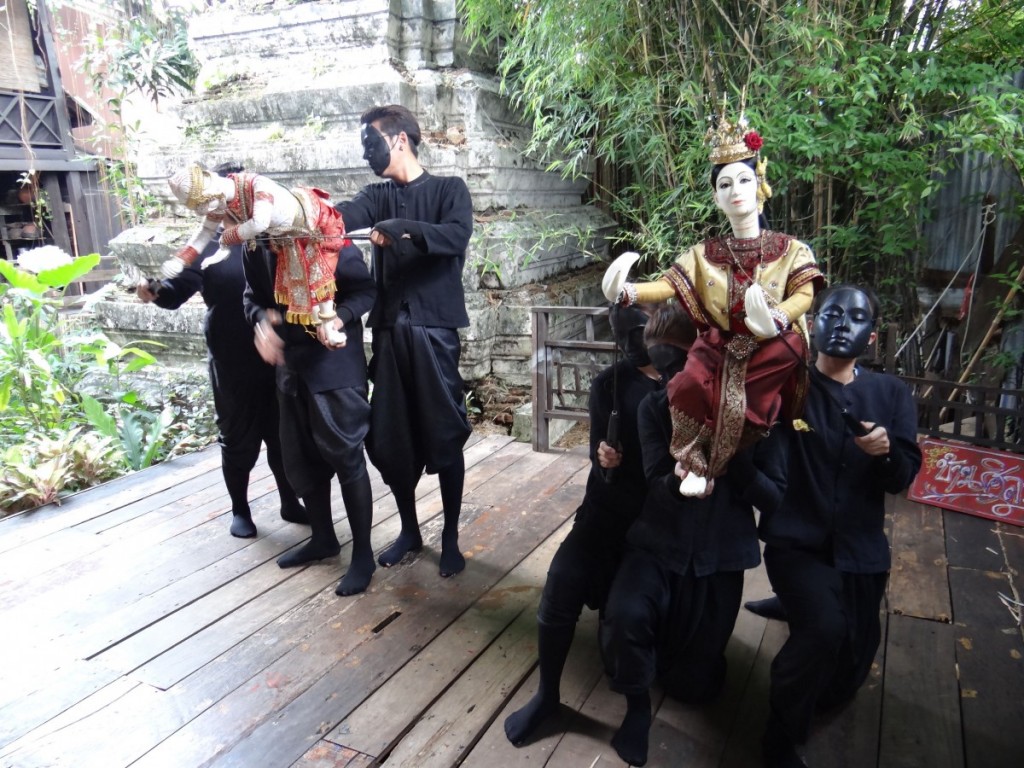 They involve the viewers; both adult and children, and there is a chance to meet them at the end. I seem to find the monkey to be very cheeky!
There is no charge for the puppet show. Tipping is encouraged throughout the show, and also if you would like your photograph taken with them.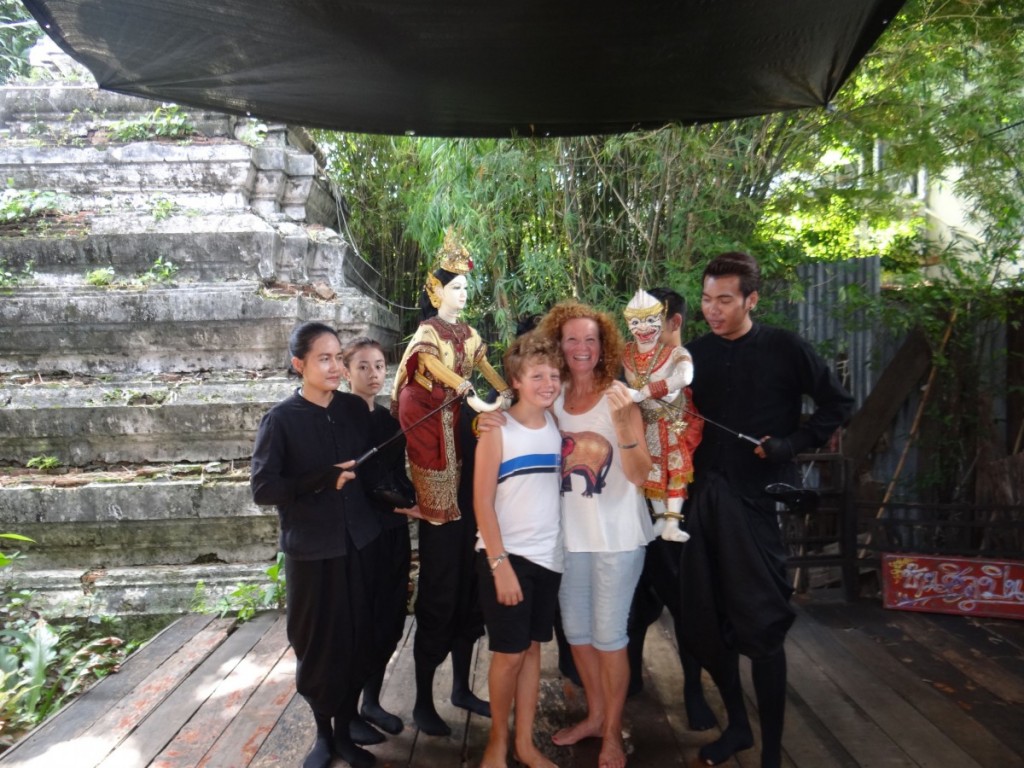 Because this is an artist studio, it supports local artists, and there is a quirky aspect to the old temple stone area.
One interesting feature is that there are bags of what look like brightly coloured snacks being sold.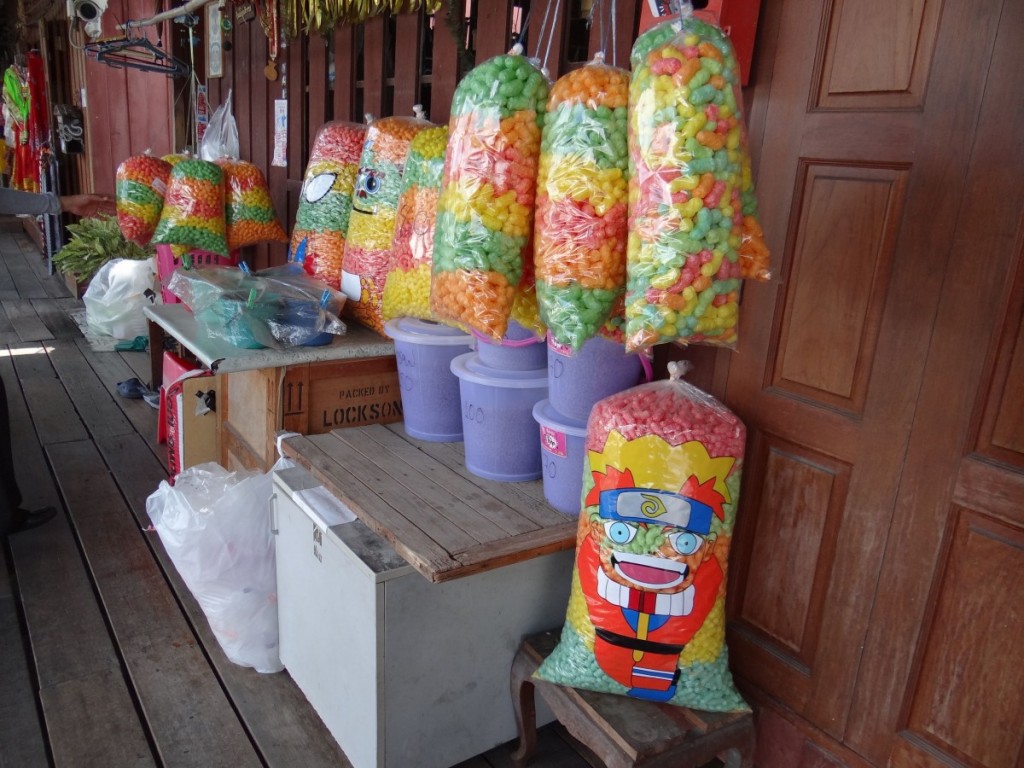 Explorason decides to purchase some.
We find out it is fish food.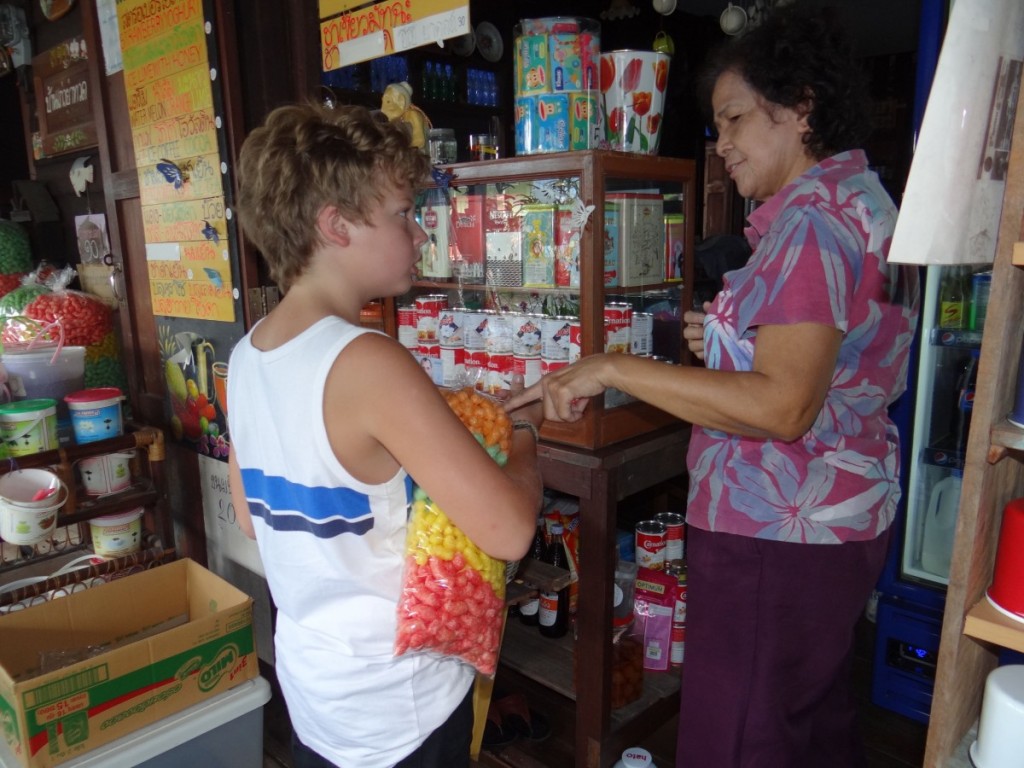 I am amazed that as we feed fish, people are boating, and swimming in the same water.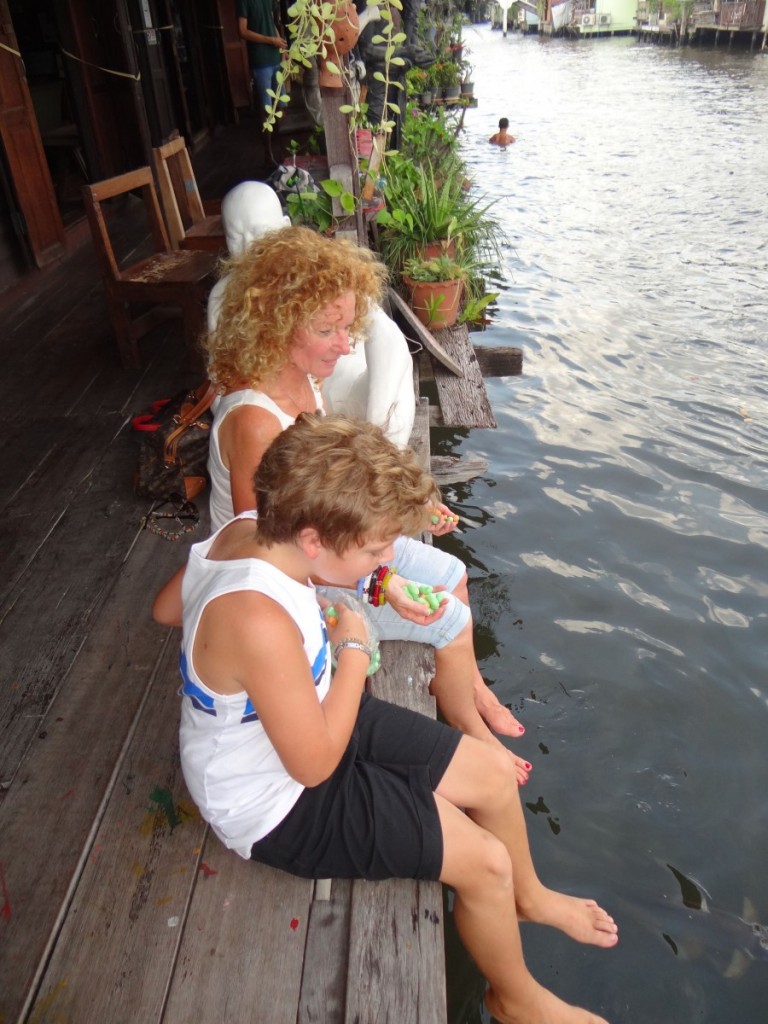 Three male models also shared the decking with us.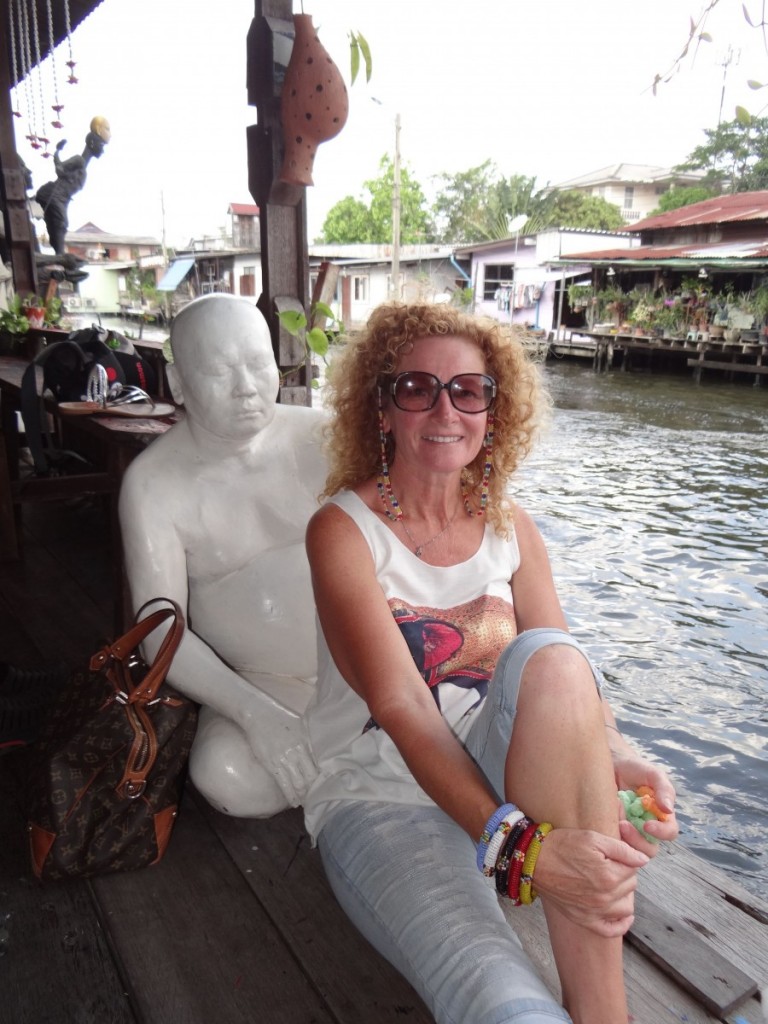 As we walk back to our long-tail boat, we talk to a lovely older lady.  She invites Explorason to have his photo taken with her. He needs to get on her level and not stand over her, or touch her – this is respect.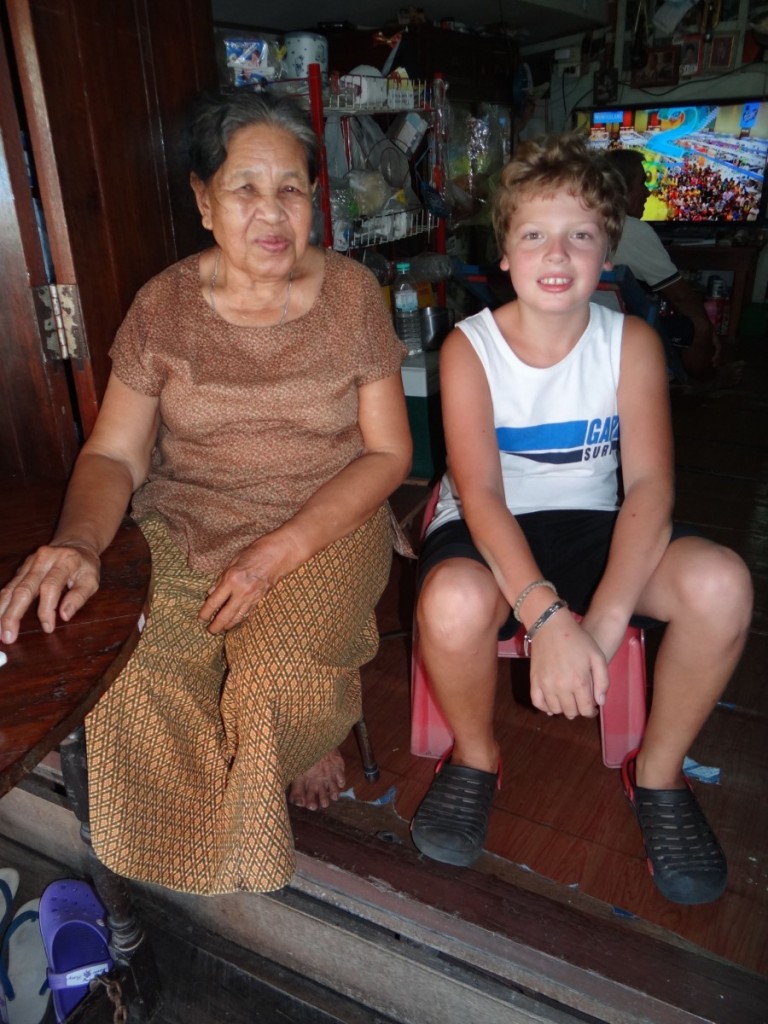 As we head back, we have really enjoyed our afternoon.
So, if you'd like to experience a long-tail boat ride for yourself, please contact Buffalo Tours.
We were well looked after, and it was extremely professional from start to finish.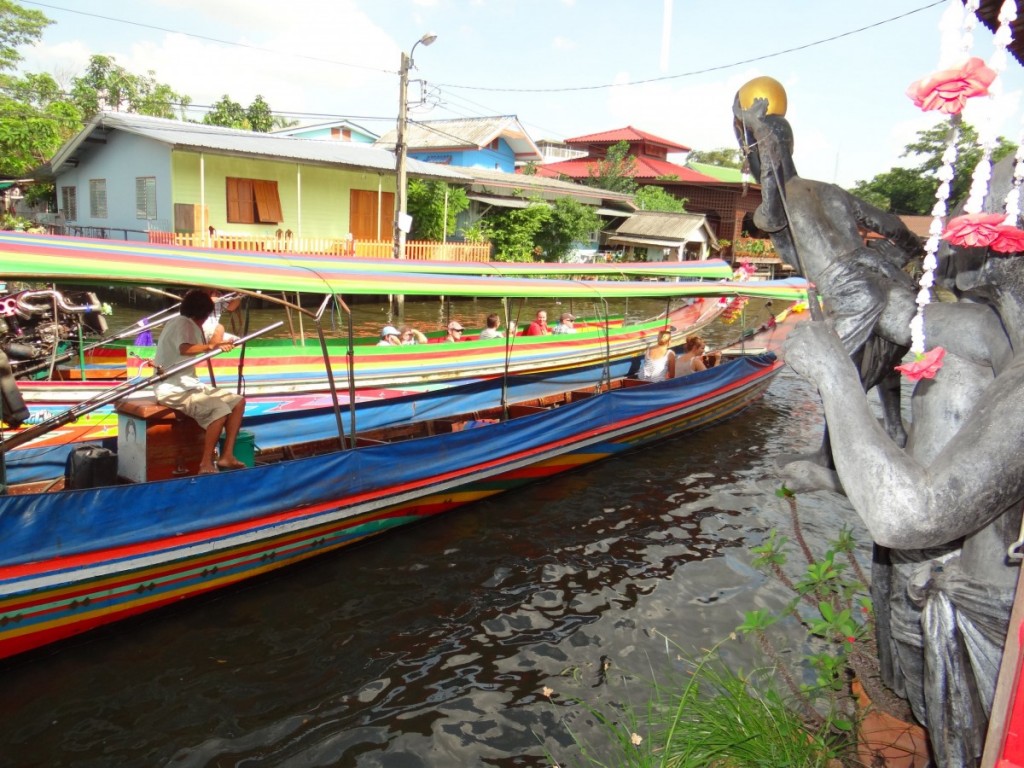 For more information about this tour: Bangkok Canal Tour Artist Village
For more information about Buffalo Tours:
please visit their website: www.buffalotours.com
Call +66 2245 6392
Email: info@buffalotours.com
Please read our Disclaimer here
Disclaimer: This post may contain Affiliate Links, Sponsored Content,