Honestly, "what is the craze with Virgin Australia Airlines?"
Most people have continuously asked me this question not only because I am Australian, but also because I have had an opportunity to sample a number of airlines over the past many years.
Well, we wanted to find out, and so booked our flight with them from Melbourne to Adelaide on our recent return to Australia.  I only like to give positive reviews whenever I can that assist our readers in selecting the best airline for their family needs and so after our experience with this airline, I am convinced that what makes it the talk of the town is simply the way it has embraced modernity.
Someone might now be wondering what modernity has to do with an airline's rating. Don't worry; you are about to understand its relevance in a moment. As we proceed, please keep in mind that modernity is directly linked to the numerous fleets of new planes that the airline has.
So, here are the five effects of modernity on Virgin Australia airlines:
Safety of Passengers
Through its inclusion of new planes into its operations, passengers are assured that their safety is very important to the airline.
I am not an expert when it comes to mechanical issues, but one thing I know is that new planes can be safer than old ones. The possibility of mechanical breakdown while the planes are on air is significantly reduced since the engine is perfectly new and all the components within the plane are more advanced to handle any challenges.
Modern planes are always necessary when taking long flights across continents since they can handle such without any major issues. As a passenger, safety always comes before comfort. So that is why I started with it when considering flights with Virgin Australia Airlines.
Economy
An airline that has so many new planes is always likely to offer the best economy flights.
Without a high-level loyalty card, most passengers always expect airlines to care less about them. However, this is not the case with Virgin Australia Airline. Through my interactions, I have met numerous people who have talked about the satisfaction they got from the airline.
First, they were not directed to some old shell of a plane, but something they considered to be decent and very modern. While you will never expect economy flights to get to the standards of business class flights, they the airline still understands that every passenger needs to feel appreciated and very much valued.
This is why economy flights are well managed just like any other higher class flight.
Seating
Leg space is something that most people consider when booking flights. It is something that can never be overlooked particularly when going on long trips.
When there is enough leg space between seats, it means that passengers can easily stretch on their seats without any barriers. It is worth understanding that planes always have adjustable seats to allow travelers to adjust them to angles that are more appropriate for maximum comfort.
I have however been on flights that had little room for adjusting the seats since the passenger behind is always complaining of being squeezed and it affects their comfort when they are sitting for a length of time or trying to eat of work. This is a terrible experience since you get to your destination feeling too fatigued and moody.
It is something that as a single parent, I have never wished for my son as he grows longer and lankier.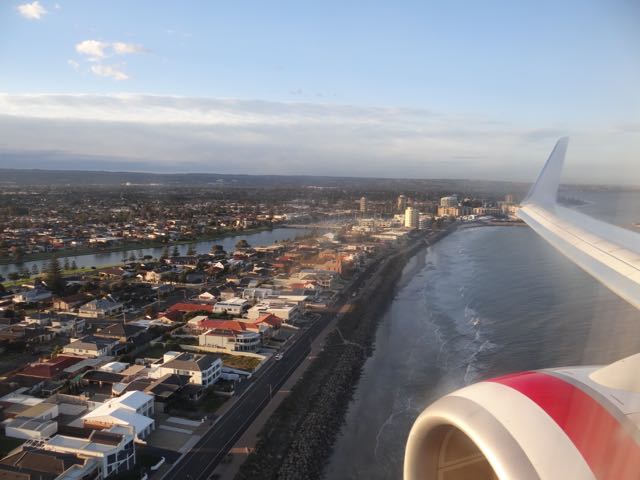 ©Exploramum and Explorason – Virgin Airlines Australia – flying into Adelaide over Glenelg
Comfort
Comfort is not just based on the seats but on how well the plane handles turbulence. New planes tend to have seats that are more comfortable since they have not been used for a long time.
The planes also use latest technologies that allow them to easily and smoothly handle turbulences while in the air.
This means that those who are deep asleep never have to keep waking up in terror. It simply means that passengers can enjoy the comfort of their seats without any major interruptions especially if on a longer flight.
Meals
Is there really a relationship between meals and modernity? My answer is yes. I have been on many flights and what I have realized is that classy flights serve classy meals while less classy flights serve less classy ones.
Since the airline has embraced modernity through its introduction of new fleets of planes, it has equally ensured that the meals it serves to passengers are of high standards and of different varieties.
You are always sure that the galley area within the plane is clean, spacious and modern to handle the meals prepared and served to passengers.
Questions to our readers
Have you ever flown with Virgin?

What was your experience?
Talk to us through the comment section below.
http://exploramum.com/2016/07/checklist-international-travel.html