Kissing the Blarney Stone and visiting the Castle
We have flown from Miami, the USA to London, and then onto Ireland.
What a blessing to be collected from the airport by two lovely people we have never met.
We stayed with friends in Brazil. She knew a lovely Brazilian – Irish couple, and they invited us to stay.
What's more, we got lost on the way to the house and asked a Brazilian – UK couple directions.
They now work in missions with the Brazilian – Irish couple.
And so here we are, staying with the Irish lady's parents.
Yes, staying.  Two total strangers have us into their home, and have cooked us a lovely warm dinner, offered us our own room with a warm and cozy bed, and now after a lovely breakfast we have been dropped to the Blarney Castle to go exploring.
We joke we have brought the Miami sunshine with us.
Ireland has had a tornado recently, and many fields are flooded, rivers have burst their banks, and houses have been damaged. Their weather has been bleak and wet.  So it is nice when we wake to see snow on the hill out in the distance from the kitchen window and to see the blue sky.
So off we head in the cold, (and it is very cold to us) to kiss the Blarney Stone!
The gardens are glorious.  The Blarney castle is privately owned and so it is a big strain on the family who has had this passed down from generation to generation to maintain the premises. They also own the Common in Blarney.
They have allowed areas to explore, which is wonderful.  The walls are damp and green.
We wander past the tower and I already am smiling, and can hardly believe I am here.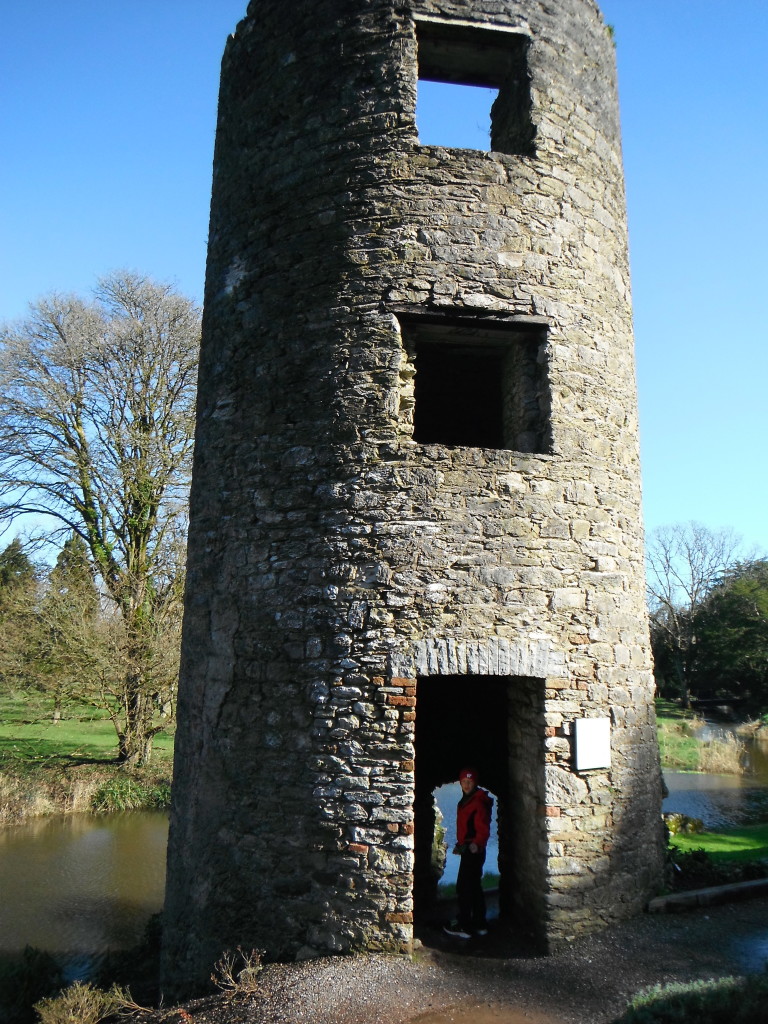 There is a lot to see in and around the castle, so if you go, take a few hours to make sure you enjoy the experience.
We head up toward the Blarney Stone.
Legend has it that if you kiss this stone, you get "the gift of the gab", or fluency of speech.
I am a talker, so doubt I need this, but I joke that I might need a bit of help, as I am speaking at a meeting on Friday night here, so I will take all the help I can get.
There are several rooms to visit on the way up. There is also an up and down staircase now. Previously there was only one staircase, and it could take a long time to wait for people to go one way.
We don't have much of a wait.
I do ask them to clean the stone, so they use an antiseptic and wipe off old lipstick, and hopefully any germs and I am lowered down for 'the kiss'.
Well, it is scary!  You hang upside down and although there are bars stopping your fall (Previously there has been a fall) it is still very nerve wrecking to hang upside down.
Next is Explorason's turn.
He nervously hangs there.  The 'holder' takes his job seriously and hushes the crowd so he stops panicking.
He gets a cheer when he blows his kiss Not sure it was a lip-smacking experience for him?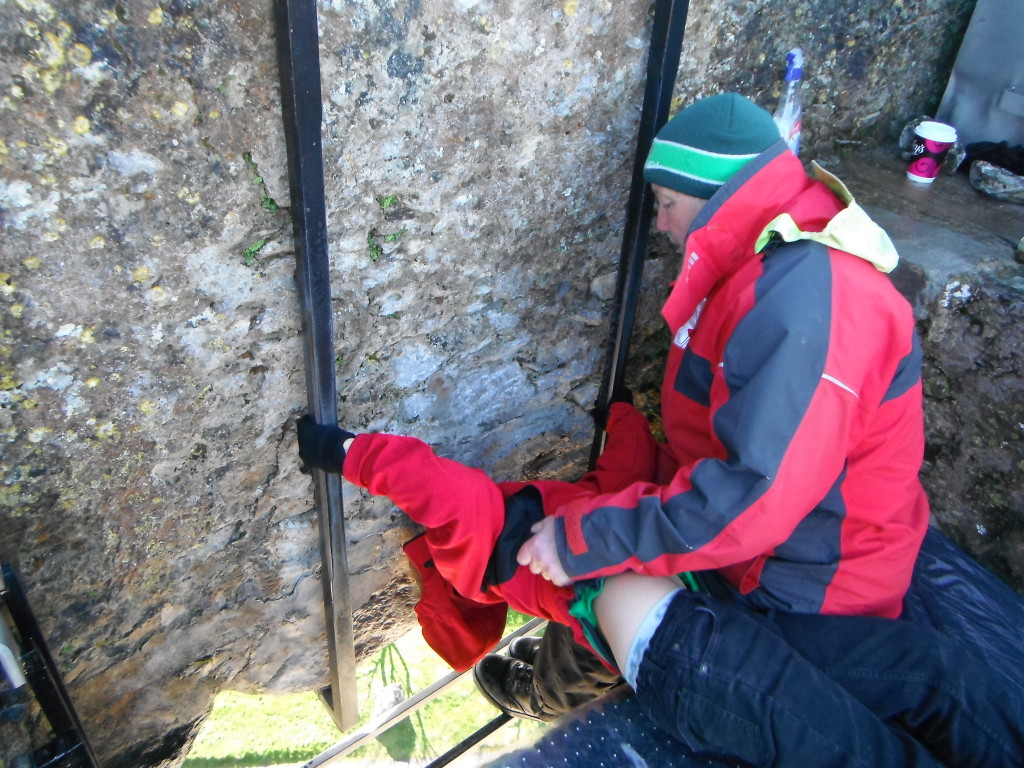 I leave with somewhat numb lips that taste incredibly "antiseptic".  Is that a word?  Probably not, but that is how they feel and taste.  So we head to the other side.  The view over the area is pretty gorgeous.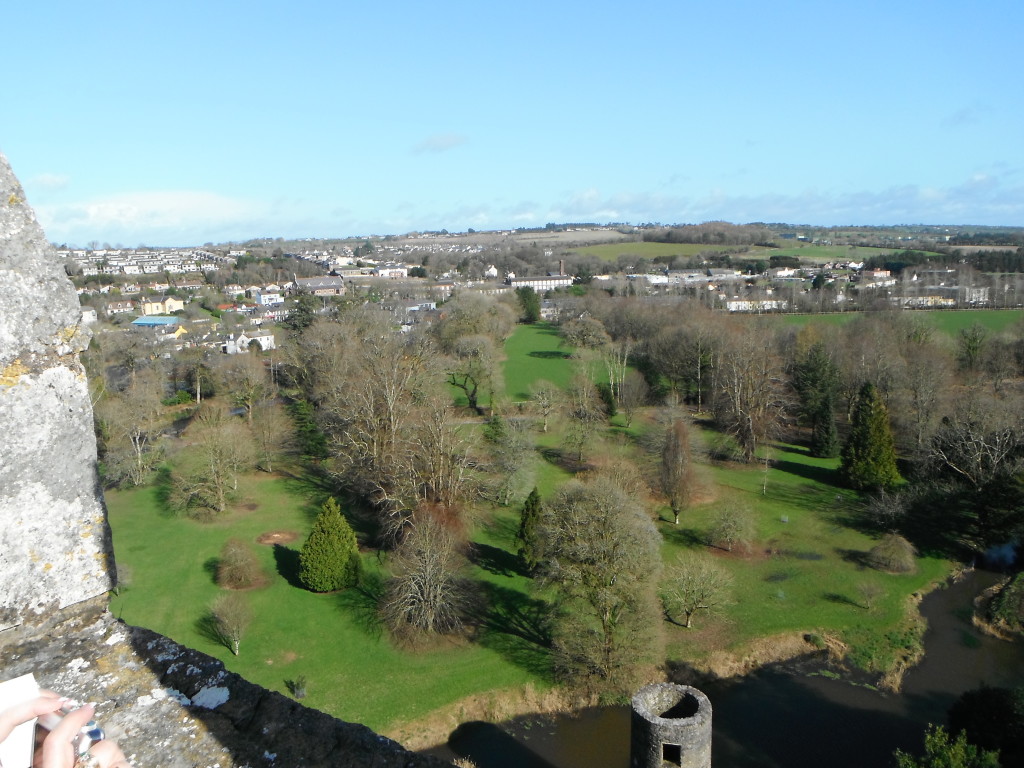 We continue to explore up and down staircases to other rooms and towers on the way down.
The weather gets a bit overcast, as we head out to the grounds.  Lovely wooden seats are all around for those who need to sit and enjoy watching as heads bob up and down above, kissing the stone.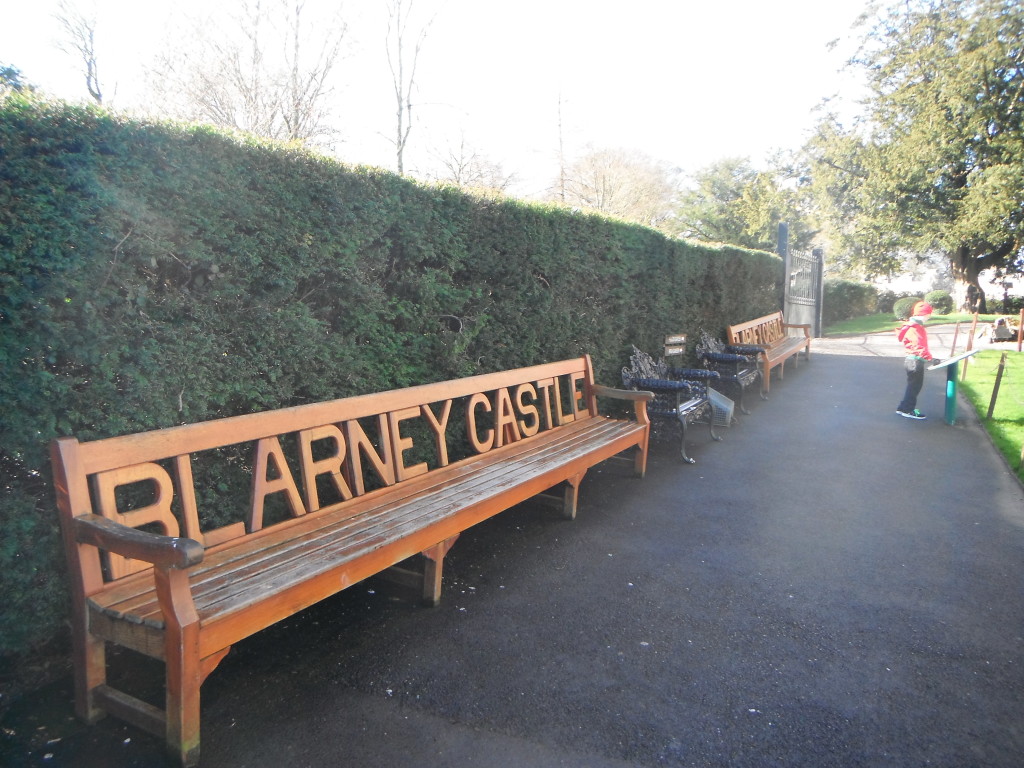 The cap above is where the Blarney stone is.
We then visit the poison garden.  I am amazed at this garden.  It is filled with plants you would never see normally.
What a great educational place to take children.
Behind here is a marijuana plant, and so we stop and talk about that.
A friend has 2 of her three adult kids in rehab, and the other one heavily involved with Marijuana, so it is a good time to stop and talk about drugs.
Many poisonous and drug plants are in this garden. So we have the opportunity to broach a subject we normally would not be talked about.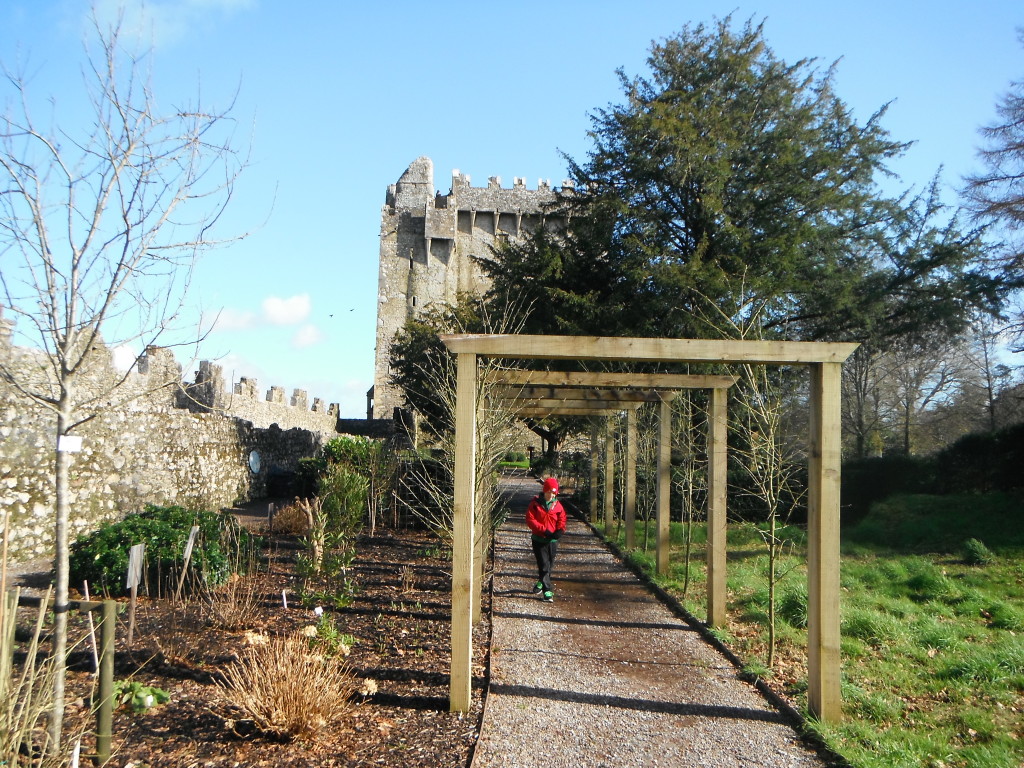 We leave the area and head to the other side.
First, we must wait for a rain shower to pass, so there is a lovely area where the coaches and horses were kept, and it is turned into a great cafe, along with an open fire. A perfect place for tea and scones.  I'm glad we stop there, as inside they have pictures of some famous rocks in another garden area, and I think many would miss this.
One is where they say may have been home for our Irish ancestors.  It is joked to be the witches kitchen!
Next is the Witches face in the rock. Can you see it?
Many place money and make wishes here.
There are also many other stones related to Druids and witchcraft, and making wishes, and it gives my son the creeps and we take off.
We head over a stone bridge and as the sun peeks out again, the reflection on the water is glorious!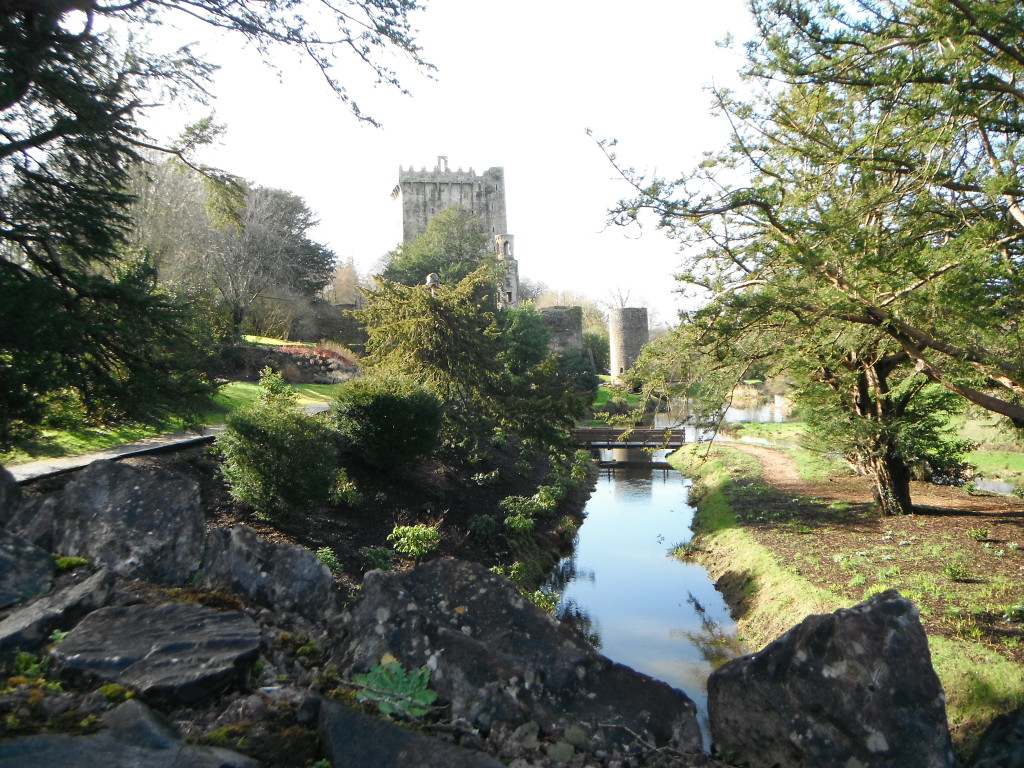 As we leave, I spy crocuses popping up in the lawns of the grounds to the castle.
We really enjoyed our time at the Blarney Castle.
Please do not miss it if you go to Ireland.
For me, it is a highlight of our world journey.  Maybe because it is the first Irish castle I have been in?
I don't know.  I know I am smiling and very happy!
We head across the street and find an English Pub.  A nice hot soup works for me.
I'm really, really happy to be in Ireland 🙂
Questions and Comments
What has been the most adventurous place you have visited?
Have you been to the Blarney stone?
Do you know the history of the blarney stone?
Do share your comments with us below.