Mother's Day is here and Brazil is not left behind as the world celebrates this special day.
Our House sitting Accommodation
Our
house sitting home
overlooks the distant shores of Rio De Janeiro. It is just an amazing view and we are so far enjoying the stay. Though it is windy outside, we can't help but still insist on having our breakfast outside by the pool at our
house sit
. We want to enjoy every sip and bite as we admire the million dollar view.
We later head off from Ponte Negra on our little motorbike along – with a few gifts Explorason has chosen.
(The gifts are pre-bought souvenirs – some he picked without me seeing and I LOVE THEM, and a fab home-made card).
A Quick Stop
Our first restaurant stop is brief. The starting meals are about $70. There is no Pizza – after 6:00 pm – but they shut at 4:00 pm – go figure?
Self Service Restaurants Are Great
We end up in a little seaside town called Saquarema d' Albatross 'Self Service Restaurant' and enjoy a fabulous meal. There are great prices and the flower potted plant is my gift from the restaurant for being a mother.
Motorbike Challenges
Now I did say we are on a motorbike, so we have a new challenge! Meanwhile, my son swapped the plant with the staff for a yellow one – as that is the color of friendship. We knot the potted plant up in a plastic bag and 'live in hope'.
Beach Walk
We next head for a walk on the most beautiful beach. White sands, and just beautiful clear waters. We have no swimming clothes, so we will return another day.
We motor on up on our little motorbike onwards and up to the little church on the hill. We feel more like we are in Greece than in Brazil and it is just an incredible place.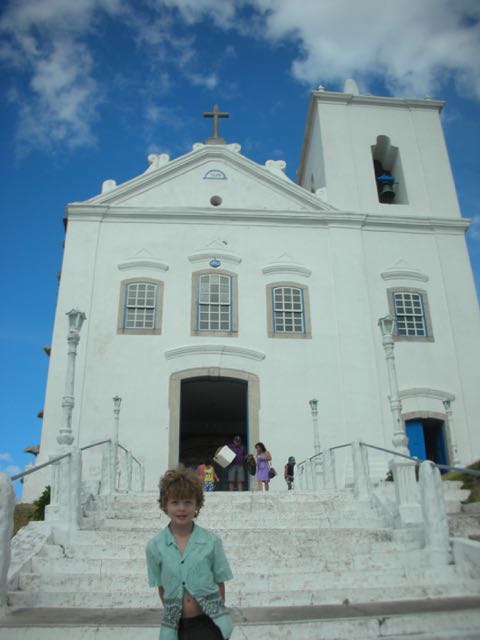 There are a LOT of steps and a LOT of "awe".
From every vantage point, this place is just gorgeous. I am shocked it is not on the 'gringo trail' or the tourist trail as there really are no tourists. Maybe because it is Mother's Day? But I just think it is beauty undiscovered.
Can I Die Here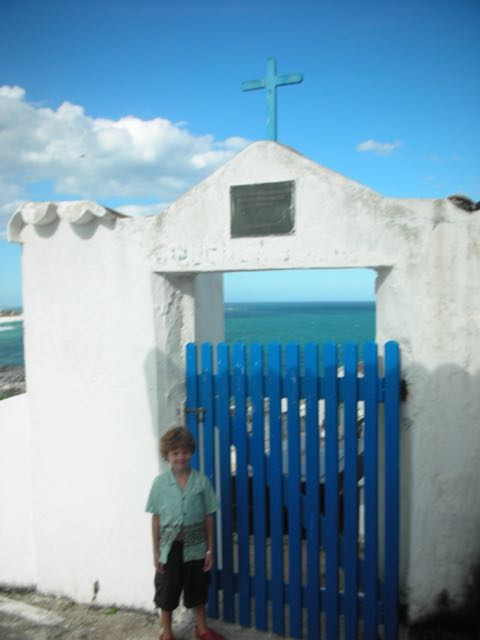 We spend ages wandering around. There is an area where the dead are buried. I say "yes please" as I could handle being buried here!
"I want this view when I am dead". Did I just say something so stupid? Really though, don't you think this is just like Greece?
Beauty Everywhere
We run around – the bays, lakes, and coves go in all directions and we love it here so much.
Remembering Loved Ones
There is a small room at the back with free candles. You can light a candle in remembrance of loved ones, and although Explorason is in the mood for having fun, this is important to me.
Now I am not Catholic, but my Mum died of cancer 15 years ago, and this Mother's Day I want to remember her – and my Nana. So we light a candle and we talk about our family history. It's super windy so we have to try to shield the flames with cardboard.
Photo Moments of Mother's Day
As we walk around, we meet two lovely Brazilian families. We do the camera swapping and I see how much further along the coast I want to see.
We then go around the corner and this reminds me of Granite Island off Victor Harbour in South Australia. The bluff and the rocks have such a similarity.
Sunset
We then ride back to where we are staying and there is a beautiful sunset which ends the day nearly perfectly. If you look carefully on a clear day you can just see Rio in the distance.
My son is so excited at the Mother's Day sunset. What a special day.
Gift Time
Explorason then goes in, gets on his knees and presents me with more gifts for Mother's Day.
These are things we gathered over the last 2 – 3 months in South America. Some he selected alone. I love the little Bolivian wind chimes.
I can't wait to decorate our new home – wherever that will be.
Update – Thankful Amidst Trials
I'm thankful for this nice time we can remember, as in that month of May it was a difficult time for us both (but especially my son) as we have some problems with our dog being cared for back in Australia.  We had to toy with the idea of returning to Australia to sort the matter out. But as the person caring for our dog has earlier in life had cancer (so we thought) and we were told this makes for brittle bones when they have an operation and talk of narcotics? Yes, the time in Brazil presented a situation difficult and stressful, and original arrangements we made seemed no longer agreed upon.
Questions and Comments
Do you enjoy celebrating important events to you at home or would you rather travel?
How do you find the balance between traveling, family and your career more so if you are a single parent?
Do share your comments with us below.