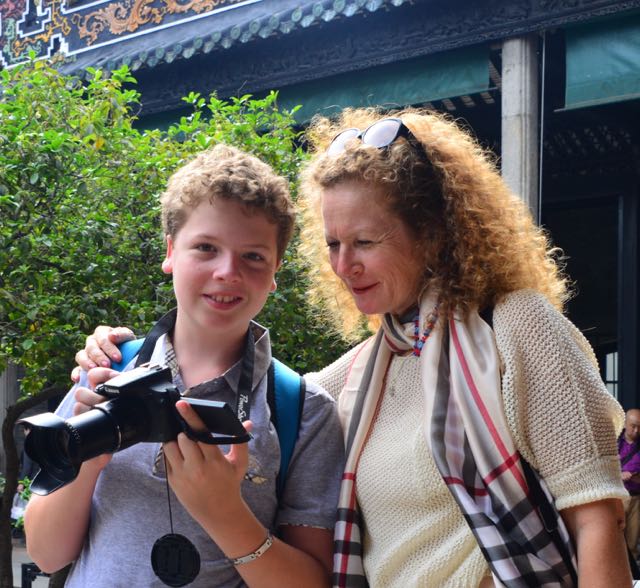 House sitting Resumé
Who we are
Professional and well respected house-sitting duo with many years of experience offering pet care and home care services for any clean and neat home.
We have traveled the world to many continents and countries and house-sat and offered pet-care as we travel.
I am a single 56-year-old mother of a 13-year-old son.  We love animals, and sold our budgie Valentino and arranged a petsitter for our Maltese Shihtzu Coco when we started our one year journey.
Sadly, 9 months into the trip we found out the petsitter advised us she was refusing to give our dog Coco back and told us to 'fight for her". She'd also bred two litters of puppies back to back and the got our dog desexed even when we told her not to.  It was a nightmare.  We offered to come back, have the dog shipped to us, or get a friend to go and get her but all were ignored.  Shortly after she cut all communication, and then moved, so we've never seen our Coco again.
On a more positive note, I've previously having owned several businesses, we offer a high level of care to the home-owner. We have really enjoyed the opportunity house-sitting gives us to have a "home" feel for a while, especially as we miss having our own dog with us right now.
I am currently promoting and explaining house-sitting for Housesitmatch.com as their Professional Housesitting Expert answering questions and explaining about house-sitting.
We have cared for a variety of properties and animals in a range of countries.
When you leave your clean and neat home with us, we will ensure you return to it as you found it, with care taken to ensure your precious belongings are well taken care of.
We do require written notification prior to accepting any housesit that will contain security and/or hidden cameras.  Also, if you will be having any person authorized to enter the property whilst we are house sitting (i.e. to check or collect items etc.), we do need to be advised of this prior to the sit.  We are responsible for your property and need to know in case someone takes an item etc.
We do not offer our services for messy, dirty or unkempt properties. Nor can care for animals that require serious medical care; are seriously ill; are incontinent, or frequent vomiters indoors. However, we are quite fine for the trips to the vet for medication, or grooming parlor etc if a vehicle is supplied.
House-sitting Assignments accomplished to date
AUSTRALIA 1990 +, Sydney, apartment, animals -no. G. W. – Reference
1990, Adelaide, home, animals: 2 dogs. S.C.
2008, Melbourne, home, animals – no. S. R. – Reference
2007 and 2008, Adelaide Hills, home, animals: 2 dogs. P & N. S. – Reference
2009, Adelaide, home, animals. B. D. & A. D. – Reference can be obtained if required
2009 and 2011, Adelaide country and lake holiday home, animals. J. S. – Reference
2009, Adelaide, home, animals: cat and dog. G. W – Reference
2012, Adelaide, home, animals: no. R.T. Reference can be obtained if required
FIJI 2012, Savusavu, home, animals: 2 cats. J.B. Reference
BRAZIL 2013, Rio de Janeiro, rental property home and apartment, animals: 2 stray dogs
Ireland 2014, County Mayo. country home. Animals: dog, cat, 10 hens, rooster, 5 ducks
England 2014, Newcastle, 2 story row cottage and allotment garden: dog, cat (shared house-sitting assignment). M.F. Reference
France 2014, France countryside Limousin, hobby 3 story farmhouse: dog on medication, 2 cats; cockerel; 3 hens; 3 sheep. Reference available
Italy 2014, Tuscan 14th Century Tower home, for two weeks, one cat and tending to the garden. Return housesit requested. Reference available.
Turkey 2014, Stone 2 story 18th Century remote country old stone cottage home, for 3 weeks. 24 – 30 animals – 1 huge aggressive male turkey; 8 female turkeys; 4 dogs inc one on medication; 4 cats; 2 peafowl; 2-6 ducks; 1 cockerel; 2 hens; mud crabs, and tending to the garden.
HUNGARY 2015, Modern home, for 2+ weeks. 2 cats, and tending to plants. Reference available.
Scotland 2015, Luxury home, for 4+ weeks. 2 dogs, chickens, ducks, native bird feeding, and tending to the large country garden. One of the most delightful housesits yet. Mercedes-Benz car supplied. Reference available.
Australia 2016, Adelaide Hills home, for 4 weeks. 2 dogs, Tending to the country garden. Car supplied.
Australia 2016, Adelaide Hills home, for 3 weeks. 2 dogs, 1 cat, 3 chickens, and tending to a country Australian bush, fruit and vegetable garden. Car supplied.
Australia 2016, Adelaide Hills Home, for 2.5 months. 2 dogs and tending to a small cottage, fruit and vegetable garden. Car supplied.
Australia 2016, Adelaide Hills Home, for 2 weeks. 35 Kangaroos on the property, and house, herb and vegetable garden. Car supplied. 5-star Reference supplied.
Australia 2016, Sydney, North Shore NSW. 1 very strong and active dog and tending to 2.5 stories historical home, and manicured garden.
PARIS 2016, 1 active dog and tending to an executive apartment right down the street from the Eiffel Tower
TANZANIA 2017, 1 dog and tending to an Expat home in Dar Es Salaam.
Australia 2017, Adelaide, Australia. 1 dog and tending to historical home, pool, and manicured garden.
Australia 2017, Adelaide Hills, Australia. 1 dog, 1 cat, 3 alpacas, 3 hens, and tending to an executive country home, pool, and large garden/property. Also a koala on the property.
Australia 2018, Adelaide Hills, Australia. 2 dogs, 2 alpacas, native birds, and tending to an executive country home, an indoor pool, and a large garden/property. 
The things we can do for your pets and farm animals
Duties – Exercise, feed, interact and play water, medications, change litter boxes, clean out hen and duck houses, collect and 'date' the eggs, bottle feed and hand feed farm animals, clean turtle tanks and ponds etc
House sitting experience offered
Pool – maintenance – salt and fresh water; test water; collecting large matter from the base, maintain water, salt, chlorine, chemical levels, vacuum, kreepy-krawly, skim net etc
Garden – Qualified Landscape Gardener – general light garden duties, watering, planting, weeding, vegetable gardens etc
Mail – Open (if asked), sort or date, and forward or pay accounts as requested
Electrics – change fuses and attend to basic switches in the fuse box
General farm duties; Collection of eggs including storage, sale, and dating
Gas cylinders.
Service as required – Septic and Water tanks.
General use and training Security – operate home alarms, and keep the home locked and secure.
Lights & Heating – collecting firewood and kindling, bulb change, and ensure lights and heating are not unnecessarily left on or over-used.
Water filters – change as required, attend to salt etc
Home maintenance – hammer, nail and do small or basic repairs if needed
Home care – clean and maintain with professional care
Communication
We offer a professional level of communication by phone, email or your choice of social media.
This can include regular photographs of your pets and home etc.
Most owners like a weekly report, but some like a daily report, and we will work according to your requests and agenda.  Sometimes those on a long needed vacation request no communication unless there is an emergency, and we also respect this. Bookings and guests – I can also be available on agreed terms for clients who may have holiday properties with guests requiring check-in / check-out etc.
Personality and personal attributes
As professional house-sitters, you will find respect, honesty, trust, good morals, integrity, compassion and care as some of our personal traits.
I am a single mother with a very well presented and caring son, who will give your pets lots of love and gentle attention.  He has been brought up to respect both our own and others property.
I am a 'go-getter'. A very out-going personality, who socially interacts well with neighbors and the local community and other ex-pats. You will find us to be good communicators and are thorough, tenacious, and well presented.
Having owned several businesses over the years, I am highly organized and structured, neat, clean, tidy and organized. This reflects in the way I care for homes and animals.
I am reliable and willing to learn new tasks as required.
I take calculated and careful risks, but as I am now in my third year of world travel, I am quite an adventurous person with a positive outlook on life.  I have a 'can-do' attitude and am not a quitter.
Emergency Housesits
We hope you never have an emergency, but we know that life can throw a curveball, and unexpected things happen.  A sitter lets you down, a friend or family member passes away, a health issue arises or surgery is needed, or you are called away suddenly for another reason.
We'd love to help you if we possibly can if you should, unfortunately, find yourself in an emergency. However, we do ask that our costs are covered for this including any travel, visas, and any other expenses incurred as we are based in Adelaide, Australia.
References
We can supply an excellent broad variety of written and contactable personal and house-sitting references (over 20 references) upon request with a 5-Star Rating.
Some references are from people who have known us for all or a great deal of time in our lives, and some folks we have house-sat for also.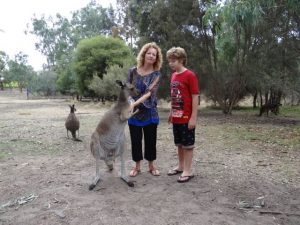 Education
Many ask us how my son is educated.
We immerse ourselves in the local culture with world education and home-schooling in most circumstances for my son, but on occasions, he has attended the local school, or schooled with other travelers.
Living the culture and meeting the neighbors
One lovely thing about house-sitting is the broad range of people we get to meet.
The new friends we make, and the local cultural experiences we have.
At the end of the housesit, we have had the chance to share a meal, meet at a country airport, or even be asked to return.
It is nice for folks to feel their home and pets, animals and garden will be well looked after.
Animal care offered to date
CATS
SHEEP AND LAMBS
TURTLES AND TORTOISES
Birdlife: Cockerels, Hens, Turkeys, Ducks, Peafowl, Pheasants, Wild birds, Caged birds, Native birdlife
Dogs – Puppies and adult dogs (including dogs with ailments)
@Exploramum and Explorason – a young Blue English Staffordshire Terrier in Paris
Other non-house-sit animals – hand-feeding llamas, alpacas, and kangaroos
Questions and Comments
How often do you travel with your pet?
Have you tied housesitting before?
How has it worked for you?
Do share your experiences and comments with us below.
PLEASE CONTACT US FOR PROFESSIONAL HOUSESITTING