We are back in Australia for a while and currently based in my home State of South Australia where the city of Adelaide has so much to offer.
So, we have decided to bring you a series of articles that we have spent past weeks and months putting together of some of our favorite places in and around Adelaide that you can enjoy as a weekend getaway.
Our first in the series is…
BROWN HILL CREEK CARAVAN PARK: A WEEKEND GETAWAY FOR FAMILIES
As I tour the world, I have had an opportunity to sample some of the best Vacation Parks located on every continent. I'm not picky even though we are considered world travel experts, but family vacation spots need to include basic and important facilities.  Some have failed to meet my expectations while others have been beyond my wildest imagination. Parks are mostly useful for weekend getaways for families as they offer an environment where each family member can have fun and experience the real meaning of peace. As a single mum, I always want to ensure that my son is enjoying himself in any park we visit just as I am. Among the parks that I am so glad to have visited during my family getaway is the Brownhill Creek Caravan Park. After spending some few nights at this park, here are the reasons I believe you should choose it for your next family weekend getaway.
Presence of Tadpoles
Other than just taking a walk along the beautiful streams of water, your children can actually go collecting tadpoles in Brownhill Creek itself. This becomes an adventure for them as they get to learn more about nature. To me, this is part of world schooling to help my son learn the things that he might have never learned within the four walls of a classroom. With so many families visiting this park, you are most likely to have some time alone as your child interacts with other kids in such an adventure.
Spacious Playground
The playground at Brownhill Creek for the little ones in this park is huge. You will be shocked at how green the grass is and how neatly trimmed it looks. It is a place where you can play games a family, running around and making merry of the serenity of this place. As you have fun on the playground and enjoying this outdoor space, try hard not to interfere with the peace being experienced by other guests in the park. I believe that every family always appreciates having enough space for their own unique fun activities. So try to be considerate and create space for others to participate in their own unique activities.  there is room for you to bring the bikes, and camping spots for caravans and tents too.
Nice views from Cabins
When we visited the park, we were very lucky to have checked into a cabin that faced the creek. I know I should be talking about the beauty of the cabins but let me first praise their location. Each cabin is strategically positioned in a way that allows visitors to have the best view of the park. So even without visiting the playground or pool, you can experience the serenity and admire the beauty of this park from your verandah. Cabins are spacious and have all the basic facilities to ensure that your nights are comfortable and days are very relaxing.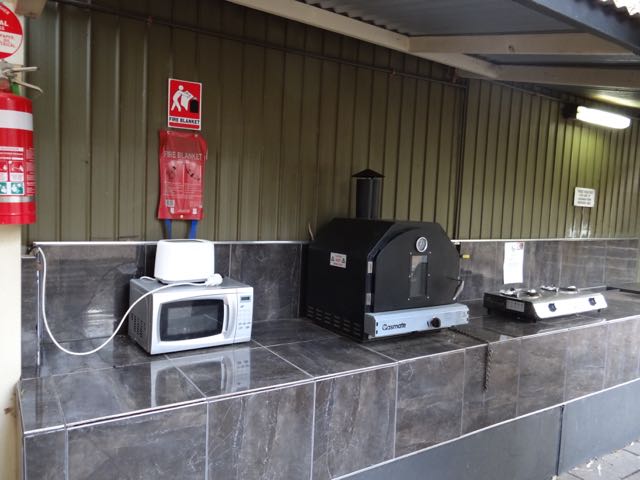 Availability of cooking equipment  
Some families prefer preparing their own meals during weekend getaways in parks like this. The management is, therefore, kind enough to provide BBQ, Outdoor Pizza Oven, Hooded BBQ, conventional oven, and cooktop. Microwaves are always available for use. All you need is to select the equipment that will work best for your family and the staff here will ensure that it is provided. I just loved this since it gave us the freedom and flexibility to prepare a variety of meals. It was only a matter of unpacking the car, and we were soon cooking our first meal in our cabin – we have cooked all over the world, and now it was time for some good ol' Aussie cuisine.
Availability of a swimming pool
My son loves swimming. I have seen him literally jump into pools with his clothes on and had it been a little warmer when we stayed, I think he would definitely have been in the swimming pool as soon as we arrived. I believe that this love for water is not something that is unique to my son alone. There are so many other children and even adults who never seem to have enough of pool water. It is great that there is a small pool available for people like my son who cannot help but make their weekend more fulfilling by taking a dive.
Presence of a number of bird species
There is a good number of bird species that can be spotted on most of the trees in the park. Bird lovers would probably enjoy strolling around and listen to birds sing as you admire them. You might want to go out with your camera and take a few photos of the bird species you spot on these trees. I always use such opportunities to "world-school" my son on the different species of plants and animals existing in such park.
To me, there is nothing nicer than walking to the singing of birds at dawn and we certainly experienced that when we stayed here. It's hard to believe we were just 7 km from the city center – it felt like we had taken a vacation into the gorgeous South Australia countryside.
Questions and Comments
As a family, what fun things do you love doing together during family getaways?

Please leave your comment below.
Thinking of booking a vacation?