Have you ever been somewhere in this glorious big wide world, and suddenly you remember how special it was. You remember a moment.  You remember the fragrance. Or you remember something else that is special.
In late 2013 we traveled through Central America, and when we arrived by plane in San Jose Costa Rica, we were instantly thankful for how lovely and warm it was.
So thinking back on our amazing time in Costa Rica, let me share with you why we are eager to return.
Costa Rica is all you have ever dreamed of and more.  It is famous for the incredible cloud forest of Monteverde, and so we decided to head there for a visit and to stay a few days in the quiet serenity.
As keen explorers, we decided to take the bus – a trip takes 4.5 hours through some of the most beautifully lush countryside laden with floral delights.
Our road winds up past on through the clouds.
The clear and clean mountain air feels different. Softer, and of course a little moist, and the temperature has cooled somewhat.
Monteverde is Magical
Yes, we actually finally arrive at Monteverde and we are in a cloud forest!
Monteverde has a huge range of accommodation to choose from. From the budget friendly to a five star.  Something to please everyone.
We selected a lodge and it was completely wooden inside and out – we loved it!
The balcony outside our room was a lovely spot for a quiet time in the morning.
I sat and just breathed in the fresh mountain air.
The surrounding cloud forest garden is just lovely.
The birds were singing and we saw hummingbirds and other magnificent birds.
Apparently, there are monkeys, but we didn't get to see any and were told we should have left out a banana to entice them.
Suspension Hanging Bridges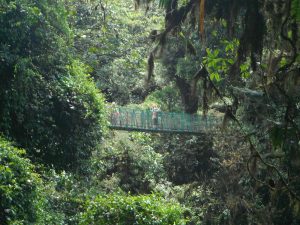 We met up with another Australian family, and the kids got along like a house on fire.
We decided to explore the stunning region together, and the next day we all met for breakfast, and agree to go and visit the Suspension Bridges first.
The area is so lush and green. It is just paradise in the clouds.
We were fortunate our new friends had a car, as it is a long way out of Monteverde town area, and the hanging bridges were definitely a favorite with everyone.
There are eight suspension metal bridges.
We enjoyed the walk — would be awesome if the clouds had moved over whilst on the bridges.
Humming Birds
What I remember most was something I've never seen anywhere else in the world – The small Hummingbird Garden.
It is small with 2 tiers and a lot of hummingbird feeders.
The hummingbirds are noisy and fast and fly right close to you — freaky.
My son went on his own and was patient — he wanted to touch one.
I was amazed at his patience, and how he did indeed get to touch one — just!
All of this activity meant we had hungry kids to feed so we headed back to town.
Fabulous Costa Rican Food
We had heard about the famous Tree House Restaurant – one of the top 10 most unusual restaurants in the world, so we headed there for dinner.
It is set in a big tree upstairs — a novel and fun night, and we had great service too.  The magical tree lights make it seem like fairyland.  The varieties of dishes served here are incredible.  A great place to take kids.
Costa Rica is famous for food.  If you visit Costa Rica, please make sure you also go to a traditional Costa Rican Restaurant.  You will love all the delicious choices they have to offer you.
Have a look here for fabulous mouth watering Costa Rica food & recipes.
Forest Walk
The next morning (we are early risers) we were in the forest for a walk.
It was a good lesson — banana palms and flowers forming, so you could see exactly how they grow.
There were also many types of coffee plants, and I found that interesting as they were all sign labeled.
Time to leave Costa Rica
Before we know it our last day has arrived.
Our friends offered to take us to Liberia to get a bus.
Their car was so packed, it was hilarious, but we managed to all get in.
Driving down we did pass a few clouds floating through.
Monteverde is a great place to visit.  It is a great place to stay, and I would recommend it if you go there.  The people are friendly and a good place to meet other travelers.
We adored all of Central America and it is definitely one of our most favorite areas in all the world.
And we miss Costa Rica.  There was so much more we never saw.  Maybe we will have to head back again soon?
This is a Sponsored Post
Please read our Disclaimer here
Disclaimer: This post may contain Affiliate Links, Sponsored Content, or…