The start of our Ireland road trip going to Inch
Wow – we have scored an amazing deal on car hire in Ireland – way, way better than the USA.
Way cheaper than any train or bus, and we are free to go where we want. Stop for photographs. Shop and explore all the little towns – this is great.
We are ever so thankful to Richard and Sylvia who had us to stay the last week or so, and we have been so spoilt and blessed with their kindness.  It will never be forgotten!
So with bags loaded we headed off in the rain – with just a map and some snacks to keep us going.
And because I love little quaint towns, and collectible / thrift/op/ charity stores, we were stopping before we knew it.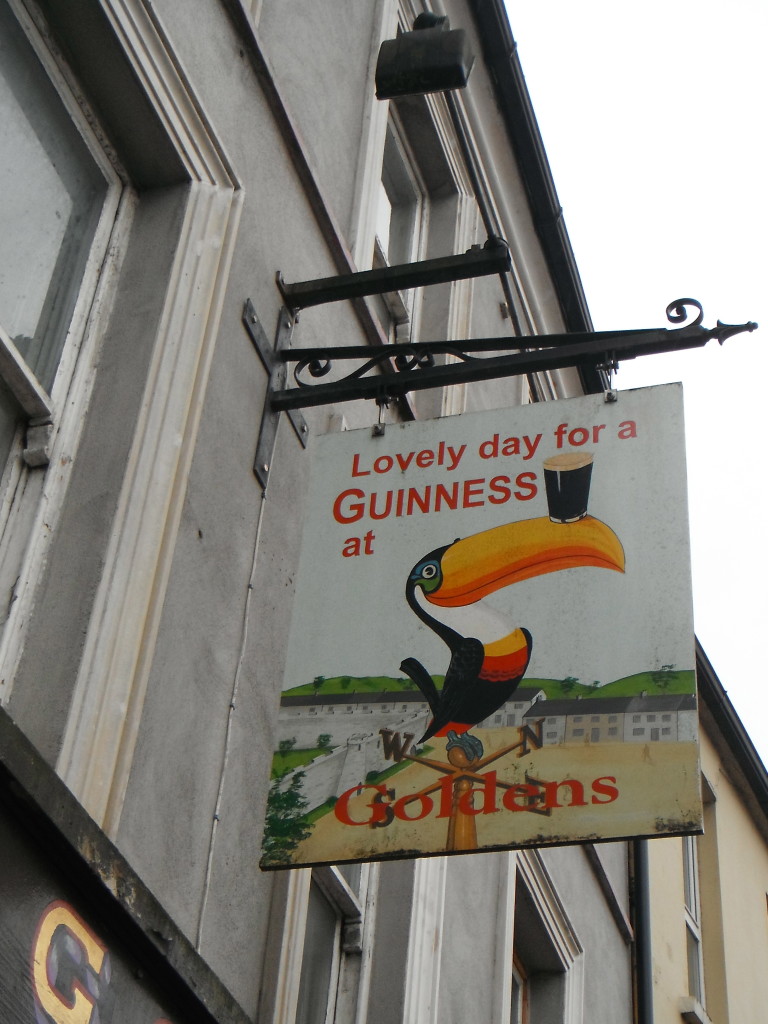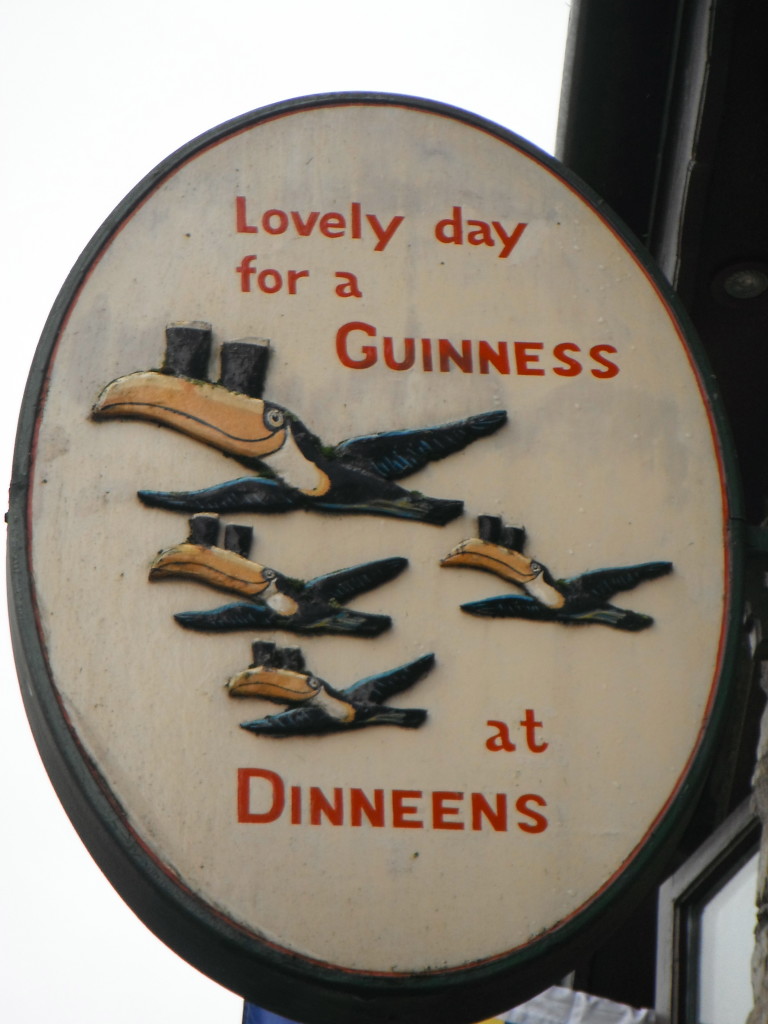 In the process, we were able to drive through the front of a castle which was pretty cool!
Opposite, there was a fruit stand, and we stocked up on probably the most expensive bananas I have ever purchased, but then bananas in the middle of Ireland in winter, really isn't a local thing 🙂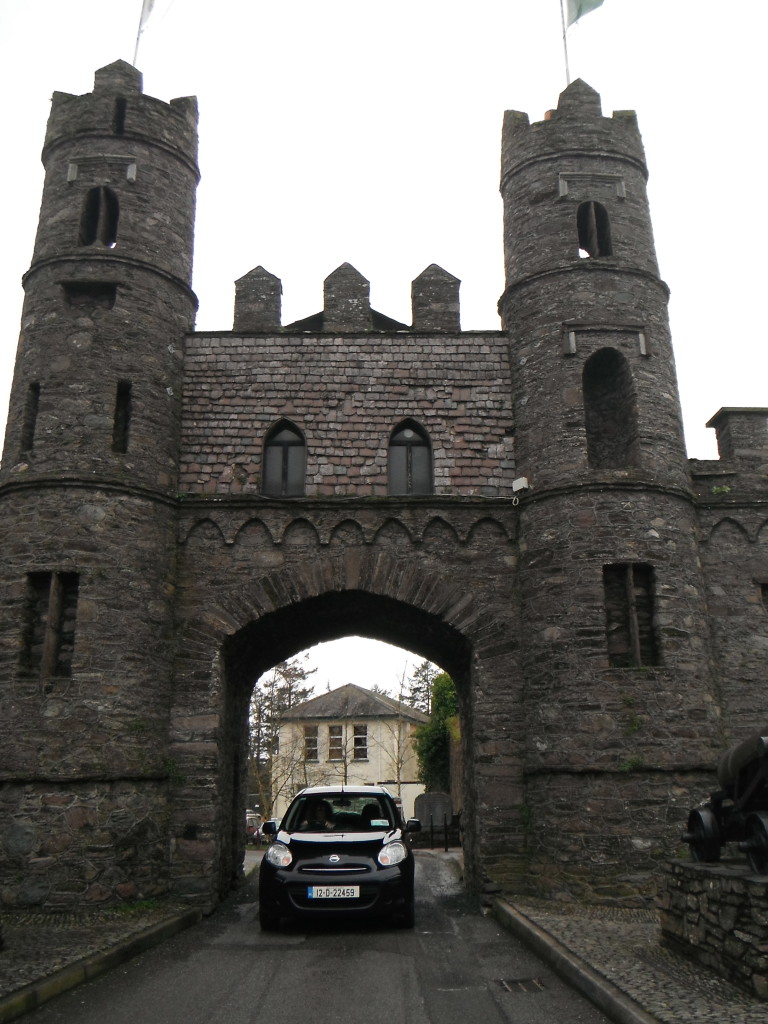 In keeping with our exploring, we seemed to be in and out of the car all day.
I really didn't understand some of the towns parking systems, but we seemed to get by without a parking fine.
Next, we found an amazing store – The Trading Post at Boolteens, in Kerry.
Now, this is a treasure trove. Locals come, and price their own items and leave them on consignment.
I bought an 80-year-old Wedgewood blue and white plate for 2 Euro. I have no idea how I will ship it home, but it is a treasure.  I also bought about 5 or 6 other things.  If I lived in Ireland or had the time to post things back, I would spend an afternoon in here and stock up.
Here is their Facebook page, and tell them 'The Aussie lady and her son' sent you! https://www.facebook.com/thetradingpostkerry
By then it was getting to about 4 p.m. – wow the day had flown.
So we decided we had better start looking for accommodation.
As this was our first night on our own in Ireland, we wanted a traditional Irish Pub to stay in.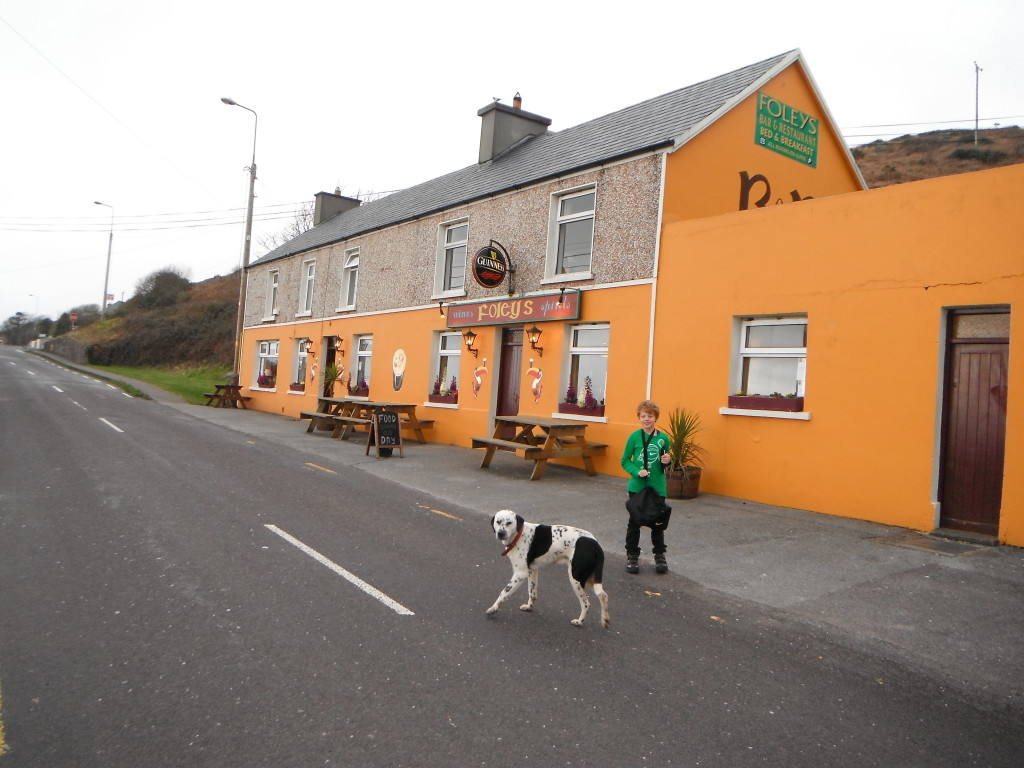 Wow – I just drove right by one. Foley's Pub at Inch.   We were on the coast road and there it was – all alone – so I commanded a prompt U-turn and we parked right out the front of the door so we could leap in out of the car, and beside the fire.
This pub was traditional. Decorated with years of collectibles from a time gone by, I loved the feel and warmth instantly.
I went in to check the rates, and we they were brilliant.
No-one else was staying there, and we had a choice of rooms.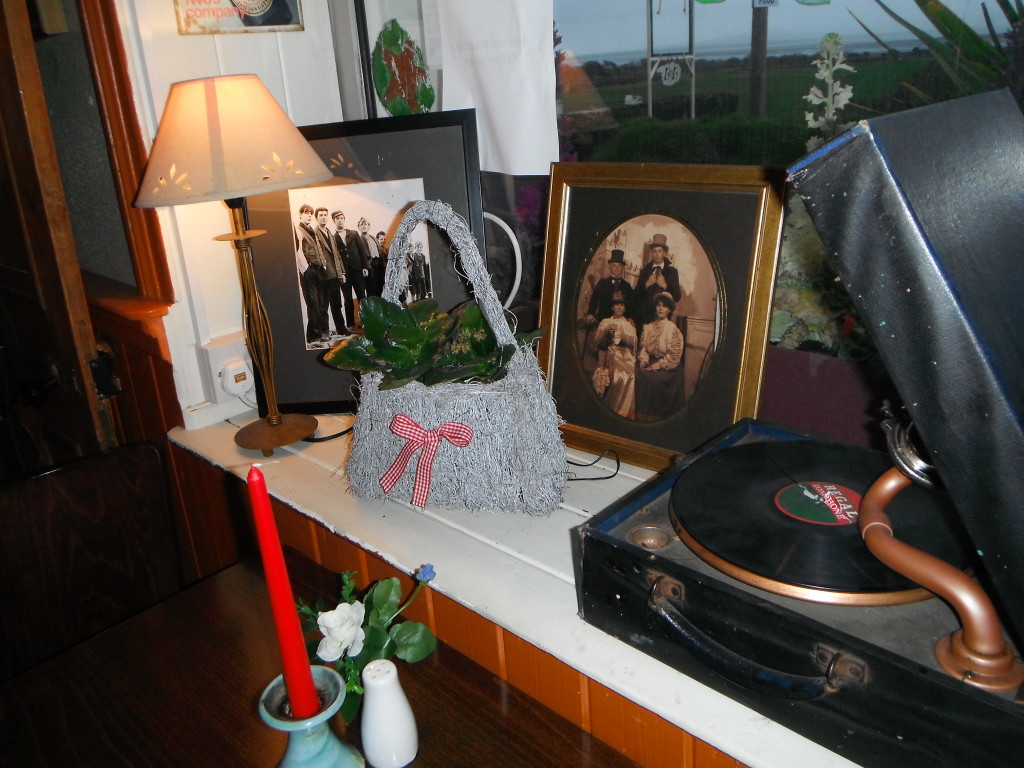 So we selected Bridie's Room, reminding us of one of the children of our friend Ann-Marie, in my son's original baby group from Adelaide.
Plus the owner had children, and games and pool table, and fireplaces, and we were told later there would be live traditional Irish music in the bar.  A perfect place to spend Saturday night.
A the time, their internet was not working, so we moved into our upstairs room, with a magic view of the sheep grazing out towards the sea.
My son watched a DVD from the Trading post he had just bought, and we eventually decided to move our bodies, so we went downstairs in front of the fire and read a book!  Before we knew it, it was time for some traditional Irish food – I was not moving from this fire – it was perfect.
After dinner we had time for  Guinness by the fire, and the place seemed quiet, but we did get to meet the family, and the kids all went off to play.
In fact, it seemed so quiet we went upstairs to bed – where was the music I wondered?
Next thing I know Explorason charged back up the stairs.
"Mum, the place is packed"
I headed back down and I couldn't get a seat.
There seemed to be people that had crept in out of the cold.
I spent the next 2 hours having an absolute ball.  I take to the oldies mainly, and I am sure I didn't understand half of what they said, but it was a great time.  In the end, tiredness overtook, and I left the warmth of the fire and exchanged it for the warmth of our bed upstairs.
We had organized an 8.30 a.m. breakfast, and it was set in a separate breakfast room. There was way more food than I could have consumed for breakfast and lunch combined!      
The kids all took off for more of a play, whilst I went and packed the room and car.
We felt like we were right at home here.
As we waved goodbye, we took memories with us that will last forever – it was a brilliant stay.
One of those "just as I imagined, but way better" experiences.
Questions and Comments
Have you been to Ireland?
What do you find fascinating about Ireland?
How was the experience?
Do share your opinions with us below.