I'm relaxing by the pool at the 5-star resort we stayed at in Sanur, reading a glossy Luxury Travel Magazine. It is only now I read and learn about a unique Safari Lodge out from Ubud, and right here in Bali.
Having done several Safari Lodges in Africa, I thought that experiencing one in Asia was a must do and needed to be added to our Bucket List, pronto.  With a growing desire to personally review family resort facilities, I also thought this sounded just great.
When I saw that National Geographic Magazine was quoted to have deemed Elephant Safari Park Lodge and Lodge the "8th Most Unique Hotel in the World", I feel the need to visit this place.
As I read on I discover it is an elephant sanctuary, where many of the endangered species of elephants have been rescued from Sumatra, Indonesia (an attempt that took the owner many years), and that he is set out to rescue elephants that would otherwise have died like many of their family members did in the evil elephant camps over there.
Since visiting Bangkok, Thailand and learning about the cruel ways elephants are treated in these Training Camps, I wanted to ensure that the elephants were not treated like this at Elephant Safari Park, so I went one step further and arranged a meeting where I could talk with the Australian owner – Nigel Mason, and his lovely Indonesian wife – Yanie.
I will share more about the amazing rescue of these elephants later (or you can read here). I want to reassure you that from what we were told; from what we learned; and from all we saw, these were elephants are well cared for, and are elephants that were rescued from sure death and cruelty.
Elephant Safari Park Lodge Accommodation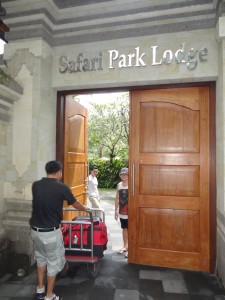 We arrive by private taxi from Ubud – about a 4o minute drive past numerous rice paddy fields.  I regret not having asked the driver to stop. There were so many fantastic photo opportunities along the way.  But we knew there was so much to see and do where we were heading, that we didn't want to wait.
On arrival to the Elephant Safari Park and Lodge, we located the front reception, which is right beside the Elephant Safari Park entrance.
To the right hidden behind these wooden doors, we wonder what awaits us and set in 3.5 hectares of authentic landscaped botanical gardens, with some similar vegetation as the Sumatran jungles.
We couldn't wait to see the elephants and to experience this unique safari lodge.
Our Elephant Themed Room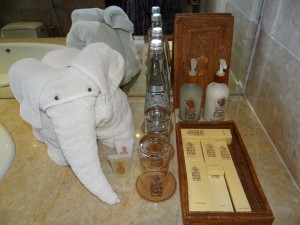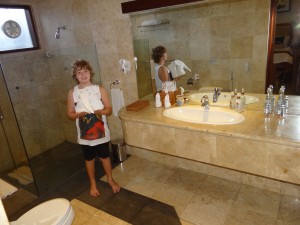 Our Garden View room was quite luxurious and was upstairs with huge front windows that allowed a view through a gap, so we could see right into the elephant park.  There are more expensive rooms that look right out over the elephant sanctuary that could also be reserved, but being last minute, I was pretty happy they even had a lodge room spare for us.
Our room was delightful, with a lot of attention to detail – elephant carved shaped legs on the wooden beds; elephant origami folded towels; fabulous quality toiletries, and much more.
New friends
As I wandered out onto the front balcony to have a better look at the park, we discovered an added bonus. There was another family from Australia staying that night, and the boys instantly became friends.  In fact, the whole family was lovely – something that we value is meeting such lovely people when we travel that we can 'hang out' with.
As much as the boys wanted to play together on their iPads, it was time to explore.
We had organized several activities within the Elephant Safari Park, so we quickly changed.
Elephant Safari Park Lodge Facilities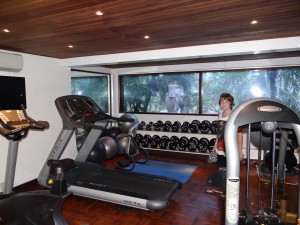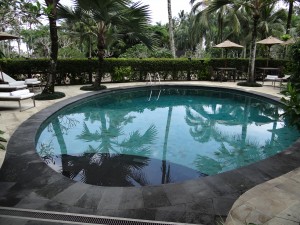 First off we had a quick look around the facilities and saw the wellness spa area and gymnasium.  There was also a guest swimming pool near one of the two restaurants.
Baby Elephant Love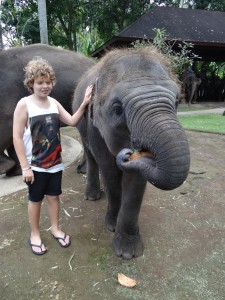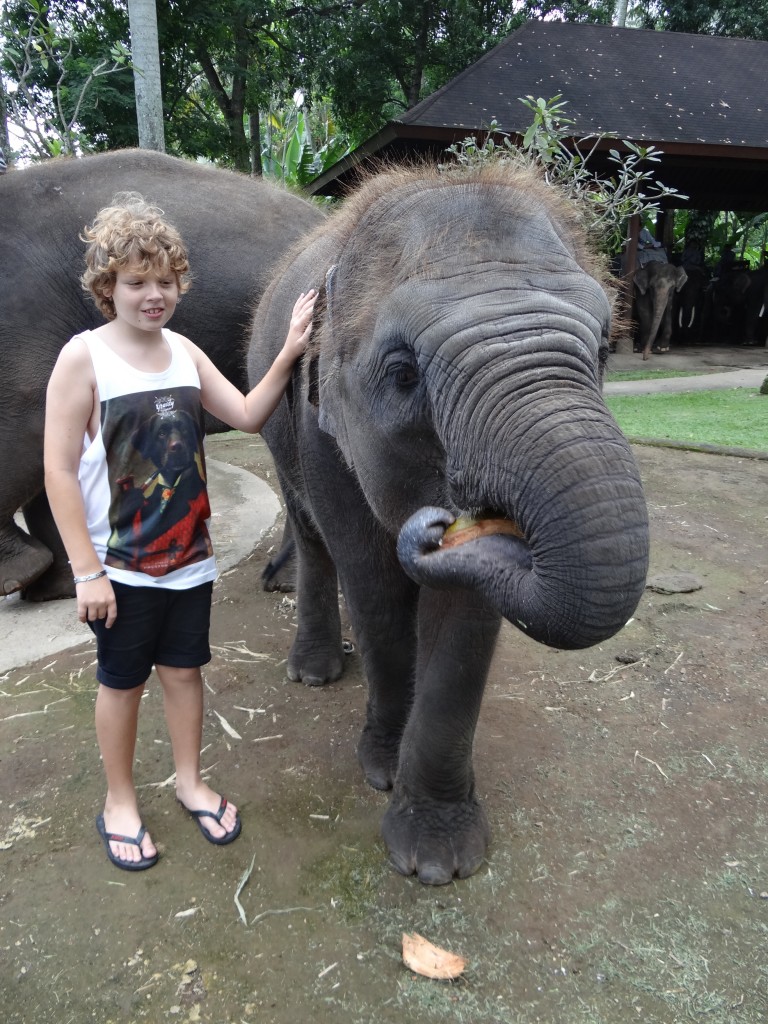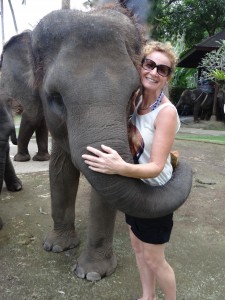 What happened next was just one of the special moments of our world travels.
This is not something that every guest experiences, and we know this is just an incredible opportunity!
We were invited in to have our own personal cuddles with the baby elephants!
These elephants have been naturally bred within the Elephant Safari Park.  No artificial insemination.  And because they have been born here, they can be trained from babies with care.  The guide explains to me that not all elephants like to do the same thing.  they find some elephants naturally like and take to a trick or task, and others don't.  So similar to teaching a dog tricks like the amazing dogs we cared for in Scotland, these elephants are rewarded and praised.
At first, Explorason was worried. After all the elephants we came close to in Africa (the African elephant is larger than the Asian elephant) were known to crush cars, smash down houses, and can kill humans.  But these elephants each have a personal trainer assigned for life, and instructions were given to us on how to approach them; not to scream as this frightens the elephants, and to enjoy the experience.  We rubbed and hugged the elephants, and it was just lovely.
Feeding Time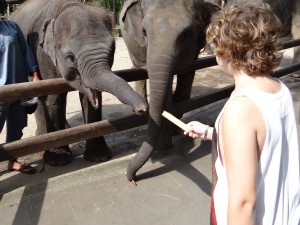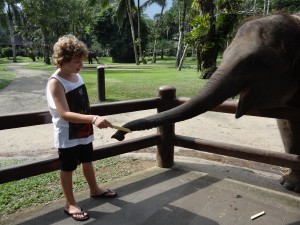 Explorason loved feeding the baby elephants the most.  Broken pieces of what I think was bamboo given to them.  There was a whole barrel full of pieces, so he had a great time.
There was also 40 kg of locally grown grasses that each adult elephant eats per day.
We learn each elephant is required by Bali Indonesian law to be chained when not with their trainer. This some visitors see negatively but there are reasons.  It is firstly for the safety of guests, but also because the staff monitor that each elephant eats its own food; that they do not steal from others; nor eat and destroy the gardens.
Like humans, elephants are not all friends, and some don't like each other. They have to keep certain elephants apart and learn about their temperaments.
Pats, Rubs, and More Love
By now we are really getting used to the elephants and their personalities. We are learning their names, and Explorason is very comfortable with the baby ones.
Elephant kisses
I've been kissed by a giraffe in Nairobi Africa, and now I get kissed (several times too) by an elephant here to Elephant Safari Park. Now to find my Prince Charming and to be kissed by him too!
Wooden Guest Huts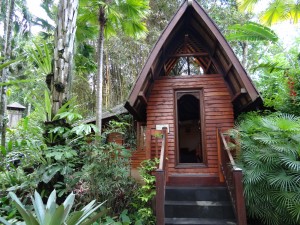 Our time is over with the baby elephants, and we stroll back through the gardens.
I go on my own mini-exploration and have a 'sneak-peak' at the new wooden guest suites that are just having their final touches put on them.
Explorason meets up with the other boys and they go off to find the giant fish we have head about. The is also an Elephant Museum which I had a quick look through.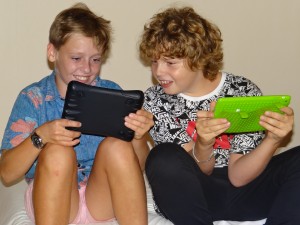 We spend some time back in our Garden View Room.
The boys talk and play, and the Mums chat.
I know a lot of people say that traveling can be lonely for children, but think it has shown me that they don't miss opportunities.
The friends we have met along the way have all proved to be really lovely children.
Chauffeur Ride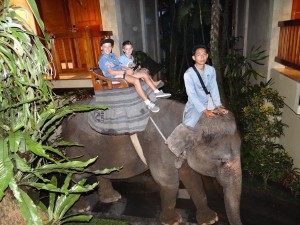 Each room is set up with a dock area at the front where their chauffeur ride to dinner is an elephant.  Here are the boys from Australia in the next room on their way to their own air dinner.
Please be aware, these elephants were already trained in Sumatra.  I know some don't like the idea of elephant riding, but their seating is well designed above so the weight bearing does not bear down on their spine or rub their skin.
Nigel the owner explained a lot to us. Whilst they'd love the elephants just to roam free, this is not legally possible. At the end of the day, an elephant ride is a small way to recoup some of our massive expenses in running the park, and for the incredible expenses in rescuing the beauties from sure death.  "We feed them, bath them, love them, and give them the best veterinary care. We ensure their health and safety is foremost, and ensure they are surrounded by the lush vegetation."
I do notice in the park that as soon as an elephant so much as poops, it is cleaned up.  Even if this is in the large bathing area, a man scoops it out of the water. This poop is then used by the gardens and local farmers for fertilizer.
A night safari is also available, but this is a shorter safari ride than the day safari because of the lighting.
Dining Under The Stars
That evening we dine right beside where the elephants also dine – under the stars.
There is a set menu, and also a Children's Menu and vegetarian options.
We returned to our room to find lights dimmed, beds turned down, and robes and slippers laid out for our arrival. Water beside the bed for drinking and our clothes neatly folded.  Now that is good service!
We stayed up really late that night watching the movie 'Operation Jambo', of how Nigel Mason rescued the elephants from Sumatra. It took him two trips and was quite a complex event. His first attempt was thwarted by the Sumatran Government, and several elephants he saw on the first visit died before he could return. How sad.
Please read more about his "Operation Jambo" venture.
Elephant Coffee and Breakfast overlooking the Elephants

We had such a lovely time at breakfast chatting with our new friends, we completely forgot we were booked to wash the elephants.  Fabulous coffee and breakfast from the menu proved to be a relaxing event.  the location is perfect – overlooking the elephants eating their breakfast too.
Oh No. These elephants are waiting for their scrub and bath.
We raced off and changed into our swimwear!
Bathing The Elephants
One of the highlights at the end of the day was bathing the elephants.
We gave them a wash and a good scrub. When it was Explorason's turn to use the hose, he went a bit wild, and I ended up very wet !!  He thought this was hilarious.
It was a great experience, and we really enjoyed showing them we cared about them.
After this, we met for coffee with the owners Nigel and Yanie Mason (I'd arranged this prior to our stay).  I really appreciated that they agreed to meet me and that they gave up their time to talk to me. I quizzed them about the elephants and their care, and asked a lot of questions, as I would not be writing this article and supporting anything that was currently remotely cruel to these elephants.
At the conclusion of our time, I felt confident that these elephants really are cared for in this sanctuary.
To my surprise, they then invited Explorason and me up for a helicopter ride with Bali Adventure Sky Tours over the volcano and lake.
We will write about that separately.  We raced to get ready for our helicopter ride, and sadly farewelled our new friends.
I'd personally like to thank the owners Nigel and Yanie for all they did to make our stay such a memorable one, and all the hard work they do to ensure these elephants are well cared for.  This park hopes to continue with the natural breeding of the Sumatran elephants to continue the ever-dying population.
Contact Details
Jalan Elephant Park Taro, District of Tegallalang, Ubud, Regency of Gianyar, Bali (80561), Indonesia.
Telephone: +62-361-721480      Facsimile: +62-361-721481
Email: info@elephantsafariparklodge.com
Website: http://www.elephantsafariparklodge.com
For more information on the story of the elephants and the care they are given at this safari park, please read here http://www.elephantsafariparklodge.com/story.php. Information supplied is accurate to the best of our knowledge at the time of our visit, and any inaccuracies are not intended, and conditions and amenities are shown as we saw them in person.
Please read our Disclaimer here
Disclaimer: This post may contain Affiliate Links, Sponsored Content, or…