This morning started as a perfect day.  As the sun rose, and I knew I wanted to see Haiti.
I was hoping to explore more, but Labadee is privately owned, meaning that we could wander anywhere and it was owned by the cruise company.
Explorason woke just on time as we docked, and the jet skis raced around giving us a lovely display.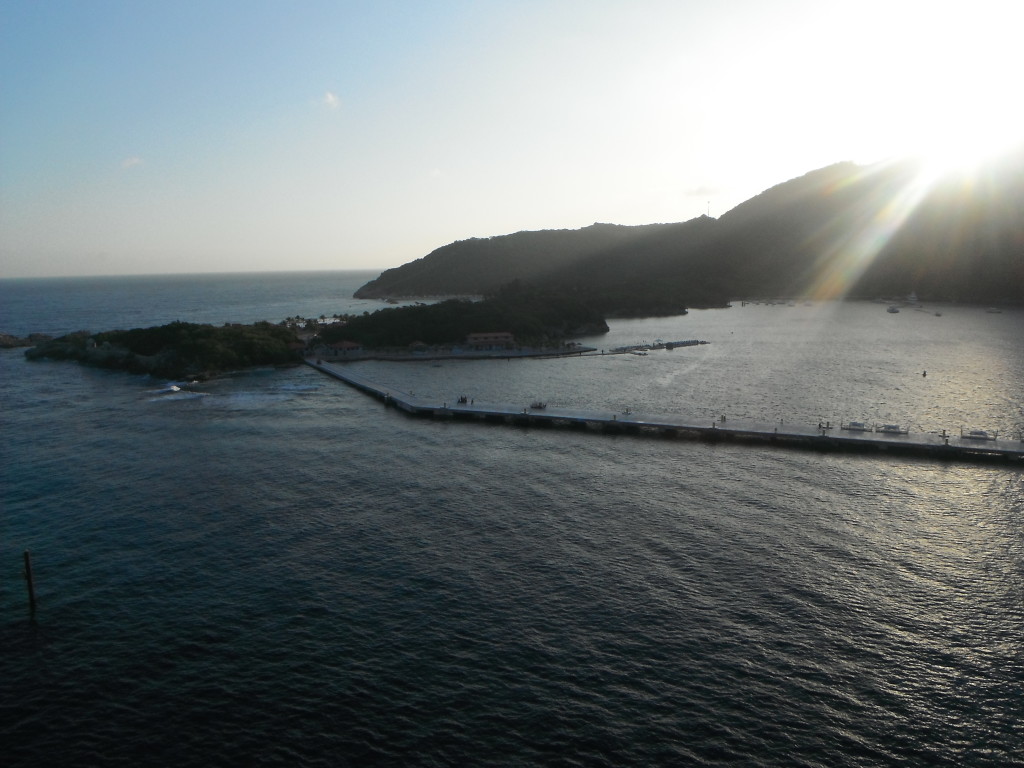 So we headed down to the formal dining room for breakfast.  This was his favorite. After many a time the last year being in some poorer places, he wanted to feel special and served by a waiter.  He enjoyed his milk in a wine glass too!
We hadn't signed up for any activities.  I just wanted to meet the locals.
As we hit the shores I felt like someone off The Love Boat.  It was just perfect.
The band played, and of course, my son jumped in for the photo.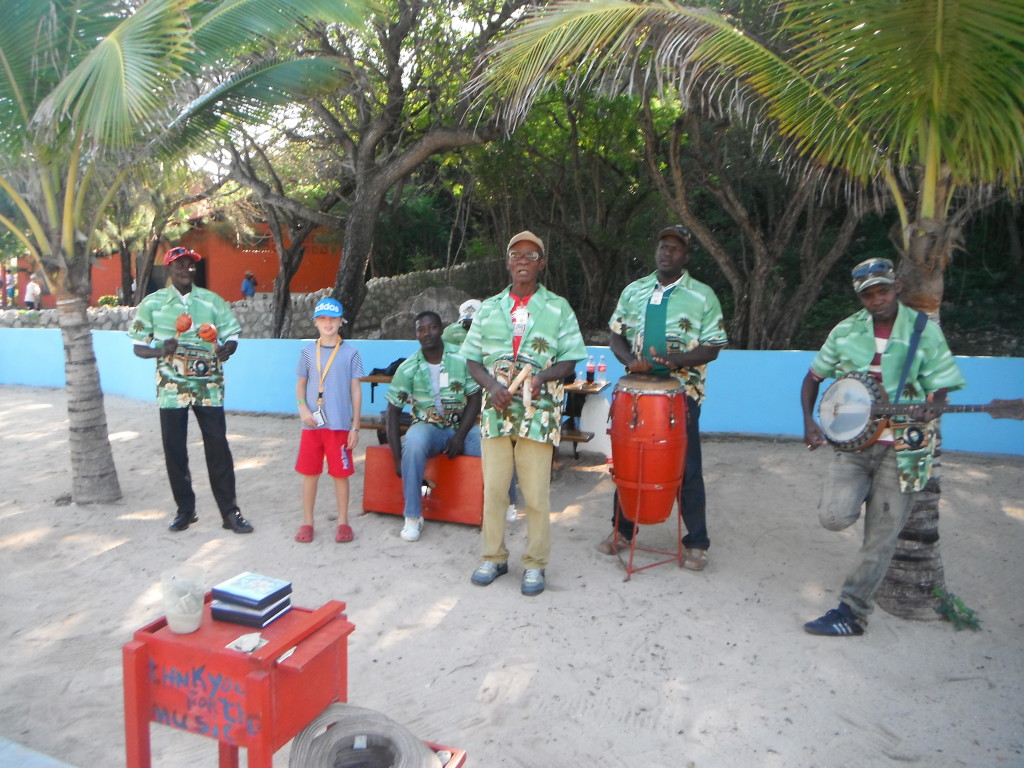 So I was really pleased when I went to inquire at the Information office and a lady offered me a $20 Walking Tour ticket for free. Then my son was not charged, so we headed off with the group.
As we headed off we learned about trees with natural healing properties. We then learned history and about the pirates, and Buccaneers.  I do love how he included my son and so it was a great learning time for him.
We learned about Haiti and how it is now mining gold.
Then we spied a magnificent caterpillar.
As I went off to the restroom, I left my son with the walking tour group, and my bag and camera.
I came back to a distracted boy, climbing a wall and having left the bag on the seat.
Not too happy, but realizing he had probably had his fill for the hour, we wandered to the markets.
Halfway through I realize he hasn't picked up the camera – and it also has my 'Cruise Sea Pass' with my onboard credit on it. Yikes.  We raced around the island, bars, and numerous staff.  Soon we had many involved in the search.  I was about to head back to the ship to report it, and there on a desk was the camera as we walked by.  But as they had already reported it to the ship, we then were escorted to management to sort out the problem and reactivate everything.
All was good and we ended up being privately shuttled back to our market area.
We have a had a few forgetful incidents of late with him, so we discussed this and decided he needed a consequence.  We both agreed it should be a positive reinforcement, and mistakes do happen.
I was really impressed with the local guys.
Haiti is rightly known for the pushiness of the locals.
But realizing how poor they are, they will try anything to get you to 'promise' to see their stall next.
It is really quite a full-on hassle time, so if you go to Haiti, be prepared.  But the best thing I tell them is for them to let us look or they will scare my son away, and then there will be no buying.  They seem to respect this and we did buy a few items.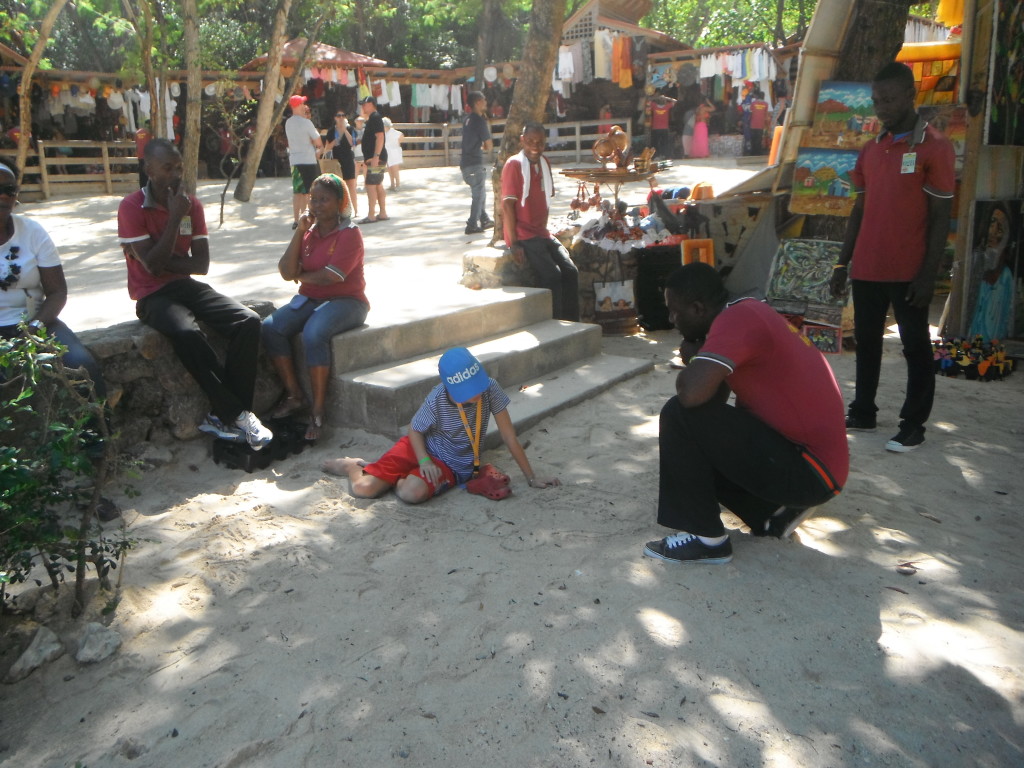 One of the things we bought was a car license plate to add to our round the world collection.
The other was a great 'rag basket'.
These are cotton cloth wound around to form a gorgeous bowl.
We bought the small one for $8 – a real bargain, and is in the Haiti colors.
We also buy a flag from every country we visit, and one day they will hopefully be hung in order of the countries we have visited.  They also serve as a great part of my son's education.  He always draws the flags.  This started in Fiji and has continued since, and he often makes art and drawings including the flags.  I think if we ever get on a TV show, we will win for sure, in fact, he is better than me.
Another good thing about traveling with a child is how well we bond with the locals.
We really did have fun, and whilst others did some mega touristy tours, we hung out and spent next to nothing and had a great time.
One thing about this part of the world is their fame from the Jamaica Bob Sledding.  We had a go on the dragon roller coaster sample seat, but it would have cost us about $80, so again, we had to give it a miss.
As it became early afternoon, thousands on the cruise lined up for the BBQ buffet lunches at various points on the island that were included as part of the cruise.  Sadly Explorason is rather over exploring. He didn't want to sit or play at the beach, or have the BBQ – it was just too hot.  He really wanted to go back and enjoy the luxury of the cruise.
So back we headed.  I am rather glad we did.  It was quiet and we enjoyed a formal lunch, which is rather a treat for us as low budget travelers.  He then wanted to go to the Kids club.  To my amazement, he has really only wanted Kids Club; TV in English; and the Performances. Classy dining vs the buffet; and theatre shows.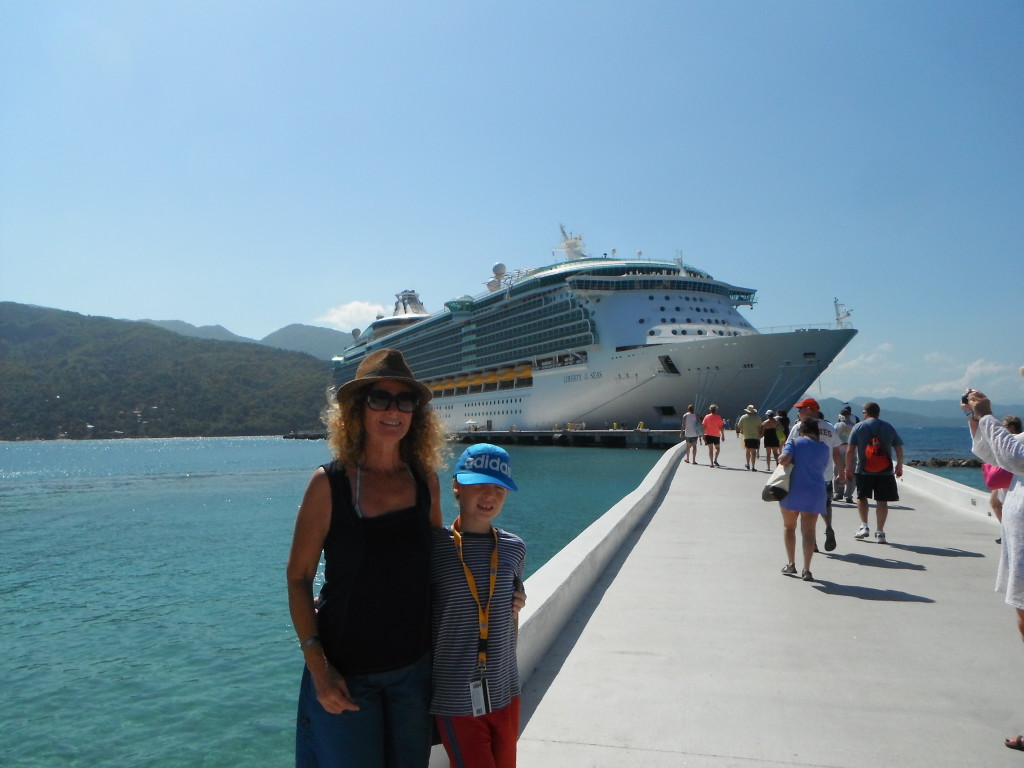 So we headed back on board, just in time to hear an emergency call at the pool.
We have viewed so many seriously obese persons on this trip, and yet another had a heart attack.
It made us all the more determined to live a healthy life.
We ended up with a really relaxing afternoon.
I enjoyed a jacuzzi whilst he enjoyed the kids' club.
I must say this cruise has been exhausting.
There has been so much to do we are actually a bit sleep deprived by choice.
The quality of Royal Caribbean has been excellent so far.
As I chat with new friends in the spa, I realize what an amazing life I have.
I am so thankful!
My heart has always longed to work at an orphanage here in Haiti but it doesn't seem to be panning out, but I am open to coming back.  They are lovely people. They have a real need.  I do hope we come back sometime later on this trip.  I know I long to work with orphan kids, and Explorason has the same desire too.
Questions and Comments
Have you been to Haiti?
How do you find their culture?
What fascinates you about Haiti?
Do share your comments with us below.