Falmouth Jamaica and Montego Bay
We were meant to fly to Montego Bay, Jamaica from Cuba a couple of weeks ago.
But due to a Cuba visa error (Cuba stamped our visa 2 days before we entered, so it expired when we went to leave – we didn't notice when it was 1 a.m. after a 7-hour flight delay and broken luggage), so we never made it Jamaica.  I had always wanted to see Jamaica.
So when we had the chance on this cruise, it was a definite YES.
As we dock in Falmouth we first hit tourist heaven.  Shops, shops, and more shops set up solely for cruisers, who are spend happy.  This is really not our scene. Inflated prices and jewelry are not our things.
So as the band plays to greet us in, we have a little song and dance.
We head to the more local market area in Falmouth. There is an American lady who let us use her computer and wi-fi for free in one of the shops. Lillybell's Gifts and Crafts and Internet Cafe  8 Lower Parade Road, Falmouth. She was lovely and it really helped us when we needed it.  We had dramas with our accommodation booking and so we needed to check this, or we would disembark and have no-where to go. Charges on Internet use is more than $1 a minute on board so we didn't want to use it.
My son really enjoyed watching the woodcarving, so he was able to do that whilst O had a quick look around the market. We usually collect a keychain of a traditional item (we can make into a Christmas tree ornament for our world tree), so I went in search as he learned.
We then wanted to go to a grocery store.  We quickly got the hang of the local money. $1 US is about $100 Jamaican and we needed to swap some USD so we could make our own way around the island to explore.
Now there are a LOT of hustlers in Jamaica. They are poor.  Large wooden male body parts seem to be sold everywhere. Marijuana leaves and rasta colors seem to adorn everything that is sold.  I take a bag of unwanted clothes and my new formal shoes to be given away to a local.  I find a lady about my size and give them to her. She says "OK. No thanks".  I ask if she wants them but I think she acted like she didn't care. I choose to hope it is that she might be embarrassed but does need them.  She sure looked like she did and I felt like I did the right thing.
Men seem to be drunk, women are loud, and there is a general feel of poverty around Falmouth.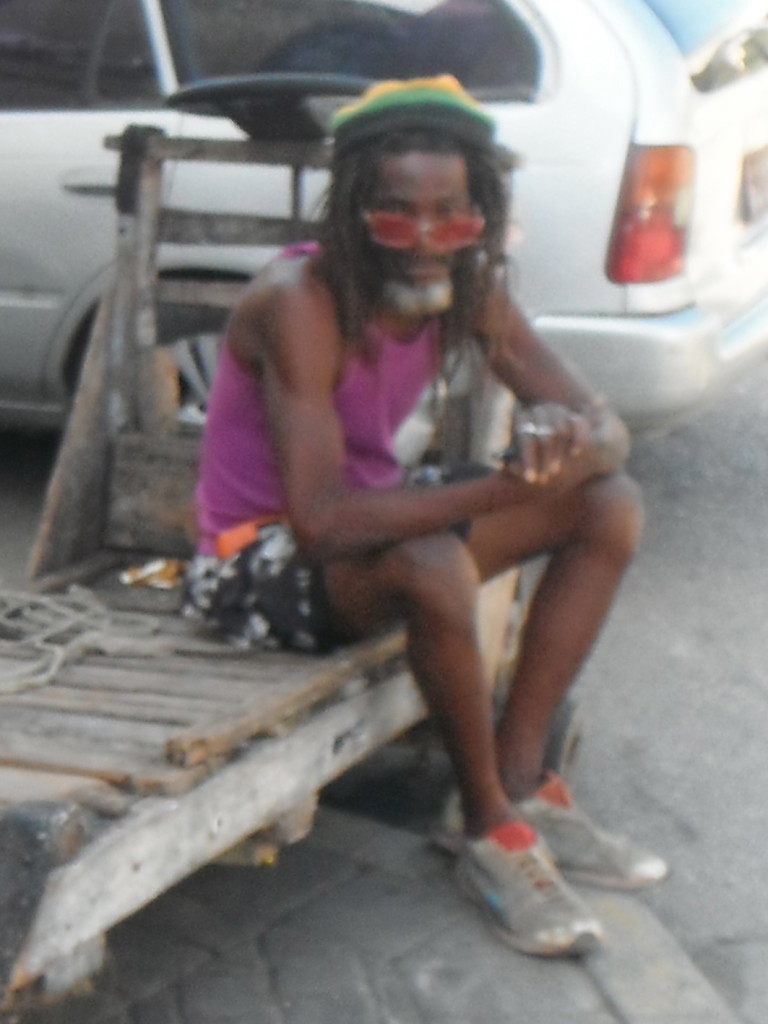 We wanted to go exploring, but it is a tiny town, and not much to explore really.
So we ask a few locals and find out we can take a mini-van taxi/bus with the locals for $3 for the two of us ($2 for me, and $1 for my boy).  Compared with a private taxi that is $60 — $100, an hour this is great!
We jump in, and we are squashed to the maximum and take off in less than 5 minutes.  These minivans run privately by a driver and co-worker, so the more they can squish in, and the faster they can drive, the more fares they can collect.  Driving whilst talking on the phone seems normal. Overtaking into on-coming traffic also seems normal. Speeding is definitely normal!
We arrive in Montego Bay about 30 minutes later.
A local grabs me and wants me to 'take him home'.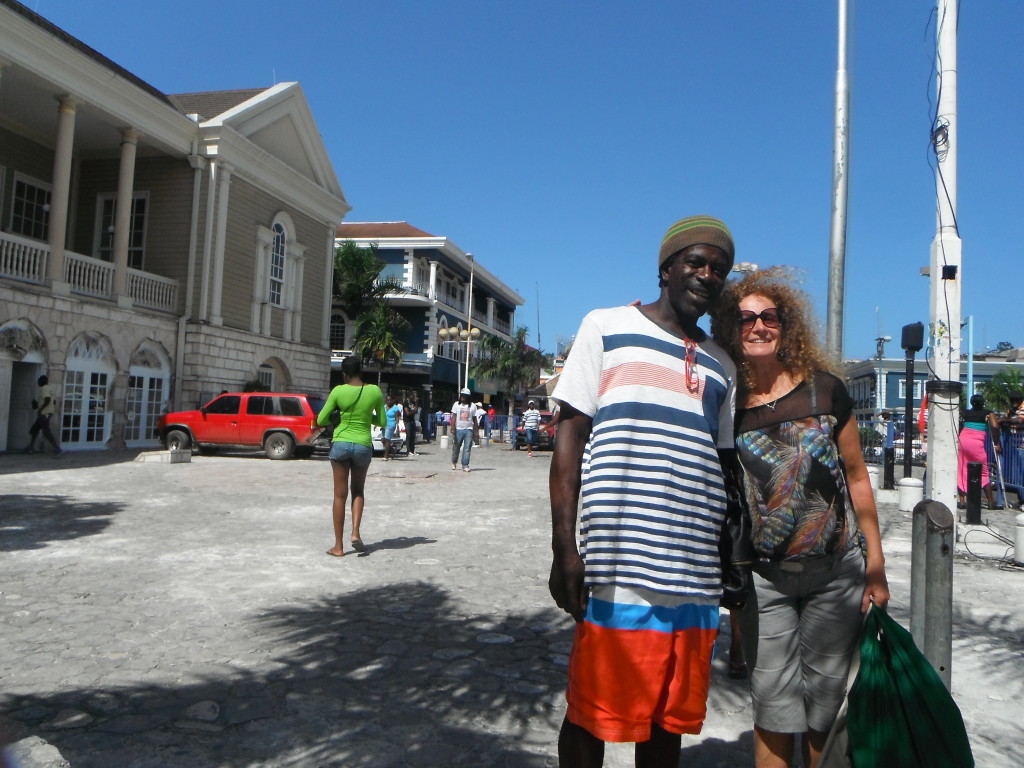 He thinks we are living here.  Tourists don't come here that much, but the shopping is great.  Most clothes, shoes and import shops are owned by Chinese.  They will stake USD but they won't change USD if you want to split a large note.  So we managed to get sneakers for my son, 2 bags, underwear and a few other needed items. Copy DVD's are also sold for $1 for latest releases on the street. They are also in English, which is one step up on the Mexico ones you get.
I have blisters on my feel.  My formal shoes have been given away. My flip-flops are rubbing. I can't walk. So I find a shoe market stall and try to get a pair that can see me back to the ship.  One man tells me a price and when I go to buy them he ups the price. I tell him the price he agrees on. He proceeds to yell verbal abuse at me. He calls me rich and tight.  I give him back his shoes. He gives us the finger.  We go to the next lady. I had been to her before. She only ups the price by $1, so I buy from her.  It really put me off Jamaica. Everyone calls me "Boss Lady", and they all call you "Miss …" or my son "Mister …."
We go to Burger King.  It is pretty foul.  We use the even more disgusting bathroom.  I'm actually not that impressed with what I am seeing today.
We grab the next min-van back to Falmouth.  It goes at even a great speed than the one that got us here. We are back in 25 minutes or less.  The skies are grey. We have a little of the local money left, so we wander back through the markets. They are packing up as the wind is too fierce and their stalls are blowing over.  I see so much I'd love to buy, but we are so over budget. It is time to stop buying treasures on the trip for a while.
We head back to the ship. A bad grabs my son for a photo and with a hope of money. With the number of bands we have seen in the last year, we only give small coins now – if at all.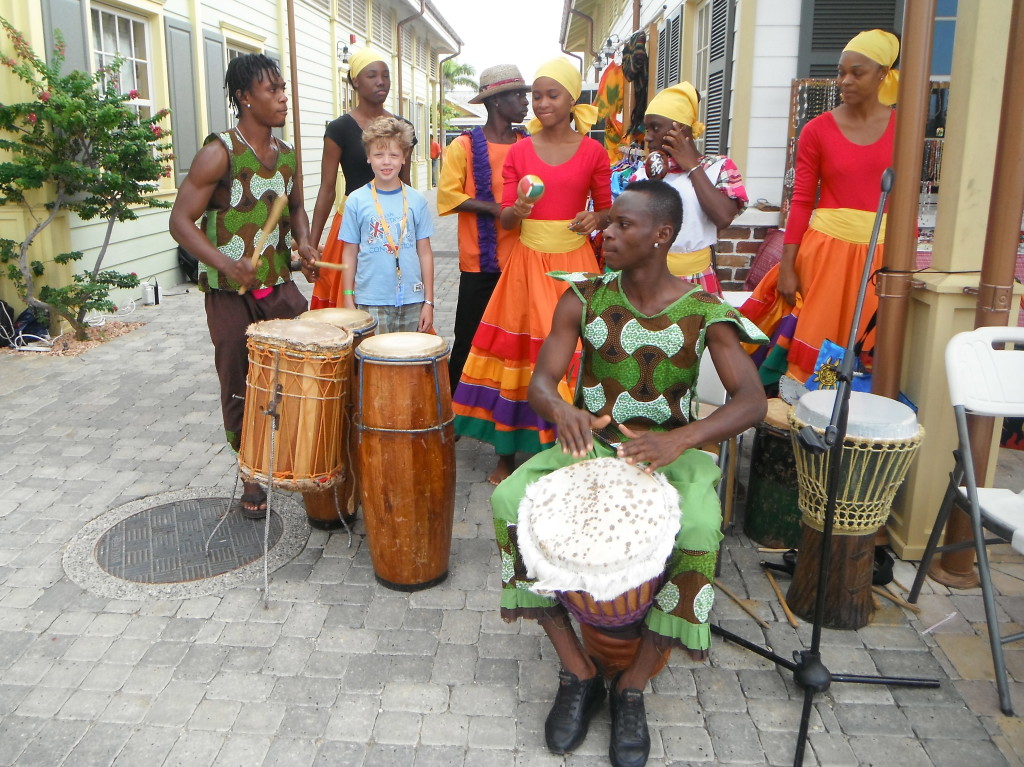 Back on board, we have a snack and a swim.  The wind is blowing so hard.  An announcement is made and we know it as another emergency code.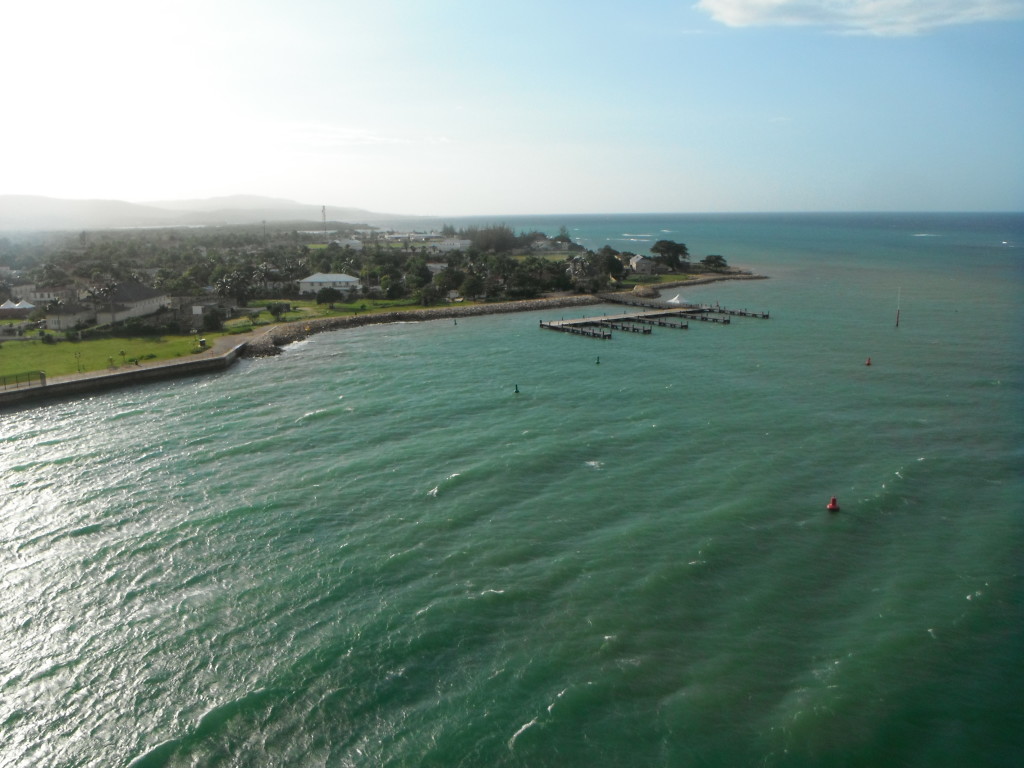 3 hours later we wait as the body is brought back on the ship. An extremely obese woman has had a heart attack and died.  There are many overeaters on board.  Some would not fit through a doorway unless they went sideways. I can't sit near them to eat.  It is sad.  I feel for the woman's daughter who is left alone on the cruise.  How sad.  It hits home to me about being healthy for my son.  I make a decision not to eat so much and to exercise more.  I am all he has.  For the rest of the cruise, I take the stairs, and not the elevators. Being on Deck 9 this is good.
I am so glad I didn't end up staying in Jamaica.  I think we are over poverty and poor countries for a little bit. I want to be around for years to come for my son.  The death of the lady below has really hit home to me.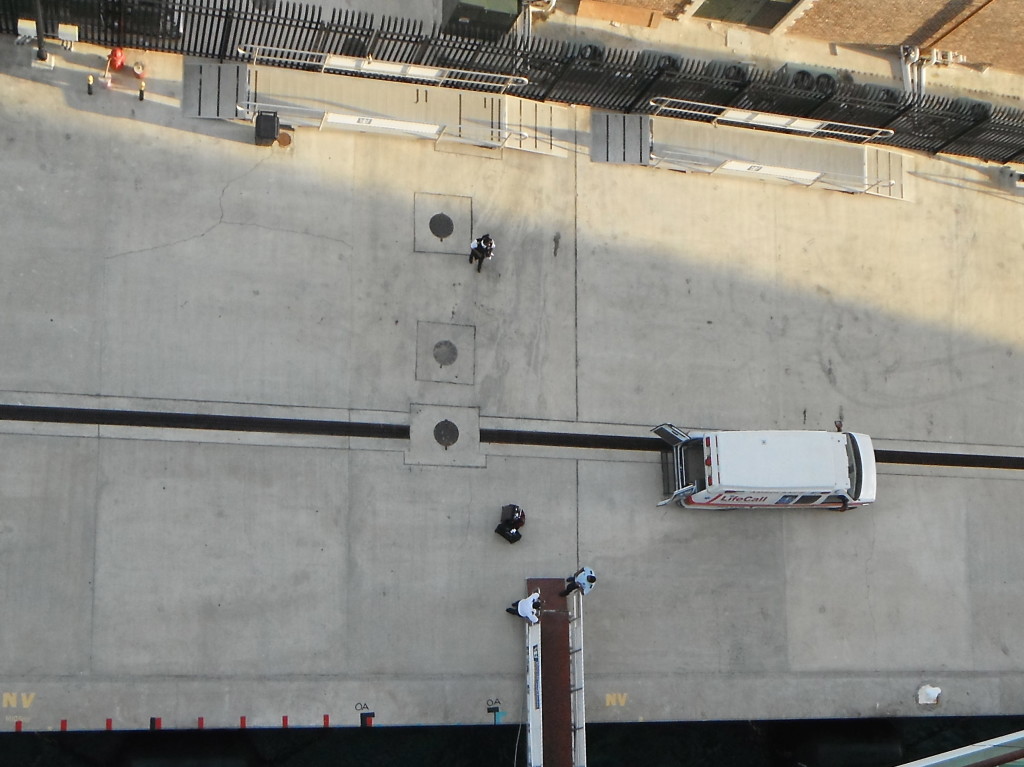 It is dark when we sail out of Jamaica.
I'm so pleased to have visited Jamaica and that we didn't miss out. 
Questions and Comments
Have you been to Jamaica?
How do you find their economy and culture?
What fascinates you about JKamaica?
Do share your comments with us below.