Royal Caribbean Cruise line to Jamaica & Haiti – Review
Where do I start?
We had received a voucher for a discounted cruise a year ago.
We had always planned on visiting Jamaica as part of our world trip, but when we couldn't get there from Cuba, I was so disappointed.
Then when we were in Nassau I saw the cruise ships come in every day.
That was it.  I decided my birthday present to me was going to be a cruise.
So the last day in The Bahamas I booked a last minute special.
It meant we had less than 48 hours to get there.  Oh my – nothing like winging it when we travel.
And with less than 48 hours we came on board.
Here is what we found.
Accommodation Name: Royal Caribbean Cruise line Liberty of the Seas
Location:  departed from Fort Lauderdale, Florida
Telephone:  +1 (305) 341-0204
email: reservationroyal@rccl.com
Website: http://www.royalcaribbean.com
Date stayed: January 2014
Breakfast: yes
Wi-fi:  additional
Child-friendly: definitely!
We are collected from our hotel at 10:30 a.m. by shuttle van for $6 each – well worth doing.
As we arrive, we are extremely pleased with the service.
The bag handlers sort out the fact we have no paperwork and make tags for the luggage.
We are ushered to the front of a very long queue because we have no documentation – yeah!
Customs is a breeze.
We can't enter our stateroom until after 1 p.m., but we didn't know the fun had already started, and so we headed to the Windjammer for lunch.
Now one reason we selected this cruise is that water, lemon drinks, coffee, tea, milk, chocolate etc are included.  Many cruises don't.  Lunch was a massive choice, and it was 5-star quality and service.
When we received our luggage, there was plenty of room to unpack.  It was quite a long skinny room, but it was one of the most comfortable beds I have had in ages.
We checked out the decks and generally got lost – the fun part for any kid.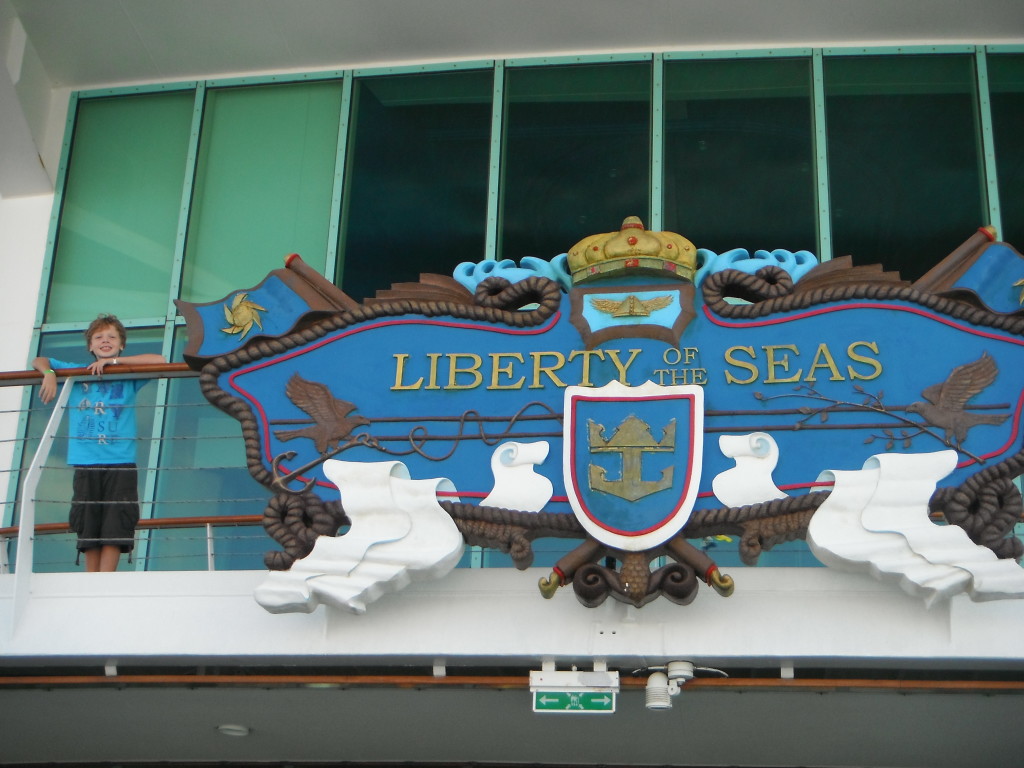 Now we raced around booking things. Enrolling my son in Kids club, booking ice skating and other shows, and checking out where everything was.  Explorason was in full form and loved it.
Once we had unpacked it was time for a quick swim.
Next, we had the emergency drill. Again I was impressed the kids were double-tagged, and it showed so many what to do.
As we set sail, we were waved off by many on shore.  My son was jumping with joy. He loves anything classy, and after too many third world countries, he is ready for some class
There was a wonderful parade, and many areas had glass stairs and lit bridges and overpasses.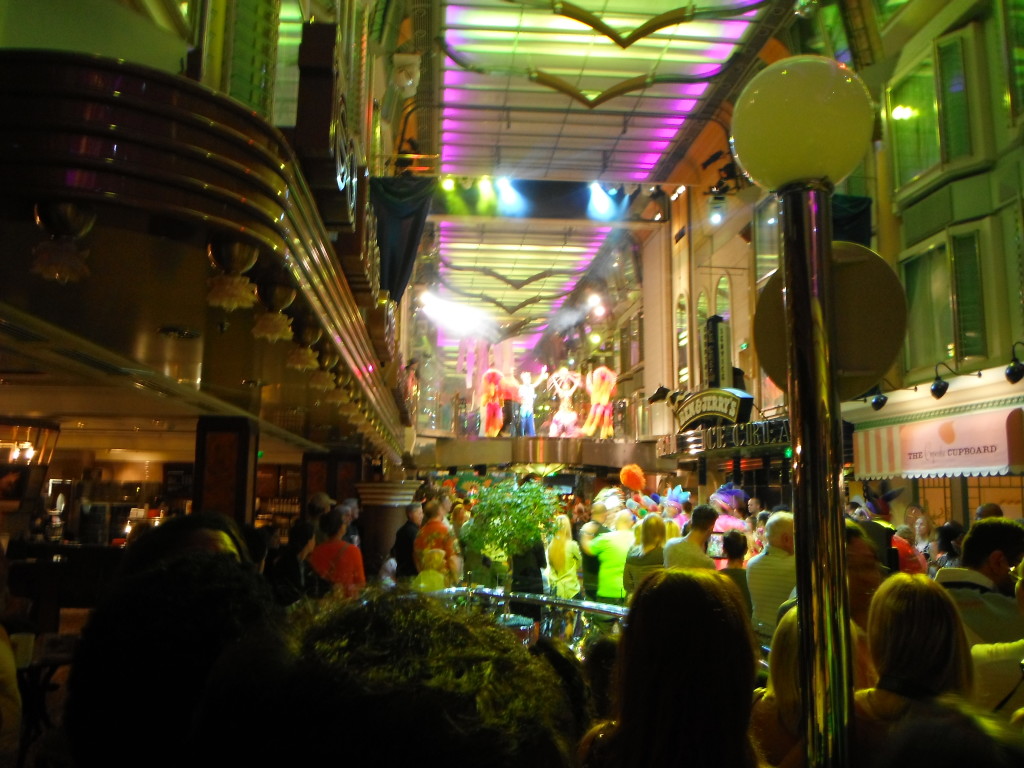 It really is a beautiful place.
That night we went to our first show.
By now we are racing for dinner.
Everywhere there is professional photography, but we opt to conserve our funds and do our own.
Next morning we head for some sun.
There is a wave rider pool on the top floor, but we were so busy he never got to surf that one.
There was a swirling pool downstairs.
I sat and tried to read, while he made new friends.
Love the fact they had a hot family Jacuzzi section so the kids felt special too.
That afternoon we decided on a 3D movie, and so Man of Steel was it.
After that was the Ice spectacular.  There were 2 Russian performers that included the audience and were awesome.
Time for the formal dinner.  I really didn't have formal clothes being a world traveler, but we did OK.
Would you believe my son picked up a Gap shirt in Ecuador, and a Polo Ralph Lauren vest in Antigua, Guatemala?  He just lacked the formal trousers and shoes.  My jeweled shoes came from a clearance sale in The Bahamas – am glad as I only wore them once and gave them away in Jamaica as they were toe-cripplers.
The banana soup was absolutely fantastic.
3 lovely restaurant floors were serving dinner, and we were assigned to the top floor. It was really lovely.  One thing I didn't know was you can opt to share tables and get to know other guests. We only found this out on the last night, but we did find we were always talking to people on the next table anyway.
After dinner, we walked The Promenade.
A really lovely area of the ship.
Each floor is equipped with 3D maps, and touch screens to tell you what is on now, and how to get there.
One afternoon we had the biggest blast. We joined the family time Scavenger Hunt.
We came second – later we found she marked a question wrong and we should have been first, but Explorason just loved racing around the ship finding things and answering questions.  How proud he was when we won second place and he received a medal.
It seemed like we had just eaten, and it was dinner time again!
Of course, the medal had to be worn with absolute pride.
The night after we went to Haiti (separate blog) we enjoyed a laser juggling show.
My son says this was one of his two favorite things on the cruise.
We came back to a gorgeous towel bunny made by the room attendant.
Gratuities are prepaid for restaurant and attendant staff, but there is definitely a focus on excelling to receive extra, and well worth it I think.
On our last day at sea, we went to one of the Dreamwork's breakfasts.
Next, we sat and made silly things with serviettes.  People might say this is a bit lame, but my son likes paper folding and likes to do fun things at the dining room table, so he enjoyed it.
On the last day, it really was a packed agenda.
The 13th floor is a sports floor. There is mini-golf (we never had time to even play that) and a rock climbing wall.
I was super impressed at my 8-year-old giving this a go.
It was also Chinese New Year, and the staff involved my son with the cutting of the massive cake. It was so yummy.
Being the last afternoon, my son decided he wanted to go to the Kids' Club.  This was great as I had to pack the room as luggage is collected after 7 p.m.  He also won a bunch of prizes and he was pretty thrilled with that.  He has been upset lately because he never wins. Being a world traveler he has no trophies for sports or certificates of achievement he might get if we had the standard home life.  We have talked a lot about him feeling a bit of a loser. So this was perfect. He won a beach towel, and at Family Bingo we won a Royal Caribbean Slapper watch. Plus another medal.
I had time to finish off the day in the super hot jacuzzi/spa.  This is a glass atrium that hangs over the sea.  It is a great place to talk and make friends too.
On the last night, we went to watch a live performance of Saturday Night Fever.
We ended up levying about 1/2 way through as it became age-inappropriate, but it was a pretty good show.
We headed out for our last dinner.
As the clothes were packed this was a casual night.  But we shared a table and met lovely people.
Questions and Comments
Are you a family that permanently travels around the world?
Do you have a favorite means of travel?
Have you been on a cruise ship before?
What was your experience?
Do share your comments with us below.
I can't believe how quickly 6 days went by.
Thinking of a Royal Caribbean cruise?  I would definitely recommend it!
We both thought it was wonderful from start to finish – well not the finish – we hated the finish.