Do you have a Travel Bucket List?
We both have a Travel Bucket List, even though we have now been to 73 countries together.  And one of our dream locations is visit is to walk the Great Wall of China and to travel to Beijing with kids seems to be easier than we thought.  So to visit Beijing was a dream come true for us. We couldn't wait, however, first things first, we had to find a good hotel that suited our needs as a family for the next few days in Beijing.
In this part of the world, the number of people seems to exceed the number of accommodation available in the Beijing. Don't be scared though; you won't sleep on the streets when you visit Beijing with kids. Classy hotels are surprisingly affordable but you need to select yours carefully.
So we are here to show you why we selected the Fairmont Beijing Hotel. It is the perfect accommodation for families and so we spent a few nights here and enjoyed the modern Chinese experience. It is one of the well-known luxury hotels in Beijing, China.
Here are the reasons why we loved the Fairmont Beijing and its location.
Ultra Modern Architecture
With an incredible modern architecture, this hotel is an upside down 'U' shape with a road running right through the middle of the building which in itself is amazing!
The hotel interior will also surprise you as it is light an airy with dramatic eye-catching artwork and classy furnishings that will dazzle you as soon as you enter.
Plus, there is an underground walkway to the Art Gallery too, so another great reason to choose this location – you don't even have to leave the hotel!
Proximity to Metro Train Station
Children are very important in China and so families visiting Beijing with kids are well taken care of even with public transport.  The Fairmount Beijing hotel is located near the underground Metro train station (subway) so not a long walk for 'little legs'. The close location makes it easy to access attractions in the city for families.
The station is within an easy walking distance from the hotel, which as you will discover, is likely to help you save on transport expenses, let alone trying to find a park in the city center.  It will also give you a feel of how it is to ride on a train in this crowded city.
Security
Security is high as you enter the Metro and all bags must be scanned, so we felt very safe.  Barricades protect the train platforms, so it is very safe if you are traveling with small children. However like most of China, you will find it is mainly stairs and escalators, with not much access to elevators.  My 12-year-old son had no problem guiding us to the correct lines or reading the Metro map either.  Trains are also frequent, so little waiting is required when you finish your sightseeing in Beijing with kids.
The price is only a few Yuan per way so it is really inexpensive too.
Spacious Rooms
We checked into our spacious Fairmont Gold Junior Suite at the hotel. We thought it was the best option for single-parent families as there was plenty of space for the king bed along with a single bed for Explorason on the side. Suites are spacious with a study and lounge area and a private dressing room.  The bathroom was massive and one of the nicest we have ever been privileged to use.
Plus, a clean air purifying system was even located in our suite.  As well as that, they are located in the passage area of our 'twenty-something' floor so the air is clear in this hotel in Beijing with kids breathing easily.
You will love the serenity that exists in the rooms and suites and the view looks out over the skyline. We also enjoyed the complimentary waters we received in the comfort of our abode.
I think what I love the most was the privacy factor.  A private dressing room, and an electric blind that lowers so the en-suite is completely private. For parents exploring Beijing with kids, some alone time at the end of the day is perfect in this luxurious bathroom!
Great Wall Of China
As our main purpose for visiting Beijing was to go to the Great Wall of China, the first thing we did once we settled in was to head downstairs and talk to the concierge.  Many friends had recommended to us to hire a private car through the hotel, so with the guidance of the knowledgeable staff, this is what we do.
We arranged for an early morning staff. The hotel offered that we could arrange a packed breakfast to take with us if we need to leave super early, but we decided we needed a hot cooked breakfast to start the day.
The concierge advised we should head to the lesser tourist area of Mutianyu and I am so glad we did!
Toilet Time
This concierge also arranged for a restroom stop with the driver on the way and that he would stop if we wanted to take any photographs too. We were pretty pleased with an ultra clean and modern black car that arrived to take us there.
We arrived in less than an hour, and the driver took us to the front of the line where we instantly received our tickets to:
1. the bus ride up to the wall entrance
2. the chairlift up to the wall and
3. the toboggan slide down from the top of the wall.
In hindsight, we would have been better to take the chairlift to the LEFT of the wall and we took the one to the RIGHT.
We have the driver for the entire day, so off we head and arrange to meet him back at the car.  As soon as we see the Great Wall we are so excited!
It is really great not having to hike up to the wall top and when we get to the top we realize we have to go both to the right and left, so we head off to the watchtowers on the right first.
Accident Time
I manage to have a pretty good fall and land flat on my face (as the steps are quite high and not so wide).  So we head for a cup of coffee to calm my nerves and we mix up the currency conversion. It is $10 for a paper cup of coffee but I thought it was $1!  But, then we are on the Great Wall of China and everything has to be taken up there.
I think the biggest surprise we both had was that the Great Wall of China is NOT a road on top of a wall like most people think it is. It 'is steps'. Lots, and lots, and lots of up and down steep 'steps'!  There is only one toilet at the top of the wall that we could find all day and it takes a long time to walk the area.
Toboggan Down
When we were finished we took the toboggan slide down and that was a lot of fun!
Burger King
We then ended up at Burger King in the village at the base and I was really surprised at how reasonable the prices were.
We found our driver easily and headed back to the Fairmont Beijing where we found ourselves on such a high. Going out for a further walk and then we ended up at a nearby Pizza Hut that served a special 'Chinese New Year pizza' in the shape of a coin, and a lovely glass of wine.  As much as we love Chinese food, sometimes exploring Beijing with kids means they want the creature-comforts of western food like 'back at home'.
Relaxing
Yum! We then picked up a dessert at the mini-mart nearby and decided it was time to head back to our suite for a night in and a lovely hot bath with complimentary bath salts.  Feeling relaxed in our pajamas, fluffy hotel robes and slippers it was time for some TV and a lovely coffee from the coffee machine situated in the privacy of our suite.
Mouthwatering Meals at Fairmont Beijing
Lunar 8 is a restaurant downstairs where you can have your meals. Don't forget to try their Peking Duck – It is very famous and delicious should you dine there for lunch or dinner.
We love trying local cuisine all around the world, but The Cut Restaurant here at Fairmont Beijing is a Western-style restaurant with the finest cuts of meat and is famous with culinary-minded guests.
Coffee
Being a coffee lover, I really loved the different cups of coffee we were served during our stay. Their buffet has a variety of options. Specifically, we loved the restaurant's breakfast buffet which was the perfect start to our day.
Beijing Silk Market
Once known as Silk Street, the Beijing Silk Market is also located down on the main road near Pizza Hut and the Mini-Market and many other stores.  sadly for us, it was closed during our stay as it was Chinese New Year, but we were ready to go. Locals informed us you need to bargain hard (up to 50%) as prices start high.
Bargains and haggling
I found this on the Great Wall of China where I bargained for a cute Chinese traditionally dress wooden doll ornament – He started at 250Y and I managed to get it for 40Y. It is important to walk away if the price is too high.  They will chase you if they want the deal. Beijing with kids means that the whole family has an affordable vacation.
Just down the road from the Silk Market is a beautiful walk with gorgeous lit up trees that are perfect for a stroll in Beijing with kids. It is well worth an early evening stroll around the area, and it feels very safe too, albeit very cold when I took my stroll!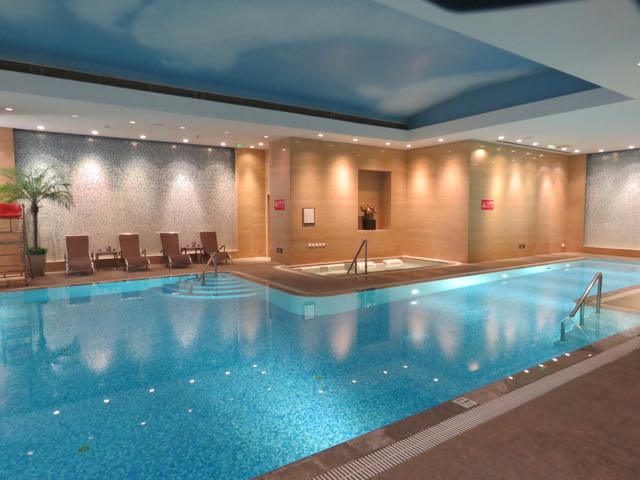 Hotel Swimming Pool, Jacuzzi, Gymnasium, and Spa
When we decided to head to the amazing swimming pool, we were thrilled that everyone else was out sightseeing and we had the area to ourselves.  Those who have interacted with Explorason understand how crazy he is about pools. So this was a perfect place to relax. We were happy to know that this hotel had a pool and that of course, it is clean and safe to use, so another perfect place in Beijing with kids.
If swimming is one of your interests, you might want to spend some time but remember in China that you must have a swimming cap to use the pools.  These are available for sale in the Spa reception area and gift shop along with other swimming and sports necessities. Located in this area you will find the amazing spa that is suspended over the road below and seeped in luxury style.
If you do not love swimming as much as your kids, you can sit by the poolside and watch them have the time of their lives in the water, or relax yourself in the adjacent jacuzzi. Perfect after exploring Beijing with kids.
Tiananmen Square and The Forbidden City
It was so easy to take the Metro from the hotel area.  We emerged from the subway station right at Tiananmen Square and the Forbidden City.  It is really important to find out which exit is the right one for you especially if you are exploring Beijing with kids – as we ended up on the wrong side of the road.  We did and we exited on the Forbidden City side.
Being a public holiday, there were throngs of locals and tourists here and it was like a one-way sea of people on the day we went.
Bring Your Passport
We did not know that passports are required to purchase a ticket for entry but we still managed to walk inside the main area and through a great area of the grounds. There were one-way pedestrian traffic and a 1 km exit via the lake.
What was so fun was how many people wanted their photo taken with us in Beijing with kids.  But when we couldn't work out how to exit, one lot of teenagers stuck with us for about half a kilometer helping us find the way.
Toilet Time
By the time we ventured back to opposite Tiananmen Square we desperately needed a restroom as you would if exploring Beijing with kids.  With none to be seen and no restaurant in sight, we decided to return to Fairmont Beijing as it was only a few minutes on the Metro (4 stops).  Best decision ever!
Professionalism
The staff at Fairmont hotel seems to understand us and tried so hard to assist us in every way. We felt welcomed from the time we got to the front reception grand foyer.
Those charged with housekeeping also did a good job of ensuring that the rooms were clean and that we were supplied with toiletries and other essentials every day.
Helpful Chinese
We've found folks all over Beijing with kids in tow to still be incredibly helpful. Whether we are out exploring, or within our hotel, to us, the Chinese were incredibly sweet, well mannered, and above all professional and caring. We found this, especially when exploring Beijing with kids.
We also felt the quality of service even at the restaurant when we went for our meals. The staff here was jovial and always willing to help.
Wifi
I love the way that they helped us with the wifi when we did not have a Chinese SIM card, and also how notes were taken to ensure we had a taxi on our last day to return to the airport.
Staying at the Fairmont Beijing has been an amazing time, and as we farewell China I can say that this entire country has far exceeded my expectations.  I would definitely recommend it as a destination for single parents and families alike vacationing in Beijing with kids.
Questions and Comments
Are you planning a vacation to Beijing with kids?
What are you planning to see and do?
If so, what is the most important requirement for you and/or your family when selecting a hotel?
Talk to us through the comment section below.