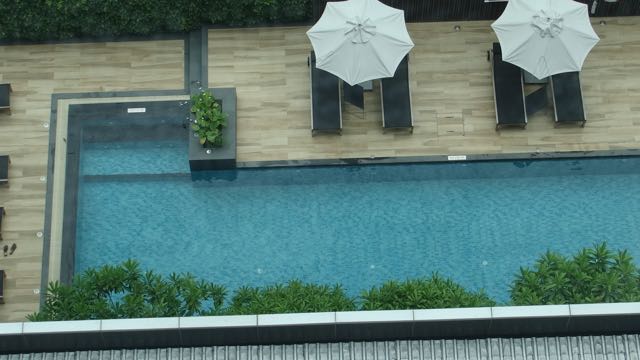 We have arrived!
It has been a rough start to Bangkok with our luggage being left behind in Ethiopia, so we have been told to go out and shop for emergency supplies every day until it arrives (up to 3 days) by the airline and so we only arrive in our casual flying clothes.
But thankfully, we have selected a brand new luxury apartment to stay in and we know the importance of finding a great place to start our time here in Bangkok.
From my years of experience, I have realized that most people ruin their vacations by the simple omissions they make in the planning stages of their trip. Many travelers tend to be more concerned about the airline they will be using rather than the accommodation they will check into.  However, as I have come to discover, accommodation is as important as the airline you will be using.
In fact, in some cases, I think it is more important – since this is where you will be spending your nights and days.
So, if you are to add a little luxury to your vacation, here are the different factors you need to consider.
Breakfast
This is always very important to everyone. With long nights and no bites, Explorason always wakes up with an empty stomach and a big appetite. This is the reason we cannot do without breakfast.
Breakfast gives him the energy to kick-start the day with great joy and deep satisfaction.
I always advise people to make reservations for hotels and apartments that provide freshly prepared breakfasts in clean and neat environments as the last thing you need to do on your first morning is to go shopping for ingredients or to go on the hunt for a nearby cafe.
We personally loved the type of breakfast served at Somerset Ekamai in Bangkok as it was cozy and friendly and the food served was very satisfying.
Here breakfast is served in the adjacent building in their Cured Chamber Restaurant. They make incredible coffees too!
Location
Without any doubt, the world is a forest of countless luxury hotels. You will, however, realize that there are those that are just in the wrong location. They are so hard to trace or access either by foot, public transport or by car. You have to be wise not to make the wrong choice especially when you need to return to your abode in the dark.
I was so impressed by my decision to check into Somerset Ekamai when I visited Bangkok since as I discovered, it was very close to the Skytrain station. It only takes 6 minutes to walk from the hotel to the train station.
With the station very proximal to the hotel, it means that you can access all the other parts of the country without much hustle. I just loved this.
So, choose a hotel whose location allows you to enjoy the services provided within, without denying you a chance to interact with the outside world.
Playground, Swimming Pool And Kids Club
As a single Mum, checking into a modern hotel that will give my son things to do is also important to me.  Although Explorason is now a big kid, here there is a playground for smaller children too. I believe that this is also equally important to two-parent families. I have realized over the years that I can never enjoy the luxury promised at any luxury hotel if my child does not enjoy it. The only best way to ensure that younger kids enjoy their stay is when they a playground where they can go and play especially if there is another adult to supervise them, whilst Mum goes off to do her 'boring' stuff.
Of course, there is also a magical swimming pool for the whole family to enjoy too.
A hotel or vacation apartment building like Somerset Ekamai that has a playground for children means that they get an opportunity to meet their peers and have a nice time with them.
Just in case you check into Somerset Ekamai hotel, you might want to allow your child to go play at the Cubbies Kid's Club inside. They'll love it and if you want to, you can sit outside the glassed area and enjoy some relaxation time too.
Eating And Drinking
After spending hours on the internet or touring the streets, I always prefer to get into a restaurant that offers the best of mouthwatering cuisines rather than cook myself, though our serviced apartment had all we needed should I have wanted to.
Even before I check the menu to dine, I always expect the restaurant to be exquisite and welcoming, and to also have a 'kid-friendly' selection.
We understand that this is the place we will be having my meals, and so it has to be built in a way that we not only get to appreciate the type of food served, but we also appreciate the joy of having it in a welcoming environment.
The Cured Chamber is new and intriguing and Explorason managed to get a private tour of the actual Curing Chamber.
We dined on different days and for all different meals and snacks here.  The night we arrived I had a migraine so Explorason organized 'takeaway' and had it delivered to the room.
On another occasion, we enjoyed their incredible Lunch Menu, which is a special menu at a bargain price that lures many local business workers here to dine, so the place was packed.
But our favorite meal was dinner.  We organized with the manager to arrange to try their signature dishes, so each course was a surprise.
But the biggest surprise was the delicious non-alcoholic cocktails they created for us. 10/10!
From the nibbles to start with, to a lovely soup poured into our plates before our eyes, and then a tantalizing salad, main course, and to finish off dessert.
It was a perfect evening and a lot of fun and a great way to add a little luxury to your vacation should you visit Bangkok.
Hotel Amenities
When we arrived at Somerset Ekamai Serviced Apartments we were immediately greeted by the doorman who ushered us to the open ground floor reception area that felt just like any hotel check-in.
But considering we arrived quite early in the morning, we were invited to use the Residents and Guest Lounge on the first floor.  Here we could have the place to ourselves on this occasion, and it is a lovely open space with drinks available, TV, magazine and even a shower.
Luxury Apartments
Have you ever wished to book an accommodation at a specific luxury hotel but the hotel never had a wide range of accommodations?
This is something that we have had to deal with on many occasions. When I researched Bangkok on the web, I found a number of luxury hotels that were really impressive, but to start off we wanted an apartment with room to move and a separate lounge area for Explorason to have some space.
So with the help of a Google search, I located Somerset Ekamai hotel, and discovering it was new, made us want to check it out.  We knew the area was perfect, and this lured us here.
It has a number of apartments that range from studio to 3 bedroomed apartments. I had an easy time finding an apartment that perfectly suited my taste and needs. I loved the fact that the rooms were neat, spacious and had all the items that made the hotel more homely.  It's also nice because a serviced apartment means I don't have to clean.
Plus it had a balcony with floor to ceiling windows for a killer city view!  We lay at night with the curtains open, just watching Bangkok sparkle beneath us.
I loved the full-size bathroom and the fact it had a bath too. This really helped as I relaxed on the first evening trying to rid myself of a migraine.
Having a brand new serviced apartment is the perfect way to add a little luxury to your vacation.
Pamper Me
On our last evening here I had booked an hour of pampering at the Golden Massage.  This is a newly established business right within the complex and here I enjoyed a traditional Thai massage which was so good I fell asleep!
The trained staff are dedicated to providing guests with a unique and relaxing massage experience.  There is currently a bonus special that guests receive a welcome voucher to come and try a short complimentary Golden Massage too.
As I made my way back to our apartment I realized this is a perfect way to add a little luxury to your vacation.
Fitness Facilities
Luxury cannot exist without fitness facilities. Try finding affordable but luxury accommodation that has a swimming pool, gym, and/or a spa can be tricky in a city like Bangkok where space is premium.
At least with such amenities, I always have the freedom of visiting a spa to relax my muscles or fitting the gym for some fitness exercise. I understand that luxury is more about having the freedom of resting in your apartment if you wish to, or visiting different facilities in the hotel if that is also an option.
So, book a hotel that has as many fitness amenities as possible. You won't be disappointed.
Conclusion
We stayed three nights here.
There was a nearby shopping center we absolutely loved that also had a food court, some 'killer' clothing sales, and a supermarket. We visited there two times and I was really impressed. But then, really there are shops everywhere in Bangkok.
Plus – there is a bonus staying here.  There is a complimentary shuttle service 'on the hour' that guests can book at the reception, to be dropped at several nearby locations.  We often used this and I found it really saved Explorason from tiring out before we caught the MRT too.
Plus there is a luggage storage room.  Two of our three delayed luggage items were delivered to the hotel late on the second day, and the doorman safely stowed them for us and then delivered them up to our apartment.
Of course, you can expect 5-star Thai service from all of the staff. Bangkok prides itself on treating their guests with care, and Somerset Ekamai went out of their way to assist us on every occasion.  On our last evening, the rain suddenly came pouring down and we tried to run back to the hotel.  Suddenly the security man on the gate emerged with a beach-sized umbrella and ushered us to the reception area.  Now that really impressed me!
YES – we would definitely stay here again. This is a place where you should definitely add a little luxury to your vacation.
Questions and Comments
Have you recently been to Bangkok for a vacation? 

Did you manage to add some luxury to that vacation and if so, what did you do?  

Also, tell me what think about Somerset Ekamai apartments after hearing what I have had to say about it.
LUXURY SERVICED APARTMENTS BANGKOK
22/1 Ekamai Soi 2, Sukhumvit 63 Road, Phra Khanong Nua, Wattana, Bangkok 10110 Thailand