If you head to the very northern tip of Zanzibar to a coastal town of Nungwi (also known as Nungwe) you will find an area that is completely different than the rest of the island.
Here there is very little seaweed, sugary white beaches, and clear turquoise waters. This little part of paradise draws holiday-makers from all over the world.
Some are young seeking the sunset party boats, motorized sports, and the island beach life, whilst others come to snorkel, walk, or relax on one of the best beaches in the world.
At the Nungwi point is a lighthouse and by this is the island turtle sanctuary where turtle life is not only protected but encouraged and nurtured too.
We stayed nearby at Flame Tree Cottages – this is a relaxed property with villas spread out throughout the garden area, with a trail that leads directly to the seafront.
On one of our previous drives around the island in our 4WD we came close to this area but on that day our accommodation was double booked so we left and went elsewhere – heading back south and thinking we would never return north again.
I'm so glad we did, because this time we discovered a lovely little corner of the island I had no idea about!
Arriving at Flame Tree Cottages
We drove our 4WD through some muddy puddles on this day, as the rainy season is just starting, but that didn't deter us. Driving in Zanzibar has been great, except for one really rough road in the middle of the island to arrive in the north, but that is all part of the adventure.
Driving in Zanzibar has been great, except for one really rough road in the middle of the island to arrive in the north, but that is all part of the adventure.
We were really glad of the good signage to this property and found the security gates without any trouble that opened into the private garden of Flame Tree Cottages.
I liked that we could park the car under the shade of a Flame Tree too, and in their secure guarded grounds.
Reception
An older staff member came to the open-air reception area. He assisted us with check in and the bags and I immediately felt that African traditional style with the hospitality.
He wore a bright western style shirt, but in African print, and his name was bold and clear on his badge that he seemed to wear with the same proudness as his smile exuded.
The Grounds
We wandered down a stone path passing the swimming pool and relaxation area on the right. I was immediately impressed with the traditional gardens, that have quite a European feel to their layout.
Loads of flowering tropical plants lined the sides of the pathways, and birds are plentiful in the garden. Little lizards dart around catching their insect lunches too. And even a speedy hummingbird in dark metallic green dashed by me!
Our Cottage
I instantly felt so relaxed at our cottage. We shared the verandah with the one next door, but there were no guests staying when we first arrived so it meant we had the place to ourselves and it was lovely and quiet.
The front room was like a lounge area and flowed through from the bedroom that thankfully had air-conditioning. All the rooms and even the verandah had electric fans, and as this is the rainy season, this helped ease the muggy weather. African-style artwork adorned the desk and walls with antiques dotted around here and there.
Breakfast On The Balcony
I think the favourite event for me at Flame Tree Cottages was being served breakfast on our verandah – and for other guests on their balcony.
There's a toaster and kettle provided in the cottage, and so when we woke the table was already set outside our front door. We found there was way more food than we needed and I loved the fresh fruit juices each day that gave me a healthy start.
I could sit and see the gate that led to the ocean down the garden path, and watch the local birdlife as well enjoying the lush tropical garden that was full of flowers like Hibiscus, Bird of Paradise, Cannas and Frangipani – to name a few.
Breakfast was private, and a great way to start the day. Explorason could pop out in his pyjamas, and I appreciate the staff bringing me an early morning coffee just as the sun came up on two separate occasions.
This was another example of the old fashioned charm I found about this small boutique property.
Beach Walks
My favourite part of the day was the morning. I'd rise early and go for a walk along the beach. Usually, I'd head right along the pure white sand.
One day I saw bullocks resting on the cool sand. Another day I had a pup make friends with me. Often I'd see the fishing boats heading in from their night's fishing, or preparing to head out – this all depended on the tide.
If I walked right to the end there is the Turtle Sanctuary, and also the Lighthouse.
To get there, I needed to walk past the local village, and I found that quite colourful, and full of Muslim tradition and country life. Local children would also play and gather around me after I took their photograph.
Activities
There are so many local activities and trips to do in this area. The Mnemba Atoll is one of 'the most gorgeous' spots to dive or snorkel and it is just around the north point.
Then there are some motorised water sports, paddle boards, kayaks, swimming, joining in a local football game, turtle watching, swimming with the dolphins, volleyball on the grounds of Flame Tree Cottages, plus many more wonderful activities on both land and sea.
The sunset cruises on a wooden boat are also quite popular.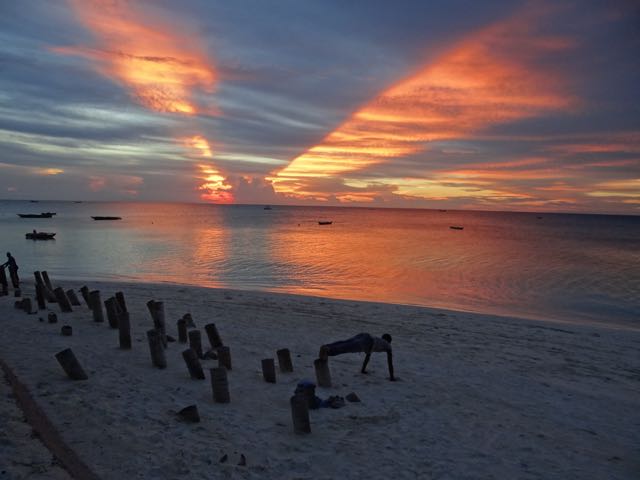 Sunsets
Talking of sunsets, if you are a lover of sunsets, Flame Tree Cottages has a well located and relaxed restaurant under the trees. It is right at the front of the property adjacent to the owners home, and from here you can see the most magical skies as you dine or enjoy your evening drink.
If you are looking for a relaxed alternative to a resort, then we can suggest you read more about Flame Tree Cottages here or contact them below.
Email: info@flametreecottages.com
Nungwi (PO Box 1752) Zanzibar, Tanzania, Africa
Landline +255 24 2240100 Landline +255 24 2240101
+255 (0) 752 526 366 +255 (0) 777 479 429
Exploramum.com is rated as 2017:
NUMBER ONE Single Parent Travel Blog (Nomadic)
NUMBER THREE Australi

a & NZ Travel Blog (Family)
NUMBER TWELVE Australia & NZ Travel Blog (General)
The wording in this article is our own and used to describe how we felt in this situation. We try to be as factual as possible, and any error or omission is not intentional. This article does not represent the views of any other person/s or company mentioned herein. All photographs are ©Copyright 2017 Exploramum and Explorason. It is illegal to post this article in part or full on any other website without written permission.