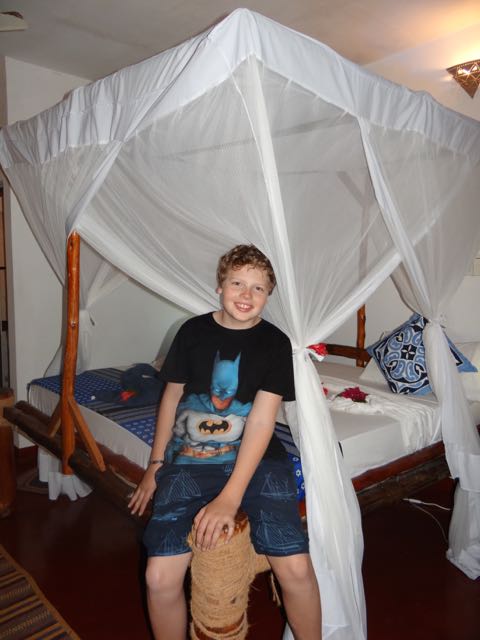 As our plane descends over Zanzibar Island, my son is just SO excited! He loves the East Coast of Africa, and it has been 18 months since we first discovered it for ourselves.
Now, after just finishing our time in Jordan, we will have time to slow down a little.
It had taken nearly 24 hours to arrive there because there was a nine-hour layover in Doha, Oman – thankfully Qatar Airways provided us with a hotel – although I must say it took 3 hours from landing until we finally arrived at the hotel because the hotel pickup was so slow.
(If there is a next time, I will ensure I ask for a nearby hotel! Still, I was grateful for 3 hours sleep, and that a shuttle was provided to return to the airport).
I can't say we explored Oman in any way, so we will have to return for that, but my camera was still busy taking photos out of the shuttle bus window, even though it was raining!
Arriving in Zanzibar
Zanzibar airport is a small open airport, and 'Visa on Arrival' is available for up to 90 days for Tanzania. We were asked to pay by Credit Card – USD$50, and two forms each were required for completion between Customs and the Visa.
Luggage is kept on trolleys behind the public access area, and you must ask for your baggage to be brought to you. The man then will ask for a tip.
We had packed our ski jackets (from our recent time in Bulgaria) in a separate bag and forgot them, and had to return 3 days later to receive them.
I had to complete forms and was somewhat interrogated as to why I would forget a bag, almost with disbelief.
A lesson in not throwing out baggage stickers either, as these were required also for claiming the bag. You cannot send someone to collect the bag, it must be done in person.
We met our hire car company who gave us a VIP welcome, and fantastic service.
He helped us with so many things to get settled into Zanzibar including finding a pharmacy, ATM, phone SIM and much more.
It was weird to be driving here, but it also felt FANTASTIC!
Our Arrival at Bahari View
By the time we arrived at Bahari View Lodge, it was nearly sunset. I parked the 4WD securely behind locked gates and headed to reception.
I was so hot and very tired. Our virgin cocktail Welcome Drink of avocado juice mix was the perfect healthy start to our time on Zanzibar.
The manager who met us was so welcoming and friendly and arranged for our bags to be taken from the 4WD to our villa.
He asked us about food allergies, and I realized from this moment on, that the personalized service is what made Bahari View special.
It's not a 5-star property, but the way they treat you is definitely 5-star service.
No Malaria on Zanzibar?
The manager also advised us that for the past 5 years the government has been running a yearly spraying programme, and malaria is virtually non-existent on the island of Zanzibar, so that is awesome. (I did Google this later, and apparently, there is 2% chance and it is not yet totally eradicated.)
Our Beach View Villa
Ascending a few steep steps was the only negative thing about this villa, but once on the balcony, it was quickly forgotten. There was a foot-washing tub for sand, and I quickly learned this was a lodge where 'shoes off' became the theme – it is a relaxed life.
There was a double bed for me, and a single bed for Explorason and the beds were covered with flowers and origami folded towels. It was such a pretty welcome.
With the windows open for the evening sea breeze, and the ceiling fan circulating, it was perfect.
Our First Dinner
We quickly unpacked, and whilst we did, the restaurant sent over staff so our meals could be selected in advance from the menu and prepared for us as weary travelers.
I sat and enjoyed dinner so much. It is an informal restaurant, but the food was a good price for African Resorts, and the gentle sea breeze that wafted in was delightful.
Our First Night in Zanzibar
We return to our villa, to find the lights, on, the mosquito nets down, windows closed, and our room prepared for the evening – they had even sprayed it with insect repellent against any little mosquitoes of the non-malarial kind!
I confess, neither Explorason and I slept too well the first night back in Africa – we were not used to the heat. To think less than 2 weeks ago we were in the snow skiing. Our bodies needed to adjust. (The next evening we took a cool shower before bed, and slept much better).
Waking Up On Zanzibar Island
I woke early and sat out on the balcony watching the locals walk along the beach.
I let Explorason sleep in, but he soon joined me in the traditional cow-hide chairs, with camera in hand.
I went for a walk along the beach and collected some shells – I was beginning to feel the reality of being here.
Awesome Healthy Breakfast
I really enjoyed our first (rather late) breakfast at Bahari View Lodge. The menu had a great selection of both western and local foods, and of course, plenty of fresh juice and fruits were available.
My favorite was their Zanzibar Porridge Muesli – so healthy! Both of us feel like we have consumed way too much food lately, and our focus is to 'relax, and get healthy' on Zanzibar Island, so this was the perfect start.
Catching Up With Friends
We had arranged to stay here to be close to our friends from U.K.
The kids had a great time hanging out together, swimming in the ocean, and making sandcastles etc.
This is the 3rd time we have met them around the world, firstly being in Mexico, then the UK, and now, here in Zanzibar. I love the fact they are growing up with such a diverse travel life. Their daughter, Jasmine, is also a very talented blogger – The Travelling Minstrel.
Boutique Villa and Swimming Pool
With only 12 Guest rooms and villas, I think this is why we found the personalized service here so good.
With only a small number of guests, this also meant that every day we had the swimming pool to ourselves!
As part of our new healthy approach we agreed to do a certain number of laps each day in the pool, so Explorason would hold me to this.
It's great they have a pool, as the Indian Ocean is very shallow, and when the tide goes out, you need to walk for miles to have a swim. So we could take a refreshing dip in the pool any time of the day.
Cocktails and The Bar
Wifi is available near the reception area, relaxation, and cocktail area, or down at the beachside bar.
So each evening near sunset the cocktails were served to guests that wanted to order them, and after dinner in the evenings, the guests would congregate at the bar. We met two German men who were so funny on our last night – I wish I had discovered their humor earlier on, as they were 'a hoot'.
Restaurant
We've dined at other places since we stayed at Bahari View, and I now realize that dining out on Zanzibar Island can leave you wallet 'burning a hole in your pocket'. But I didn't feel this at Bahari View. Both drink prices and food prices proved reasonable to me.
The food was really lovely and once again the service was amazing, and friendly too. I'd definitely recommend dining here, and I do believe if you are at an adjacent property, you can arrange to dine here also. Given some other resort prices, this is a great idea.
Conclusion
We loved using Bahari View Lodge as our base to meet friends and found the location near Jambiani to be perfect.  or those who really want a dose of local life, I'd suggest a wander through the local village as it is a real eye-opener.
We'd love to thank the small team here for helping to make our first nights on Zanzibar Island memorable and special – you are all wonderful!
Questions and Comments
What are some of the issues you have had to deal with on an arrival in a foreign country?
How about the accommodation you checked into? Was there any issue?
Please feel free to leave us a comment below.
Website: Bahari View Lodge
Address: Coast Road – 
Jambiani, East Coast, between Paje and Jambiani – Zanzibar Island, Tanzania