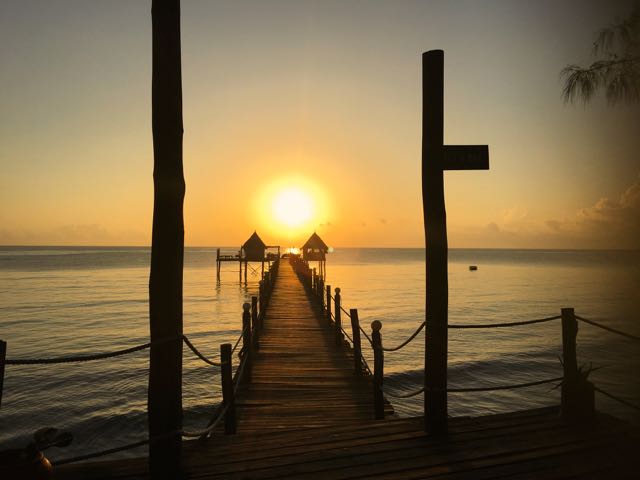 Zanzibar was once known as Spice Island, where it was considered a major trading post for Spices from Africa going by sea to the Middle East and Asia.
Not only were the spices traded here, but many were also grown here on the island too.
Thus, Zanzibar became a famous port in the Indian Ocean.
Location
We are here now at Spice Island Hotel and Resort, situated on the east coast of Zanzibar. A place where many of the smaller boats came to shore in years gone by.
Now locals mainly fish for a living, and the beautiful white sandy beaches and clear waters attract tourists from all over the world.
Verandah View
We're fortunate enough to be in one of the Deluxe Bungalow Room here at Spice Island Hotel and Resort – so from my balcony (or veranda) I look across the large swimming pool out towards the sea.
Here I get to watch the sunrise, and it is also where I saw a man in the early dusk light wandering around with his camera. So I followed him and discovered an amazing sunrise.
We have some more really fabulous photos on our Facebook and Instagram, so please check there to see all of them – you'll love them!
Villa
I've just had a great night's sleep – the best yet since we have arrived because our room was air-conditioned. You might think this as no big deal if you are reading it in the western world, but Zanzibar has limited power, so this is indeed a rare luxury in itself.
Our villa is pretty huge, and I love that we have a couch and seating area that can double as Explorason's bed, and even a desk so I can type up my articles (like this one!) and share our world travel experiences with you.
I'm pretty sure this property is in a transient state, as the buildings appear newly painted in a gorgeous (but shocking) watermelon red – I love the color and it a good contrast to the 'Makuti' thatched roof. It seems to me that they are in the process of upgrading, as I notice also that the cushions and curtains look brand new and are in a gorgeous African fabric.
Lots of little things indicate a freshness about the property.
Making New Friends
Explorason made friends with 'Hugo' a boy from France not long after we arrived. They were swimming in the pool and doing hand-stands and mucking about and play-fighting. It was nice to see. There were a lot of families staying here, so it is an ideal family resort.
Hugo spoke very little English so other guests also joined in assisting with translation – in fact, we found all the guests to be friendly – mainly from Europe.
Single Parent Travel On The Rise
One evening Hugo's Mum and I walked along the pier whilst the two boys raced around. She was another single Mum traveling and I am noticing more and more single parents taking their children on vacation. After all, 50% of parents are now single parents. This is a staggering number, and really it is also a market for travel that needs to be focused on. After all, these single parents often have to work long hours raising a family alone, and more than ever that parent needs a break. They want to spend time with their child, but they also need rest and relaxation themselves.
I think Hugo's Mum and I could relate to each other, and it was lovely to receive an email from her typed from her office a few days after they returned.
Celebration
On their last day in Africa, Hugo turned eleven-years-old, and Spice Island Hotel and Resort brought out a cake for him, and he was delighted.
All of Hugo's new friends (including Explorason) gathered around and sang 'Happy Birthday' along with the staff.
Dining and Relaxation
To me, the MASSIVE dining and relaxation structure was just amazing! Split into 2 levels, this really is the most stunning feature on the property beside the quaint pier.
The upper level adjacent to the bar was filled with couches, grand 4-posted day-beds, with billowing fabric canopies, and books and magazines are readily available too. One evening we enjoyed our dessert up there, as the ocean breeze wafted through.
Downstairs is where we enjoyed breakfast and dinner each day.
Breakfast was a buffet, with a station for the cooked options, which is where Explorason would go for his daily pancakes. They also made just the best-fried potato and onions I've ever encountered! Yummo!
I chose to also select from the assorted fresh local fruits and other healthy dried fruits, nuts, and cereals on offer. I love how they were stored in these Africa clay pots and served from a dhow wooden carved boat – so authentic!
Dinner each evening (on our Half Board package) started around 7:00 pm, and I was surprised that it was pretty full every night, even though this is the end of the High Season.
We could choose three courses, and my son loved the Sushi they had one evening for starters. For main, my favorite was a seafood crustacean (a little like a small lobster) cooked to perfection.
I thought the food was excellent here with healthy choices that even the kids enjoyed.
Pier
The bar restaurant on the end of the pier is quite famous in the area, and many other tourists will come to enjoy a drink in the day, a snack, or an evening cocktail.
We headed there one evening, and I was pretty surprised at the really reasonable 'Happy Hour' prices, especially for a large glass of wine – best value I've found so far. As we sat looking out over the Indian Ocean, we could see schools of tiny fish swim by, birds flying in formation, and wooden dhow boats returning from their day fishing – we had a great time that evening – I can't remember what we laughed about, but I do recall it was a great family time – no technology of course!
Be Sun Smart
We went out on our first day here to catch up with our friends from the UK that were staying nearby. We managed to get really sunburnt, so the rest of our stay we stayed indoors, or swam in the pool in the afternoon shaded sections.
The African sun is hot, and it is very deceptive, as the clear water is as warm as a bath in the Indian Ocean, and the white sand reflects so much.
Thankfully, Spice Island Hotel and Resort cleverly provided wide-brim woven straw hats for our use. They have a great recycling programme for any left-over sunscreens too.
We're going to be in Tanzania for a while, so we hope to show you many great places to discover as we explore this great land. We've rented a 4WD vehicle from ZanCars so we can get around the island easily, and so far I'm loving most of the driving here, even though the roads are pretty bad in places.
Explorason loves Africa in general and I think he is very happy here?
What do you think?
We hope you continue to follow our world journey.
Thanks, Spice Island Hotel and Resort – we loved our time with you – a true family resort.