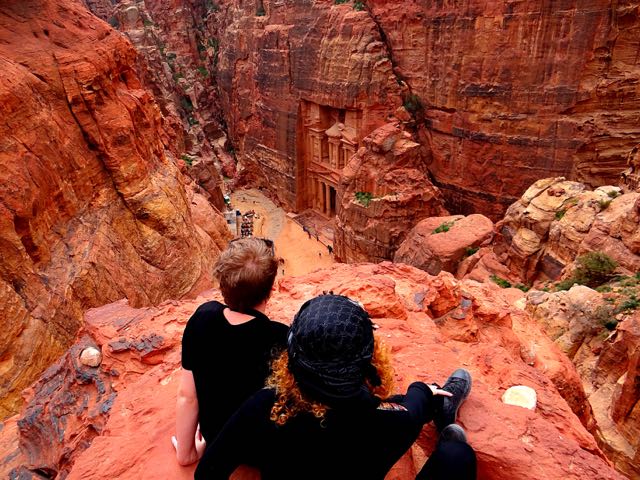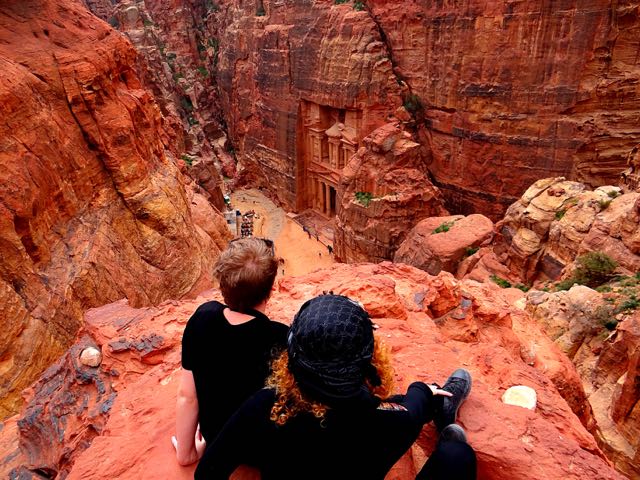 Jordan is amazing, and for us, it felt completely safe for family travel.
We just spent eight nights in Jordan, and I really wish we had longer.
There is so much to see and do for families, and parents can have a great time too.  As a single Mum, I am really conscious of traveling to places where our lives are not endangered in any way, so I loved the tight security feeling we had in Jordan.
Another great thing is that so many speak English in Jordan, so this really helped us. If they didn't speak English, then some would smile and point. I loved that too!
Before we give you a list of all our favorite things to do, let me explain why we felt this way.
Friendly People
We found the people in Jordan overall to be very friendly – locals even came and asked if they could have their photo taken with us.
Strangers constantly, and I mean constantly said, "Welcome To Jordan" no matter where we were.  I even found Bedouins on hillsides saying this to me.
I also loved the way the seaside security guards at the Holiday Inn Resort Dead Sea offered to hold our camera and take photographs for us. (Admittedly it was quiet, so I don't know they could do this all the time, but it was nice they did it for us.)
We stopped to use the restroom at one place and I asked at the counter what a dried herb was they had in a dish. It was sage to make tea – for when you have an upset stomach. Next thing the man has given me some to take away with me!  Turns out I DID have an upset stomach after I left Jordan in Africa, so I was thankful for this kind gift I was able to use.
Clean, Modern and Accepting
I am pleasantly pleased by just how clean and neat Jordan is.  It is a modern city, that accepts people of all religions to dwell side-by-side in harmony.  I have photographs of a street that had a mosque, a Catholic church, and an orthodox on the same street block.
Safety
The security in Jordan is really high. And I mean REALLY HIGH!
We had a kids Drone packed with us in our luggage, that my son received for Christmas.  It doesn't fly high, but it has a camera on it.  Airport security discovered it when they X-rayed our bag at the airport on our arrival to Amman. We then had to leave the drone behind at the airport and collect on our exit. This event didn't fare so well, as the drone was taken to airport storage and damaged (I think a weight was put on top of the bag), so I'd suggest leaving your drone at home.
Our external hard drives were all examined, and our laptops were turned on. All suitcases are X-rayed at the airport on arrival. All showing security is a serious business in Jordan.
Grand Hyatt Amman and Movenpick Petra have both built an external building for their security checks on all that come into the hotel.  This means nothing dangerous can (hopefully) enter the hotel.
Best security I've seen anywhere I think has been in Jordan.
All touristic attractions will have a security checkpoint at the entrance. Some places (like Jesus Baptism site at the Jordan River) you must go in a group or only with a special document and a time limit organized with a registered guide.
To some, this might seem over the top, but for me, it means Jordan is taking security seriously and kept us as a family safe and secure.
So YES, we felt very safe in Jordan.
So now, getting down to having fun and fabulous places to explore, here is our list of …
Top Ten Things To Do With Kids In Jordan
1. Petra Kitchen Cooking Class
The food in Jordan is healthy and amazing, and my son fell in love with the way they cooked the chicken, lamb, and meatballs.  So, it was time to learn how to cook it for ourselves at Petra Kitchen.  Our class had about a dozen students from all over the world, and we broke into two groups, which turned out to be male and female, so Explorason could learn separately from me.
This all forms 'world-schooling', and we had a great time.
2. Camel Ride
You can ride a camel at Petra, but I'd suggest you save this experience until you visit Wadi Rum.  Some choose to explore the desert by camel. We only went for an hour, but there are afternoon camel rides that take a few hours and finish at sunset. Choose what suits you. Interestingly, I found the camel we rode very well padded compared with the camels we rode in Morocco, and we both enjoyed this time.
3. Jordan Museum
This may surprise you, but my son loved the Jordan Museum, and we did this right at the start of our time in Jordan. I think starting Jordan with the museum is probably the best, as it allowed us the opportunity to learn about so much of Jordan before we went to places and explored them.
For us the highlights were: the Dead Sea Scrolls; learning about the history and evolution of alphabets from hieroglyphics; seeing how they used to bury the babies in the clay jars (symbolizing the womb), and seeing an ancient needle they sewed with through a magnifying glass.
There is so much more, and if you visit you will find your own amazing things to discover here.
We wandered through the museum alone – not with a guide, giving us the opportunity to stop, read, and explore what interested us. Well worth the visit.
4. Petra by Night
Explorason declares this was his all-time favorite event, which surprised me, as he as tired and didn't want to go, and I 'dragged' him along!  The locals at Petra served us Bedouin Tea as we sat looking at the lovely lights. As we relaxing in the cool (not cold) evening air, we each made a wish or chose a special thought as we closed our eyes and soaked in this special moment in front of ancient carved The Treasury, and as the music played. If you visit Petra, don't miss this. (I met someone who did and she is still very upset about it).
5. Explore Petra By Donkey
Petra is huge, and kids get really tired. We'd never have managed to see all of Petra had our guide not organized a donkey ride up (not down) on both days.
Although it is 'quite hairy' in places hanging onto the donkey (and I scraped my knee against a rock), the ride was a 'hoot' for Explorason, and I doubt we would have walked up to the Monastery in time otherwise.
I think I also make a good advert for the durability of Louis Vuitton handbags!
We also rode a donkey and mixed breed horse (part mule we think) back one evening when our legs were too tired to walk the four kilometers.
We also took a horse and carriage ride, but if you use this service, please do make sure they are treating the horse with care and it is rested adequately.
There is so much to explore at Petra. You can climb to the top and look over the Treasury and drink tea with a Bedouin, who also will play music for you too. I love the way they allow the local Bedouins to interact and sell odd wares and tea around Petra. It adds a good touch to Petra that keeps it local and not mass-produced tourism.
6. Explore the Citadel and Roman Theatre
You might be surprised, by this historical site allows kids to explore. Here your children are free to run around, feel and truly explore without being told: "please do not touch". There is also a great little museum on the far hill at the rear well worth a visit.  Allow a couple of hours as a minimum here would be my suggestion.
Check your entrance fees here to all the sites.
7. Float In The Dead Sea
We were blessed with a warm day, and so we enjoyed a wonderful float in the Dead Sea. Poor old Explorason forgot, and after his 'Dead Sea Mud Mask'  he ran and dived straight back into the Dead Sea. The salty water stung his eyes and went into his throat, so make sure you remember to keep your head up and out of the water.  Fortunately, there is a shower handy, so 'muddy me' guided him blindly up to the shower and we cleaned him off.  He still had a great time and added this in his top favorite things to do in Jordan list.
8. Jerash Ancient City
If you are after some 'WOW' photographs, Jerash is the place to visit.  We were really blessed, that most days the sky was an incredible blue, which reflected the whitish stone perfectly.
One of the many things our guide showed us was how this ancient Amphitheatre worked.  If you stand on an exact spot, the sound is clearly heard all over the stadium. The local Jordanian boys cheered Explorason on as he practiced how this worked. There were also large round holes that would carry the sound around the walls.
Bagpipe players are also here to perform, plus there was a man with a horse you could organize to ride it at the entrance, so little legs don't get tired here either.
There is a LOT to see, explore and learn about this ancient city of Jerash, and it can also be a great world-schooling place to visit too.
9. 4WD Jeep Ride And Wadi Rum
This was Explorason's second favorite thing to do in all of Jordan as we drove over the orange sand dunes of Wadi Rum.
The rock formations look like dripping chocolate in the distance, and we saw every color imaginable on this particular afternoon. Soft green of phosphate, to pink dusk skies; this dessert has it all.
With the wind in his hair, and free as a bird, my eleven-year-old son stood (and sat) at the back of the 4WD Jeep enjoying every minute of his Jeep ride.
We visited the site where T.E. Lawrence met with one of the Bedouin leaders and assisted them (he is a hero here); we saw ancient carvings on the rock of camels which showed the way 2000 years ago; and of course, we watched a killer sunset. Yes – that is me on the rock – photo by Explorason above.
You could easily spend two or three days in Wadi Rum – there is so much to see and do.
Finish off the night by staying in a Bedouin Campsite – the kids can enjoy the open skies with a million stars above them, and warm themselves by a campfire as music plays.
Parent comment here – the 4WD ride can get REALLY cold by 4:00 pm, so bring a super warm jacket. Thankfully our nice driver had a sheepskin jacket I wore.
Cover Yourself With Dead Sea Mud
Explorason selected this as the last but one of the most fun and silly things that he thought kids would love in Jordan to do.
We were fortunate enough to stay at Holiday Inn Resort Dead Sea where they provide tubs of the mud right on the foreshore.
You can cover each other or yourselves easily from head to toe (avoid the eyes etc), and I read (after we'd left) it is even good for your hair, so slap it on and rub it in. It is a crazy feeling.
Then laze on a rock, and let the mud dry in the sun for about 15 – 20 minutes before going for a dip in the Dead Sea to wash it off, or using one of the showers located nearby.
Conclusion
It was REALLY difficult to only select ten top things, but these are Explorason's main choices.
With so much more to do, please look at our Facebook and Instagram photos as we just had a jam-packed time in Jordan.
I must add, that all the hotels we stayed at were just fabulous and friendly, and oh boy, did we enjoy all the wonderful places we ate in Jordan also.  The food and service were always amazing.  So much so, we can't wait to return.
Thank you to everyone …
…that helped make our time so special in Jordan!
Our travels so far
For those following our world journey, we are in our fifth year of exploring, and Jordan is approx country #70. Petra has always been on my 'bucket list, and I was so in awe when I saw it, I cried!
Prior to this, we left Europe – Bansko, Bulgaria where we had been skiing, and then spent a few days at the amazing World Tourism Forum in Istanbul Turkey, where Explorason met Zach King.
Questions and Comments
After going through the list, what did you find more exciting?
Have you ever tried any of them elsewhere? What was the experience?
It is always nice listening from our readers. Feel free to leave us your thoughts in the comments section below.