Before you set foot on that next airplane, it is time to pack your case. Whether it is a business trip or time for a luxury holiday, you want to look your best.
You also don't want to lug a case full of clothes and accessories that weigh a ton and want to ensure a good mix-and-match to maximize wear.
When we first started long-term travel 4 years ago I refused to travel with a lot of black colors. My world journey was all about color and life, and black was rarely seen.
However, I quickly learned that colors and patterns were harder to match, and slowly black crept back into my case.  I needed to carry fewer items, and accessories and lightweight tops became the color in many cases.
So from your head to your toes, here are 20 items we think you should pack for your next trip.
Here is our 'Luxury Travel Glamour Fashion Packing List'
1.  SUNGLASSES etc.
Kristin Henning from TravelPast50.com has this to say about carrying classy eyewear.
"We all know that 'essential' is a subjective term. I consider eyewear, like shoes, critical to my comfort, so it's easy to indulge by packing 'just one more pair.'
 Here's how I justify all the glasses I pack: 
Contact lenses plus spares. Mine are soft lenses, monovision, and I change them every month or two.

My regular glasses are Mikli brand, with wireframe on top only; not overpowering

My backup glasses are Lafont brand plastic frames which are ultra comfortable and won't bend when I doze off on the plane or train. A bonus feature is the transition lens, which I love for travel days when I'm not sure if I'll be sitting in bright sun or dark corners.

Sunglasses without prescription to wear with contacts. I wear a ZEAL model for sports and active days. They wrap around a bit, stay on securely, and are tough.

Sunglasses with a prescription. These are my driving glasses and all-around high-quality protection. Mikita brand. 
I could (and have) stopped here. But just for fun and fashion, I pack another pair.  Another pair of sunglasses to wear with contacts, more fashionable than sporty, nice for outdoor dining, city walks, or beach. I wear Chilli Beans or knock-offs, anything cheap and fun.  Why not pack them all? They're little and light. Donning different spectacles can change your look and lift your mood."
2.  SCARVES
I'm Ruth from Exploramum.com.   I've found how useful scarves can be.  I usually pack three silk scarves and one winter scarf.
Scarves can dress up an outfit, and enable me to wear the same top or outfit with a 'different look' two days in a row (especially useful in colder climates).  Scarves can dress up and down an outfit in a flash.
There are 1000 ways to wear a scarf, and it can even become a belt or bag; so never travel without at least one.
A good quality silk scarf is also great for packing clothes that might tend to crease. Lay the item out flat, and use the scarf instead of tissue paper to prevent creases.
3.  SHAWLS And WRAPS
Carole Terwilliger Meyers from Berkeley And Beyond has this to say.  
"I never leave on a trip without my heavy black cashmere shawl.  Sometimes I just wear it to the airport, because living in the San Francisco area can be chilly and cold even in summer, but most of the time I keep it on as an additional layer over a sweater and even a coat. 
It rolls up to fit in my purse when I don't need it, and It can also be rolled up into a makeshift pillow on a plane. 
I have even worn it over my nightgown when I can't get the a.c. to slow down! 
Oh, and once I lost it in Santiago, Chile, and felt so fortunate to have it returned to me.   
In this picture, I am wearing it over some light cotton clothing because the day turned cold. "
I have to agree with Carol about the shawl.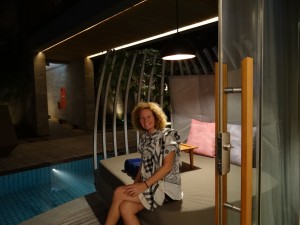 We were on a tour in Bali, Indonesia in January this year.  We had been out in the country all day. I'd tried some Indonesian sweet dessert, and the juice and squirted all down my top.  That evening we ended up at the luxury Maya Sanur Resort for dinner.  There was no time to change. My shawl/wrap saved the day!
It was also used as a lightweight throw over my son when the air-conditioning was cool in the mini-van. And again on the plane trip back to Australia.
4.  COAT

I'm ever so thankful for this delightful red coat that was given to me in Ireland by our friend Silvia from Cork.
It was lined and warm.  It was a 'life-saver' in the freezing cold conditions, and the raspberry red color (to my surprise) really gave me a lift and suited me so well.
A longer and more waterproof coat is also a great item to include.
5.  TAILORED JACKETS
A tailored jacket is a must-have for the traveler with style.  Try to select one that is a non-crease fabric.
Also, a plain color works best I think.  Dress it up or down with jeans and trousers, or a skirt.
This one I had in Scotland was a deep slate grey with lapels.  For a classic look, the round collar can also be worn over a dress for day or evening wear.
6.  SEMI SHEER JACKET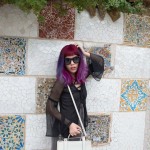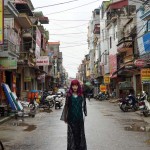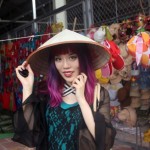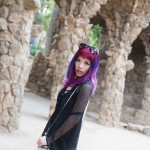 Carmina from La Carmina is a world traveling woman of style.
"Here are photos of me wearing a light, sheer black jacket two ways, in Vietnam and Barcelona.
I recommend this fashionable yet versatile cover-up. The color and style go with a variety of outfits.
The fabric provides a layer of warmth and protection from mosquitoes, and it doesn't crease so it's easy to pack."
I adore her hair color, and how sensational she looks.  Camina turns heads wherever she goes!
7.  LINGERIE
I'd suggest smooth line lingerie in skin tone, and also black. Add a little lace, or keep plain, but I try to ensure they are cotton for tropical wear.
Also, a combination bra that can alter to become crossover back or halter-neck is also useful.
8.  JUMPERS AND SWEATERS
Two classic long sleeve knitted tops are usually enough for me.  One is thinner than the other, and one is black in a classic 'Parisian style' with tiny leather trim and bow.  Whilst the other is a day cream lighter knit. Try to ensure the knit is fine, as this reduces wind permeating the garment.
As a single Mum, I find cream a color that is only now creeping back into my wardrobe.  My son is eleven and past the age of spilling food or grabby hands that may land on my clothes.  I do however never wear cream or white on a plane.  Tight seating and turbulence etc., seem to make accidents occur more easily, and I want to arrive in style.
If you are tight for space, leave these out and wear an undergarment and cardigan buttoned up.
9. HANDBAG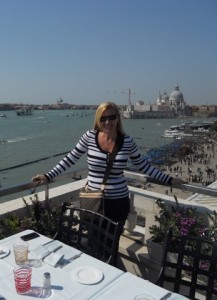 Carmel Edelson is the well known for her Luxury Travel writing website Carmen's Luxury Travel.  
Here she shares some of her secrets with us.
"Louis Vuitton handbags are my weakness and have a special power over me.  
There's something in their elegance and the brand that makes it for me a travel must-have.
   These days, I do not go anywhere without my  Louis Vuitton Cross Body Bags.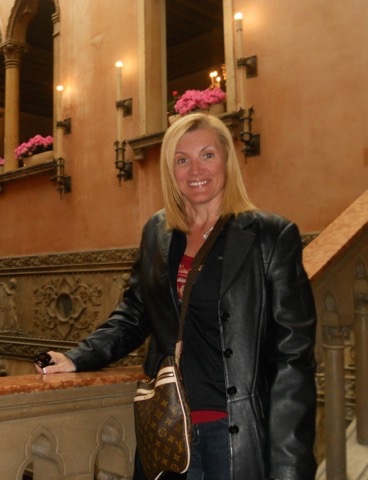 One of my favorites is the Odean PM, it is perfect as an everyday bag.
It's both functional and feminine, it can be either carried on the shoulder or across the body.  
It is the right size for toting around all your essentials when traveling.
The Odean PM could carry your basic necessities as it features one inside flat pocket, a phone pocket, and an outside pocket.
With its simple and elegant design, Odean PM is the ultimate bag for the woman on the go when traveling.
10.  CLASSIC GARMENTS
A basic low neck round long sleeve top is a must-have classic garment.
Pick the color that works for you.  Pack two or three – different colors; sleeve lengths (i.e.: 3/4 sleeve) and thicknesses.  Wear under ski clothing; jackets; wear alone; dress up with a vest, scarf or wrap. You'll be thankful you packed them.
Singlet, sleeveless, and tanker style tops are also handy.
Wear to bed, to keep your chest warm, or don when the weather is hot and humid.  Also great for wearing under semi-sheer blouses and tops.
Again – I pack several colors of these.
11.  DESIGNER TWIN SET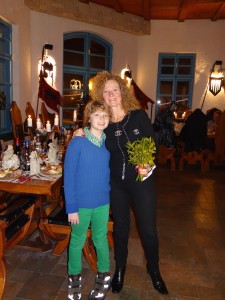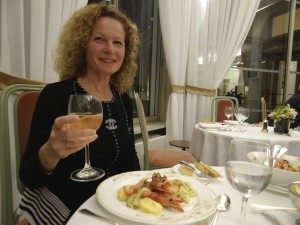 Don't presume the Twin Set is out of fashion.  It is one of the most worn items I packed, and one of the few that survived all of our world travel so far. Here I wear it in Romania, Italy, and Cuba.
Because it is two-piece, I can wear it day or night, and if the weather changes, and or remove the cardigan. The black cardigan has been worn alone many times.
It has also been very useful to wear to dinners, wineries and other smart occasions.
12.  THE LITTLE BLACK DRESS
Erin Bender from Explore With Erin – she knows the importance of the 'little black dress'.
From formal New Years Eve functions in New York, to speak at Travel and Blogging Conferences in Australia and around the world, Erin dons her black dress with style.
As another world traveling family, Erin finds her black dress a wardrobe 'must have', and knows it is the perfect attire for cruises, dinners, and many of their more formal functions.
13.  DAY DRESSES AND LONGER TOPS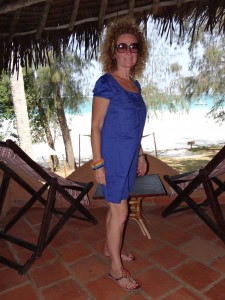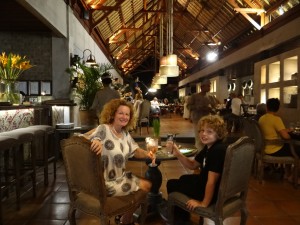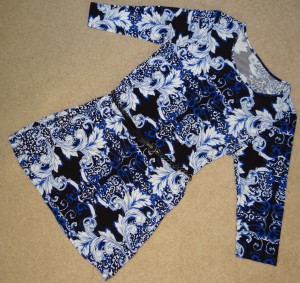 I'd suggest a couple of long tops (or shorter dresses) that can be worn day or evening – for more casual dining experiences, and a day out in the city.
Add a belt to slightly shorten which can work well with leggings.
Lightweight fabric is also great for tropical and warmer weather.
14.  LIGHTWEIGHT TOPS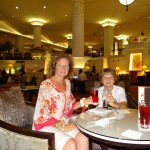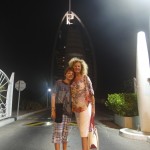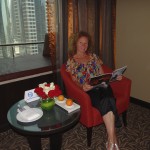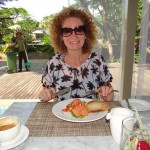 I pack at least 4 lightweight tops or blouses.  They add color to my day.
These tops are thin and take virtually no space in our suitcase.  I tend to wear for smart casual wear.
This works especially well in countries that require your shoulders to be covered.
15.  TROUSERS and LEGGINGS
Stretch is best. I love these 'Parisian style' trouser leggings. They are thick and warm and have a styling side panel. they look hot with boots.  I can wear them day or night. Smart or casual. They are awesome for traveling on airplanes and all day driving.
I also have a lightweight pair for Spring and Autumn / Fall days too.
I also love 3/4 trousers and long shorts with a little stretch.  I'm often seen wearing these out to dinner at a resort on a balmy evening.
16.  CLASSIC TEE – CASUAL and CLASSY T-SHIRTS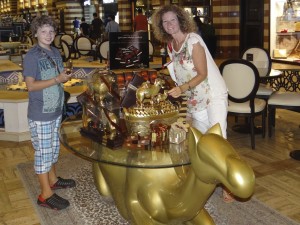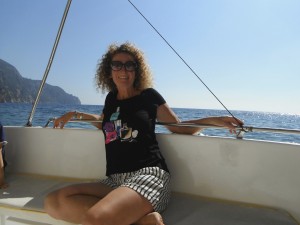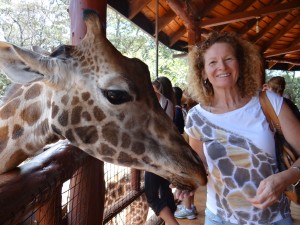 T-shirts and shorts are definitely not to be left at home.  Casual wear will find its place even for the luxury traveler. Hiking, sailing, feeding animals, or a bush or beach walk.  I often buy these to suit the country we are exploring at the time.
They also add a little fun to our photographs!
17.  FOOTWEAR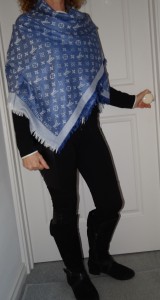 Silver flat toe sandals work well for day or evening wear in summer.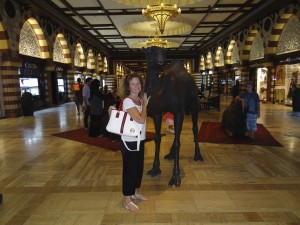 I can dress them up, and walk in them all day long.
Great for plane travel too.
The flat black suede leather boots pictured above are awesome too.
If the weather tends to be snowy or wet, I'd change styles slightly to a firm grip leather or waterproof boot.
18.  LONGCHAMPS TOTE
Irene S. Levine loves travel writing.  In fact, she has two websites The Friendship Blog and More Time to Travel.
Here's what Irene tells us that she never travels without.
"My black Longchamp large tote is my 'go-to purse and carry-on' for every trip I take.
It is lightweight and easy to wear on my shoulder (so I'm hands-free); looks elegant and never shows wear, and expands so I can throw in whatever I pick up along the way.
Because the top is fully zipped, I don't have to worry about losing items when it's tucked under the seat in front of me on an airplane.
It also seems to be virtually indestructible.
Bargain shoppers can pick one up at a discount in France and at many European airports."
 This is one tip I'm going to take on board and purchase. Thanks, Irene!

19.  SWIMWEAR

I travel with both a one and two piece swimsuit.  I find often resorts and hotels to be more conservative, and I wish to respect this.
I also carry two lightweight cotton sarongs.
These double as sheets for the beach or a picnic tablecloth.
Swimwear should be covered when in accommodation properties and restaurants and this will suffice.
They also dry quickly, and the black one my son can use as a towel.
20.  PARFUM, PERFUME, FRAGRANCES
You can leave home without your 'bling', but never leave home without your favorite fragrance.
Add a tiny purse size bottle to your handbag.
Thanks, Explorason – Kenzo was his latest Mother's Day gift he purchased for me Duty-Free.
Phew – I think we are just about packed and ready to go and that is the end of our 'Luxury Travel Glamour Fashion Packing List'.  
Just in case you aren't sure, why not check the article out about useless things travelers have packed too – so you make sure NOT to bring them along!
Enjoy your next trip, and may you travel safely in style.
Have we left anything off the list?

 
Leave your favorite 'must have' fashion item' you travel within our comments.  We'd love to hear from you.
Please read our Disclaimer here
Disclaimer: This post may contain Affiliate Links, Sponsored Content, or…