Earlier this year we visited Bali, and when the resort we booked didn't work out, we literally walked in off the streets and booked the Ramada Encore Bali Seminyak, so when we returned to Bali again, we decided we would stay here again.
Flights from Australia usually arrive in Bali at night.  We had arranged this time for a shuttle service from the airport, and so we were quite relaxed when we arrived here. It is only half an hour's drive to Ramada Encore Bali Seminyak, so it seemed we were here in next to no time!
I always find the flight from Australia to Bali seems to go so much more quickly than the flight home.  I think this is about my ninth or tenth time to Bali, so it is a journey I am a bit of an expert at.  With only a 5 hour flight, it seems to pass pretty quickly too.
We were greeted with a lovely welcome cocktail drink, and the central pool was a mass of twinkling candles, and before I knew it Explorason was paddling in.
He continued to paddle around the pool (which I am sure is set up for romantic dinners and not an eleven-year-old), and I sat and relaxed.
It was pretty late, so we were happy with just a snack and a drink, and we wanted to see our room.
We had booked a room overlooking the 'central feature massive swimming pool' this time.
Last time we stayed we looked out over the fields, so it was nice to have a change.
It looks pretty good, doesn't it?
As we settled into our room, I popped out onto the balcony and finished the evening reading our 'Welcome Letter' (I think I needed my glasses on by the squinting look on my face), and nibbling on a lovely patter of fresh fruit – yummy!
I remember sitting here a couple of mornings later, and just feeling like the stresses of life had lifted off me.  Even my Facebook friends commented on how different and relaxed I was.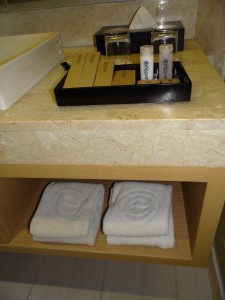 Ramada Encore Bali Seminyak provide all the quality necessities for a lovely stay.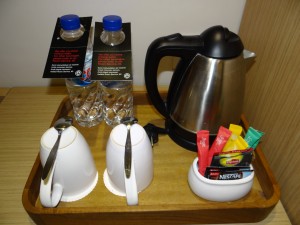 I love to wake and have a coffee in the mornings before Explorason wakes, so this is perfect for me.
It is off the main road, so a bonus is that it is nice and quiet, and not a place where you will be disturbed by rumbling trucks, and beeping car horns either.
I was quite surprised that Explorason was up pretty early the first day we were here.  But he had agreed I could go shopping, so the next day he could have at Waterbom – one of his all-time favorite water parks located in Kuta.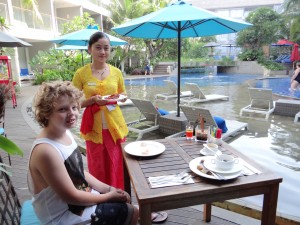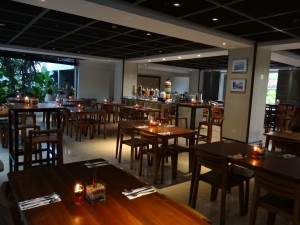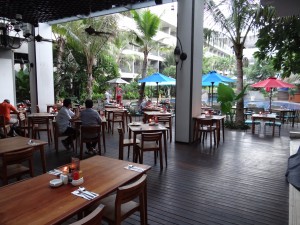 I love the way breakfast is served alfresco so that you literally can have your feet in the water should you take a step or two in that direction.
 It allows me to relax, and Explorason to entertain himself.
Talking of entertainment, on the second morning I was pretty pleased to not be just entertained, but educated too.
I am all for seizing the opportunities as they present themselves, so when I was invited to learn the traditional weaving process (they use this in their offering baskets),  I was pretty pleased, and although I'd just woken up, I ventured straight in.
Must say, my skills were not as advanced as this lovely young lady, but I 'gave it a go' as the Aussies would say, and to me, that is important, and I felt pretty pleased with myself.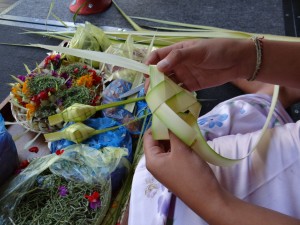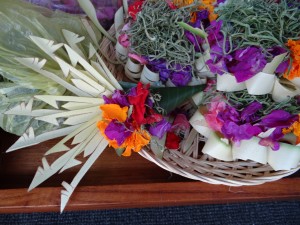 On Saturday evenings we enjoyed ourselves SO MUCH.  Although we were really tired from Waterbom and running up and down waterslide towers all day, we had a great time at dinner.
Here at Ramada Encore Bali Seminyak, it is SOS or Sizzling On Saturday – a fantastic BBQ Buffet.
Meat and non-vegetarian options are ordered first and cooked to each guest's individual taste.
Then it is time to head on over to the buffet for all the salad and other main course dishes.
But it isn't just the food that is on fire on Saturday nights.
There is also Fire Dancers!  I knew this, and so booked the very front table so we had front row seats for the show.  So glad we did.
In the end, the guests are invited to meet the dancers, which we thought was really great.
By now Explorason was so tired, but not too tired when he was invited to join the dancers on stage and to learn to twirl some fire himself.  Now, this is a bit of an unusual world-schooling lesson.
Want to see more of the fire dancing?
We finished off with the desserts (included in the SOS package), and a milkshake for Explorason, and had a lovely time with one of our favorite staff.
We also met two lovely managers that evening, so we felt a little bit like family, not just guests.
I love how friendly the Balinese people are!
On our last morning, we both booked in for a massage in their Spa Centre. I remember last time I stayed how skilled the Balinese lady was who tended my aching neck and headache, and I also remember what a great price it was, so it was time for another visit.
Explorason had tired feet from running aroundWaterbom, so he enjoyed a one hour pamper session.
I was pretty tired too, and so I had a one hour back body massage.  Needless to say, the camera was put away for this, and I lay and listened to lovely Balinese music as she worked her magic fingers.
Our second stay at the Ramada Encore Bali Seminyak was even better than the first one.
This is the place to stay for a great family vacation. There is a complimentary hotel shuttle bus that dropped us into Kuta and Seminyak (we booked this in advance), and it is a really great place to stay.
There was just one problem – I wish it had been for longer!
Address: Jl. Dewi Saraswati III No.51, 80361 Seminyak, Bali, Indonesia
Phone:+62 361 4741400
Website: ramadaencorebaliseminyak.com
Email: info@ramadaencorebaliseminyak.co
Please read our Disclaimer here
Disclaimer: This post may contain Affiliate Links, Sponsored Content, or…