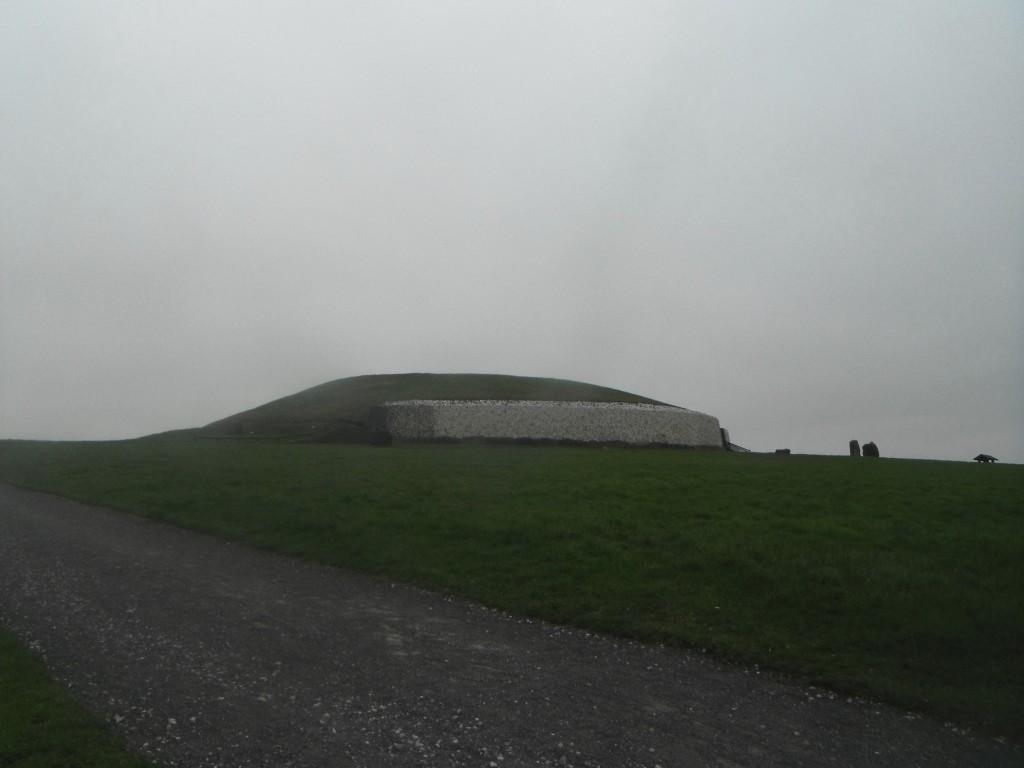 Newgrange Neolithic Site Ireland
Newgrange is a prehistoric monument in County Meath, Ireland, about one kilometer north of the River Boyne. It was built about 3200 BC, during the Neolithic period, which makes it older than Stonehenge and the Egyptian pyramids! Can you believe that?  So based on this, we have to go and have a look.
When we first arrive we love the word egg rocks that are in the arrival area. Not to mention there is prolific frog caviar / or eggs all over the place.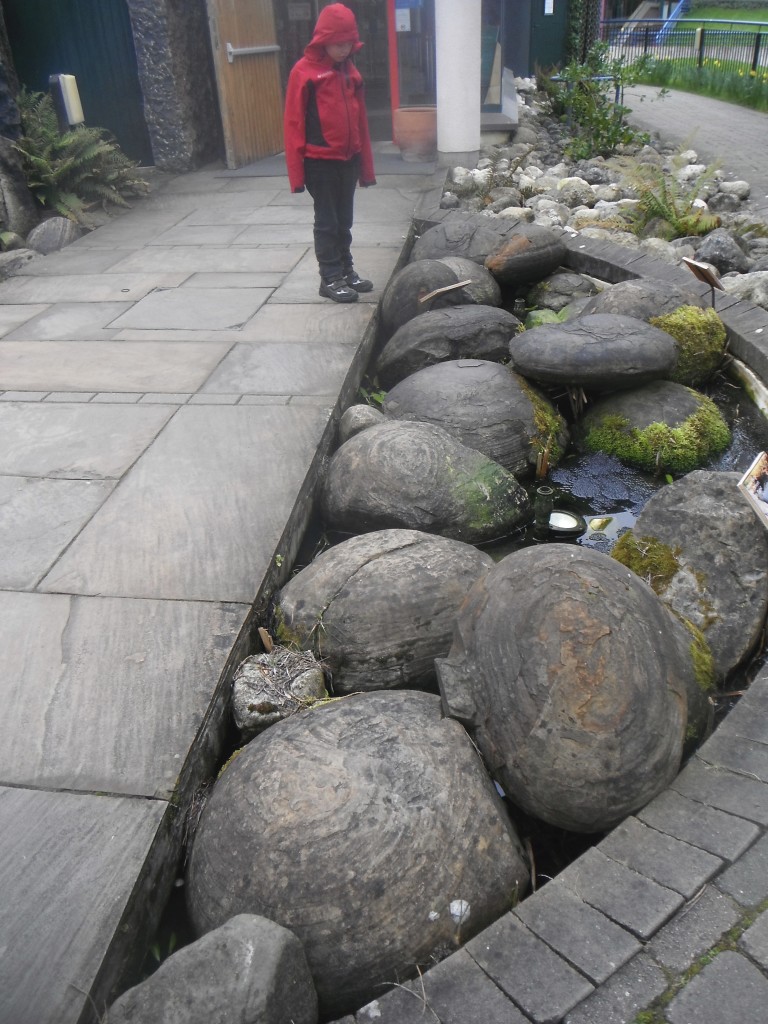 We arrive and buy our tickets, and get plastered with a sticker for the next bus tour.
We are told to go back to the car and get our jackets as it is way away from this site, and 'she' is told it is freezing. 'She' is the information lady – it sounds like a joke as my son calls every lady 'She' right now.
So we go and fetch our jackets – that kills about 15 minutes, and then we head over the bridge to the waiting bus.  On the way, they have set up traditionally thatched fencing.
This fencing is what would have been used thousands of years ago.
We then get on the bus and drive to the Neolithic site.  I do feel that Ireland likes to drag out some of their historical sites. So a one hour visit becomes a four-hour visit.
Once we arrive, we again wait for the next tour.
We have a really cool tour guide. She includes my son, and impresses me, as she makes no conclusions as she shares her wealth of knowledge as she immerses us in the history of the site.
This area was found by farmers, and it is fortunate the never really wrecked too much.  The front stone was uncovered first, and the scroll workmanship appears to be related to the Inca's, and the Egyptian era.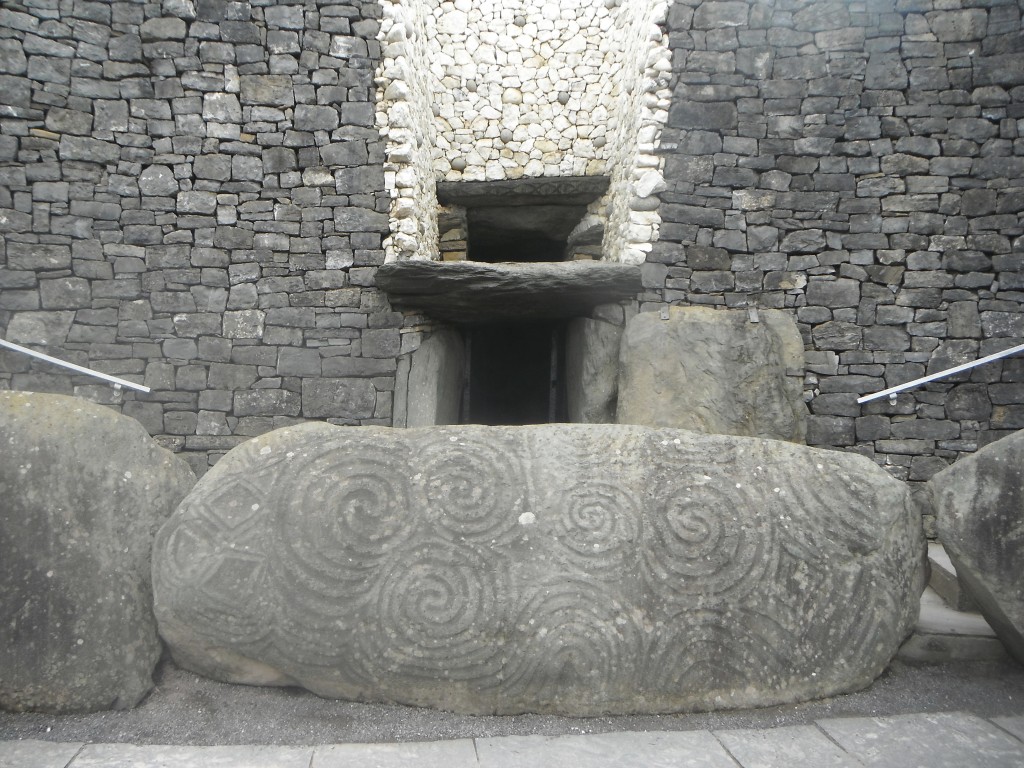 I'm really amazed they allow us to enter.  Bags and scratch zips on coats are a 'no go'.  We enter and it is small inside.  We are not permitted photography, but inside is a layer of stones; supported by – stones! It is similar to the Beehive Huts we visited near Dingle with stonework like this.
Here is a bit of information from their website for you.
"Newgrange" was constructed over 5,000 years ago (about 3,200 B.C.), making it older than Stonehenge in England and the Great Pyramid of Giza in Egypt.
Newgrange was built during the Neolithic or New Stone Age by a farming community that prospered on the rich lands of the Boyne Valley.
Knowth and Dowth are similar mounds that together with Newgrange have been designated a World Heritage Site by UNESCO."
When we went inside (we weren't allowed pics) the whole place was amazing – I'm still in shock they allow tourists inside. We learn so much. Talk about 'world-schooling' – well Explorason was loving this time.  He was able to lie down and they turned the lights off just for him, so he was able to see the shaft of light that was set up thousands of years ago.
If you are reading this blog and thinking about traveling with children, to meet, today was one of those days where history comes alive and a one month project could not beat a real-life visit!
"Archaeologists classified Newgrange as a passage tomb, however Newgrange is now recognised to be much more than a passage tomb. Ancient Temple is a more fitting classification, a place of astrological, spiritual, religious and ceremonial importance, much as present day cathedrals are places of prestige and worship where dignitaries may be laid to rest."

"Newgrange is a large kidney shaped mound covering an area of over one acre, retained at the base by 97 kerbstones, some of which are richly decorated with megalithic art. The 19 metre long inner passage leads to a cruciform chamber with a corbelled roof. The amount of time and labour invested in construction of Newgrange suggests a well-organized society with specialised groups responsible for different aspects of construction."
"Newgrange is part of a complex of monuments built along a bend of the River Boyne known collectively as Brú na Bóinne. The other two principal monuments are Knowth (the largest) and Dowth, but throughout the region, there are as many as 35 smaller mounds."
At the edge lies some really interesting molds, or stones.
These are free to roam around in, so not sure of the age or what religious meaning it might be?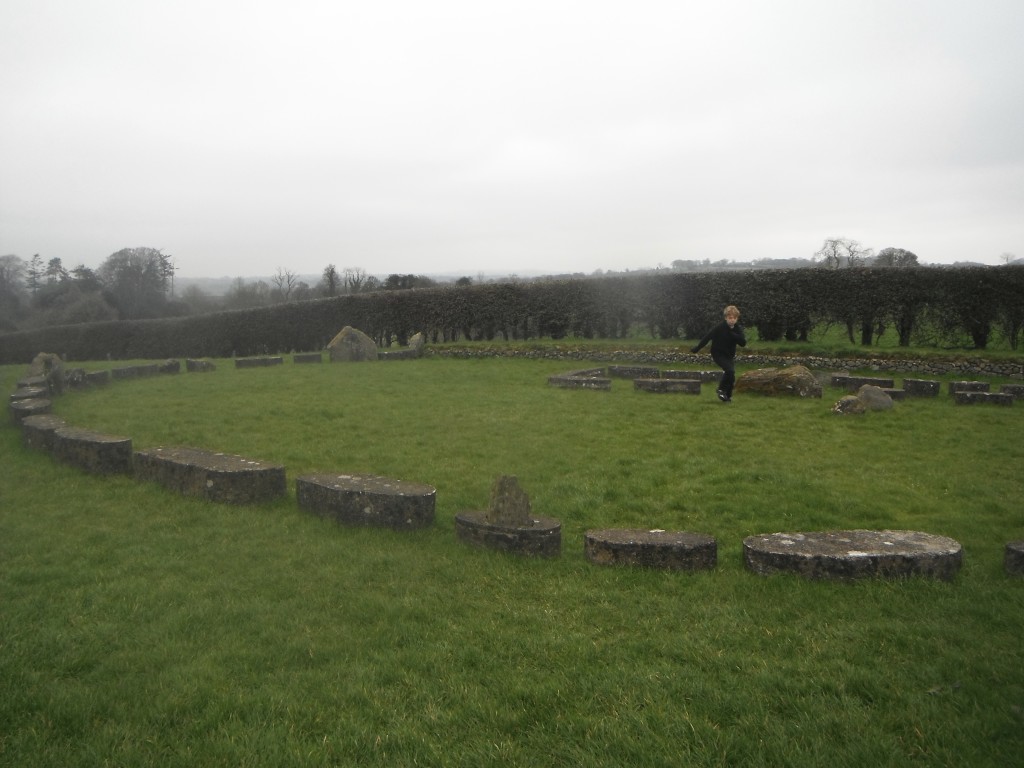 You can see the colored stonework – some as recreated years ago when they found the site.
We leave here knowing there are more sites in the area to visit. But they are closed till after Easter – maybe we can return.
There is so much to see in Ireland.
You really need at least a month!
Questions and Comments
Have you been to Ireland?
What do you find fascinating about Ireland?
Did you get to visit Guinness factory in Dublin?
How was the experience?
Do share your opinions with us below.