Belderrig Co County Mayo Republic of Ireland
With Sheep and Boat Pier in Mayo in the West of Ireland
Our friends have kindly picked us up in their little car, and have taken us exploring.  They head to Belderrig, a beautiful sprawling coastal area, located adjacent to the Atlantic Ocean between Ballycastle and Belmullet in County Mayo. As we drive the narrow twisty country road, the misty rain starts, and the sheep wander around. Belderrig has magnificent scenery of sea, and cliff, capes and dramatic mountains.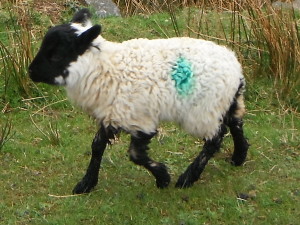 I am told that the coastal area, is regarded as one of the most interesting of tourist destinations in north Mayo. Belderrig is a rural area and is located in a region, rich in historical and archaeological heritage.
We turn off and head for the coast, past a small school.
Soon we are jumping out of the vehicle with delight.
The black and speckled faces of the mountain sheep are so cute.  They have painted /dyed patches to tell which sheep belong to which owner.  The most colorful were some red yellow and blue dyed sheep, but there was nowhere to safely stop to take a photograph.
We then head down to a creek area, and soon Explorason is running around in the wet soggy grasses.
I join him, but as I try to race to catch up, I find my leather boots are filling with water.
We run on down the road. Chasing sheep and come to an area where boats of yesteryear have been laid to waste.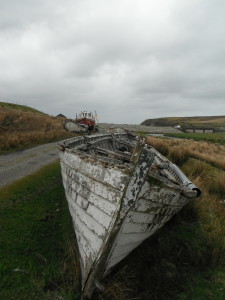 Explorason has run out of view.  Next thing I know he has gone all the way to the cottage where a local archeologist lives.  I call him back.  Our friends have driven the car and caught up with us.
We wander down to the sea.  There are seaweed slimed rocks, and old boats and a boat ramp.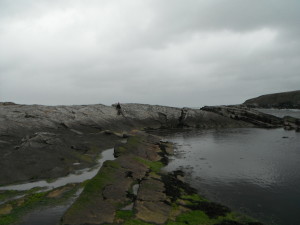 We go to head back and we see 2 newborn lambs.
You can just see the blood of the umbilical cords hanging down under their tummies.
Getting out into the Irish Countryside is wonderful. It is also very educational for a 9-year-old.
The Belderrig area is rich in historical and archaeological heritage and there is archaeological evidence that Stone-Age farmers lived in Belderrig. The first Stone-Age plow marks ever found in Ireland were uncovered beneath the bog there.  Big fields run from here to Ceide Fields where we earlier visited.  They run all the way to the edge of the coast of the Atlantic.
Turf-cutting as it is called, was, and still is, part of the yearly routine in Belderrig and each year locals harvest enough turf to last for the winter weather. Turf is another name for bog or peat, and in the 1930s, whilst cutting turf, the local schoolmaster, Patrick Caulfield, continued to find large numbers of stones deep down in the bog. I do wonder if it was the school we passed on this road?
The schoolmaster discovered that fact the stones appeared in a regular formation, and it intrigued him. The depth at which he found the stones suggested they must have been there for centuries. Years later, his son, Professor Seamus Caulfield, an archaeologist, discovered evidence of cultivated fields, houses, and tombs, at what is now known as Céide Fields (see my previous blog on our visit http://exploramum.com/2014/04/ceide-fields.html).
We had a great afternoon.  As we drove back we were stopped by a farmer for a problem on the road.  When he spoke, his accent was so broad in Gaelic, I understood not a word!  But I did understand his cheery disposition, and his wave farewell to bid us a safe journey onward.
Nearest towns
Ballycastle 15km
Killala 29km
Belmullet 32km
Ballina 41km
Refer: http://en.wikipedia.org/wiki/Belderrig
Check out these amazing Portstewart Ireland special deals HERE
Questions and Comments
Have you been to Ireland?
What do you find fascinating about Ireland?
Did you get to visit Belderrrig country in Mayo Ireland?
How was the experience?
Do share your opinions with us below.