Dingle Ireland – Day 2 of our 7-day road trip
We had just the most amazing night at Foley's, and with fond farewells, we headed off around the coast road.
I think we probably only traveled 500 meters and we came to our first holt.
The rugged weather was really blowing, and the seaside was responding accordingly
Sheep were all over the road as the mist rolled off the hills.
It was a pretty peaceful Sunday morning, all in all.
But the weather was so bad, most of the town seemed to have stayed in bed.
The famous dolphin Fungus was no-where to be seen. Boats were not running.  90% of the shops were closed, and even the information booth was closed up.
But thankfully a good ol' local came to our rescue with instructions on where to go and what to see, and even which way to head around the peninsula, and where to go after.
So we decided to head off and risk it and explore areas unknown, based on the woman who I barely understood – her accent was so strong!
We first found a stone carving place and met some Brazilians there, but again it was closed.
To our surprise, we found a completely stone building a bit further down the road.
Even the roof is stone!  We seemed to be tagging cars with the Brazilians, so we took turns taking photos.
We ended up all stopping next at the pre-historic beehive huts. It was so cold it hurt! I was glad my friend Sylvia talked me into this fur-lined coat and gave me her old fur line boots. Oh did I need them!
It was really cheap to get into, and it was a bit of a muddy walk but was worth it when we got there.
They allow you to go into these huts and see how they just rest stone upon stones on top of each other.
I think the thing that shocked me was that anyone could wreck history.  So we spoke about this at length.
There were walls partly damaged and it was a good time to have a chat about respecting things of the past. An eight-year-old wants to climb, but this is not the place!
We hopped back into our little black beast of a car and cranked the heating on high.
This was a bleak day, and it added an edge to the dramatic countryside we were driving through.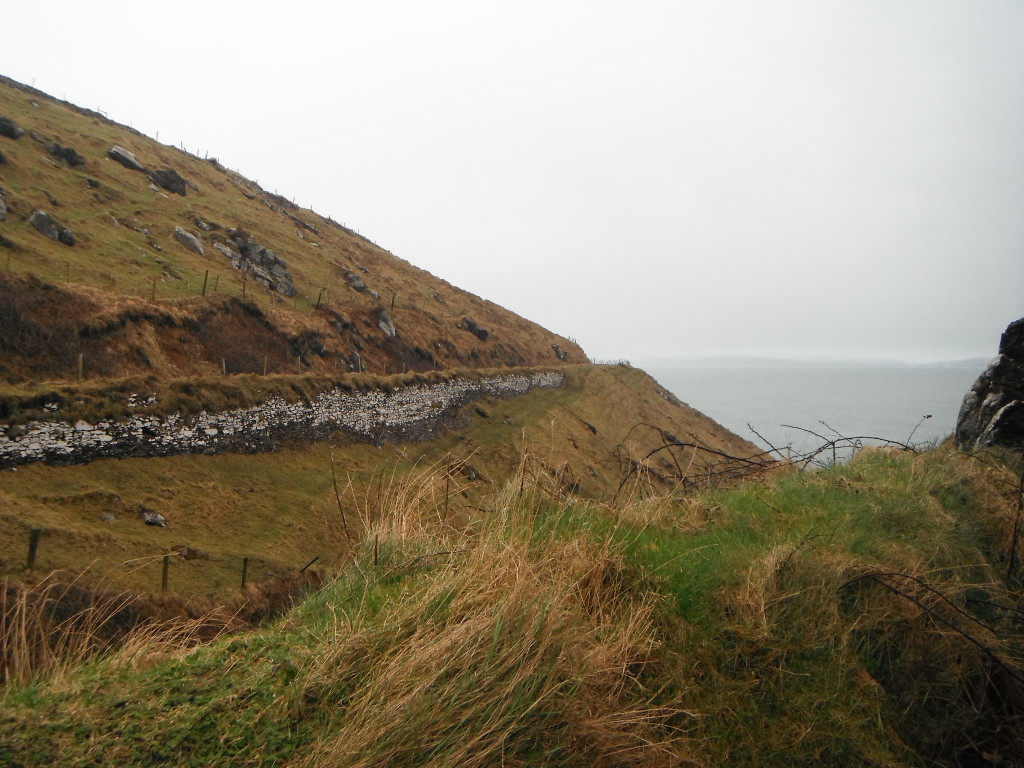 Next, we came to water over the road and a steep cliff on the other side.
The mist was coming in off the sea.
Explorason wanted to jump out and photograph the moment and was a little worried we would flood the inside of the car, but it wasn't that deep.
The weather didn't seem to phase the birdlife and my son was pretty good taking various photos of our winged friends when we stopped.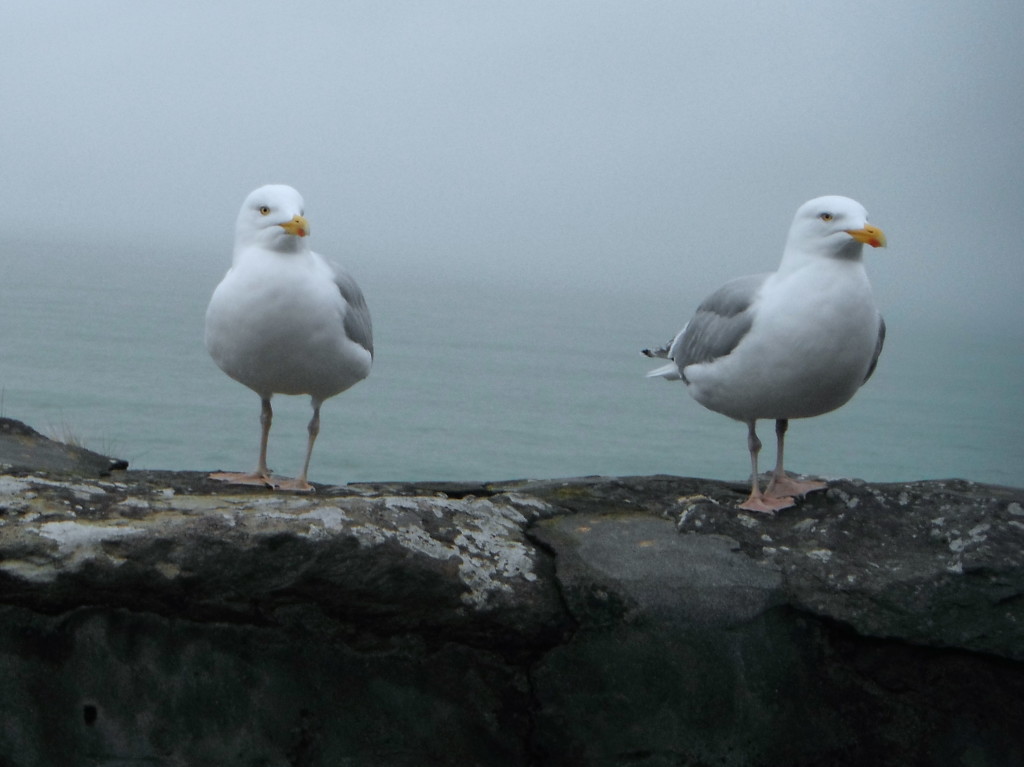 I did find it interesting that there was a little spiritual reinforcement on one precarious corner though!
I have so many fabulous photographs of the coastal road. It is hard to choose what to share with you all.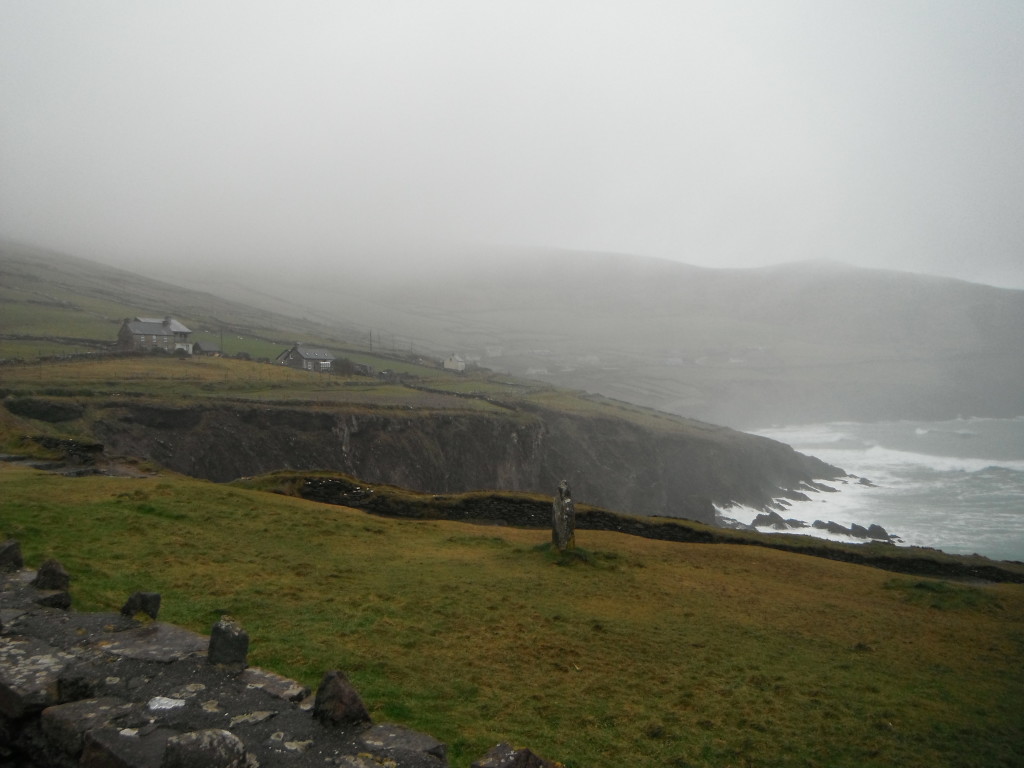 We came to the end of the peninsula and really loved what we saw. I wished we had longer to journey around these parts – I hope I get back here one day.
Next came time for lunch. Unfortunately, it is considered the offseason and so we tried 3 in and out of the car in the pouring rain. None served lunch.
At around 3 pm we finally found one and enjoyed the fireside.
Next came the ferry – this was way more expensive than any I had used previously but Explorason LOVED it.
He raced around with glee. I was surprised as 10 minutes prior he wanted to stop and didn't want to go on a ferry at all.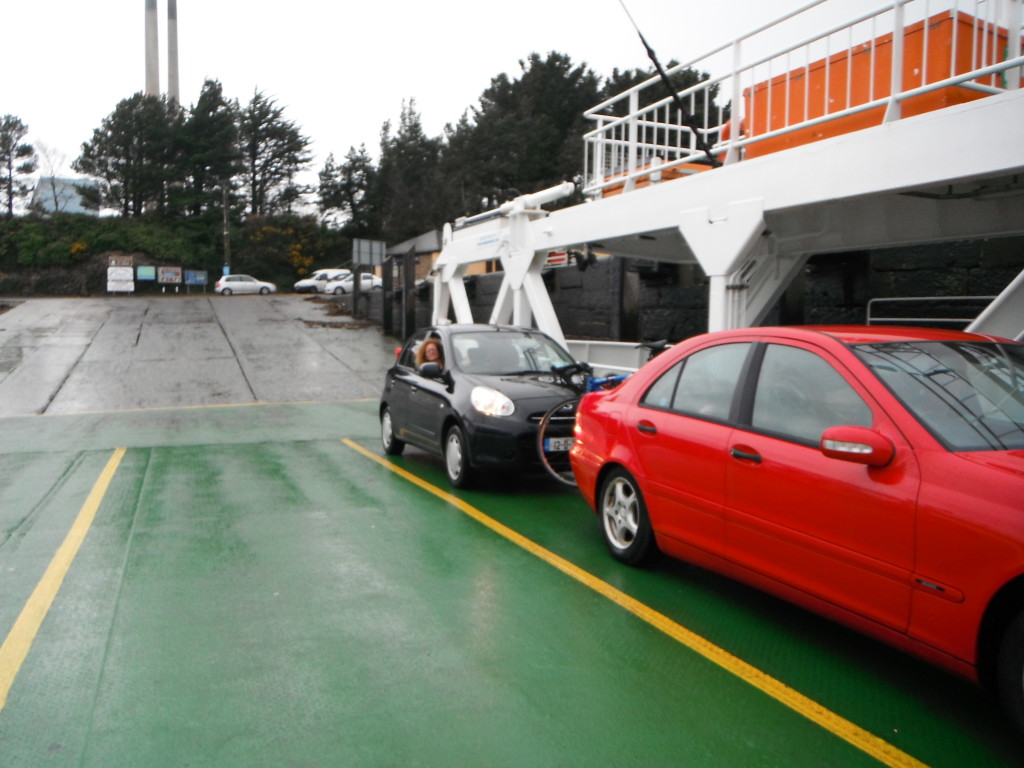 Finally, we got to a little town called Lahinch.
I stopped t look at the sunset and started talking to some locals.
As we talked they told me to go try the hostel right behind me.  Had I not stopped to look at a sunset I would never have known it was there
So I went in and they offered us a great price.
We had a kitchen to cook dinner and a room to ourselves with a lovely heater.
We were alone until about 11 pm when 2 guys checked in next door.
The rest of the hostel was empty – it was brilliant and economical.
So we enjoyed our cozy room.  It almost felt like a ship's cabin.
We had breakfast included.
It was a really long day and we had seen so much.
But as we only had the car a few days, we were aiming to go right around Ireland if we could, and see as many sites as possible.  But gee, it was exhausting.
I barely had my head hit the pillow and morning was here.
Questions and Comments
Have you been to Ireland?
What do you find fascinating about Ireland?
How was the experience?
Do share your opinions with us below.