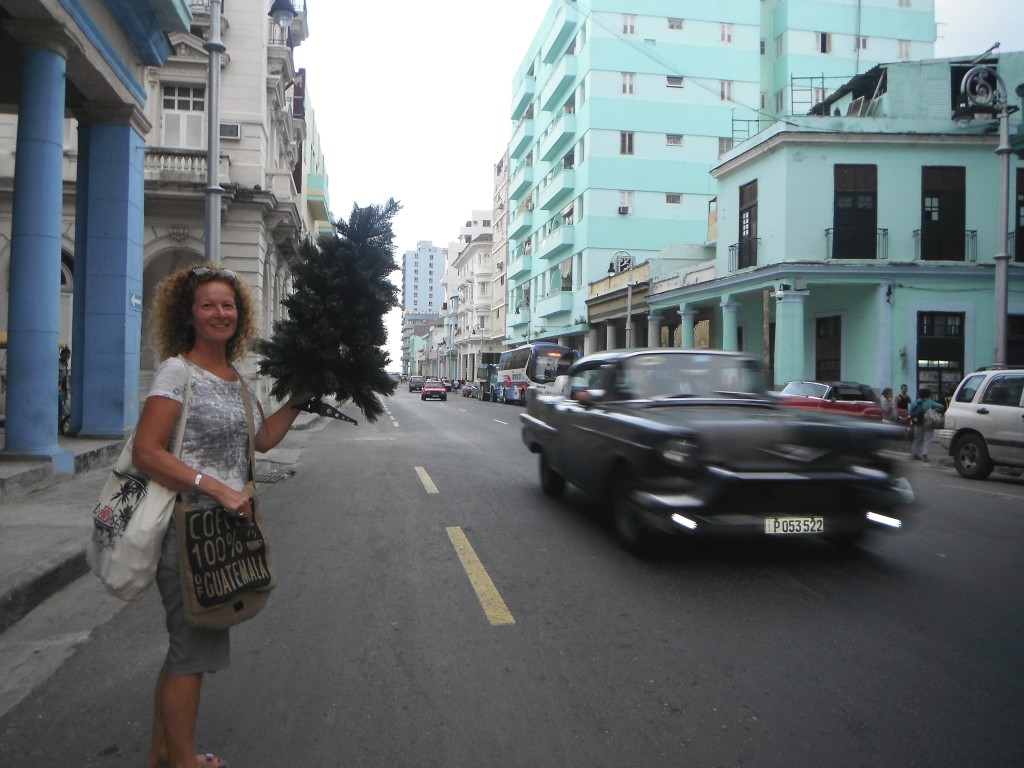 Christmas in Cuba for an Australian 
Christmas is not celebrated in Cuba.
Being communist, it was banned, but a few years ago the Pope visited and begged the government to allow the people to remember the birth of Christ.  For the few who do, this is celebrated on Christmas Eve, with a traditional family meal.  However, it is not a season like western culture, where it is a great month, leading up to 'the big day'.
Arriving a week before Christmas from Mexico, we were able to bring in 40 kg each of checked baggage.  What did this mean to a single Australian Mum with an 8-year-old son? Well, it meant shopping in Mexico for Christmas decorations and gifts.  It enabled us to bring food and wine. We even managed to buy a set of flashing lights for $4.  And of course not forgetting various rolls of wrapping paper and Celotape, we were set to go.  So we had plenty of food, drinks, and some clothes and toiletries to give to the poor.
We had anticipated our yuletide tree to be a decorated branch, or possibly a pot plant.  But we're pretty impressed when a Bici-taxi rider peddled us to several sparsely clad shelves of Christmas decorations. And even more, impressed when the third near-empty tore produced a tree at 25 CUC.
So with great delight my son used some of his pocket money to purchase a fairly kitsch "Feliz Navidad" silver and blue tinsel star for the top of the tree.
We proudly walked the street back to our apartment singling Christmas tunes and stopping to watch the local men playing dominoes or to rest for a photo against one of the many vintage American cars.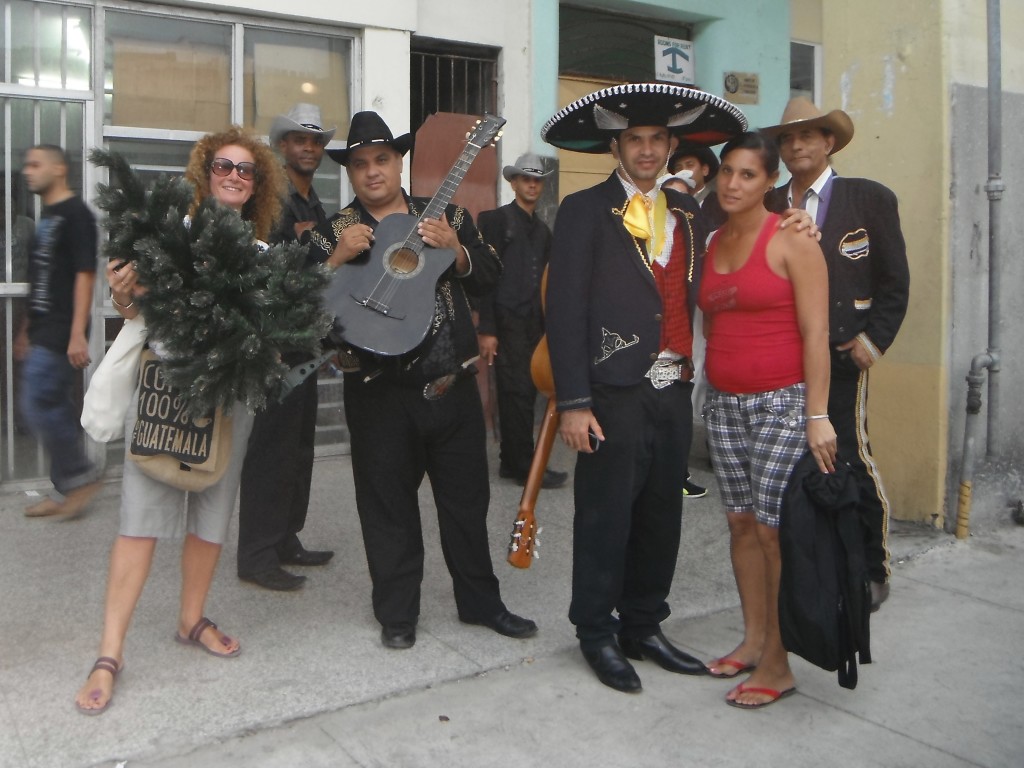 Inside our Cuban "home", we set the Christmas Carols playing on the laptop to bring on our jolly Christmas tree trimming time. What we didn't know was the tree was rather unstable, and just as we finished decorating it, over it toppled.
We then propped it up, and after the 3rd collapse with decorations strewn across the apartment, my son was nigh on crying.  Right at this moment, the apartment owner decided to come in.  Absolutely cracking up that we had covered the bookshelf that displayed her tacky ornaments, and only the promise of giving her the tree when we travel on managed to calm her down.
The problem was, once we had verbalized that the tree was a gift, she set about doing the rounds of the apartment, claiming "this for me" to nearly every special thing we had bought.  It really made me uptight, and as soon as she was gone, Explorason was mocking her greed. (This ritual of asking for nearly every nice thing with "this for me" occurred daily on her interrogation visits).
Not to be deterred, we finally managed the aid of a wire coat-hanger up the back side of the tree; and a wooden toy under the front foot to stabilize the tree.   Lights on, decorations hung, and the apartment decorated pretty well, we then even had thought to buy popcorn for popping and stringing.  The landlady asked us to remove this as it would stink, but we just ignored her!
The tree was pretty fabulous.  It felt like home.
Next, we decorated our stockings with Latino style decorations.
We had an afternoon of making Christmas tags, and I had to assist with wrapping my gifts from my son with the help of a placemat that acted as a template to enable wrapping to be cut to size, and then I was blindfolded to assist with the taping up.
We decided to keep the gifts hidden, thinking the landlady would need her eyes sewn back in her head when she saw the number of gifts we had collected over the past 6 months.  Mind you in saying that, most were small souvenirs we would have bought anyway, and many of the decorations were key-rings, as we are collecting them from around the world, and going to make a 'World Christmas Tree' when our journey is over.  Many of the hand-beaded decorations my son had selected in Guatemala really looked sensational, with not a decoration over $1, and quite a few handmade ones too from our art and craft times.
What really the tree special, was when a Christian neighbor brought us her tiny baby Jesus and a few plastic animals to put at the base of our tree.  My son then, in turn, gave her a star he had made and colored, for her to put at the top of her tree.  So kind considering they are poor, and so special!  We were able to give her many things and some other decorations over the coming days to Christmas.
Having my sister and her husband join us for a few days in Cuba added to the Christmas feel.  Explorason proudly showed off his decorated tree to them, and the apartment felt like our little home (apart from the daily invasion of the landlady).  I had been able to buy a few DS games online and have them send to her in Australia, so we had the right region, and she brought those, along with candy and a few small gifts for under the tree from my family.
So it felt really empty when 2 days before Christmas we had to say goodbye to them and to have Christmas alone.  Admittedly, I had a good cry, and this is one of those tough times to be traveling.  But I wanted to make the best of what we had.  I always say that other countries are not "wrong", but "different", and we would embrace the cultural difference.  But it was hard.
I had wanted to cook our own Christmas meal, but ingredients were hard to come by, and though we had a kitchen we had no functioning oven, so I had to give up on that idea.  This Christmas would just have to be different for us.
We went to several of the large ritzy hotels and looked at the decorations, but really only one had great lights. Others just had a tree. We did find one big tree at Havana Libre – a large hotel.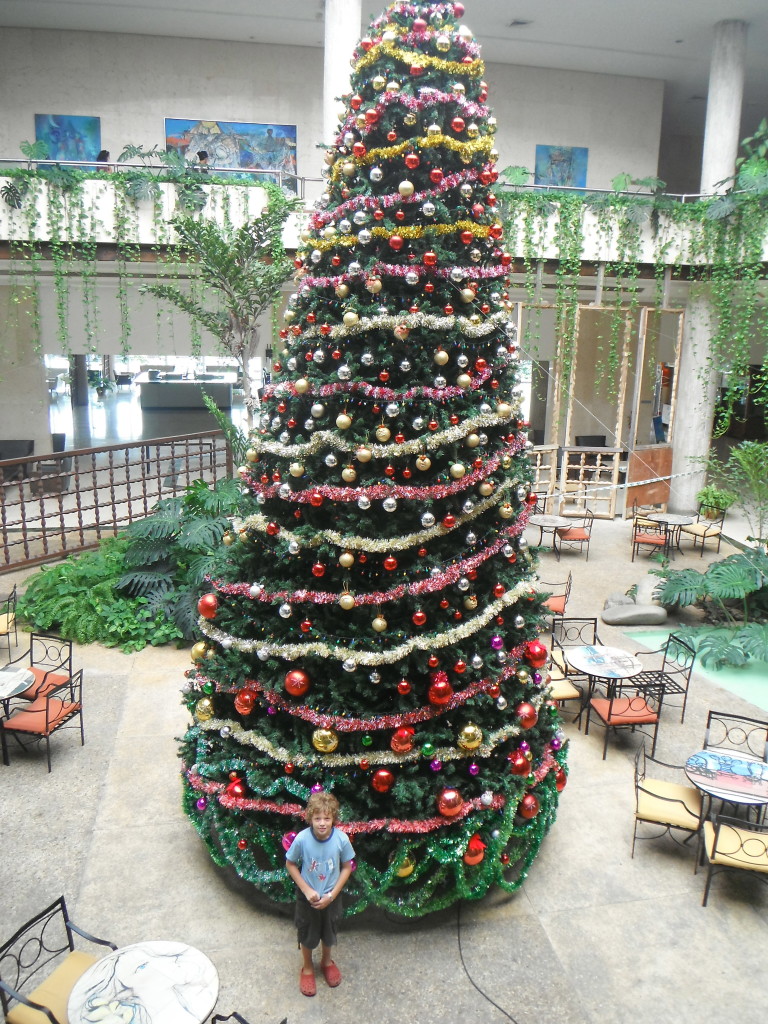 We also found a Spanish Santa on the streets.
We booked in for a Christmas Eve dinner at a restaurant that had a family show.  Wow, were we happy when we found this?  We went to the National for pre-dinner drinks and caught a Coco taxi to get there.
But as Santa is not part of the local culture, the 'family show' commenced at midnight.  We were not told this when we booked.  But the restaurant was decorated pretty well, and the socially privileged of Cuba seemed to all be there.  We enjoyed dressing up for the occasion, but we missed being with friends and family.
We had eaten dinner and gave up waiting when we found the kids had to wait until then for it to start.  And there were probably 20 – 30 children in the restaurant.  We did enjoy how festive this did make us feel, but as my son said "they don't believe in Santa, so they don't need to be home in bed.  But he does, and he needed to go 'home' ".
So we headed 'home'.  Explorason had a list of Christmas Eve duties.  Hanging the stockings we had decorated ourselves in a Latino theme.  Leaving out the cookies, milk, and note for Santa.  There was a small internal apartment shaft with glass doors off the hallway, so the doors were left unlocked for Santa, and the carrots (we only had carrot tops as carrots were hard to find from the street sellers).  And of course water for the reindeer.
It amazed me to think how magical a child can make Christmas Eve.  We had fun sneaking the gifts for each other under the tree, and on a chair placed in front.  As we toddled off to bed at midnight, it was nice to leave the tree lights flashing, and the night light on for Santa's visit.
Good ol' Santa managed to stay awake, and the gifts were placed in the stockings, etc.  Santa had remembered me – how thoughtful I say!  Interestingly all the packaging was in Spanish, and mostly from Mexico, but this was not even noted.  Amazingly I received a couple of gifts just like I had eyed off in the markets in Cancun – amazing!
So on Christmas morning, it was just so great to have my son race out of the bedroom, and have his eyes as big as saucers at the wonder of the room.
We took our time each taking turns to unwrap gifts.  It was a great time!
Most had come with us from Mexico.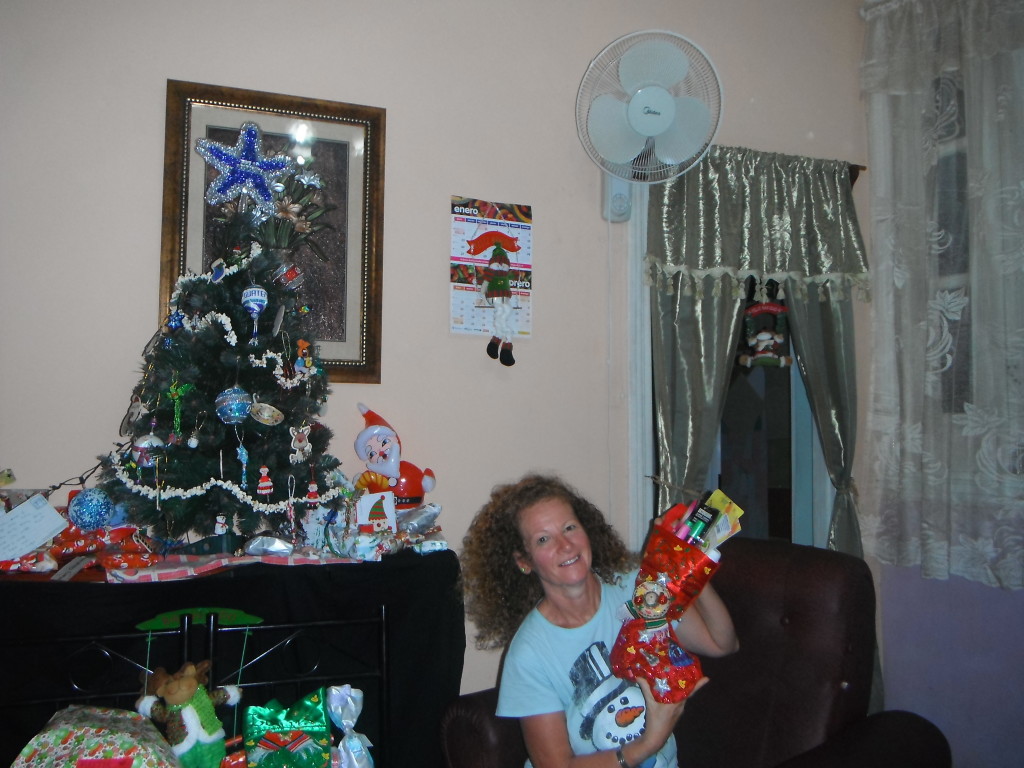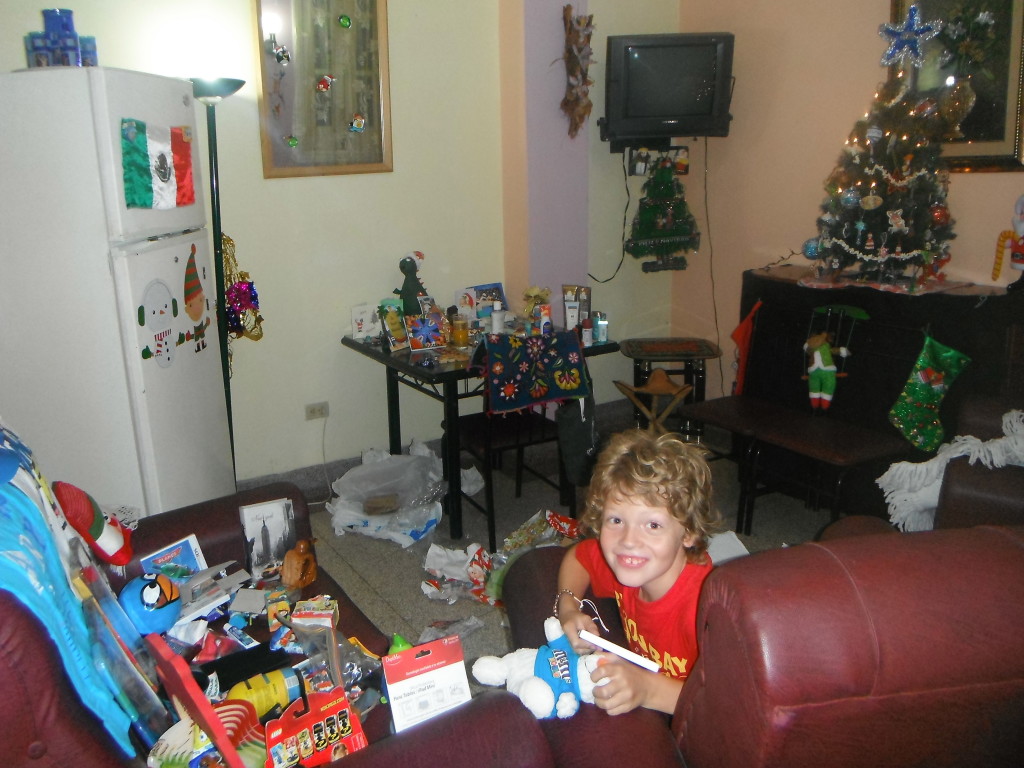 Knowing we would have the daily visit from the landlady, the gifts were then marched promptly into the bedroom. Just in time!  Even though we had left her a note AND asked the landlady NOT to come before 12 noon, she was there at 10 a.m.  I quickly put the lights off, kept the safety chain, and my son hid with gifts in the bedroom.  I intimated he was still in bed.  Not a lie. He was.  But he was sitting there merrily playing with is new games.  I have to say she really annoyed me.  It made it feel like it was NOT my home. I had tried so hard, but I just wanted to go out now.  Darn her.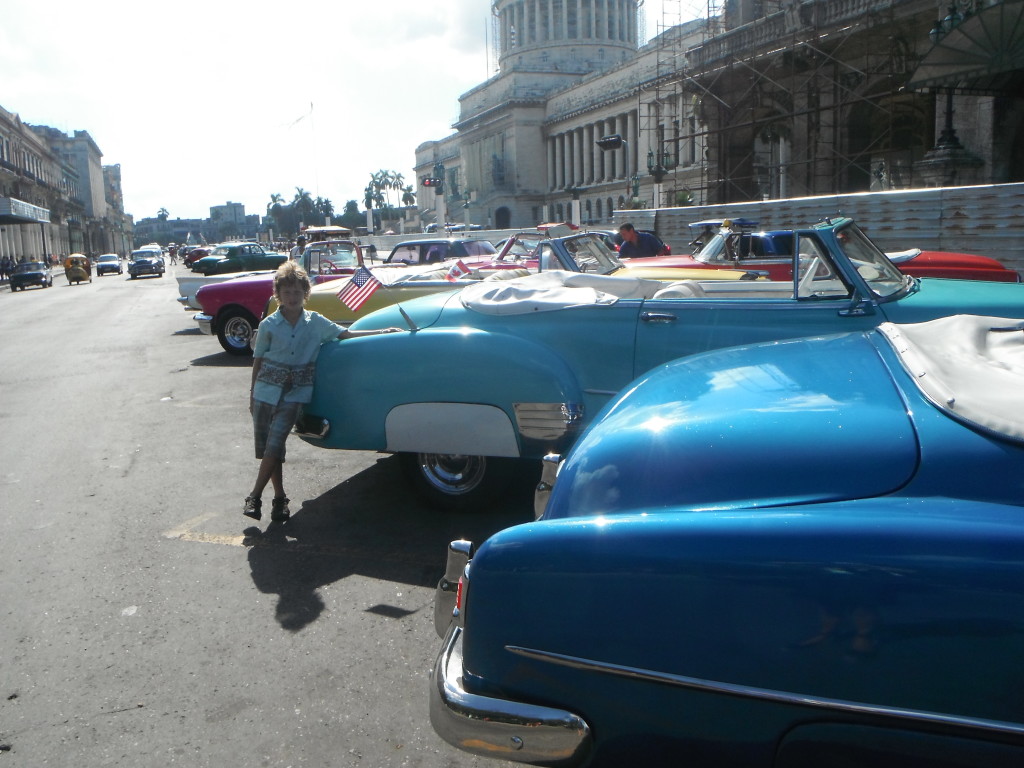 So we then dressed up and went for a wander around town.  It felt like just another day in most parts. No Christmas joy. Tourists wandered the streets in shorts and casual clothes like any other day. Oh, how wrong it felt to me.
We had found a really nice restaurant, so it was decided our celebration meal should be there.
Thanks to an Australian friend who had sent 'Funny Face candy', I had placed some in ziplock bags and made Christmas crackers and brought them to the restaurant.
It did feel pretty nice and was way more than we would normally spend on a meal, but then it was a special day.
We then headed over to 2 different 4 – 5-star hotels to enjoy the bands and lights.
But as there was no celebration of Jesus' birth, and no Christmas music it was a really strange feeling day.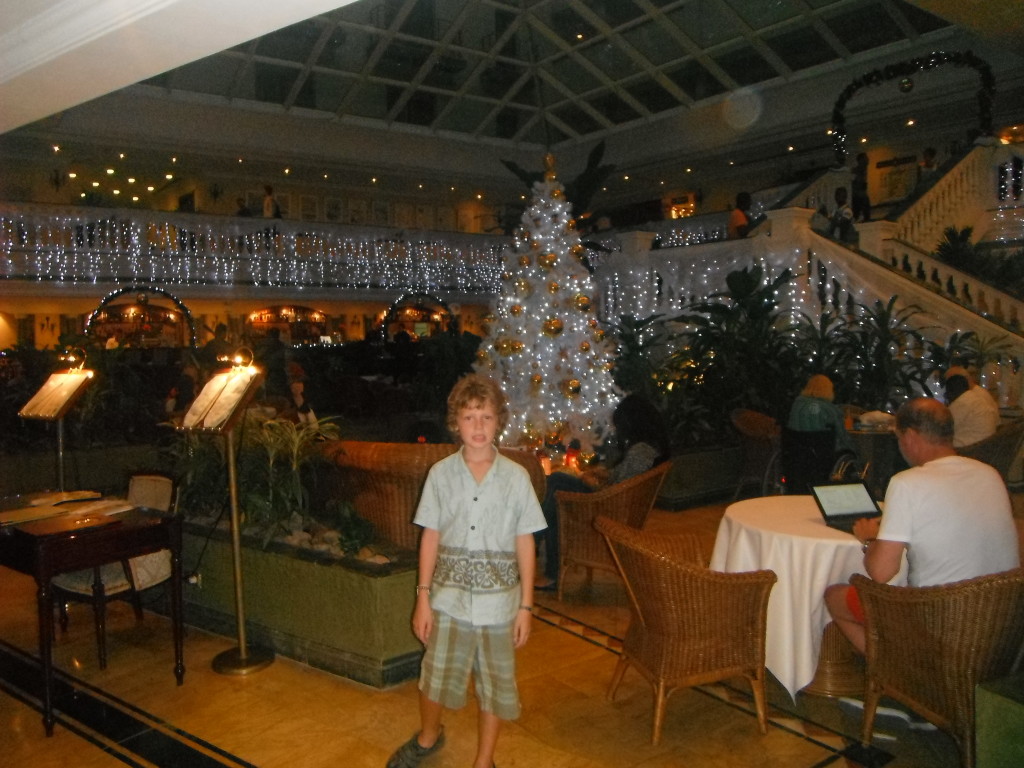 We wandered back to the apartment.  We hung out on our tiny balcony and watched the people in the streets below.  With tree lights flashing, and a Christmas movie to watch we had a pretty good end to the day.
I had to try pretty hard to keep the Christmas spirit going for us.  I felt lonely. I missed Australia. I missed my family and my friends.  I missed the things we used to do as a tradition at home together.
As a single parent, Christmas morning has always been an effort for me to make it feel like family.
But the truth is, we have each other, and that is a blessing.
I am really proud of what we achieved, considering we spent very little.
We didn't miss Christmas Day.   I am glad I had listened to my son and spent the money on a beautiful Christmas Tree.
I think the other hard thing is that we had to move on 2 days after Christmas and to keep traveling around Cuba.  This meant giving away a lot of the things we had bought for Christmas, but we were able to do this around the streets to the local children, and also to give them old things of ours too, as new things had arrived to replace them for Christmas.  We were able to spread joy to many, and this felt really great.
The rest is packed up to send back to Australia to add to our remaining items in storage in Australia.  But as postage is not safe from Cuba, we now have to drag around a whole bag, and it also means these are packed away, and some things can't be played with.
To experience Christmas in another culture is pretty good.  No two Christmas Days will ever be the same.  We had each other, but it reminded me more of how some must feel when they are completely alone with no one to make them feel special at Christmas or other times of the year.
As I sit and finish this blog, it makes me wonder where we will be next Christmas.  I do know that wherever we are, the true meaning of Christmas is the birth of Jesus. And the rest of Christmas is just as much giving to others and sharing the joy.  I hope we were able to share some Christmas joy with others in Cuba.  And I know the fun we had getting ready for Christmas was even more special as we had to make so much effort to make it all come together.
And – I know there is a tiny plastic baby 'Jesus in a Manger', given to me by our Cuban neighbor, that is going to be really special when we finally get a new home because it came from her heart.
And … I have learned to be thankful for the little things.
My son is the greatest gift I have in my life, and to share Christmas with him anywhere in the world, is the most special part of my Christmas memory.  Having some of my family come to visit me just before Christmas sure was special too!  We had so much fun and reminds me how much I love my family.
In reflection – YES – it was a Cuban Christmas to remember.
Questions and Comments
Are you a family that travels permanently?
How do you celebrate days and events that mean a lot to you?
Do you often travel with your child/
Does it scare you that the different cultures you engage with might corrupt his/ her innocent mind?
Do share your thoughts and opinions with us.