We have love, love, loved our stay in Sea Adventure Resort.
We arrived early and were able to enjoy a lovely Junior Suite right at the oceanfront.
So each morning I could have my quiet time of reflection and thanks as I sat out enjoying my morning coffee (coffee maker and coffee are supplied each day) whilst my son remained asleep.
Our suite was spacious, clean and was decorated in a contemporary style combining Mexico's traditional architecture and a modern flair.

Our room amenities included a large dressing area that leads to the bathroom.  How pleased was I to see a private bathroom is equipped with a bathtub/shower combination – especially as we have not had a bath available to us for 6 months – South America just does not have baths.  This meant the first day I actually took 2 bubble baths!
It was lovely and cool with individually controlled air conditioning and ceiling fans.
We rarely used it as there was too much to do but it did have satellite TV.
There was also a direct-dial phone with a message and wake-up call system.
Other suite amenities included; coffee maker; a hairdryer; an iron and ironing board, and safety deposit boxes at a nominal fee in some cases.  We also had a nice dining area, and they allowed us to take food back to the room from the restaurants too.
The resort is non-smoking in all guest rooms, public indoor spaces, and dining areas.
There are several bars, but we seemed to meet the most people around the pool bar.
There are also several restaurants and they rotate – not all open each night, so you can see the Guest Relations and organize fine dining at these.
Sea Adventure Resort & Waterpark, Cancun Mexico was lovely and as we were reviewing the hotel we were given access to the fine dining restaurants each night – where normally you only get to go to one every 3 nights.
After being 'on the road' for so long, I really enjoyed this, but my son enjoyed the buffets which were both in the main dining room, by the pool, and at the waterpark.
The main area has a lovely large pool with 3 jacuzzi pools within.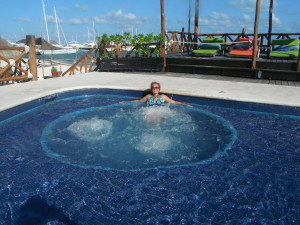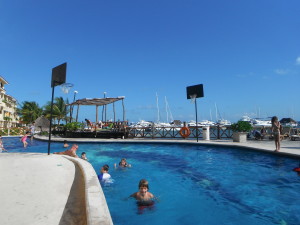 Admittedly these are cold, but it is a tropical place, so still refreshing.
There are stacks of sun-loungers and pool towels are supplied fresh each day.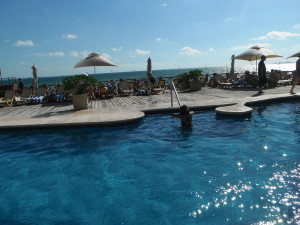 There is also a heap of nonmotorized sports for free, and even windsurfing lessons at no charge – amazing value!
There is also swinging beds on the beach and yoga that I did twice whilst I stayed. I could have done this daily, as well as pool aerobics, but found we usually headed straight to the waterpark at 10 a.m. when it opened.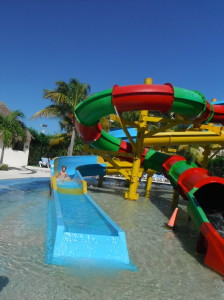 Now the waterpark is accessed from an under-road tunnel. Past some resident iguanas and then to the great sports park.  It is open all days except Tuesday which is a maintenance day.  We found that a combination of kids club (where they are also taken to the waterpark) and our own visits seemed to fill our days.  My son seemed to devour about 5 hot dogs and a side of fries each day – there was so much running around to do, he just seemed to burn up the energy.  Washed down at the pool bar with a Piña Colada Mocktail, he and his many friends had a great time.
There was just so much to do.  The games room is free, and multiple activities each day.
You could easily book two weeks here.  I loved learning archery myself!
I think I loved the fact my son made so many friends.  This made the time go so fast. When one lot left, another lot stayed. It was just great!
We played a few games of mini golf too – all included! They are in the process of changing to a more modern look from the traditional Mexican theme, and it was great to see the place decorated for Christmas too.
I can thoroughly recommend this Resort and for value for money would give it 5 stars.
It is listed as a 3.5 – 4-star resort, and we found the staff to be friendly and nice – all of them, and all the time too, so that was amazing.
I think one of the great things about this resort is the quality of the theatre productions.  They have 4 different productions and we loved them. Some were dinner shows too.
After each show, the kids can go and get their photos taken with the performers too.
The Michael Jackson Tribute show was so good.
The guy really looked like him – he was just amazing!
After that, they usually had activities in the disco for the kids and sometimes for the adults and it was a load of fun, and a great way to make new friends.  I have never laughed so hard!
We booked online and rang and spoke to a representative who gave us a great deal.
It was all-inclusive with kids stay and eat free, so as a single Mum this was a fabulous deal for us.
We loved it so much, we hope to return next year… I think it is going to take me that long to lose the weight I gained from all the fabulous drinks and food we consumed.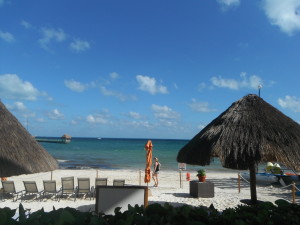 Exploramum and Explorason – Sea Adventure Resort & Waterpark Cancun Mexico – beach
CONTACT
Accommodation Name:  Sea Adventure Resort and Waterpark
Location:  Km. 1.5 Carretera a Puerto Juarez-Punta Sam Cancun, Quintana Roo, C.P. 77500, Cancun, México
Telephone:  52-998-881-7900
email: reservations@seaadventureresort.com
Web-site: http://www.seaadventureresort.com/cancun-resort.asp
Date stayed: December, 2014
Breakfast: We chose the all-inclusive package with meals and drinks including fine dining.
Bar:  Yes
Kitchen: Our suite had a mini-fridge, sink, and microwave
Wi-fi:  available to purchase daily, not free.
Child-friendly: Kids club for over 3 and under 10 years
Questions and Comments
Are you a family that permanently travels around the world?
What is your take on families that travel a lot?
Have you visited Mexico before?
How was the experience?
What did you make of their culture?
Do share your comments with us below.