Playa del Carmen Mexico – Playa Caribe B&B
Accommodation Name:
Playa Caribe B&B
Location:
  Ideally located a short walk to central Playa del Carmen through lovely tree-lined streets.
Paseo Xaman Ha, AK1, Mz-17 Lote-14 Playacar Fase II, 77717,Playa del Carmen Q. Roo, Mexico
Telephone:  WhatsApp:
+52 1 984 14 55 421  
email: 
info@bbplayacaribe.com
Web-site: 
www.bbplayacaribe.com
Date stayed:
 December, 2013 for 3 nights –  wished it was longer!
Breakfast:
 A delightful continental breakfast is served with style and flair.
Bar: No
Kitchen: No
Wi-fi:
  Yes
Child friendly:
 Yes
Review:
Playa Caribe B & B is a new Bed and Breakfast recently opened in Playa del Carmen, in a lovely leafy section of the new residential and hotel area.
It backs onto the golf course, so ideal for the golf enthusiast, or one wishing to relax away from the hustle and bustle of the main hotel area.
When you first arrive you might mistake it for a modern plush home, but both this building and others in the street are Bed and Breakfasts, Guest Houses, Hostels, and further down Hotels.
Many apartments for rent are also available in these surrounding locations, but to the eye, it appears deceivingly as solely residential.
You will identify the property by the sign near the front door, where on ringing you will be greeted by owners Alessandra & Mimmo.
This professional B & B has all you need.
It is tastefully decorated with modern Mexican art.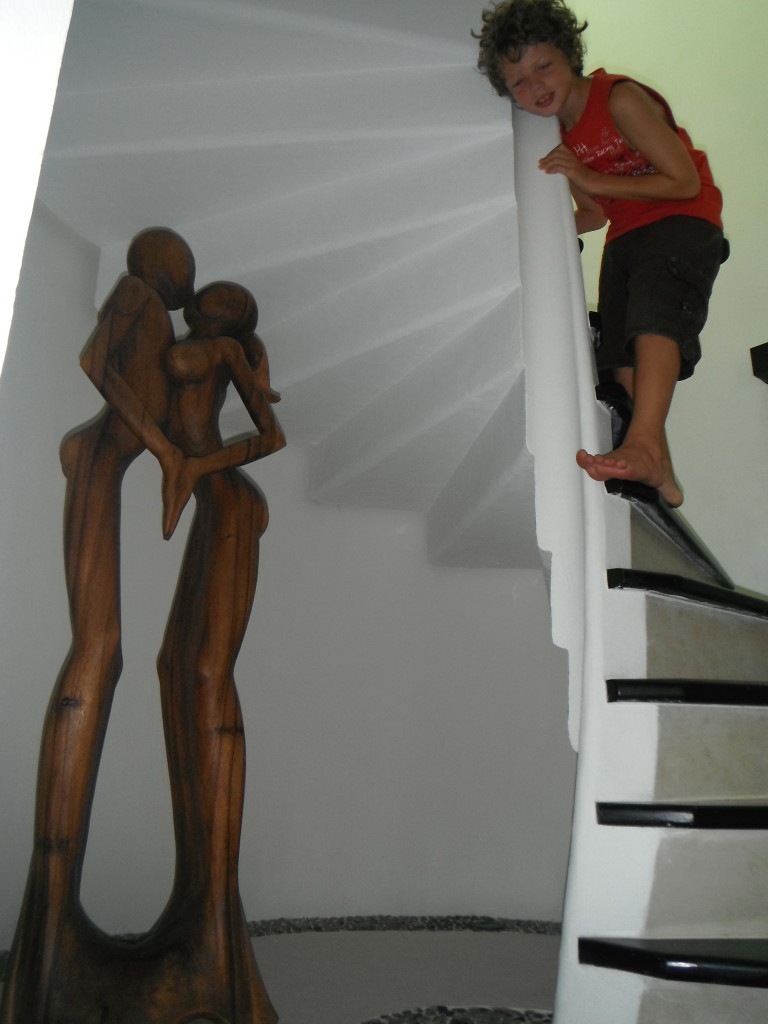 Downstairs is the breakfast and lounge area, along with a small reception area where you can book tours, taxis and read about the many touristic activities in the area.
The guest dining room has several tables where you can talk with the owners and other guests and has a family feel to the area.
As all the guest rooms are upstairs, this is great for those wishing for an early night or a late sleep-in without being disturbed by others.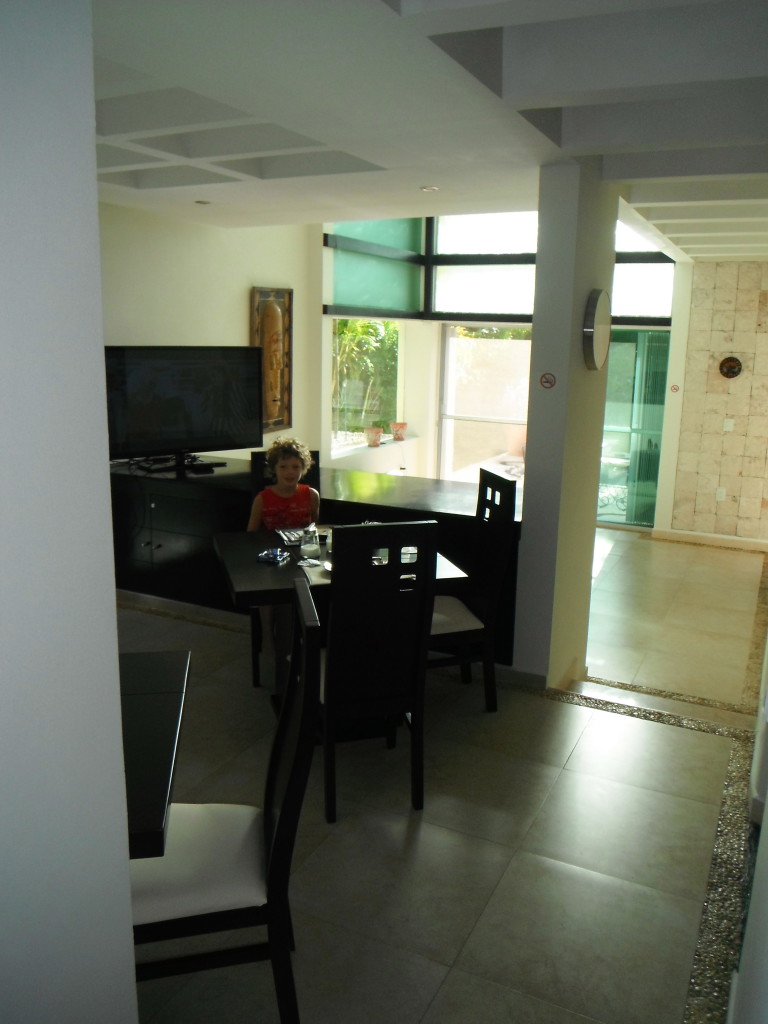 A lovely continental breakfast is served each morning between 8 a.m. and 10 a.m. and as the owners are Italian, you can be assured of the most wonderful coffee!  The small touches like a lovely chocolate are set beside your placemat.  My son LOVED his breakfast began this morning with fresh croissants and Nutella for him, and he enjoyed his hot chocolate and other delights.
Alongside the dining area, you can relax in the guest lounge, which is open and sunny and has a huge flat-screen TV with SKY.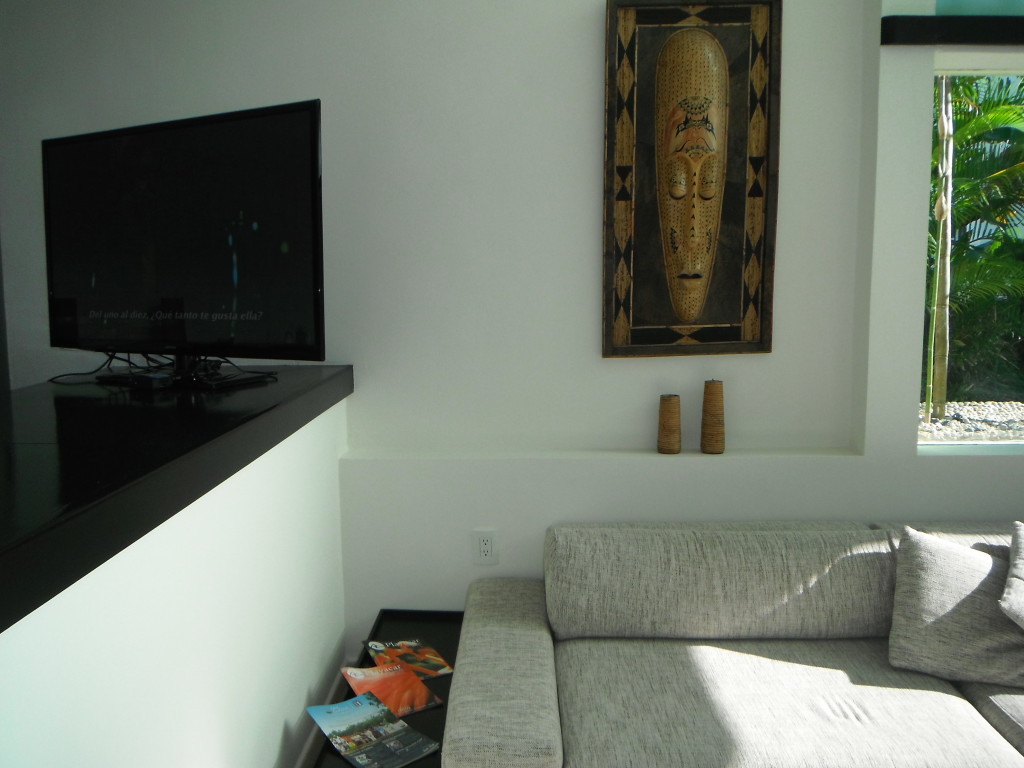 This leads out to the patio area where several tables, chairs, and sun lounges are set around the lovely pool and relaxing gardens.
These gardens merge with the side of the golf course and are ideal for a late afternoon stroll.
The rear upstairs room has a balcony overlooking the pool and facing toward the golf course.
The pool is spotlessly clean and lit at night for guests.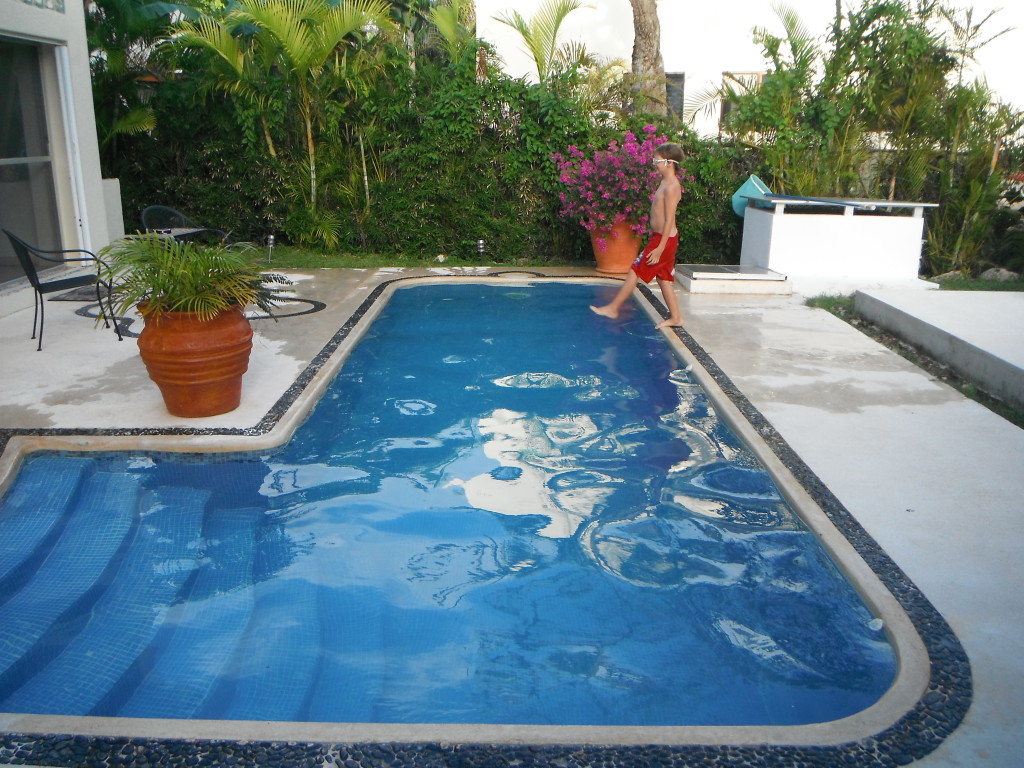 It is fun in the day and is a great place to relax outside with a drink or a book or magazine after a great day shopping.
Upstairs the bedrooms all lead off another common lounge area.
Again the tasteful and modern artwork of Mexico adorns the walls of this gorgeous B & B.
The bedrooms all have a minibar fridge with nonalcoholic beverages you may purchase.
A ceiling fan and air-conditioner are also installed for use, but we found the breeze through the windows to cool us down enough in the evenings.
A flat-screen TV is also fitted in the corner and has SKY.
The bed is a generous King Bed with quality linen. Some rooms have a single bed also. The en-suite is modern, roomy, and clean.
The fluffy white towels are gorgeous and toiletries are supplied.
This is a tastefully appointed B and B, and one of the best we have encountered.
We enjoyed the peaceful surroundings and the 5-star service from the owners.  They even helped me on three occasions with Skype calls I needed to make where Spanish was required.  They also assisted with ordering taxis and negotiating local and not tourist rates with the drivers.
You will be really surprised at how reasonably priced this B & B is, and I can recommend it without hesitation.
We hope we return next year and stay again!
TELL THEM EXPLORAMUM SENT YOU IF YOU DO BOOK HERE PLEASE
Questions and Comments
Are you a family that permanently travels around the world?
What is your take on families that travel a lot?
What features do you consider when booking your accommodation?
Would you consider Hotel Playa Caribe?
Do share your comments with us below.