Tulum Mexico Mayan Riviera in the Caribbean
Where do I start when talking about Tulum Beach?
Firstly, if you go to Tulum, don't go and stay in town.
You will miss this gorgeous location.
White sands and azure blue waters and skies.
It is a place to relax and have fun.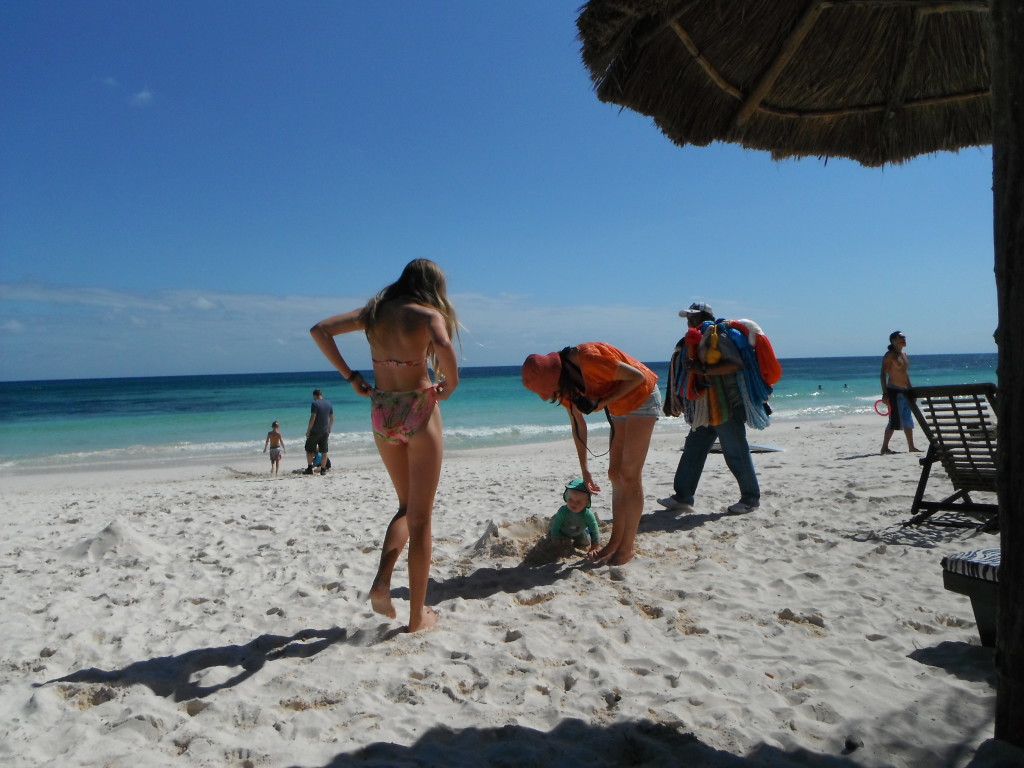 The kids had a great time in the sand every day.
Age seemed to go to the size as I saw adults and kids work to create their masterpieces.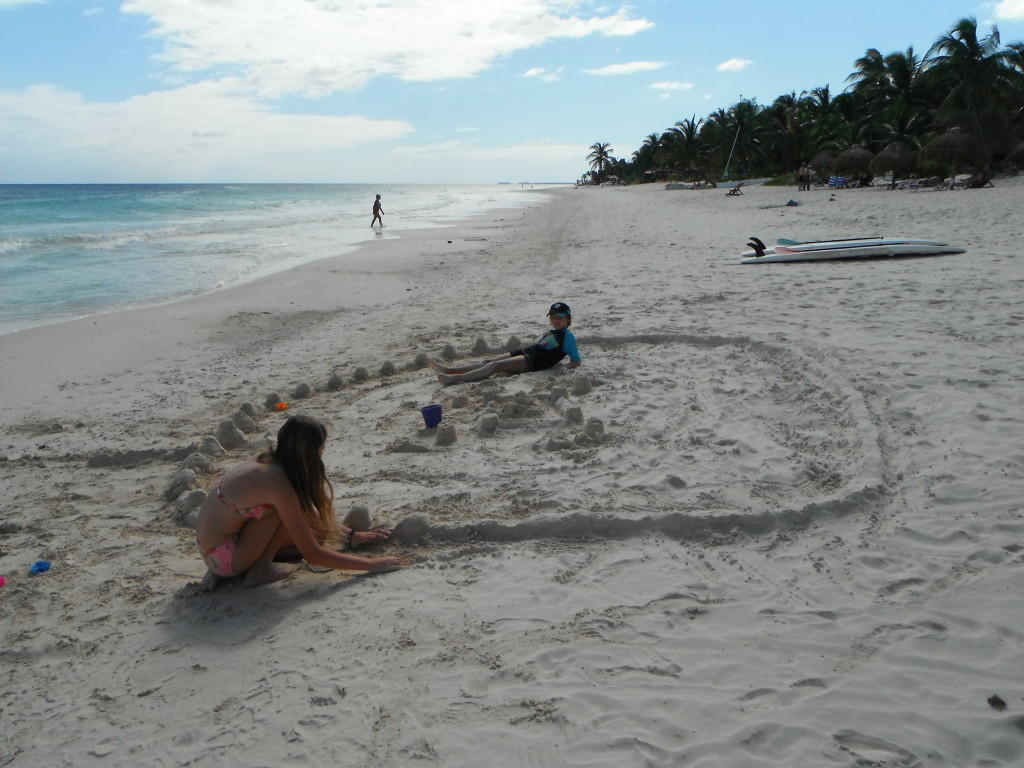 The areas of shade under the umbrellas were great for the baby our friends had too.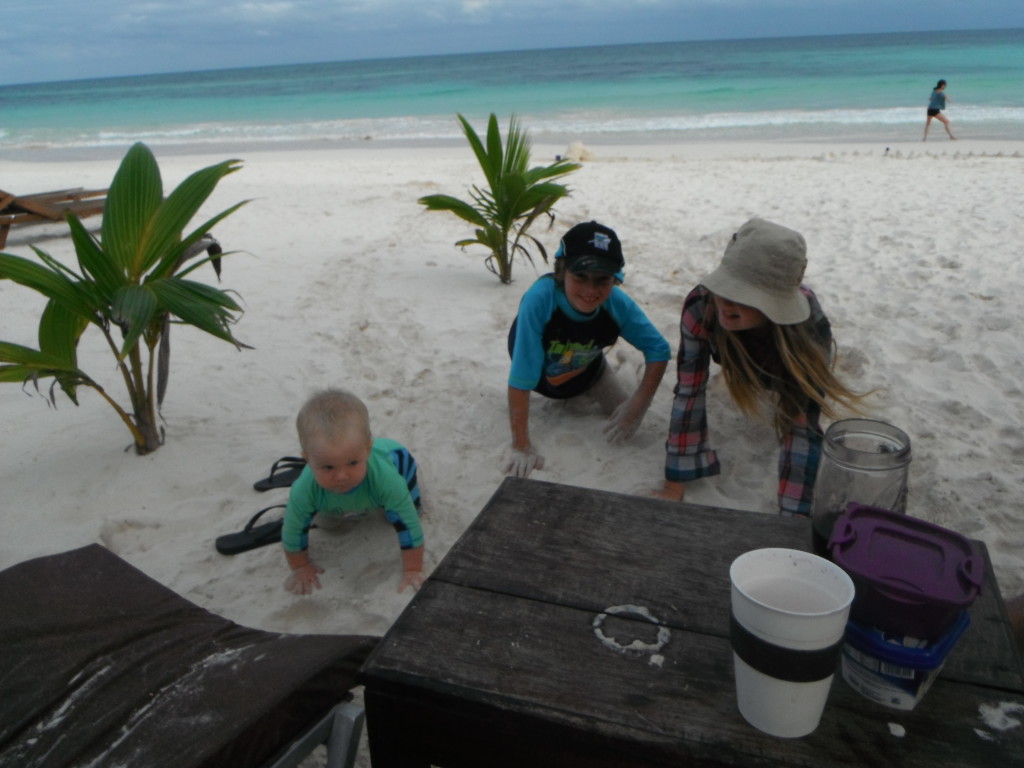 The water is so clear.  Sometimes you see small fish.  It is warm – yes warm, and it takes a lot to get me in the water, but I really enjoyed it. At times there was a huge surf, but at other times it was tranquil and still.
On several days we met and enjoyed the company of new friends.
Their daughter and new son all played well with Explorason.
They kindly shared their lunch with us on one occasion.
They were lovely and relaxing and easy to get to know.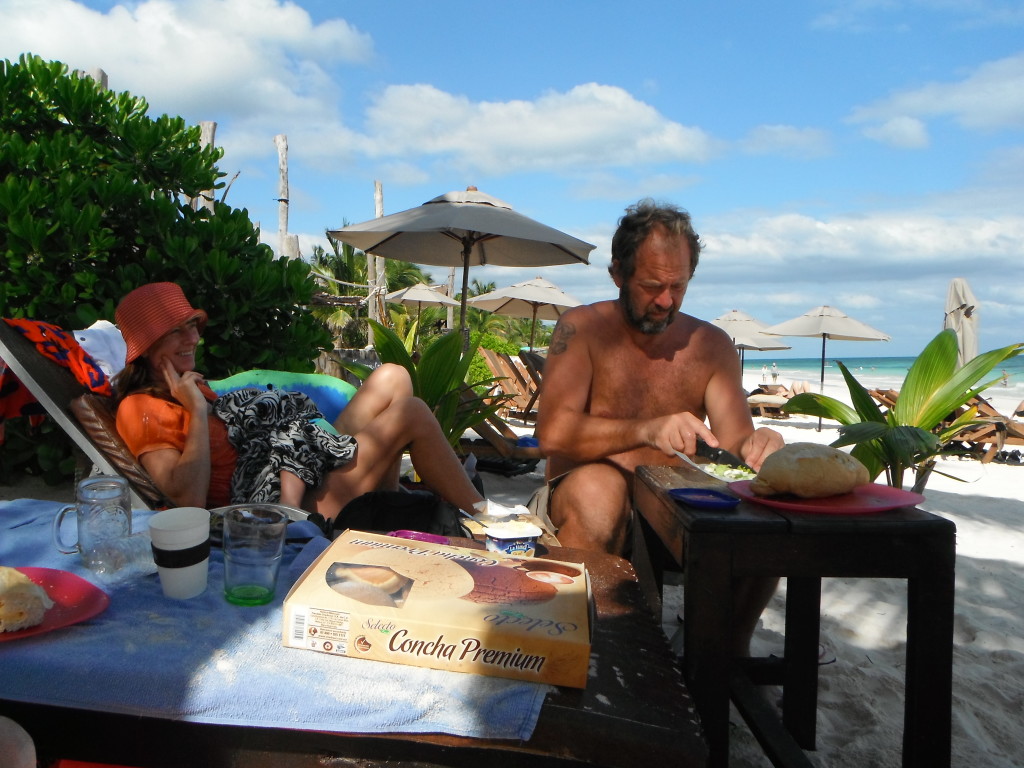 Each morning we went for a long walk.
The beach goes for miles in each direction.  Past lovely hotels, and a couple of not-so-nice ones too.
We even saw a couple of tenting areas, but generally speaking, it seemed to be a 4 to 5-star area.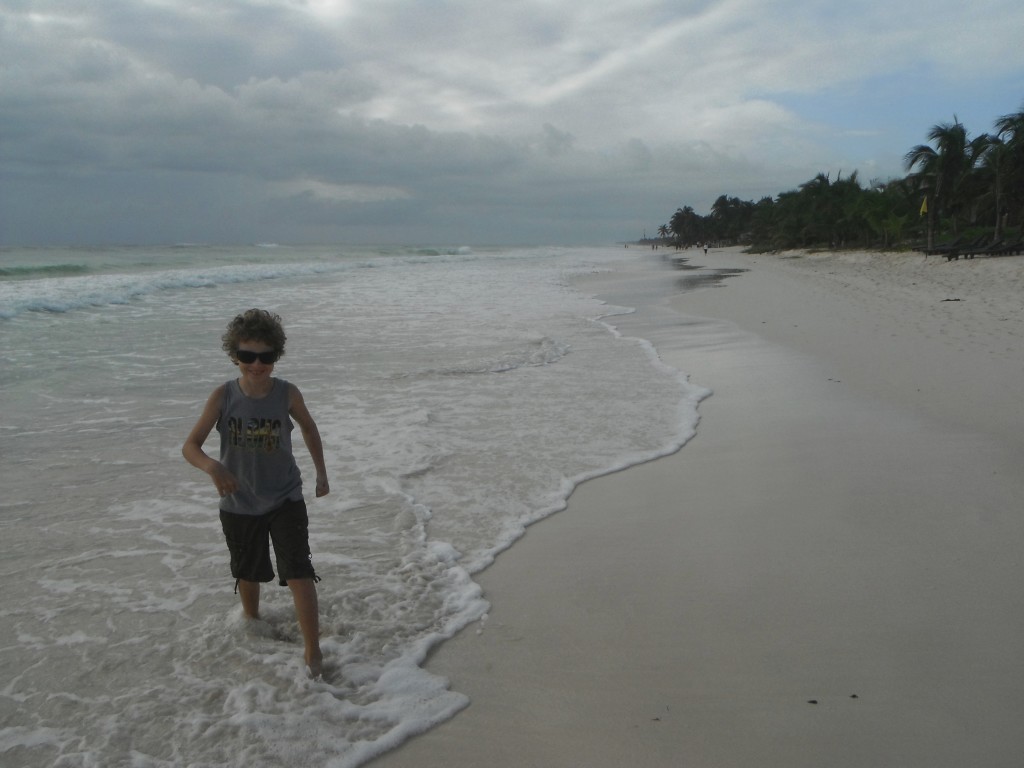 There were a lot of yoga retreats. and I mean A LOT!
Several places have restaurants and hammocks on the beaches.
In the early morning, it is pretty unpopulated and easy to relax.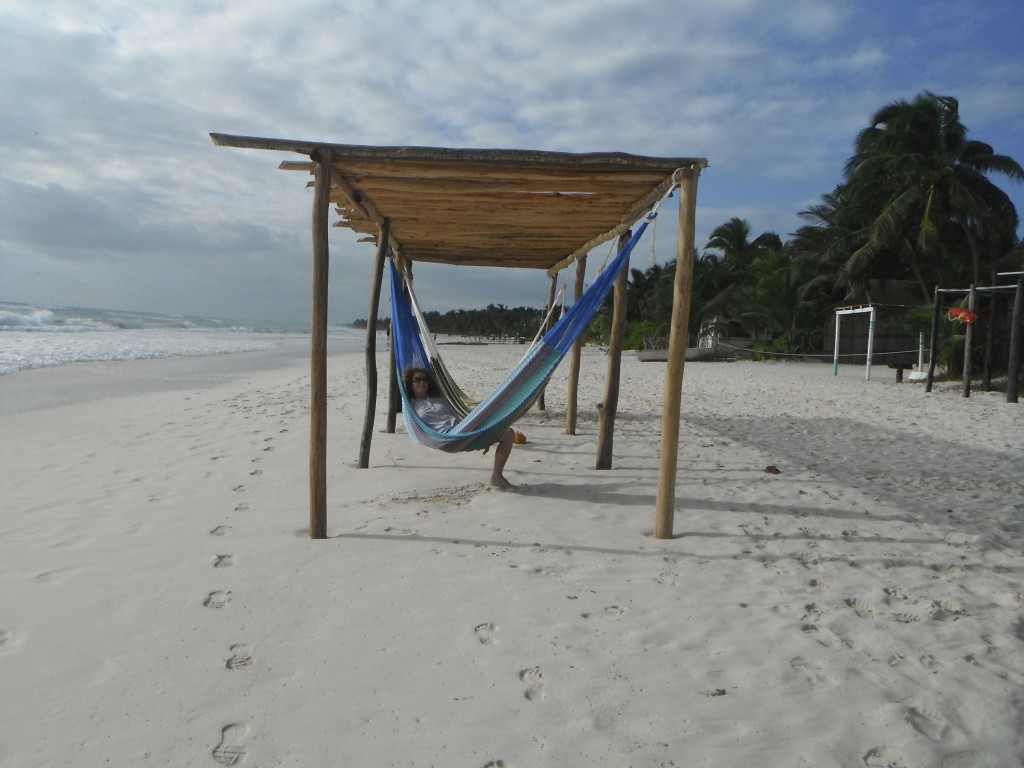 Besides the yoga retreats, there are also massage areas.
This lady and another man set tables up at our hotel, and quite got into the job!
There are many restaurants that only open for lunch.
Nighttime the beach is black with darkness, and it is a hard area if you have no car to go to and find a place to eat.
We had a couple of nearby restaurants, but boy-oh-boy, they were not cheap!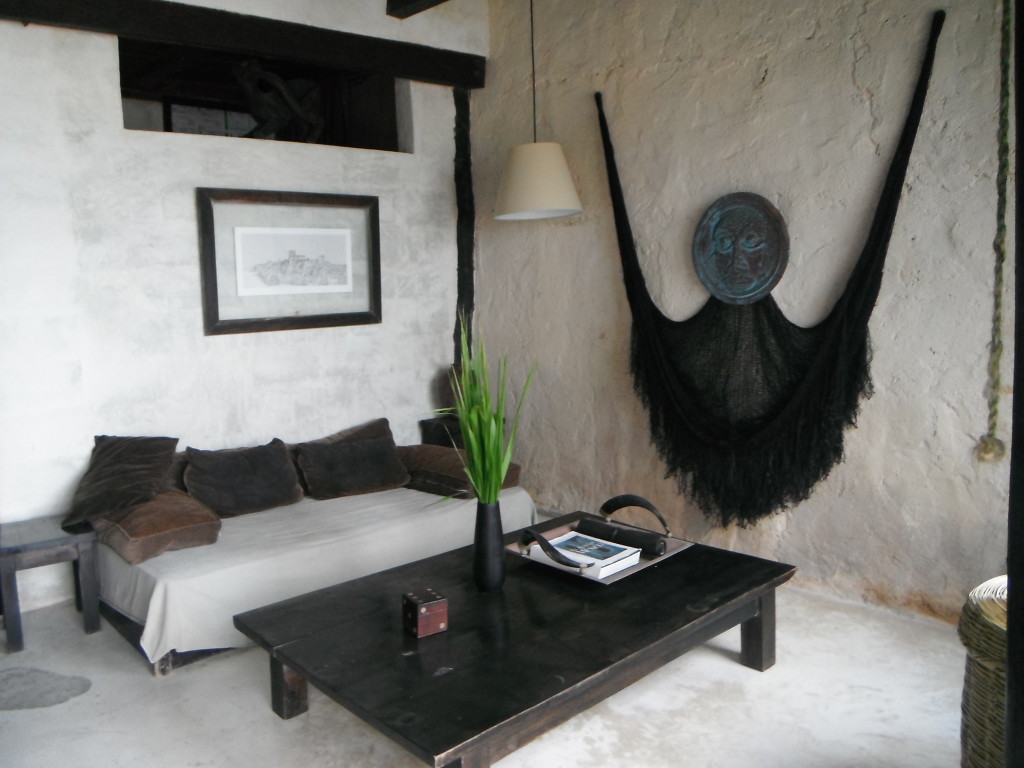 We went next door one evening for a glass of wine.
On our last evening, we tried to walk down the road to find a restaurant.
But we turned back after 15 minutes – it was just too poorly like to walk further.
So we went opposite.
Light rain dripped from the trees as we waited an hour for a table in the sand.
The stools were rough benches, and really it was all mode lighting by cable light.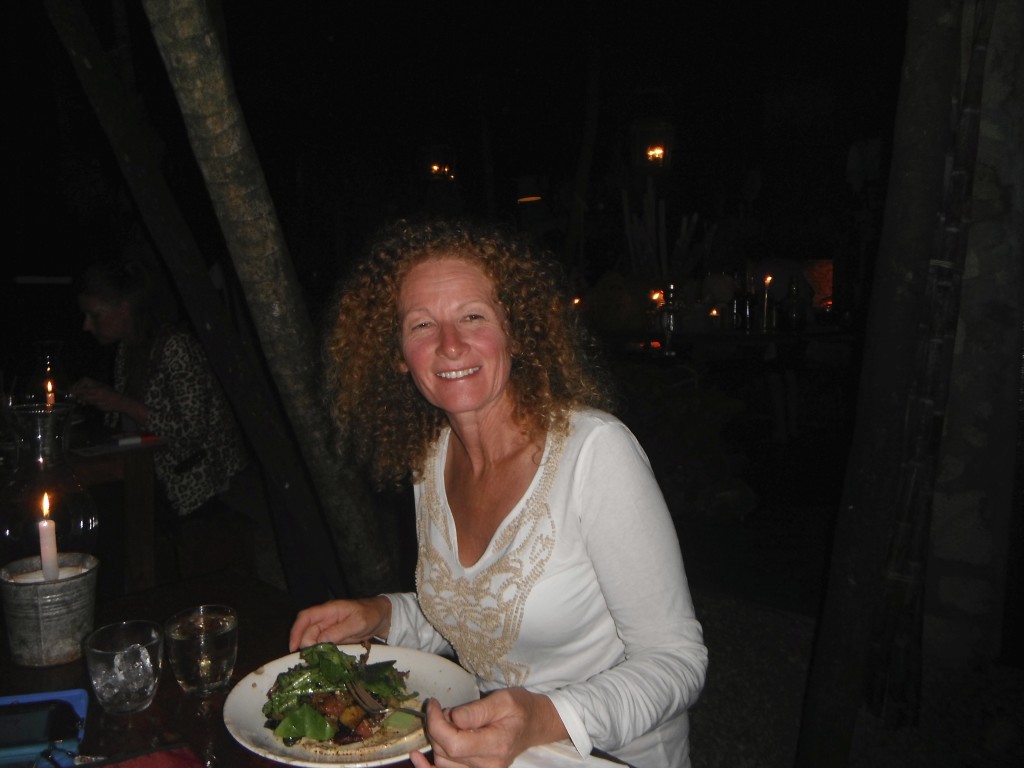 The salad was almost inedible – someone had slipped with the chili oil.
But I was so hungry and I had no choice.
They only took cash which was tricky seeing the closest ATM is 7 km away too!
Wow – this place was packed and had only a few choices of dishes and mostly seafood, but was really popular.
The next day we enjoyed watching several weddings along the beach.
Tulum is a great place to relax.
Apparently, a collective comes along hourly, but who knows when.
We took a taxi for 100 pesos to the supermarket and the bus terminal which was OK.
We also visited the Gran Cenote from here.
You could access Tulum and other areas easily with the buses and collectives on the main road once you get there.
We loved the sunrises and walked the beach as the sunset.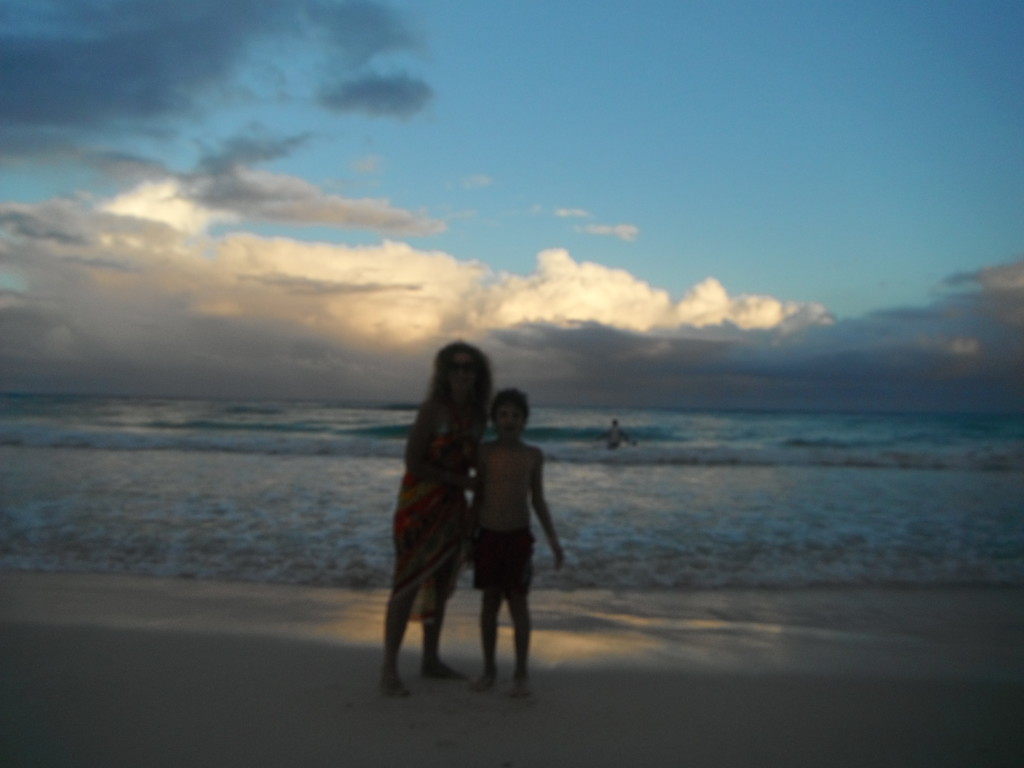 There is no sunset here, but there are gorgeous sands and waters, and it is just stunning!
Questions and Comments
Are you a family that permanently travels around the world?
What is your take on families that travel a lot?
Have you visited Mexico before?
Did you get to visit Tulum beach?
How was the experience?
What did you make of their culture?
Do share your comments with us below.