Isla Mujeres Mexico on a rainy day is still fun
Yesterday started out with blue skies.
We had planned with a few friends we had met to visit Isla Mujeres (which means the Island of Women), just off the Mexican coast.
We had a bit of a late start trying to coordinate everyone, but we ended up taking a collective to the ferry.
Well – turns out that ferry is for cars, and only ran 2 times a day and we would have to wait 3 hours for the next one.
So we caught another collective to the correct ferry.
Just as we got there it arrived, and we bought our tickets.
Kids would have to dwarf to fit their criteria, and both the 7 and 8-year-olds were charged adult fares.
But when I went to get on the ferry, she had only given me a child's ticket, and I had to go and pay again for the difference for the adult ticket – even though I had paid already!
The ferry has an enclosed cabin with bar service downstairs, and upstairs you get to enjoy Santana being played Mexican style on an electric guitar by the local busker.
By now it was after lunch, so we didn't waste time shopping around for golf buggies, but did do a deal for 2 of them.
The ladies and kids took one buggy, and the guys the other, and soon we were racing along at a snail's pace.
I was the driver of ours which was fun, seeing I had not driven one before – plus it is the other side of the road for me as an Australian.  Guess it was fitting seeing it was the island of women!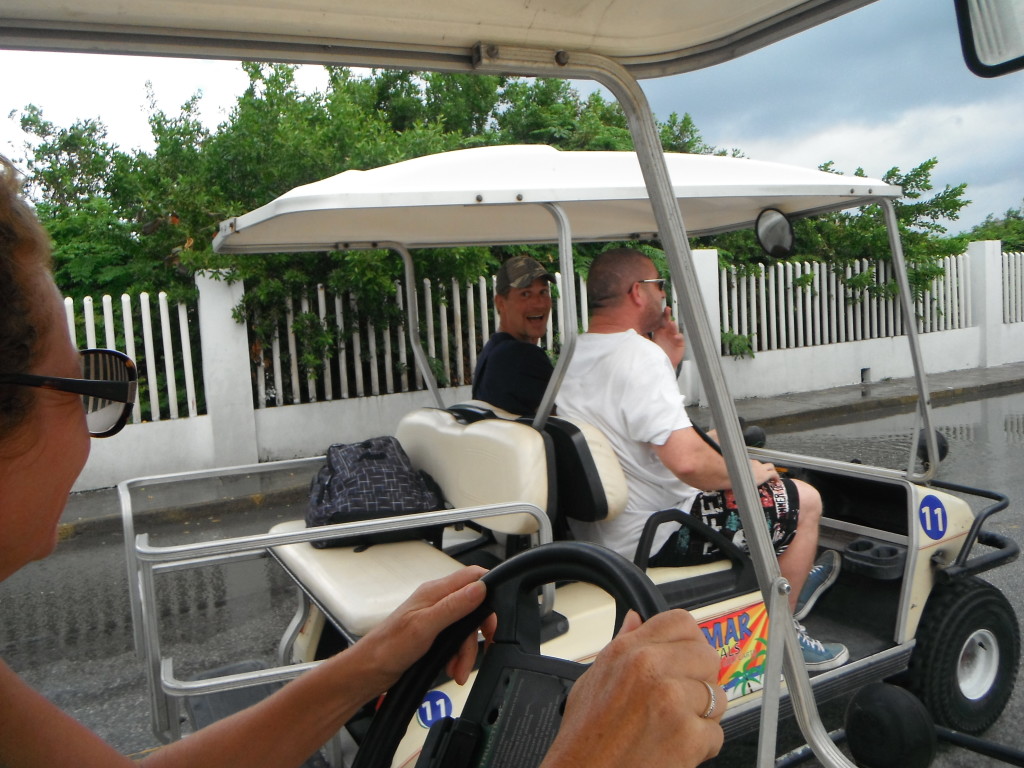 We first passed the giant fish statue, and the skies were turning grey.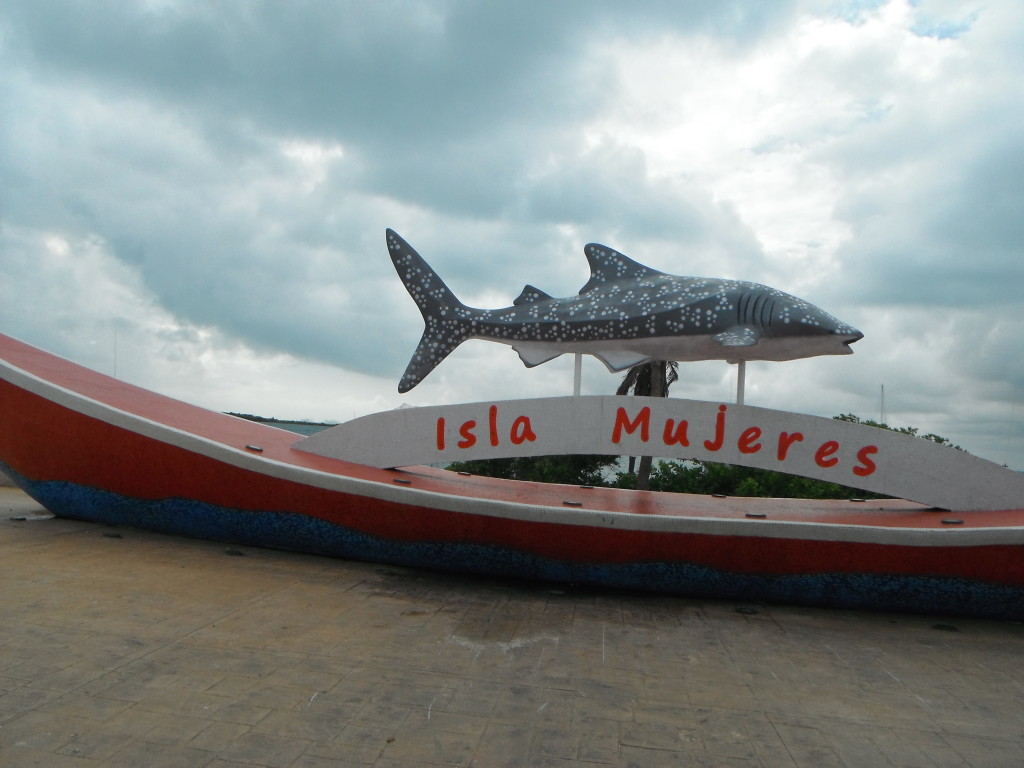 We stopped off at the drive-through for some snacks and drinks.  This was all good fun.
We had barely done 100 meters and the rain started.
By the time we had passed about 1 km it was stinging our skin, and we had to take shelter for about 1/2 hour.
By now the kids were wet and cold and not really having a good time.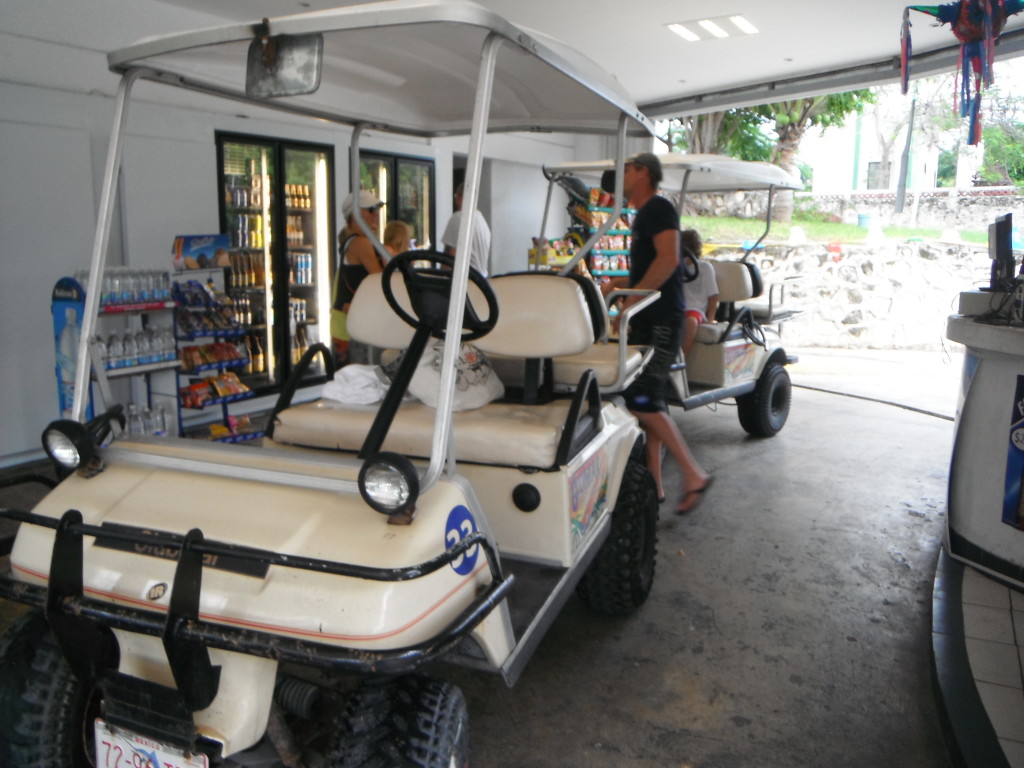 So as the rain lightened we found a club that had resort facilities and a restaurant.
The rains stopped and the kids decided to get wet in the pool.
It was quite a lovely restaurant and soon the rain stopped and we sat and enjoyed lunch.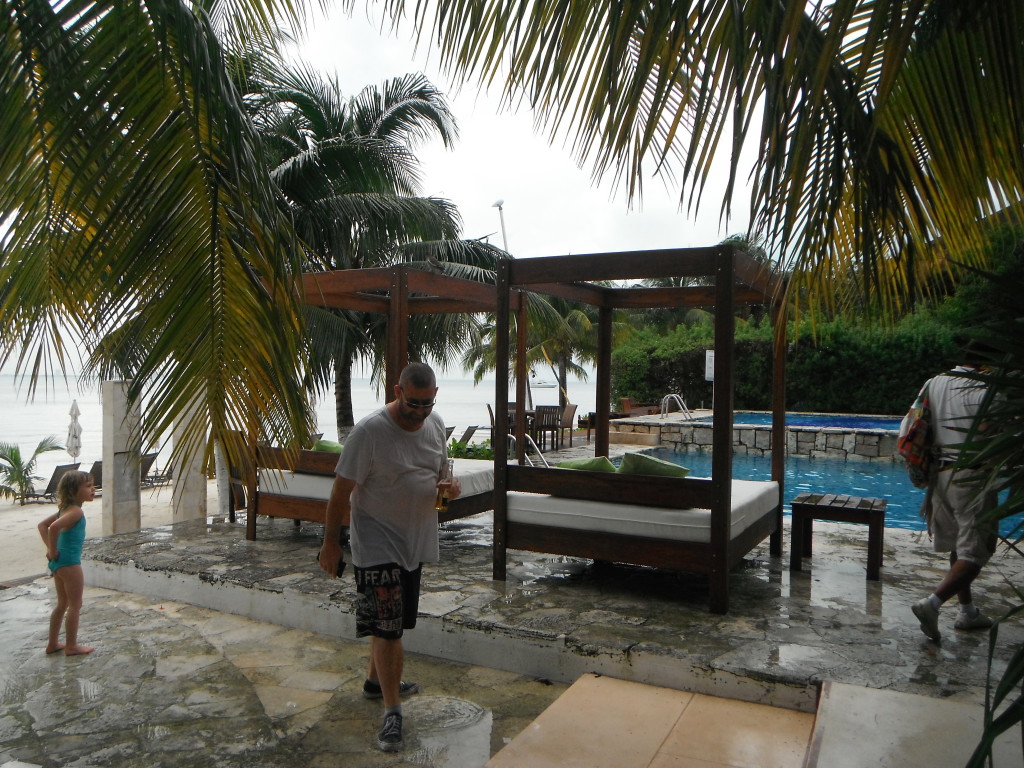 One interesting dish was the calamari.
They used black corn for the batter and a garlic sauce.
It was quite incredible!
We decided we had better go and explore the island.
It started to rain slightly, and here I am trying to do a U-turn.
As we drove the circle road to the lookout, we stopped to watch the zip-lining across the ocean.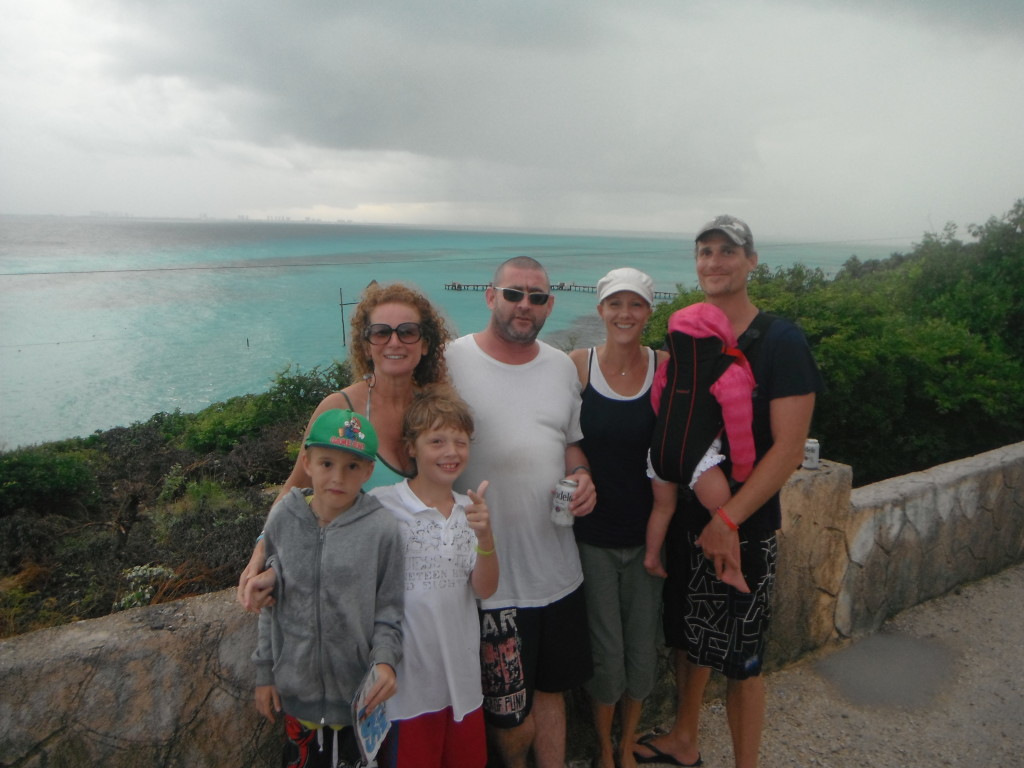 One rather large guy became stuck and they had to climb out and get him!
Not a bad place to be caught hanging – the water is a glorious color.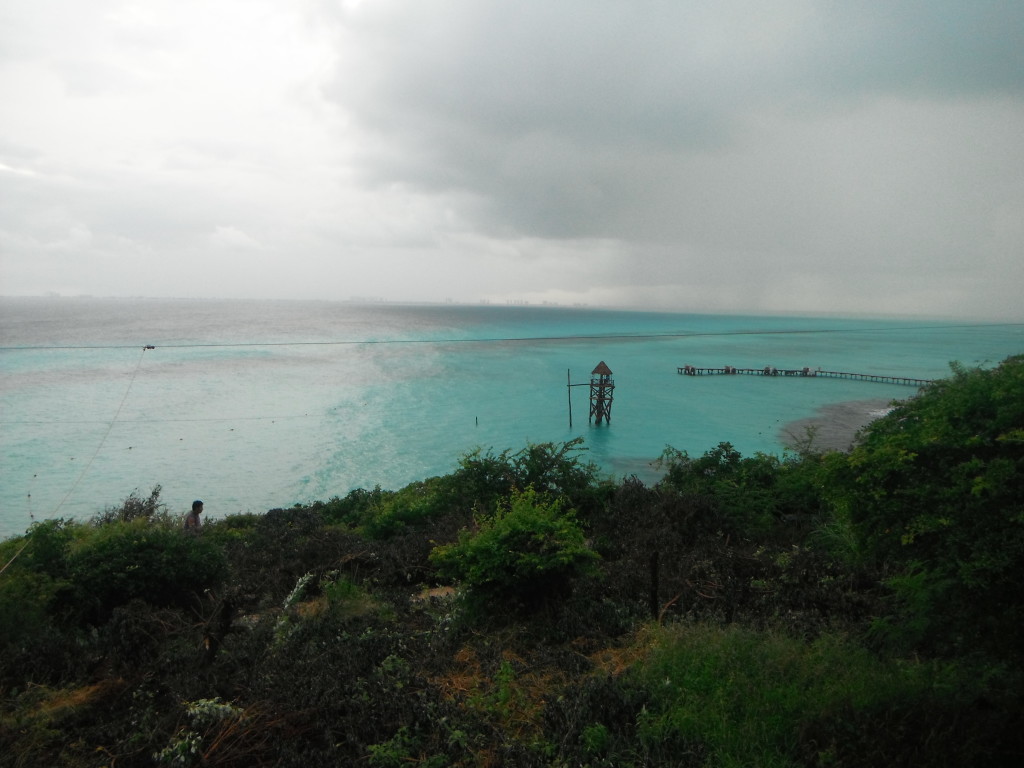 We arrived at the lookout and the rain started again, so we didn't last long there either.
We headed back to the small town where there are a market and a load of overpriced tourist shops.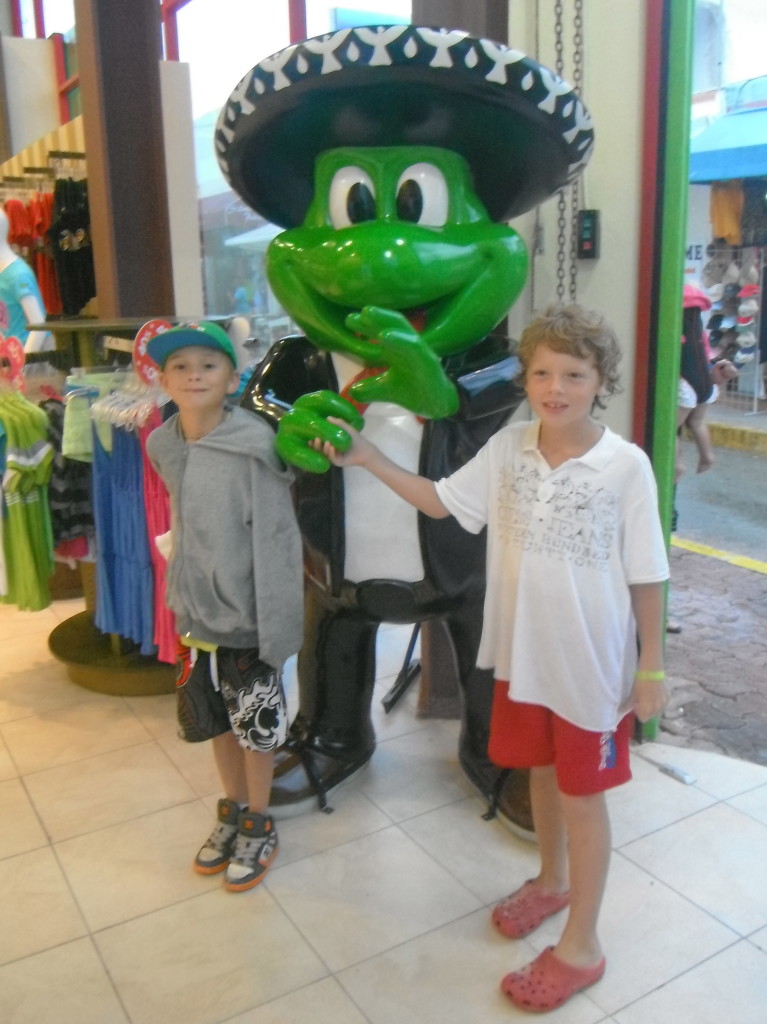 I love the security on this van.
It is tied with a thin rope to the pole!
We caught the ferry back and the water was a little choppy so ended up inside in the dark, but the time went fast.
We grabbed another collective back to the resort.
It was a great day and we had a lot of fun.
I do suggest only getting the golf buggies if you have good weather.
We were really wet and there is no protection.
But it isn't cold, so we drive off and still enjoyed the day.
Questions and Comments
Are you a family that permanently travels around the world?
What is your take on families that travel a lot?
Have you visited Mexico before?
How was the experience?
What did you make of their culture?
Do share your comments with us below.