Yellow House Amarillo Casa, Antiqua Guatemala
Hostel or Hotel Name: The Yellow House
Location:  1a. Calle Poniente No. 24, City center, Antigua Guatemala
Telephone:  +502 7832 6646
email: yellowhouseantigua@hotmail.com
Web-site: http://guatetravel.com/index.php/yellow-house-hostel.html
Date stayed: 3 stays. October and November 2013
Breakfast: A gourmet hot and cold breakfast is included
Bar: No bar is available
Kitchen: A small but good kitchen is clean and available
Wi-fi:  Good wifi is available in the room upstairs
Child-friendly: This is a child-friendly hostel and another couple with a young one also stayed at the same time as us.
Review:
It is a great joy to be able to review The Yellow House.
It was so good that we stayed on 3 separate occasions – over a 3 week period, each for several days.
We recommended it to our friends and fellow travelers and 5 other rooms were booked at the time of our stay due to our recommendations.
Our room was tastefully and traditionally decorated, and we selected an upstairs room, which was private and very clean.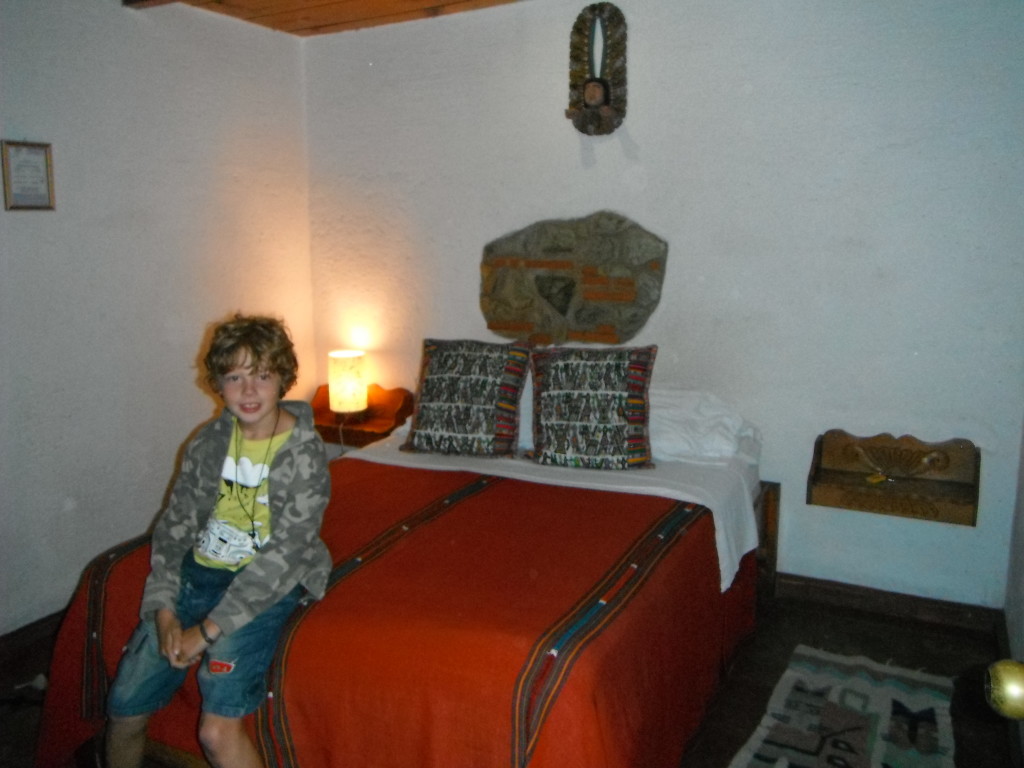 We enjoyed the fact the windows opened, so we could enjoy the breeze.
The room is small, but it suited our needs, but no rooms have an en-suite and a toilet is downstairs.  Showers are downstairs too.  These are constantly cleaned and maintained to a high standard.
Outside our room, we had a small courtyard area.
To the side was also hammocks and a communal area.
We enjoyed breakfast outside our room each day.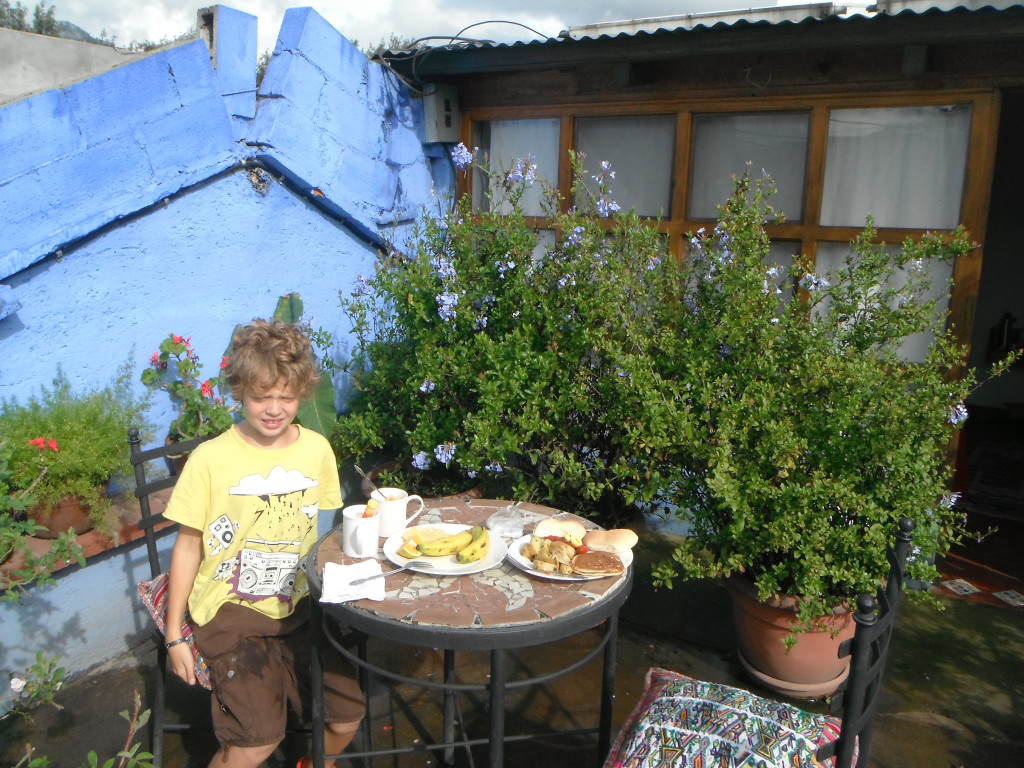 We also booked a tour to Pacaya Volcano, and they have a great area for booking tours and shuttles to other towns.
Another thing we booked was a cooking class to learn about traditional Guatemala foods.
We also booked 3 different shuttles, and all service was excellent.
Our room had the greatest view.
Right in front I could sit in bed and view the volcano.
I often heard the volcano to the right of the room rumble and grown as it spurted its volcanic ash in the evening or morning.
Many dishes (both hot and cold) including fruits are available each morning.
There was definitely more than we needed or could fit in, and Sunday also included an extra Burrito which was amazing.
It is without hesitation that I would recommend this hostel to anyone.
The location is right near the markets, and close to the bus terminal.
It is fairly central to walk to the main area.
The town is loaded with historical areas to see, and you could easily spend a couple of weeks here and not see it all.
One of the prettiest places I have ever stayed!
It is one of the cleanest and nicest hostels I stayed in also!
Highly recommended.
Questions and Comments
Have you visited Mexico before?
Did you get to visit the yellow house in Amarillo?
How was the experience?
What did you make of their culture?
Do share your comments with us below.