Happy 8th Birthday World Traveling Son
We have just started our 8th month of travel and now it's Happy 8th Birthday to Explorason. In this article, we talk about how you can celebrate a child's birthday while traveling with some tips, tricks, and ideas that might assist you.
Over the months I have been saving little souvenirs for gifts and hiding them away. Then any clothes my son wanted were added to the collection and soon forgotten until I had a nice little stash of gifts.
Yesterday I found some tissue paper I was given in the USA in Explorason's books bag. So I set out to wrap the gifts – amazingly with a little roll of tape, we brought with us from Australia.
The receptionist here in Quito gives me some cardboard pieces to make signs and decorate the room. And some Quito paper placemats are used to wrap the tricky shaped items.
With gifts and decorations stashed under the bed, I am ready to go.
Happy 8th Birthday!
Explorason wakes early, as birthday boys usually do, and is super excited. I've managed to tape up the signs and get my coffee made before he wakes so I'm feeling accomplished.
Celebrate with New Friends
We had arranged to take a birthday cake to his church friends so we hunted one down yesterday. And of course the candles too.
I leave them my camera as he doesn't want Mum gate-crashing now he is 8-years-old.
They head out into the garden and play area. He tells me he had to eat it with his fingers. I never realized this as a new experience for him – guess we are cultured:)
Taxi Challenges
After church, we have a bit of a challenge to get a cab to the historical part of town and it takes at least half an hour. Locals jump the line in front of us. Some drivers don't have meters and want a crazy fare, and it gets exhausting.
Then we finally get one. Oh no – he has a dodgy meter that has been 'doctored'. It is flying around and is double what we pay. But he also takes us the wrong way to add to the fare. I get very irked by this but we are getting used to taxi scammers around the world. So I give him his inflated rate and we hop out and walk another half an hour.
Finally, we get to our favorite roof-top restaurant but as it is Sunday it is closed, so off we wander again.
Cultural dancers line the streets so he gets a free birthday show. It is fun and so colorful to stop and watch, but we are hungry so off we go.
Pizza Cake
We try several restaurants – but no pizza. On we go, and on the way, we have a great cultural dance on the way.
My son so wants pizza, but unfortunately, in the historical area, there are not many Italian Restaurants. But we find one and I tell the waiter it is his birthday. I give him the leftover candles from the cake and off he goes and comes back with the pizza and the candles glowing.
Waxed Pizza
Small problem! The candles proceed to melt like water into the pizza. The pizza is so hot they don't set either. We have colored wax pools to mop up with the napkin and it is a bit of a disaster.
Suddenly my son is upset because he is hungry and he can't get to eat the pizza.  So we joke about how wax tastes yummy and toughens you up, as we spit out waxy bits of pizza. Enjoying a Happy 8th Birthday is proving to be a little challenging for this traveling Mum.
Ice Cream
Across the paved lane is a tempting great ice-cream store.  I give Explorason the $$$ and he comes back with his ice-cream. I'm pretty proud as this is a good effort for him not really speaking Spanish. Thankfully, this ice cream is pretty fabulous and saves the birthday lunch. We take away a tiny piece of pizza for his afternoon snack.
Policemen
We wander back toward the park and talk to these policemen. They are lost – no idea what street they are on. This is funny! We grab our map and try to assist in our broken Spanish and it is such a good laugh with them.
Paddle Boats
We get to the park for Explorason to have some fun just as the clouds roll overhead. He has wanted to use these run down home-made looking paddle boats since we got here. I have no excuse today and they aren't expensive either.
We see a few families rowing happily – well really we crashed into these!
The water is gross and is full of litter and slime. There are a couple of low arches I maneuver with care.
But what is really gross is we see kids swimming in the water! They dive heads-under in this filth and my mother instinct kicks in.
Shooting Game
It starts to rain and we head back through the park to the Auberge Inn. My son finds this shooting game a crack up that we discover on the way. The proprietor loads the guns and hands them to kids in the park. Explorason proceeds to runs off in fear of the rifles, but I run off as it is raining.
Back at the Inn, we prepare to leave on the night bus as I have a treat awaiting him. My son plays computer games, and eight ball/pool with other guests and has a great time.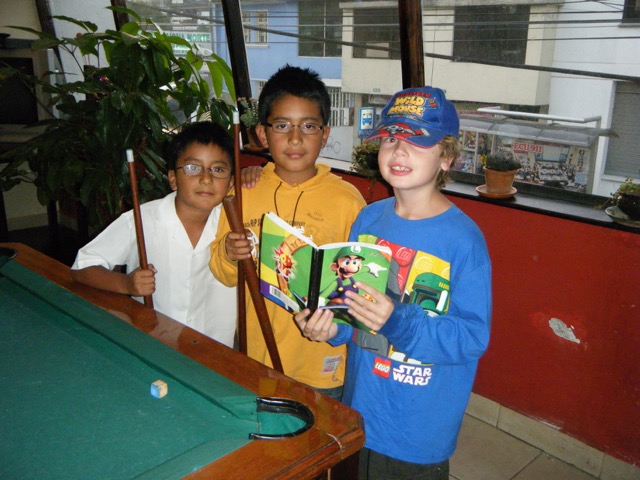 ©Exploramum and Explorason – hanging out with the boys
We have a new adventure tonight. We will visit the Ecuadorian Amazon Jungle as a birthday gift for my son. I think it will be one of those birthdays that lasts a few days but so far it has been a really good one.  Happy 8th Birthday, Explorason.
Questions and Comments
Are you a permanent world traveling Family?
How do you celebrate the most important days and events of your life?
Do you travel with your child?
How is the experience?
Do share your comments with us below.