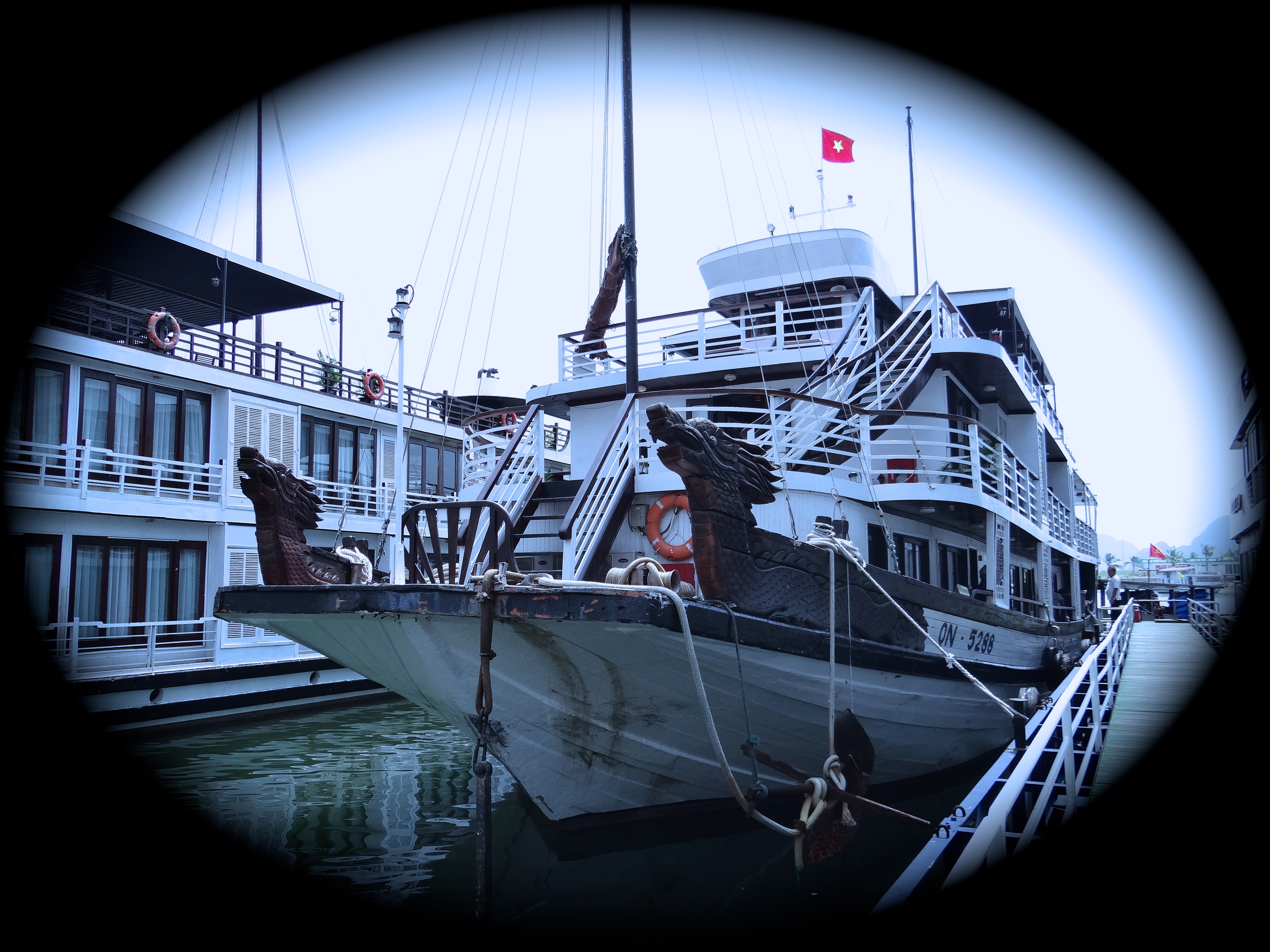 Halong or Hạ Long Bay has to one of the most breathtakingly beautiful and famous bays in the world, and today our eyes will finally behold it for ourselves.
We can see something on TV, a computer, or read about it in a book, but nothing compares to being here in the flesh and experiencing it for ourselves.
This 'UNESCO World Heritage Listed' area is now a protect a site.
Thousands of pillars and tall towers of limestone form tiny islands, and these seem to emerge through the emerald green and aqua blue waters of this mystical bay.
Yesterday we returned from SaPa to Old Hanoi on our Legend Travel Group tour – once again residing for the night in the Viet View Hotel in Hanoi.
And today we find ourselves departing our hotel by modern air-conditioned minivan bright and early at 7:30 a.m. to journey for 4 hours to Hạ Long Bay.
We arrived at the Glory Legend Cruise lounge and offered a cool Vietnamese iced tea whilst our luggage is tagged to be delivered to our cabin, and we are then shown to our junk boat.
Explorason is super-excited, like a kid in a lolly shop or candy store.
Once onboard, passengers are offered a welcome drink in the upstairs dining room and greeted by the boat manager as we start our cruise motoring slowly out of the port area.
We meet the rest of the passengers on our Chinese wooden junk boat, and I am ever so pleased it is the older style with the carved wooden dragon head.
Now it is time to be shown by the staff to our cabin – and it is lovely!  
Being an older boat it is smaller and only has 17 cabins.  This means we were able to secure a cabin with our own private balcony – something we both really hoped for.
The cabin on Glory Legend II cruise is decorated nicely, and we were both impressed by the wood detail over the air conditioning unit and the overall presentation. For a three star service, it is perfect.
It is also meticulously neat and clean!
The vast food menu is presented, and dietary requirements have been considered for all guests.
Cruising on the ocean of Hạ Long Bay, naturally, seafood is fresh and readily available, and we are informed that food is fresh from the local markets daily.
Drinks are ordered from the bar right in the dining room, and tabs are run for each cabin, so no need to 'pay-as-you-go' (which I thought was great).
Folks from all over the world are mingling together here over the huge lunch presented before us.
Explorason is so excited he grabs the camera and with my permission heads off midway through lunch to explore the Junk boat and to create some of our YouTube video of Hạ Long Bay.
Hạ Long Bay is located in northeast Vietnam and in my opinion, most visitors to Vietnam should make the effort to visit here.
Junk-boat tours are the most popular way to see the area as tourists cruise by the islands named for their shapes. These include 'Teapot' and 'Stone Dog'.
Part of the Glory Legend II cruise includes an afternoon tour of 'Luon Cave', or, 'Surprise Cave' as it is also known.
Guests are given the choice of boat type.
Either a traditional wooden 'woven basket top' row boat (rowed by a local, not the passengers – so they can sit back and relax).
Or, for the more energetic, there are kayaks.  Being world explorers, we, of course, go for the kayak option!
With his action camera strapped on firmly to his head, my son is eager to capture footage of what lurks behind the 'Surprise Cave' for the YouTube movie he is making.
It turns out to be a beautiful hidden cove!  
The water is perfectly warm and we are eager to swim. But we must wait for that swim!
We return to our wooden boat and Explorason plays his version of 'Titanic' from the movie as he stands outstretched at the front of the boat.
We arrive at Ti Top beach and ascend 400 odd steps to the lookout area.
I confess my legs did ache but as my son had raced ahead, I was determined we could share a 'moment' together and enjoy the serenity of the bay. I was glad for the water bottle I had brought with me, and we stayed up here at the lookout for a while.
He raced down ahead with his folding frisbee and to go swimming in the balmy bay, and I plodded slowly down the steep steps – feeling all of my 54 years of age!  I was ready to relax. Sometimes being an older Mum takes its toll on me. But this 11-year-old boy wanted to play, of course!
So we enjoyed a swim together and threw the frisbee rather atrociously a few times – and very sadly somehow managed to lose it as it sunk to the bottom of the sea.
As the sun slowly started to sink behind distant limestone islands, our wooden boat returned us to Glory Legend II.
We entered our cabin and enjoyed a lovely hot shower. I feared with all the passengers this might not be the case, but the water pressure was good, and the temperature perfect.
Time to head to the top deck for Happy Hour.  
(Happy Hour – Two-for-one drinks were on offer and served to us on the sun-beds or for other guests on deck at the tables and chairs or bar area).
We mingled with other guests, and two ladies from Poland chatted to me, whilst Explorason snuck off with his iPhone to listen to his favorite jazz music and watch the sunset.
I myself also did some 'sneaking' and caught a photo of him at the front of the junk boat.  He seemed happy to have some personal time, and as a preteen, I am aware he needs time away from Mum sometimes.  The boat felt really safe, so I felt he was sensible enough to be alone and not to do anything silly.
This, however, was the first time I felt my son didn't need me to 'protect' him, and it was almost a sense of loss to me that my child was growing up not 'needing' me.
This was quite a reflective time personally. I stood and watched him as the sky turned rose-pink.
Life is always changing, and my boy is growing up.
By now, the rest of the passengers were laughing and enjoying themselves immensely, so I went to join them on the top deck.
The chef first showed us all how he carves a 'watermelon rose' artistically.
Then it is time for us to make our own cold and fresh summer Vietnamese Spring rolls. Soon we are all having a turn, and I sit with a couple from England (who also live in Thailand) and chat with them as we enjoy eating what we have created.  The spring rolls are delicious, so I make another one!
In hindsight, I probably didn't need the second spring roll.
Next, a massive dinner awaited us in the dining room.
We chose to sit with two very inspiring European ladies. So glad we did! They were positive and a joy to share a meal with.  We talked about our love for travel and caring for others including strangers we meet along the way.
Each dinner course was presented more like a form of art than a meal, and then lights were turned off as 'pineapples with candles inside' were paraded out from the rear of the junk boat.
I was not prepared for this, so there is not a photograph of this flaming dish, but it was spectacular!
There is just too much fantastic food served and I don't think our group on our table finished even half of it.
After dinner, there were several choices including a movie, but Explorason decided to try his hand at squid fishing with a few other fellows.  We did see one squid in the clear ocean beside the boat, but no-one caught any, as it isn't the right season. Definitely an activity for small and big kids alike.
I left my son with his rod whacking at the water (this is the method he has been instructed to use to lure the squid) and I return to the cabin to sit out alone on our private balcony.
To my surprise, Explorason returns and sits with me. He decides to photograph the almost full moon over the islands as it mirrored in the Hạ Long Bay waters. He then sought out pen and paper and proceeded to draw the scene in great detail.
I find world-schooling means a child can be creative whenever they choose to be, not just because a teacher at school tells them "now it is art time".
This cruise is full of personal surprises for me.  
Explorason then set his alarm for before 5:00 a.m.  He was very keen to be the first awake on the Junk boat and didn't even want me to join him on deck.
I however also wanted to see the sunrise, so in the end, we sat in different spots on the top deck waiting for the golden sun ball to pop above the horizon.
As it turned out, there was no single glowing ball in the sky at this time. Instead, the colors of the sky seemed to change from a dull green to blue, and then pink.
I decide to go back to the cabin and enjoy my morning coffee on our balcony. I always start each day and rise to have a reflective time alone with God (and my coffee). I find it is good to start the day being thankful.
All around me really is just so beautiful, and what happens next is incredible!
Up pops the sun! The sky is on fire with yellow and orange.
(Explorason captures this moment and I love his photograph!)
What an incredible and special time!  
There is now soft music playing up on deck, and a Tai Chi lesson is starting, but I am sitting alone, enthralled by the incredible beauty of this day.
I want this time to last forever!  
Vietnam is so amazing, and I did not expect this.
We head to breakfast and mingle with other guests. A few passengers have had a late night the previous evening, and it seems a little emptier in the dining room than dinner last night.
Hạ Long Bay is now a perfect azure blue as we step once more into our wooden boat and motor off to the amazing cave once breakfast is consumed and all are content.
Throngs of boats all seem to seem to ascend on the caves.  It is really busy here, and we meander through at a slow pace.
We enter the steps to the caves.  There are lots of hidden shapes to be found on the cavern walls, and the crowd thins as the bottleneck on stairs pass us into a large cave area.
Stalactites and stalagmites are explained, and the cruise manager has fun joking with us as he teaches us all, but especially my son about the area.
We emerge to an area overlooking the bay and some of the 1969 islands that make up this magnificent area.
Not the best photo, but there are just too many people waiting for their own selfie, so we move on.
It is time to motor back to Glory Legend II where we pack up our cabin and meet the other guests for a lovely brunch as we cruise back to the port.
On a personal note, I'd recommend if anyone is considering a cruise to book two nights and not one.  This bay is a very special place, and it is worth an extra night if you possibly can spare the time.
Our cruise is over, and we are so pleased we are touring with Legend Travel Group. With all activities and complete with gourmet meals included, this really is a great opportunity and excellent value for money.
If you'd love to visit Halong Bay, please contact Legend Travel Group
More Halong Bay information, tours, and booking: Please visit here
Facebook: Legend Travel Group
Email, inquiries, and bookings: sales@indochinalegend.com