Guacamayo Ecolodge Cuyabeno
-Amazon Jungle Ecuador-
Day 1
Guacamayo means Macaw and is the largest parrot in existence.  they are found in the Amazon jungles and we are off to try and spy one ourselves. My son picked a jungle tour for his 8th birthday present. So we asked around and found this one to be the best value. We actually got a $20 discount each by going directly to their booking office – which we found through their website.
The Bus Ride to reach Guacamayo EcoLodge
The lady told us where to go and book the bus early, so we were able to get front seats; thus trying to avoid the throw-ups for my son on the journey. When we arrived we were asked for an extra $3 each – the bridge was down and we would have to go the long way. It is a LONG wait of about 2 hours before the bus even goes and I just want sleep.  This is when single parenting is a challenge with travel as we wait to go to Guacamayo EcoLodge.
My son had selected the night bus – and he was so excited at this 11:00 pm departure – I, however, was not.
Toilet Troubles
The toilet was locked the entire time. This is customary on Central and South American buses. You will be told it is broken – but seems they don't want to clean it. Anyway part-way through the trip, I couldn't hang on and demanded it is opened, and the driver did. Surprise, surprise – it wasn't broken at all.
The bus was so hot inside that I had to drink lots of water. So my trips to the toilet were more frequent – much to his annoyance. He would march me down each time, and stand guard while I used it.
The downside was that I had no food to last us until lunchtime the next day. He would not stop for food.
Alas, my son still threw up and they promptly passed me a bunch of plastic bags. But they would not stop the bus. I slept on the floor on the sleeping bag – kinda gross, but there was more space as we were at the front.
Arriving in Town for a Mini Van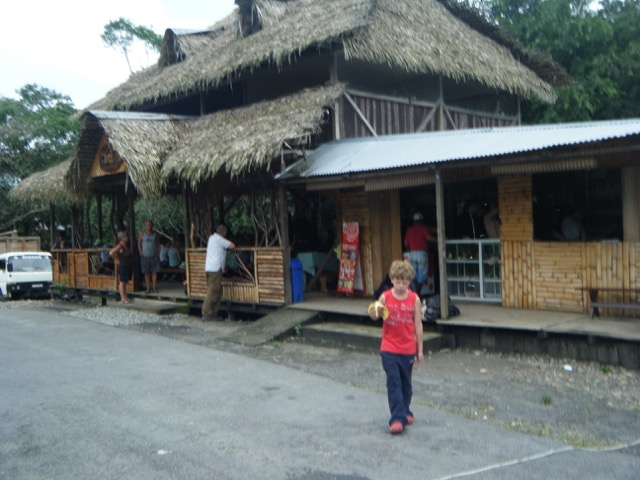 We finally arrive in town and we had to taxi to a meeting point, but I felt so ill, I thought I would be sick.
I ordered toasted sandwiches which were inexpensive and they helped the queasiness. Then the driver came and promptly got us going in the minivan for the next 2-hour leg.
Everyone slept in the minivan and the journey to Guacamayo Ecolodge is long – silence all around except for the odd snore.
Lunch Awaits
We got to the river, and we found out that there was lunch awaiting us. We hardly touched any as we both felt too ill. It was mid-afternoon and we had a 3-hour boat ride ahead and this was proving to be a very long night and day.
We are Off
We are both pretty excited when we finally get going. My son is the only child and seems most are couples. We instantly get the feeling one couple really dislike us, and it isn't long before they actually state they "hate kids". There are a lot of unhappy faces, and not what I had hoped for in a tour and this is a risk you take with a group trip.
Nature Spotting en-route to Guacamayo
We stop along the way to see an anaconda, monkeys, butterflies, and various birds.
Our guide, Neisser, can spot them in a flash – I am impressed by his knowledge. Having studied horticulture myself, I am pleased he knows his plants.
We arrive at the Guacamayo Ecolodge
Our room at the Guacamayo Ecolodge is the last one on the boardwalk (later I'm thankful for this) and it has a mosquito net, en-suite, and bats that stink and drop poo. I think we will use that mosquito net!  It's VERY basic accommodation, but then, we are in the jungle.
Outdoor Relaxation
There are hammocks outside the rooms and we have a nice blue one. We use ours quite a bit – that's AFTER we've checked for bat droppings.
Our First Night
That evening we go for a boat ride and we get to see pink dolphins! All you can see is a distant splash in this photo. They are super fast. As I've only got the waterproof small camera, the photography is not so good.  But I'm glad I don't have a more expensive camera as I note many have condensation getting into their cameras here.
Sunset Swim
My son enjoys a sunset swim. Dirk from The Netherlands throws him in the air. I am pleased with how Dirk gives Explorason some attention. To think they are swimming in water where there are pink dolphins is quite incredible.
Explorason seems really happy and is enjoying his 8th birthday gift so far!
Motoring Back
I notice that after the swim a lot more people are smiling.  Not all of the group had joined us, but those that did seemed more relaxed. I was feeling very uptight about the couple who hated kids and who would just glare at Explorason, and I was really concerned they might affect his birthday present. As it turns out, later on, they did.
Hindsight wisdom
In hindsight, I should have approached our tour guide at Guacamayo Ecolodge and asked him to talk to this couple. They at times made things very unpleasant for both myself and Explorason, and I think although the conflict of personalities can occur, this might have been better handled if addressed earlier.
Night Hike
We then dress once more but still not for dinner, and go on an evening hike. We are ready for dinner, but we head off for a lengthy and informative walk in the jungle instead. This is really difficult as Explorason is hungry and we have to wait for hours to eat. We have found in the past that these types of places don't care for the needs of younger children.
We see a lot of spiders as shown above – most of them are massive!
Lobster Grasshoppers
These are lobster grasshoppers I believe. He is massive and we never knew such a thing existed. World schooling is a great way for kids to learn about nature. It's not the same as reading a book.
Nature Abounds
There is an orange snake! It is smaller and very easy to tread on. I don't like snakes. Then there is this moth, and it is HUGE and quite beautiful.
Frogs
Then there are frogs – can you see this one above as it blends in, whilst others seem to stand out.
This little cutie is about the size of a 20 cent piece.
Caiman
But seeing the Caiman (small alligators) with their glowing eyes was pretty wild and scary.
Dinner
We head back to the Guacamayo Ecolodge and once more dress for dinner (third time lucky we hope) and it is quite late and we have packed a lot in. I am impressed with what my son has seen and learned already.
We eat dinner and meet a lovely couple from Mexico.
My son falls asleep on my lap. The meals and activities really are a bit late for a child. I excuse ourselves and tuck him into bed.
It has been a long two days getting to Guacamayo Ecolodge. An amazing adventure so far!  We will sleep well!
What does tomorrow hold?
read our next article to find out – it is amazing!
Questions and Comments
Have you ever been to the Amazon Jungle?
If you went, what would you like to experience?
What do you think of our tour so far?
Let us know in the comments below.