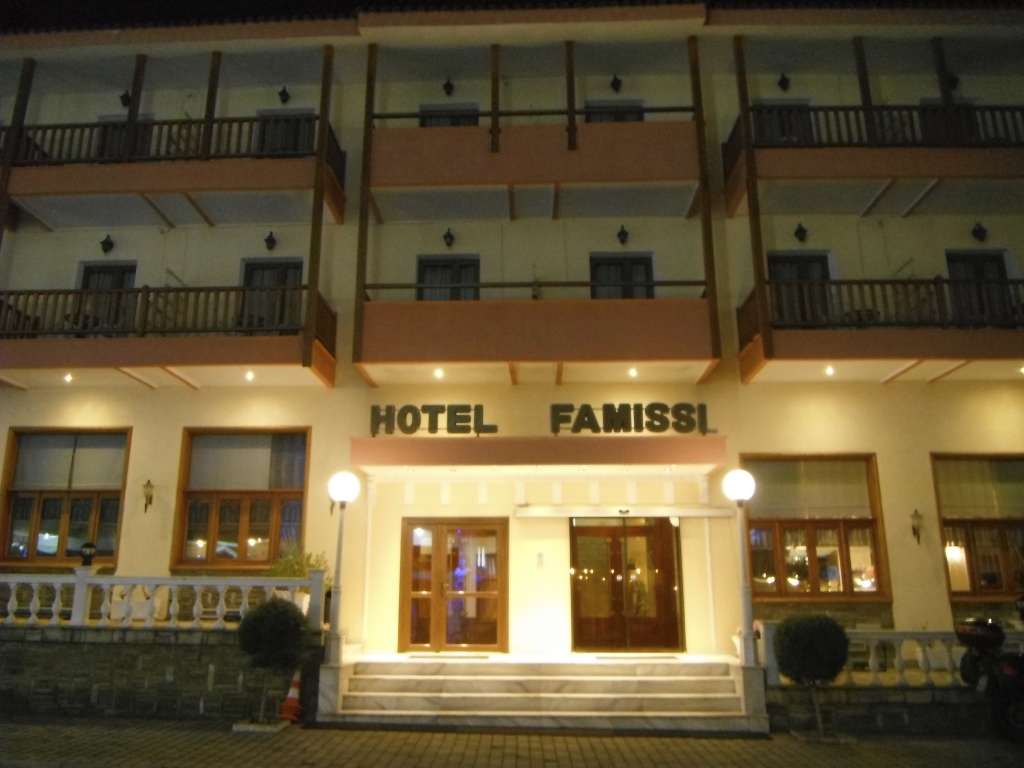 ©Exploramum and Explorason – Hotel Famissi
We drove nearly all day, with a 2 hour stop in Ancient Delphi, and then heading on past snow-capped mountains toward the Meteora region.
We are booked to stay in a lovely hotel called "Hotel Famissi".  
When we drive in Kalampaka, it appears that Famissi is a popular name for hotels, but there is only one "Hotel Famissi" and it is right on the main corner – so easy to find.
There was parking right outside on the side road, so as it was really cold, we decided to get in there as quick as we could, and then head out to dinner at Meteoron Panorama Restaurant.
We were pretty impressed as soon as we walked into this lovely 3-star hotel.  It exudes charm and grace in the lovely reception area.
Meeting the Mayor – Magnificent Meals and more in Meteora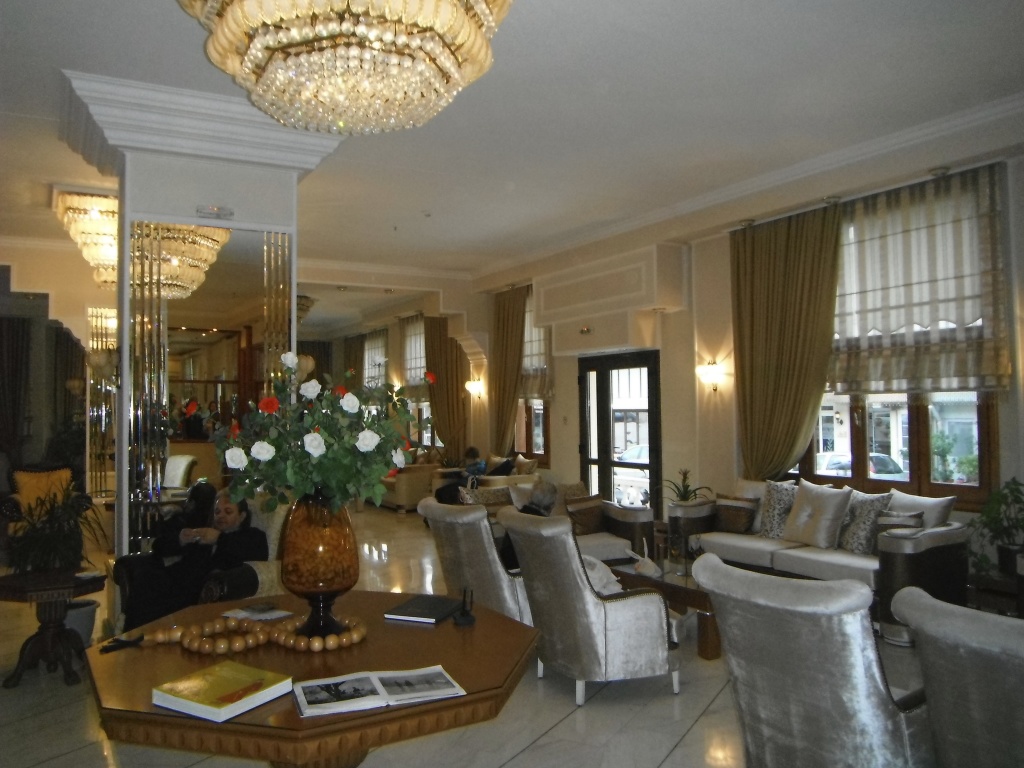 ©Exploramum and Explorason – Reception area of Hotel Famissi
It felt warm with the open fire in the corner, and it seemed sophisticated and very tastefully decorated in the interior.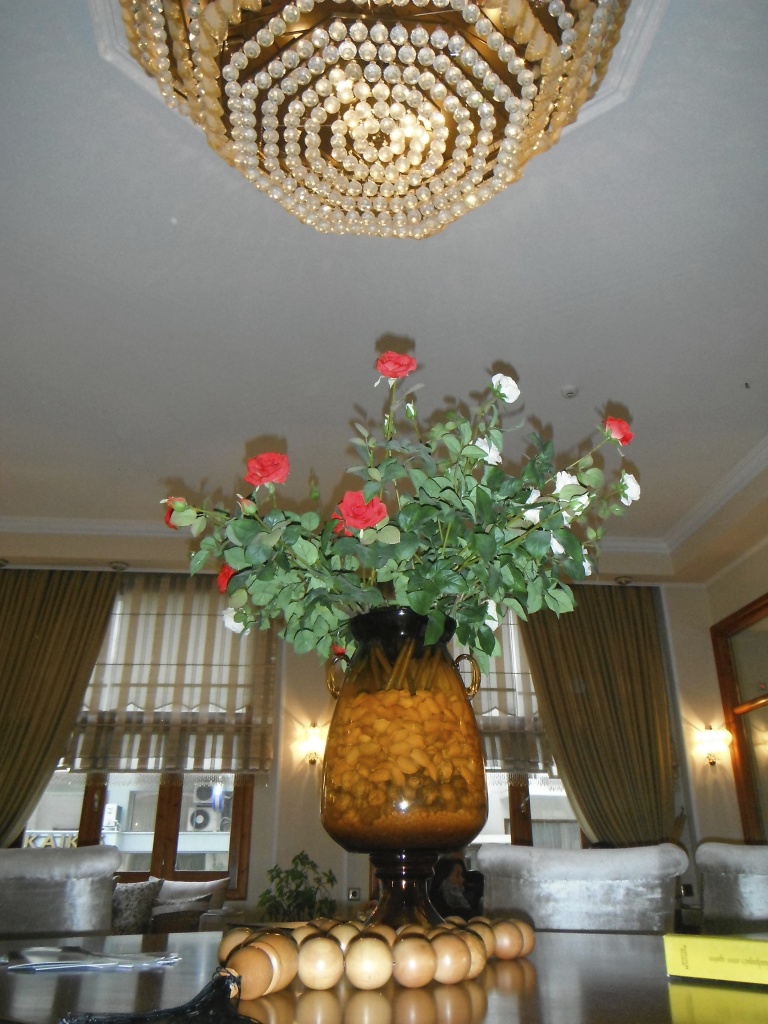 ©Exploramum and Explorason – The relaxed luxury of Hotel Famissi
We headed to our room and were pretty happy that someone had been thoughtful enough to turn the heating on.  Little things that make a difference on a chilly night.
©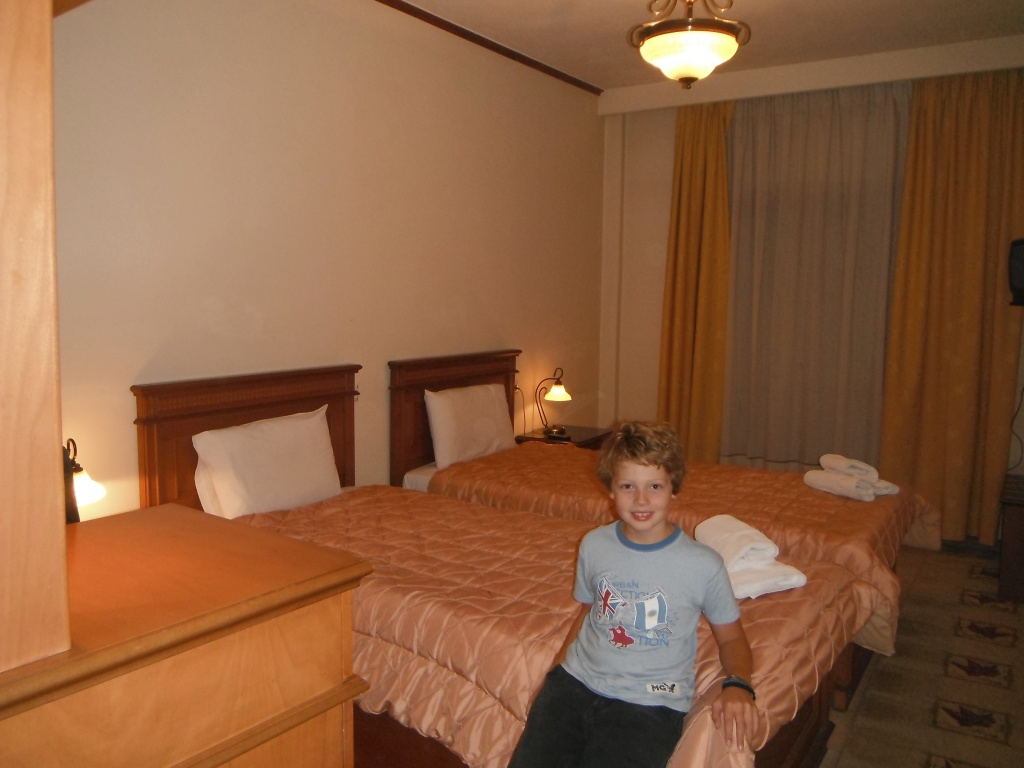 ©Exploramum and Explorason – Hotel Famissi – our suite looking toward the balcony
It was nice to have twin beds too. The room had a lot of storage space, and a lovely desk, and the nice part was the balcony and table and chairs that looked out onto the lights of a cross on one of the rocks behind us, and a lit-up church nearby.
©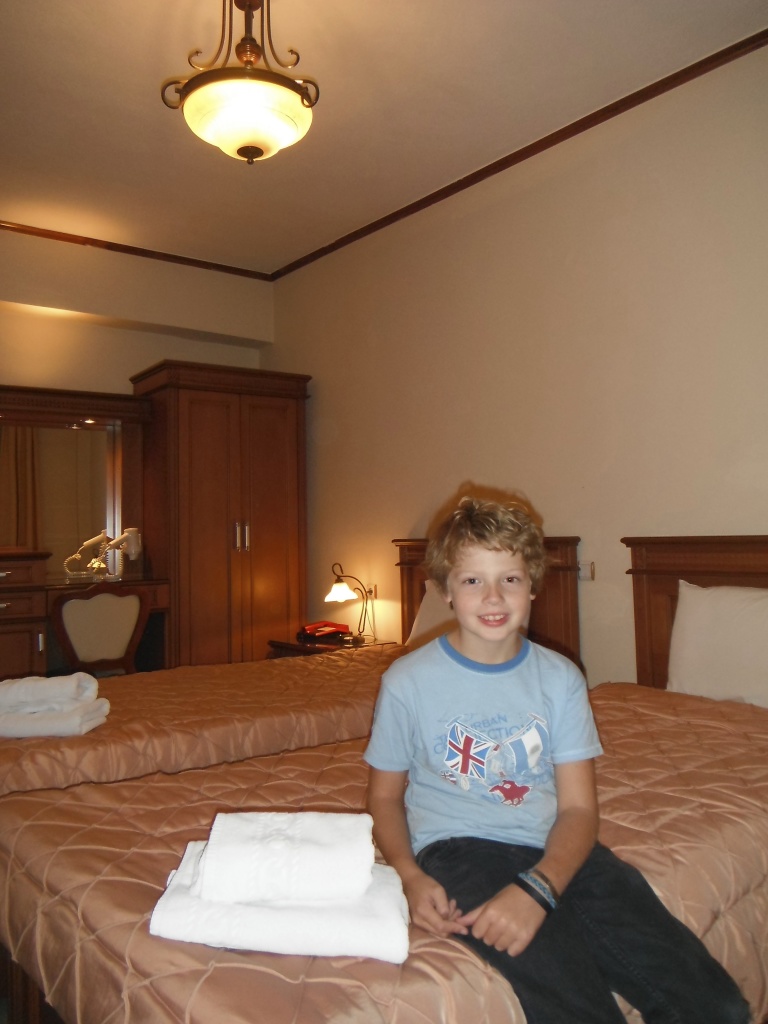 Exploramum and Explorason – Hotel Famissi – our suite looking toward the bathroom en-suite
After dinner and a walk along the main shopping street, we returned for an early night – and a bath – perfect!
©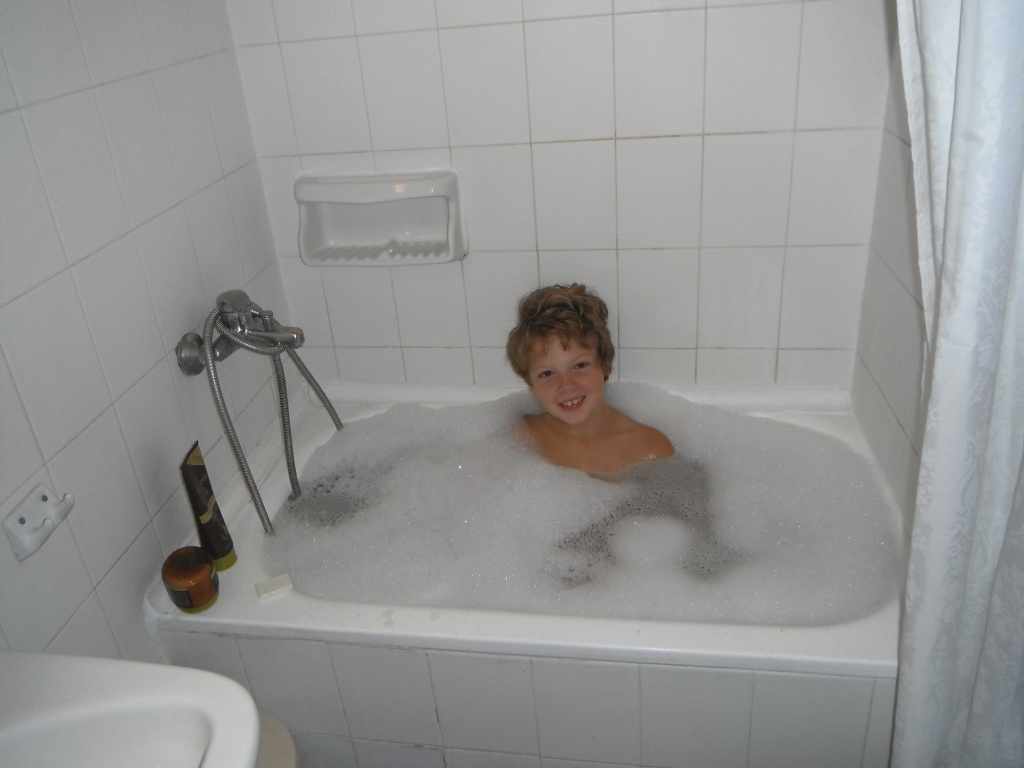 Exploramum and Explorason – Hotel Famissi – perfect size bath for Explorason – lovely hot water too
The next morning I woke as it was dusk.
I love to have my quiet time in peace. I carry my own roasted ground coffee, and a coffee plunger, so I sat with my lovely steaming hot coffee on the balcony, and I was in love with the view.  It was a moment all to myself; staring at the gorgeous rock-top monasteries and feeling the peace and tranquillity of the area.
They say the monks built the monasteries to be closer to God.  I must admit, I think I felt God's presence in this place, and at that moment.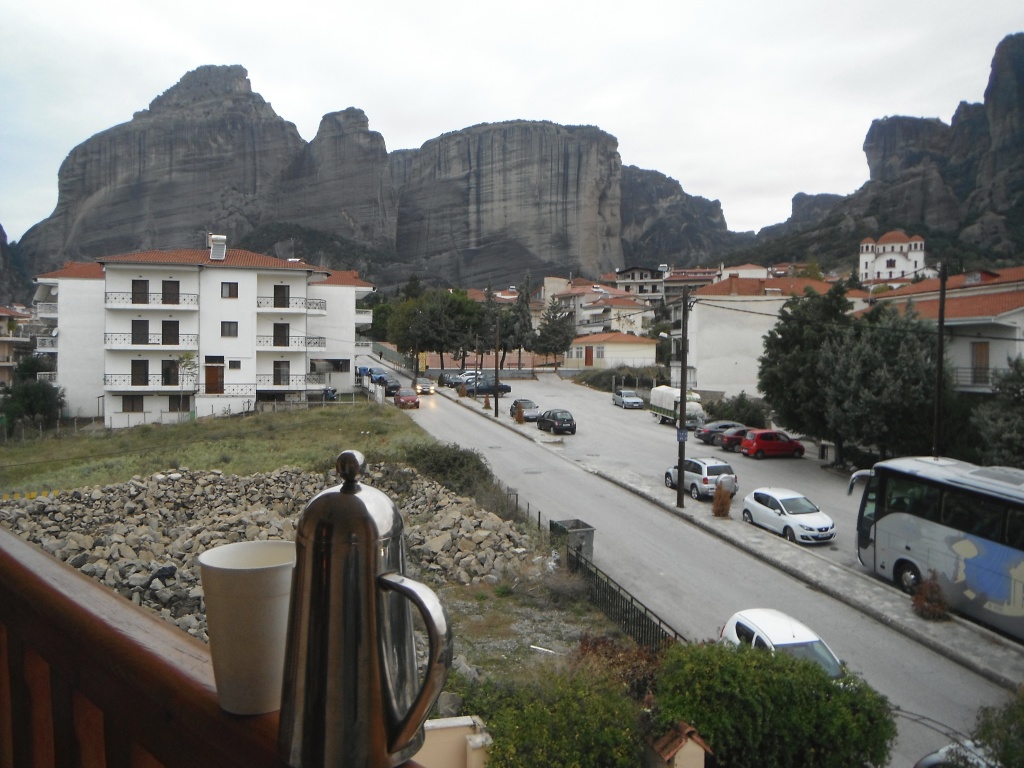 ©Exploramum and Explorason – Meteroa, Greece – Hotel Famissi – the morning view from my balcony
We had a great breakfast. Traditionally Greek with cheeses and bread, cereals, coffee, juice etc.  Just the right amount to fill us for our hike we were about to embark on, to hidden wonders of the Meteora region.
You can read about our hike (organized by George from 'Visit Meteora', a tour company, with Lazaro as our guide) separately as we visit a rock top monastery, and eat wild mushrooms.
We had a chance to see over the clifftops and to explore incredible Monasteries.
But we are privileged before lunch to have a visit to The Mayor's office.  He was a delightful man.  Explorason was pretty pleased when they handed out the hugest chocolates he had seen too.  Perfect for that sugar fix after a long hike.
©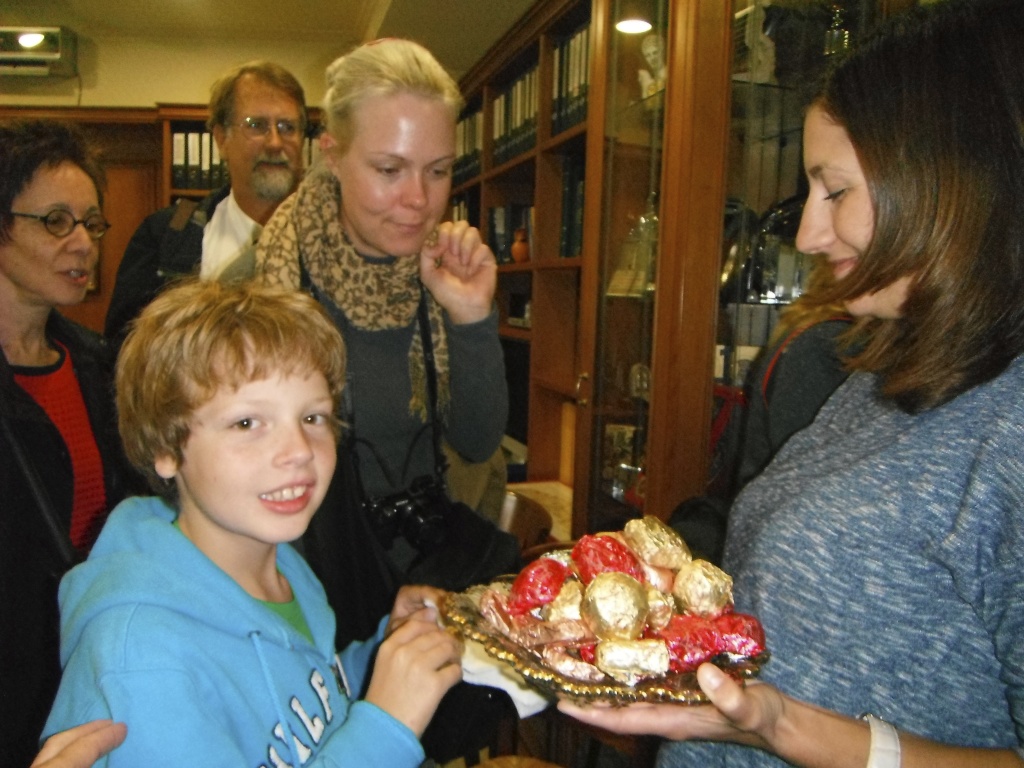 ©Exploramum and Explorason – Visiting the Mayor's office
I was very impressed with Mr Christos Sinanis, The Mayor.  As he spoke (and they interpreted for us) I could feel his heart for this region.  He was a warm and friendly man and he took some time to come and encourage Explorason.
We then all went to lunch, and at lunch, he again came and ruffled Explorason's hair and gave him an encouraging squeeze.  A gentle and nice person.
We were each treated to a goodie bag filled with fantastic posters, postcards and a gores bottle of Meteora wine.  Quite fortunate Explorason can't drink – that means I get two bottles!
©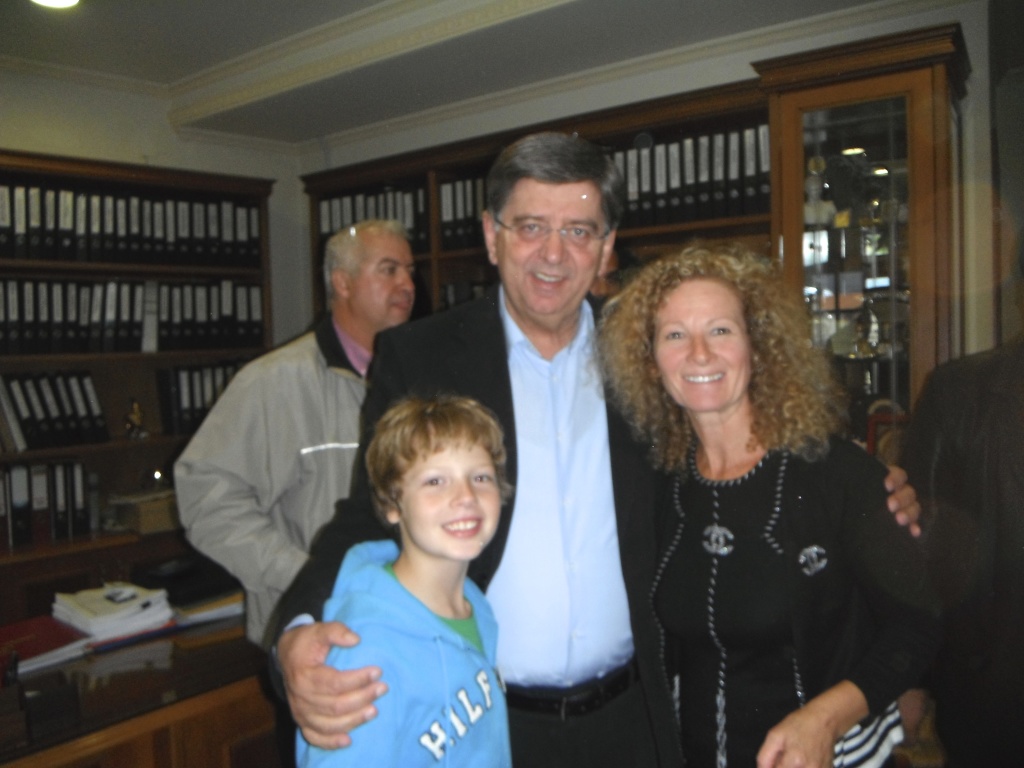 ©Exploramum and Explorason – with The Mayor
We then went to lunch. By now I think it was about 2:00 pm and we were greeted by traditionally dressed Greek staff at Restaurant Palazzo. Ideal for a photo moment for us.
©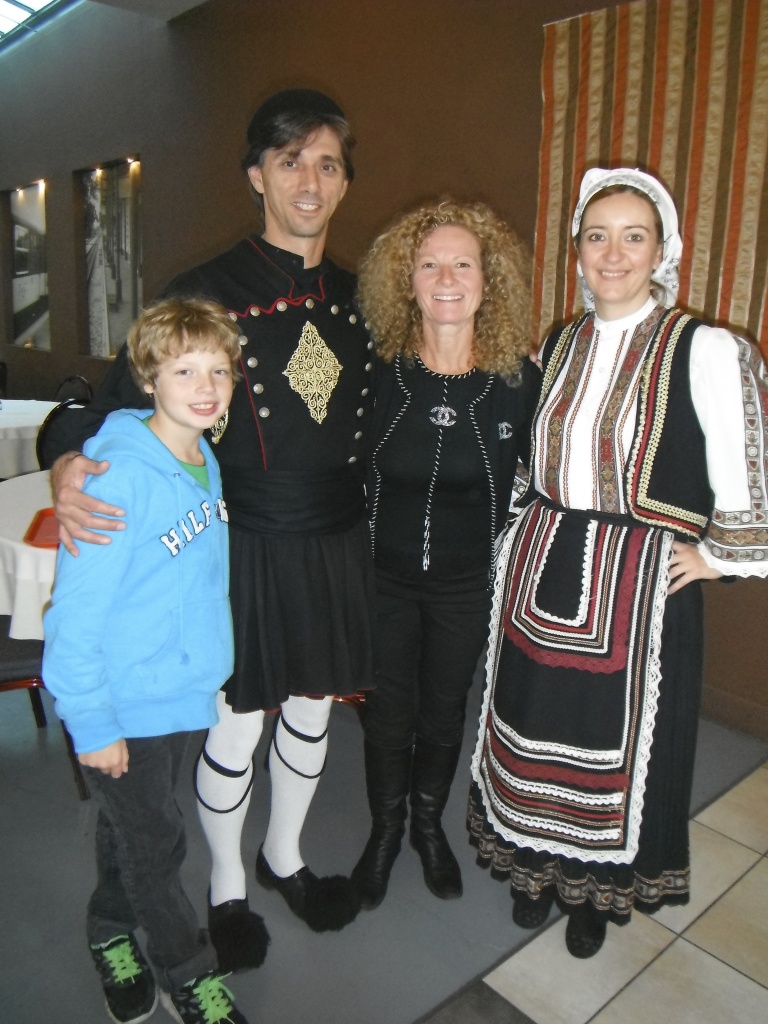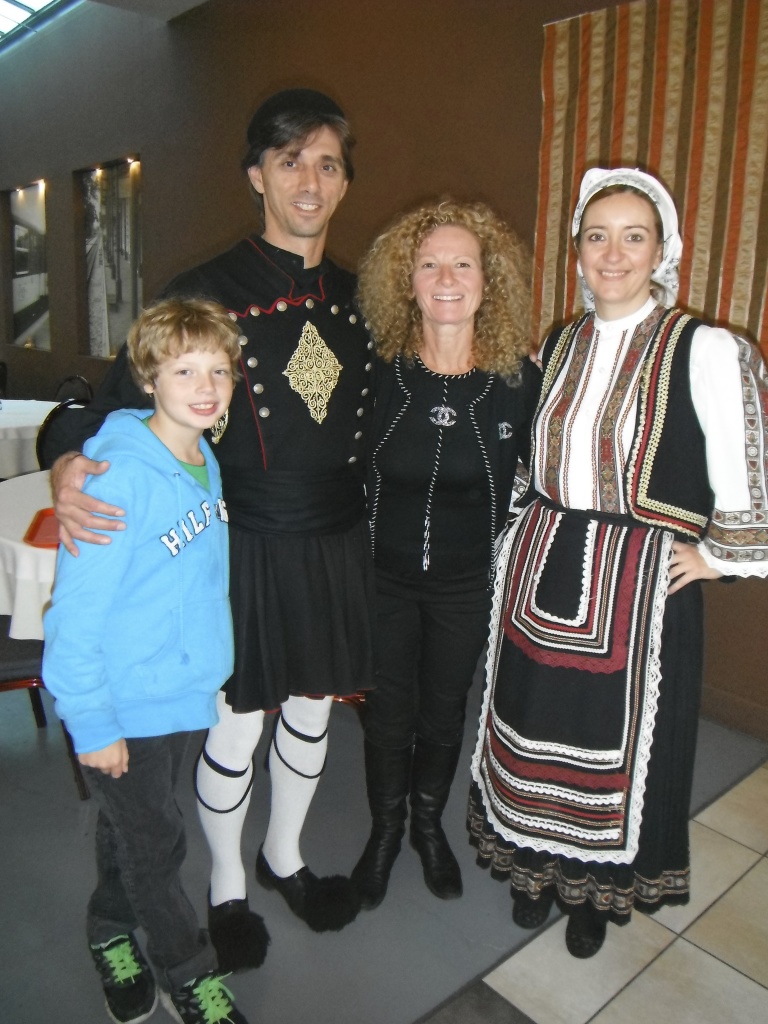 Exploramum and Explorason – Restaurant Palazzo
The food was just fantastic.  About 15 – 20 different dishes came out on the table. I didn't get a chance for any photos after the first few dishes. There were too many hands eager to eat!  It was such healthy food too – just right after a morning in the mountain air.
There was absolutely no way we could finish it all. Feeling full and relaxed after a glass of wine, I was ready for a sleep.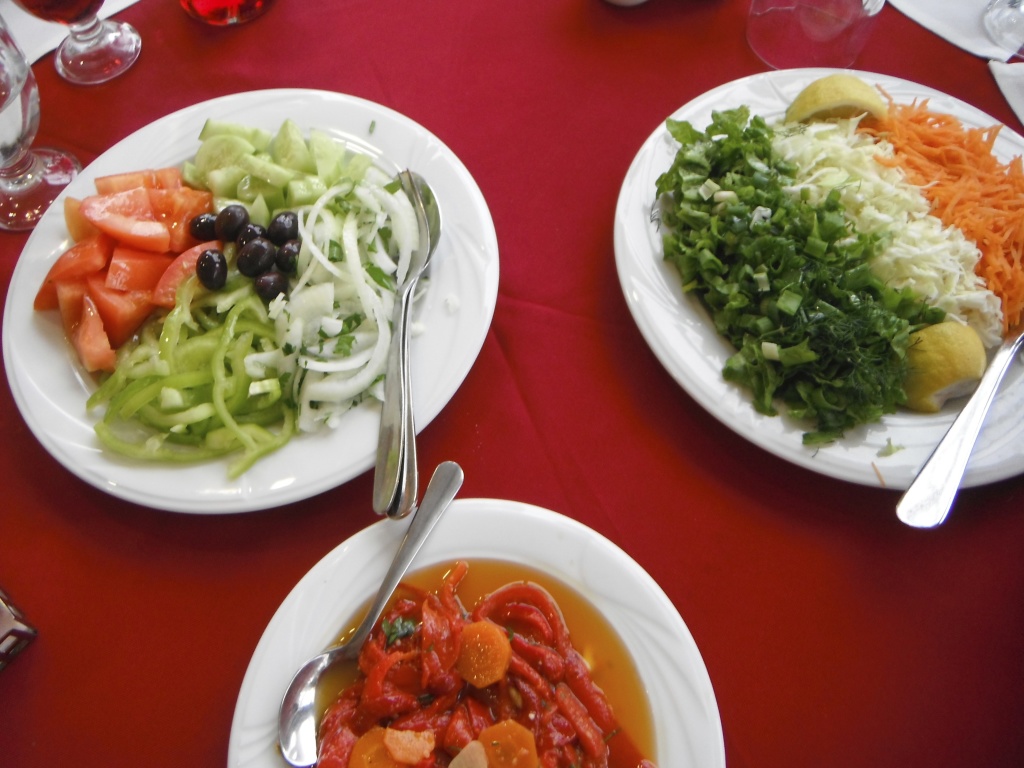 ©Exploramum and Explorason – healthy entree at Restaurant Palazzo
But instead of sleeping, we were off to view the other side of the town heading up for a mystical view.  And I am so, so glad we did.  We were taken to some of the most delightful viewpoints – right until dusk.
We were then dropped back to our hotel.
Time for a bath and a bit of internet, and then we were off to dinner at Restaurant Panelinio, (which is located in the town hall square) to meet the rest of our group.
We walk to the other end of town this night.  I think my legs really have done a lot of walking today, and it feels so good to be healthy and breathing the cool evening air.  As soon as we entered the restaurant I noticed it was a warm room, with a lovely traditionally decor – it was perfect.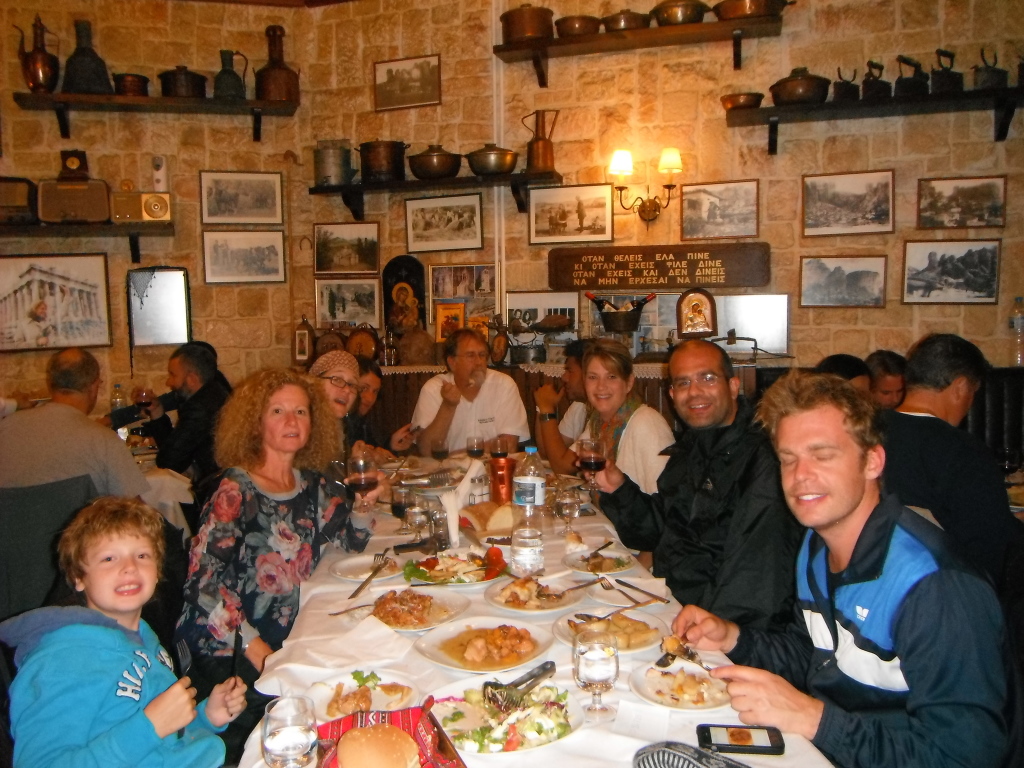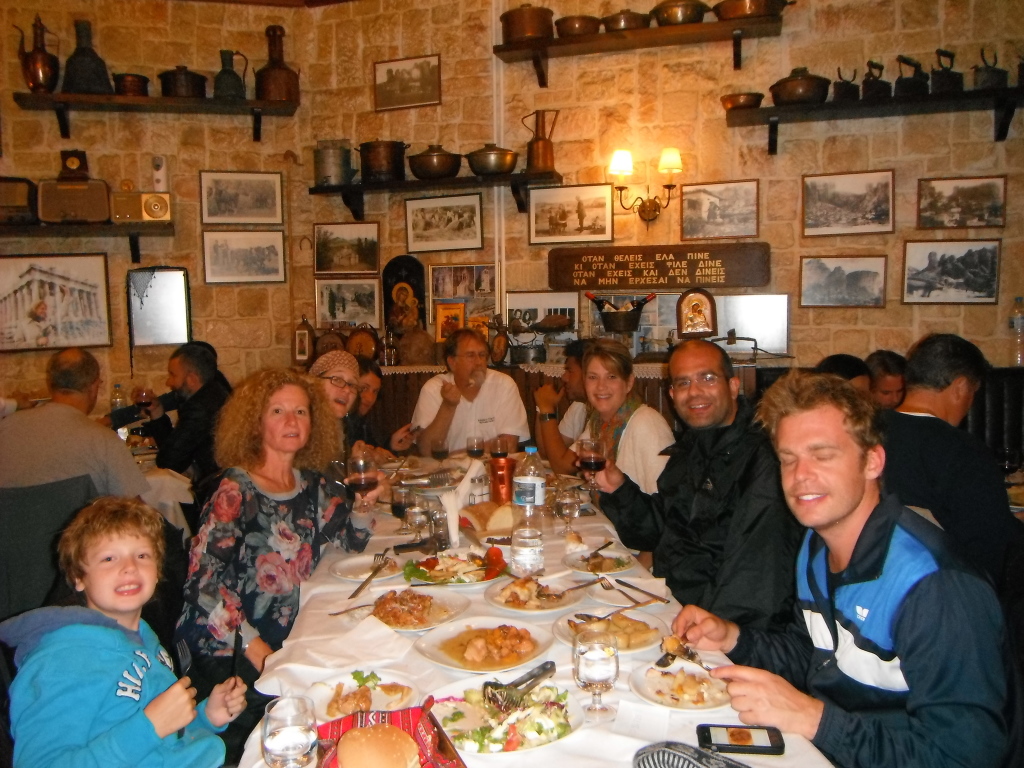 ©Exploramum and Explorason – Farewell Dinner at Panelinio Restaurant – our group.
The dishes here were very traditionally Greek.  I loved the stuffed peppers, and grilled vegetables with tzatziki.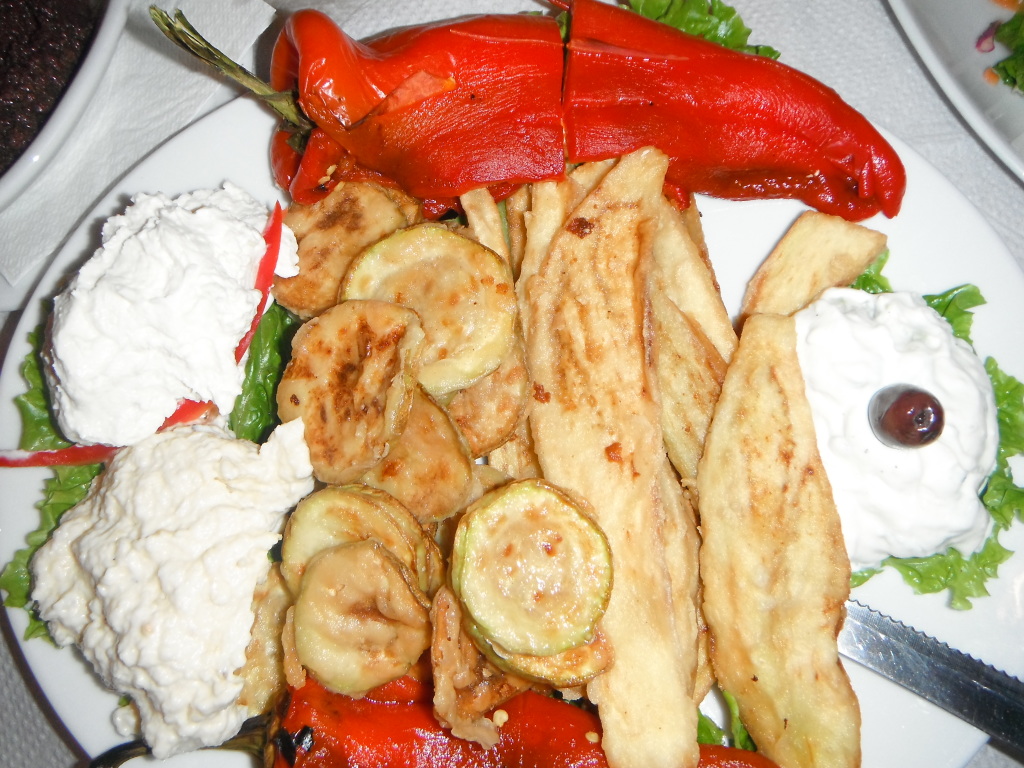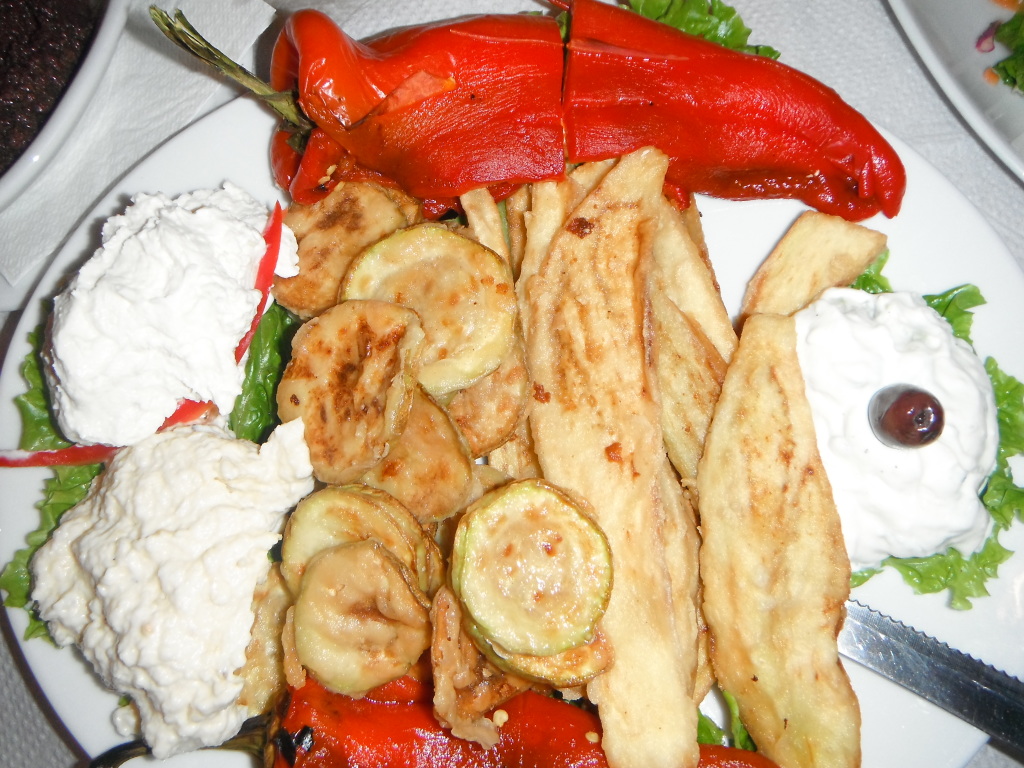 ©Exploramum and Explorason – Farewell Dinner at Panelinio Restaurant – some of the delicious food
Explorason is really tired as it has been such a great day, so we are the first to leave.  I wish I could have stayed longer, but we have a long drive ahead of us tomorrow.  So it is time to say goodbye to everyone, and to thank George from Visit Meteora – he has really made our time so memorable.
Meteora has been one of the highlights of our world tour.
Please continue to follow our journey.  We have a long way to go, and amazing places to explore.
…………………..
FURTHER INFORMATION
Accommodation Name: Hotel Famissi
Location:  Trikalon 103, Kalampaka 422 00, Greece
Telephone:  +30 2432 024117
email: hotel@fassimi.gr
Website:
Date stayed: October, 2014Breakfast:  Yes Bar: Yes Wi-fi:  Yes Child-friendly: Yes 
……………………
Tour Company Name: Visit Meteora
Address: Patriarchou Dimitriou 2, Kalampaka, Greece
Telephone:  +30 24320 23820
email: info@visitmeteora.travel
Website: 
http://www.visitmeteora.travel/en/……………………
Lunch Restaurant Name: Restaurant Palazzo
Address: Vitouma Street, 422 00 Kalampaka – Meteora
Telephone:  30 2432077747
Website: http://www.palazzo-meteora.gr
……………………
Dinner Restaurant Name: Panellinio Restaurant
Address: Vlachava Street, Kalampaka
Telephone:  (+30) 24320 24735
Website: http://www.visitmeteora.travel/en/where-to-eat/restaurants-and-taverns/panellinio-restaurant
……………………
Full disclosure: All opinions in this blog are my own and not provided by the companies mentioned.  However, the aim is to provide useful and positive information about their services. We were not paid in any way for this review.
Questions and Comments
What fascinates you about Greece?
Have you been to Meteora?
What do you make of the place/
Do share your comments with us below.