Our visit to Bunratty Castle was on a cold and somewhat windy and rainy day – yes – I guess a normal Winter's day in the mid-west.
As we entered, we had no idea that it was a completely rebuilt and moved village, depicting life from yesteryear.
Bunratty Castle is the most complete and authentic medieval fortress in Ireland. Built in 1425 it was restored in 1954 to its former medieval splendour and now contains mainly 15th and 16th century furnishings, tapestries, and works of art which capture the mood of those times.
The was once a drawbridge, but this has been replace by steps for easy entry, but the genuine feel of the castles formidable grandeur is still present.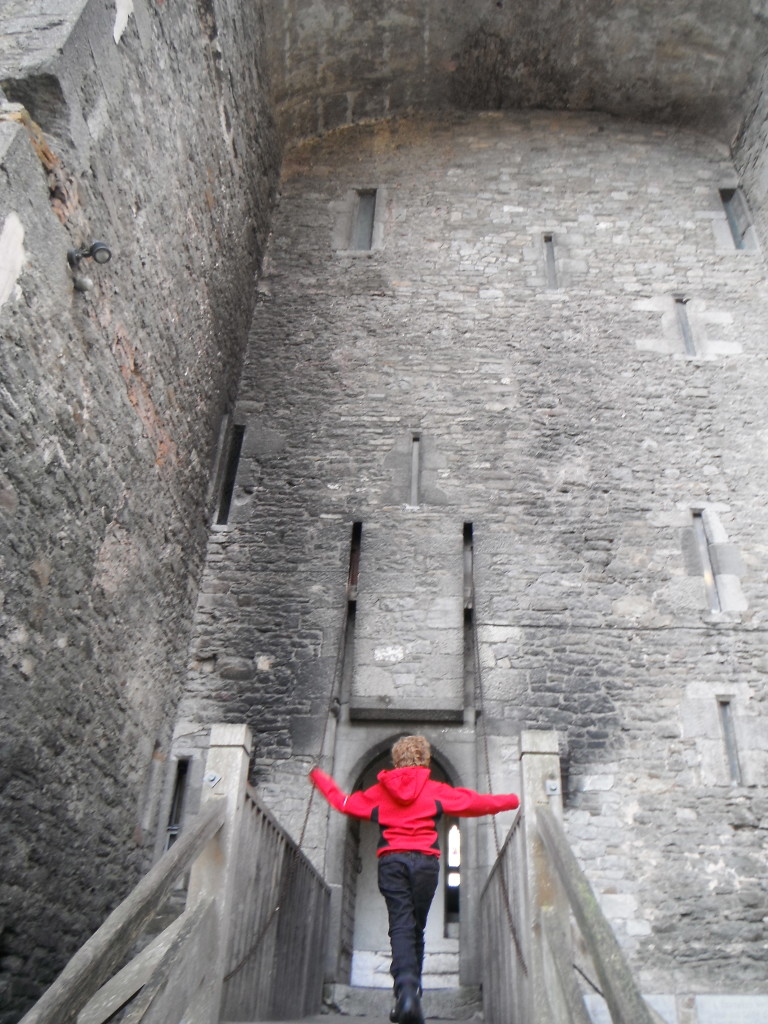 As we entered the main room, there is a series of plaques and posters of educational value.  We found it really interesting that many of the Earls looked so alike – even though it was over hundreds of years.
The grand table – a giant chunk of forrest timber, made us feel as though we were re-living medieval times.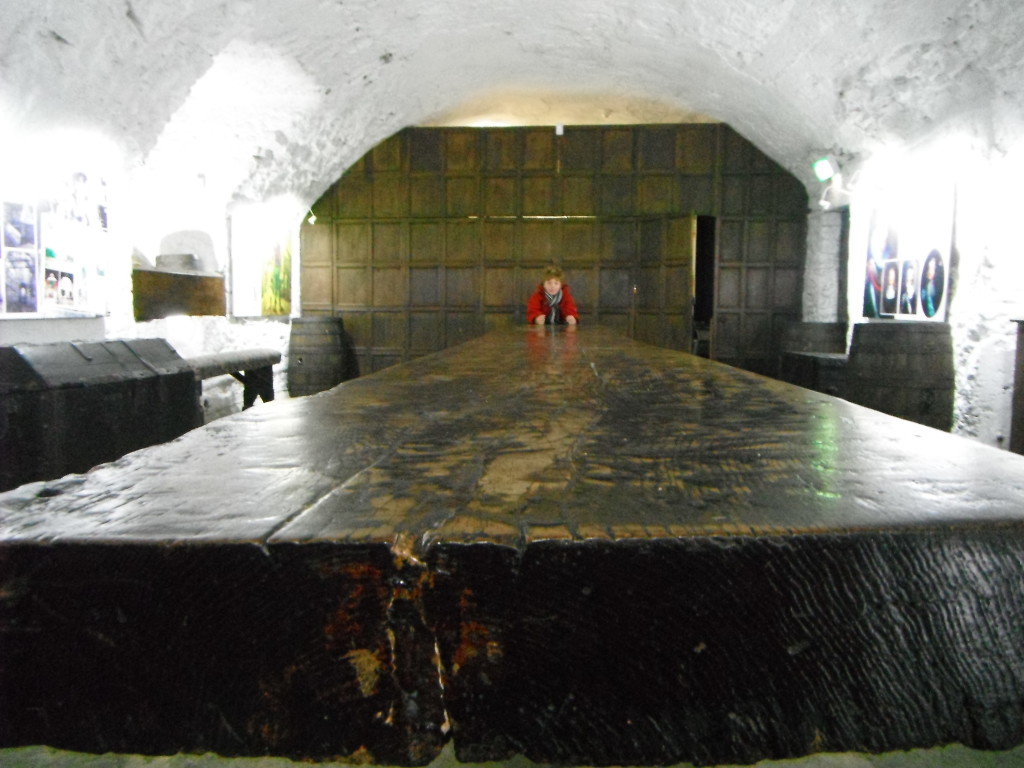 As you head up the winding staircases, you are welcomed by period dressed staff, so friendly and helpful, and quite happy for us to touch, feel and sit whilst enjoying the splendour of the castle.
There is a dungeon in the far corner, and we were welcomed to go down and experience a genuine lock-in.  Damp, dark and creepy, it made you realise what they would have endured.
Back tot he main banquet room. This area hosts dinners with costume, food and dance – I would love to attend one, and you can look on-line to ensure you don't miss this great experience.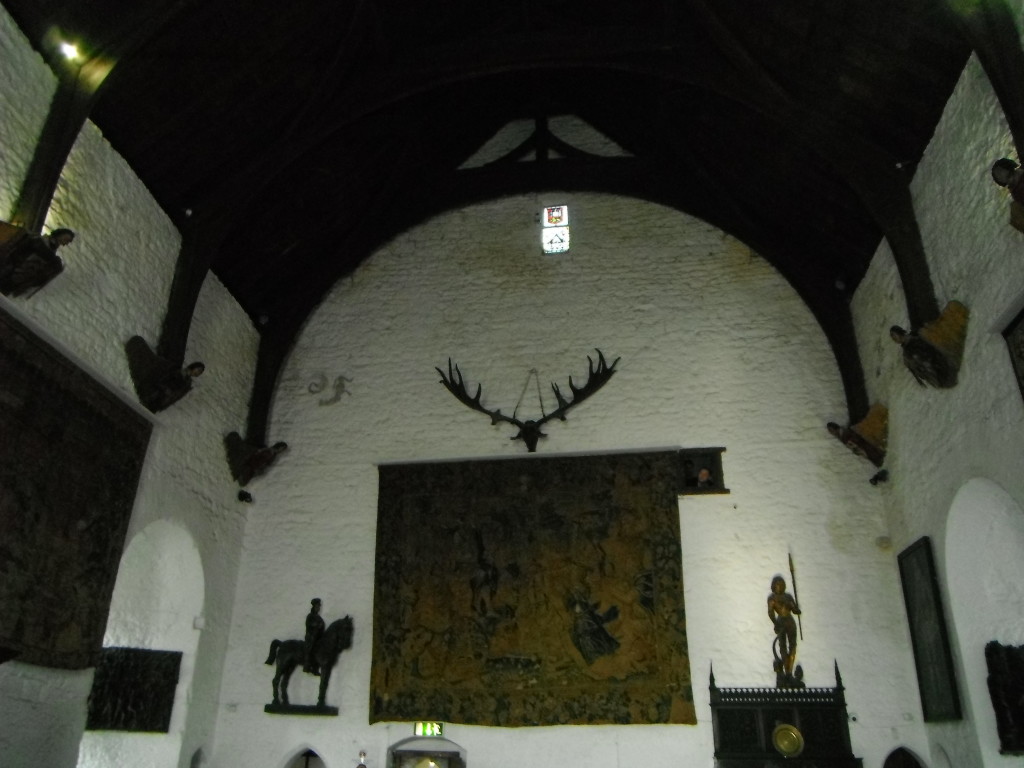 The detailed plaques are something not to miss. Many of them are around the castle.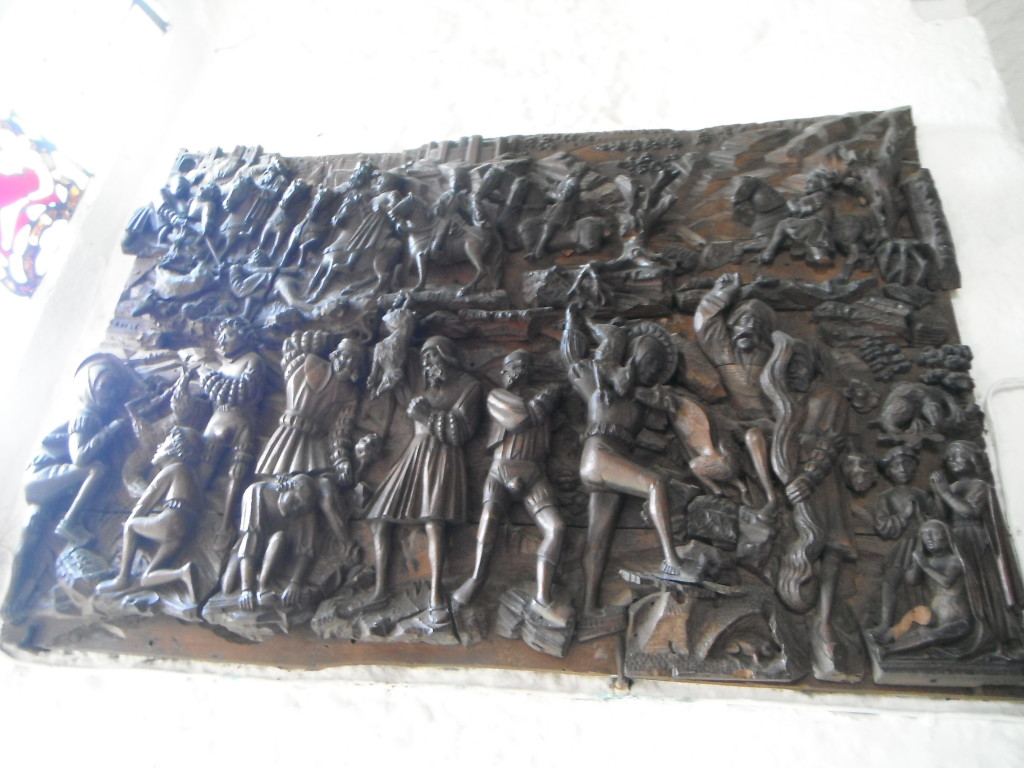 If you would like to read some interesting history about the castle, please follow this link:
http://www.shannonheritage.com/BunrattyCastleAndFolkPark/BunrattyCastle/
There are several staircases, so make sure you head to all four corners of the castle – lots of exploring to do!
I loved one of the bedrooms.  As flash photography is not permitted, I was unable to get a photo of the armour. I just could well imagine some-one coming home and stripping off and leaving their armour to hang. I love the helmet left on the bed top too – Well done!
Next we went to one of the sunnier wings – really tastefully recreated.
There is so much to explore, please make sure you give yourself at least half a day (or more).
We raced through the castle, as we were yet to see the village area.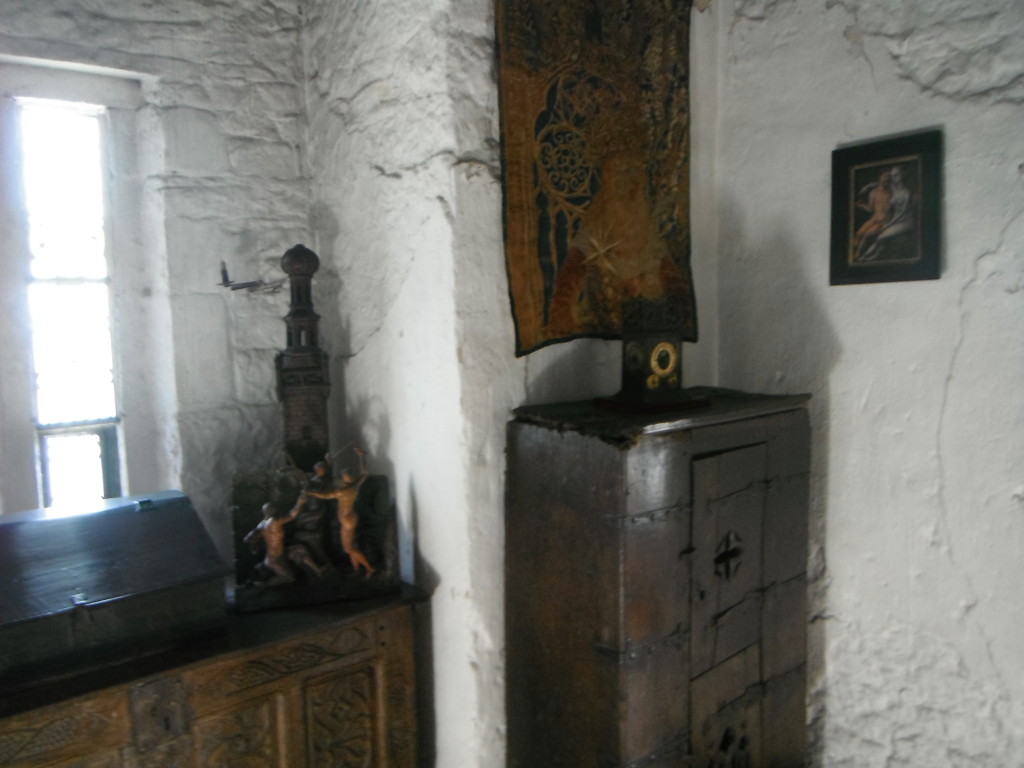 From the top of the castle you have a magnificent view.  We enjoyed the climb, and the fact you were permitted to go and stand where once a guard would have stood protecting the castle from the enemy.
We then head downstairs and out into the village area.
You will need a map for this.
Each cottage is fully recreated inside with antiques, a nice warm open fire, and you are free to explore and feel like you once lived there yourself!  Here we learnt about bog and turf for the fires. A great lesson for Explorason!
We loved popping in and out of these Irish treasure troves and cute little homes and buildings.
Some were working cottages, stables and huts.
In this kitchen, there was a very broad accented lady making scones.  Next thing she had Explorason to work with the rolling pin.  She then gave us samples of breads and scones – all home-made the old fashioned Irish way.
There are farm areas with pigs and hay huts.
Wherever you wander, there is something new to see, and do.
Make sure the battery is charged on your camera. You will be clicking like mad at all the quaint and interesting buildings.
In busy times, I believe it is alive with those dressed in traditional robes too.
We then moved on to the main street of the village.
What is great about this area is that it is not just for you to go mad spending money. It is for you to see life as it used to be. It village life in 19th century Ireland! The village houses and shops in the Folk Park have been chosen from many different areas, to form a collection of typical 19th century urban Irish buildings including the School, Doctor's house, Pawnbrokers, Pub, Drapery, Printworks, Grocery, Hardware shop, Pottery and a Post Office.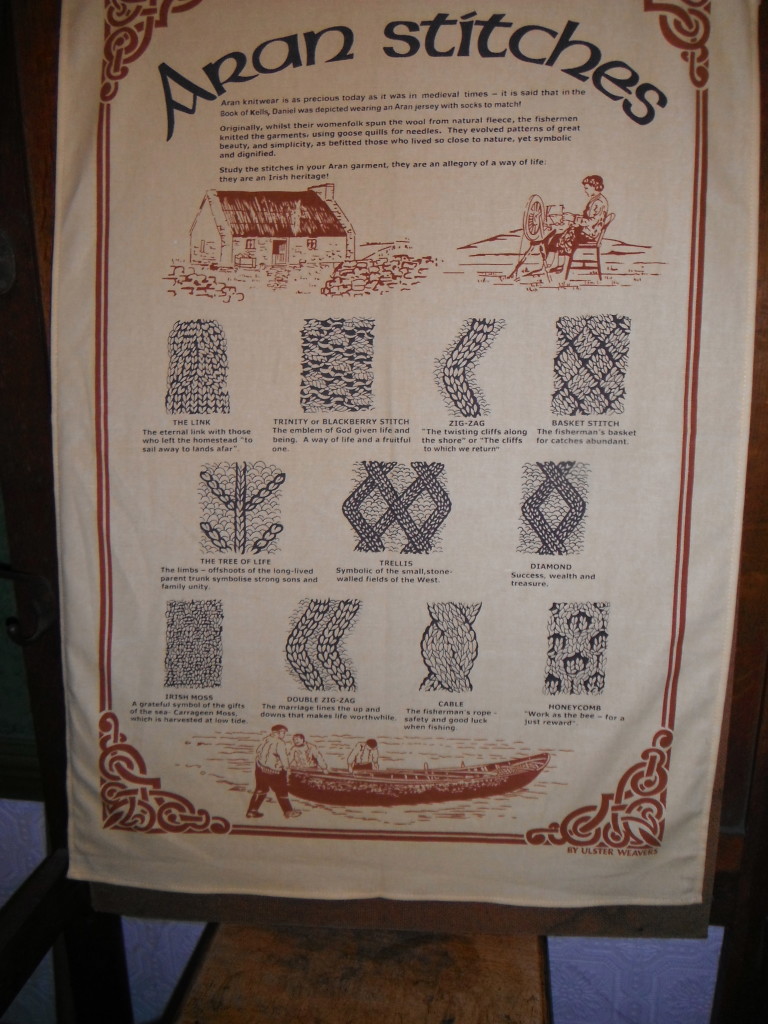 In the early 19th century the country people provided for most of their own needs in food, clothing and supplies and bought only luxuries such as sugar, salt and tea. Fairs and markets at the Village gave the farmers and the rural craftsmen an opportunity of selling their products for cash, while shops provided for the rural dwellers needs.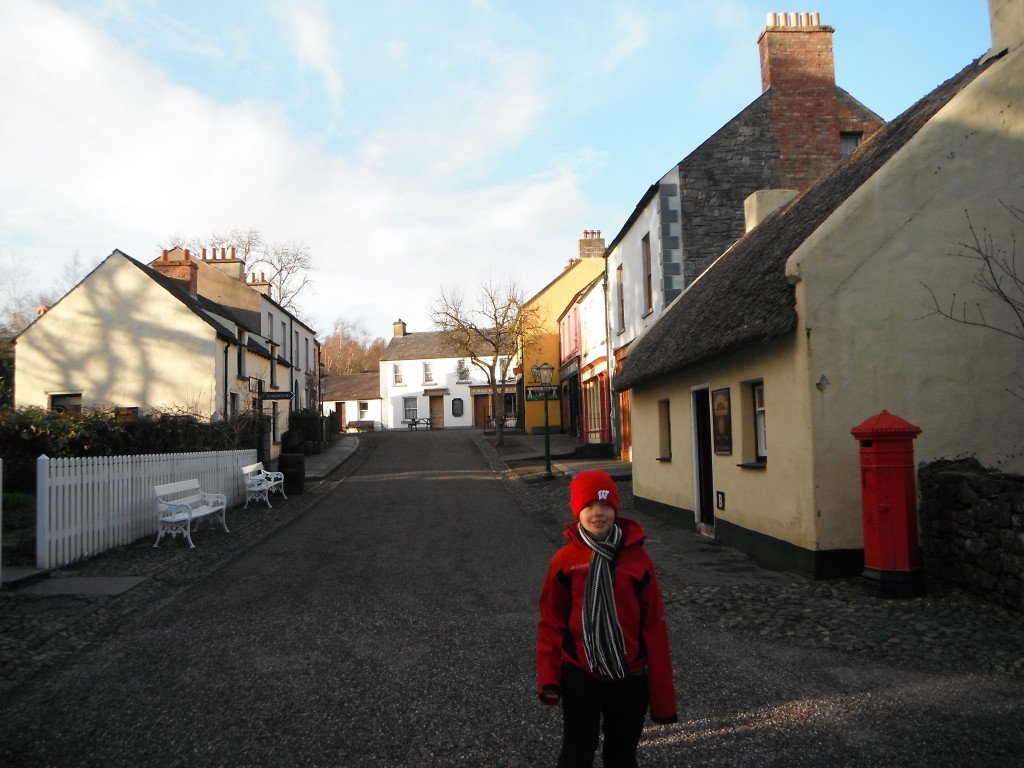 MacNamara and Sons at the top of the village street is a fully licensed working pub in the style of an old fashioned hotel bar and provides modern catering facilities. Be sure and drop into Mac's for a pint! The pub is furnished to reflect the lifestyle of the time and the fact that the publican not only sold drink, in former times, but also traded in groceries and hardware.  We were so busy, we never had time to head in there, so don't miss out like we did.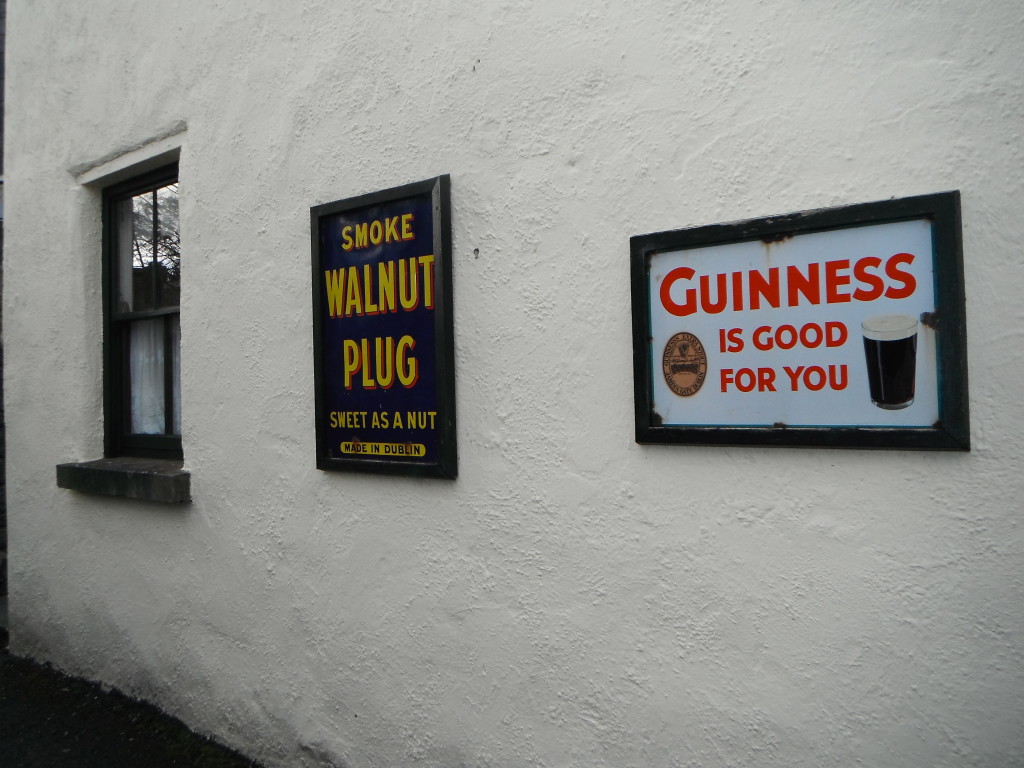 Traditional jobs and crafts are also represented, milling, the forge, pottery, printing, baking, farming etc.
When you finish here you need to make sure you have time for a Guinness.
And the place to go is Durty Nelly's next door to the car park.
I would suggest making a day of it and ending up for dinner at Durty Nelly's. Just make sure you have a designated driver.
You will have a day you will never forget!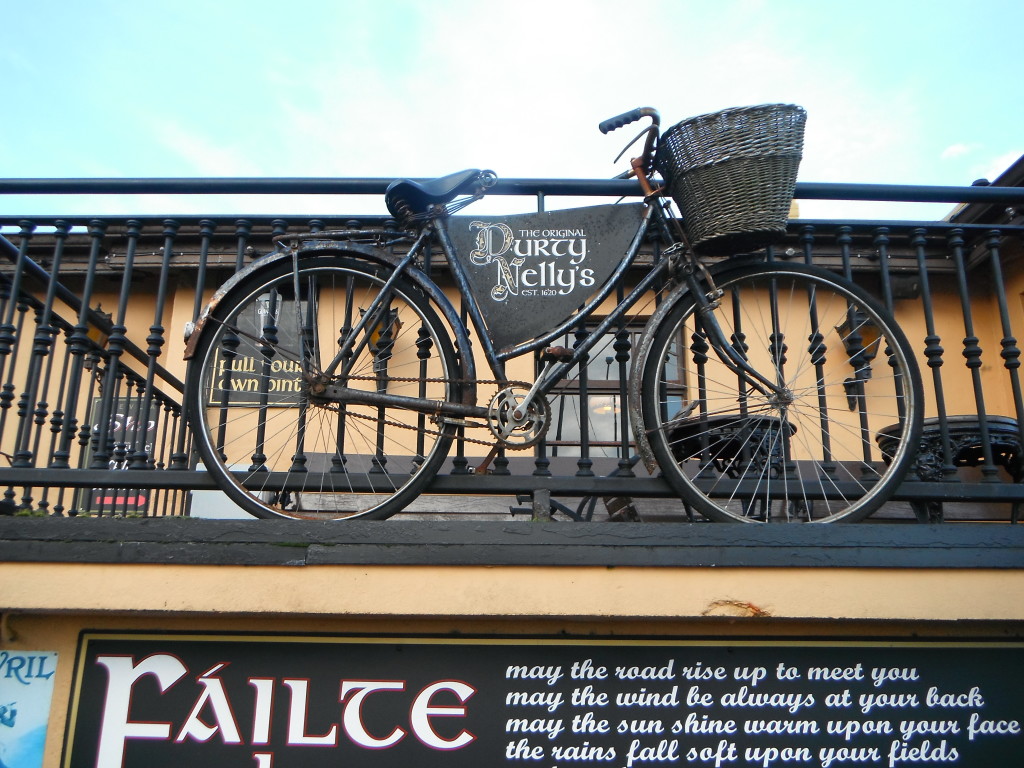 Website:  http://www.shannonheritage.com/BunrattyCastleAndFolkPark/BunrattyFolkPark/#sthash.95m4rmBj.dpuf
Address and how to get there: http://www.shannonheritage.com/UsefulInformation/Planyourvisit/
Child friendly: yes
Date visited: March 2014
Please read our Disclaimer here
Disclaimer: This post may contain Affiliate Links, Sponsored Content, or Review.…