Whatever I am about to say might shock you!
Before I begin, I would like to start by saying that I have been to some of the most well-managed orphanages and children's homes in the world as part of our travels.
Among the orphanages that I really loved visiting around the world is Happy House in Watamu, Kenya and another one in Quito Ecuador. I found nothing wrong with them and would recommend them to anyone seeking to partner with an orphanage.
However, what you are about to read here is not about the good orphanages but rather, about the tricks used by other orphanages to drain the bank accounts of sponsors and well-wishers. And sadly, we have seen this in another orphanage we visited too.
In a nutshell, I want to also warn you of how some orphanages can con people into giving. And this upsets me greatly, because we are ones who love to give, and are really big on random acts of kindness; but when we feel violated and ripped off when we give, this is something that makes us want to warn others too.
As we drive down the laneway towards an orphanage in Africa my heart is full of anticipation.  However, this orphanage was one of the saddest I have ever seen.
My heartfelt ripped from my chest as I saw desolation and shocking conditions, and in this instance, I just wanted to give to help these poor children.  It was a terrible situation, and I wanted to rescue them all.
But was this situation legitimate?  Only God knows. And it makes us realize…..
We need to:
be wise and to ask the right questions.
look with open eyes.
seek the truth.
So here are some of the ways how some orphanages can con people Into giving.
Hidden Items
Again I will say that what I am about to say is not a reflection of all orphanages. Plus the pictures/images we use are not stating that this has happened at these orphanages we visited – but are just examples to illustrate the article.  However, from my research, I discovered that in many developing countries have orphanages that practice corruption and dishonesty that comes from the leadership, and/or staff that work there.
To explain the cases of hidden items, I will narrate to you a story told to me by a friend who works with orphanages.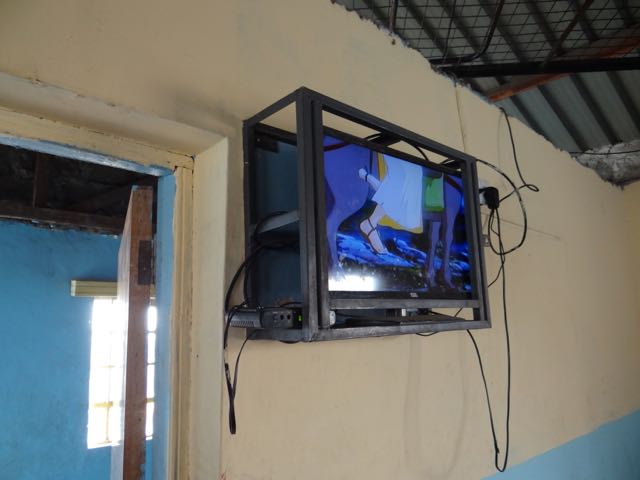 ©Exploramum and Explorason – A TV in an orphanage we visited
A NEW TV
About a year ago, my friend visited an orphanage in Kenya and discovered that the home had no TV.   Information from the director confirmed that the Children's Home had not had a TV for many years, and desperately desired to have one for the children that lived there.  As a result, the children had no form of entertainment.
Well-wishers raised money that went towards the purchase of a new TV. It was a 24" flat screen TV that cost them $120 US – which is huge for this country where the rent on the givers home is $80 US a month – so he has little to spare.
The Shock
After donating the brand new digital TV to the orphanage, my friend made a surprise visit to that same Children's Home one afternoon and was shocked at what he discovered.
The home had two other Television sets that were hidden away from visitors. He discovered that these TV sets had been in the home long before he even purchased a brand new one.
To make things even worse, these, the TWO TV's – both were in a perfect state!  Can you believe it?
So why couldn't they just be honest and tell the truth?  I wonder.
The story was really scary to me since I have always gone through every measure to put a smile on the faces of children wherever I go in the orphanages we have worked directly with.  Was I also a victim of such?  I took time to reflect on my journey and the many times my suspicions have kept me away from certain orphanages.
Let me tell you another story that will prove to you that orphanages actually hide items from well-wishers.
Worn Out Clothes
After realizing that almost every orphanage I visited had children who wore torn, faded and oversized clothes, I decided to do a personal research. I did this since I never want to make allegations that have no backing. So I met another friend who made everything very clear to me.
We did some research on social media accounts belonging to certain orphanages and even physically walked into their rooms. Also, we did surprise visits just to catch the home unaware.
Our discovery was as follows:
The children have too many clothes in their rooms. Some of them are even left folded on the floors since there is no space for them. Most of these clothes are also decent and smart. I discovered that most orphanages actually receive clothes more than any other thing.
Everyone from every corner visits these homes with clothes among many other things. Unfortunately, they will not wear these clothes when visitors come since they want to give an impression that they are suffering.
This seems to be a scheme by the directors to make people want to partner with them. Plus, this is a classic way as to how orphanages can con givers.
So How Orphanages Can Con People
My friend felt so demoralized to learn that a director had included the name of his children on the list of orphans who needed helps. He bought clothes and shoes for the children, including the director's children, who he thought was part of the children in the orphanage.
It is so sad that while my friend had torn shoes himself, he went beyond his budget to buy items for the 'extra' names (the director's children).
Yes, he felt really conned.  This is a prime example of just how orphanages can con people.
So again I ask this question:
Do these directors know the pain people go through to buy the children even a packet of rice?
How to avoid these schemes
With all these and more evidence, it is beyond any doubt that there is a get rich scheme by directors of some of these orphanages. They will do anything possible to drain money off well-wishers.
The moment they realize you are falling for their 'lies', they will make situations more emotional since they understand that the more you are emotional, the more you give more money towards their purported needs.
If you give to these thieves, this aids their scheme and encourages them to continue.  This is exactly how orphanages can con people and we want to help expose it.
There are two ways you can avoid con directors
First – is to conduct a research on the orphanage.
Visit their social media account to know more about them.
Also, Google them to see if there are any fundraisers they have had over the past years and try to find out how the money helped them.  If it was meant for a specific thing like renovations and purchase of water tanks, try to find out if these are done. Also, if they are not done, then you might want to be cautious when dealing with the home. This will help you to see with wisdom just how orphanages can con those who give from their heart.
Second – is to ensure that you don't leave the orphanage without distributing the items personally you bought to each child. Plus, if you allow directors to do the distributing, there is always a chance that they will sell them off or keep them for themselves.
These are the measures that have helped me avoid being conned and I believe they will also assist you as you continue with your charity work.
Do not stop giving – but be wise as to how you give.
Questions and Comments
Have you ever visited an orphanage in a developing country?

Have you ever given only to feel you have wasted your hard-earned finances?

What do you think about this?  

Please tell us in the comments below.
Thinking of booking a vacation to Africa?
Important Notice:
It is important to note that no images used in this photo reflect the behavior of any persons associated in any way with the Children's Home or Orphanage photographed or referred to.