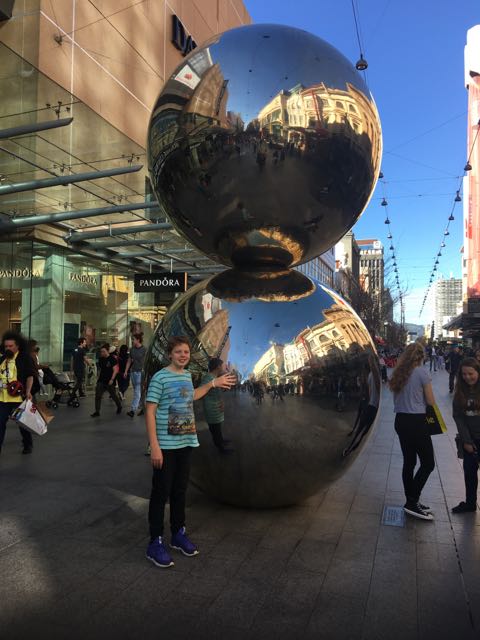 Adelaide may be known for the 'Malls Balls' but it is also known as the 'City of Churches' because in the old days there was a church on nearly every main street in the city.
If you are as religious as residents of Adelaide, then the title of this article makes perfect sense to you. I have to admit that while I have been to many cities around the world, I have found few religious ones.
In fact, Adelaide appears in my books of the few religious cities of the world. I am actually impressed that it is known as the 'City of Churches' and many of the old buildings still stand and are just gorgeous pieces of architecture.
The Bay
However, Adelaide is not just about churches, and there is another famous part of Adelaide – a suburb at the beach known as Glenelg, or to the locals 'The Bay'.
Glenelg – or The Bay – is a gorgeous precinct on the Adelaide Shores and a bustling part of the city with a real cosmopolitan feel about it.
The tram line runs from the city center down to the bay so it is also a popular place for tourists to visit.
When we returned to Adelaide, we chose Glenelg as our first base for a few days.  It was close to the airport, close to cafes, restaurants and shops, and a perfect place to take beachfront walks.  I also adore the shopping and eateries along the Marina area where millionaires berth their yachts and leisure boats.
And for this reason, we decided to also choose to use Let Smart again for our short-term vacation rental selecting the Let Smart again for our short-term vacation rental selecting the Bay Beauty Glenelg Apartment.   We loved our stay last year at Bayview Apartment at Glenelg, so we trusted them, and trust is an important factor in any vacation rental.
When we walked in I think the first thing that impressed me is that the agents had organized for it to be prepared for us early so it was toasty and warm with the heating on and we could simply unpack and take a well-earned rest, driving and parking right at the front door!
As we drove into the laneway opposite a church and we entered the apartment, one thing came to mind instantly, and that was how fresh and clean it appeared to be, and being back in Adelaide the phrase 'Cleanliness is Next to Godliness' instantly came to mind.
In case you wonder why I relate this apartment to my concept of cleanliness, here are the reasons:
Linen
Linen can often be where many apartments and hotels go wrong. Just because the beddings don't look dirty, it can lack that crisp whiteness, or freshness to it, but not here.  Adelaide is a neat and clean city, and cleanliness is the number one priority of those in the service and hospitality industry. I don't know much about other apartments and hotels, but I am sure that you will never be disappointed if you opt for the Bay Beauty Glenelg apartment.  Towels were plentiful and presented perfectly, and there was an ample supply of soft, clean linen and towels to use.  No need to pack your own towels if you stay here!
Toiletries
There is nothing worse than when you are going to take a shower and there are no toiletries or soap or even tissues provided to use in the bathroom.  Here they are supplied for guests.
Just a quick tip: If you ever find toiletries that have already been unwrapped, please think twice about using them. I'm a bit of a 'hygiene queen', and I was impressed here.
Kitchenette
The kitchenette was fully equipped, but we did spill some dry cereal, and when I went to get out the brush and dustpan it was wrapped in plastic.  This too was totally clean. Now that impressed me!  It meant that the inside of the cupboard was spotless of grit and grime on the base, and not a place where disease-causing microorganisms breed.
Any apartment with a kitchenette requires the management to ensure that everything is well maintained and utensils are safe for use. The microwave was clean and well maintained, and all the items in the area of the kitchen were stored really neatly too.
At least this is what I have learned during my time at the Bay Beauty Glenelg apartment. Everything was super clean!
Public Areas
Apartments are always well sought after when there are outdoor amenities provided by the management. Fortunately, the Bay Beauty Glenelg apartment has an outdoor pool, children's pool, and even a spa tub which is popular in the summer months.
All these are facilities that are accessible to guests who book into the apartments.
But again, I am however impressed by these apartments in Adelaide since cleanliness is not just a concept that is applied in the rooms, but it is also something that is maintained outdoors.
Clean Seaside Air
If our eyes worked like microscopes, we would be shocked at the number of toxic substances we breathe in with the air. But down at 'The Bay', you can enjoy the fresh seaside air, and take a walk along the beachfront or marina.
To also ensure added comfort, the apartments have installed air conditioners in every apartment to ensure that guests breathe air that is clean and provides you with all you need to feel relaxed and refreshed on your vacation. This is one thing that most people in Australia tend to take for granted but should it be hot or cold, the extremities of weather are well catered for, and as we arrived on a particularly wintery day,  loved the cozy warmth that we felt in here.
I also loved the fact that my apartment had restrictions on smoking indoors. This simply means that even the natural air within the compound is clean with fewer pollutants and that the apartment had a fresh aroma to it. No smoky and smelly curtains or linens here!
And if your nose is still seeking aromas, why not head down to Jetty Road for the tantalizing scent of freshly baked goods, aromatic coffees, and teas, or the wafting from the kitchens of the cafes and restaurants as they cook delicious meals all day long and into the evenings.
Questions to our readers
Have you ever visited Adelaide?

Did you visit Glenelg?

What did you enjoy seeing and doing?

Would you rate it as the cleanest city in the world?

Please tell us in the comment section below.