Luxury and leisure form a perfect cocktail that is soothing the soul of every traveler.  
It makes any traveler feel like she traveled with all the household. You will be assured of a 'home away from home' experience.
So here are the …
Top Ten Luxury Hotels In Bangkok Thailand
….that will assure you of such heavenly experience (in no particular order).
1. The Okura Prestige Bangkok
Where else can you enjoy value for money accommodation and services other than at the Okura Prestige Bangkok? Rooms are very spacious and are well designed with excellent views that befit the 5 star status of the hotel. Customers are able to do an upgrade to be able to access the club lounge, which will definitely add more excitement to the already heavenly experience at the hotel. Check in is very fast, the staff is friendly, and you will definitely be spoilt for choice when meal time comes since there is a variety of food served at the Japanese and Western food restaurants.
2. Shangri-La Hotel, Bangkok
The Shangri-la Hotel has a beautiful view of the country's Shangri-La Wing River. You will definitely be delighted to have your mouth watering Asian or Western meal at the restaurants that overlook the river. If you are on a business trip, you don't have to worry about transport since the hotel is about 200 meters away from the MTR Sky train station.
3. Hotel Muse Bangkok Langsuan
The moment you walk into the Hotel Muse Bangkok Langsuan, you will experience a change in atmosphere, which happens to be dark and soothing to the soul. Rooms have a great view of the city and are fitted with comfortable beds, clean beddings and all the necessities befitting of royalty. If you are a fan of live performances, you might want to visit the Italian restaurant in the basement: There is always a singer who entertains visitors as they enjoy their meals. The hotel is proximal to Central World Mall, Siam Paragon, and Platinum Fashion Mall, making it easier for its visitors to experience fun both in and out of its premises.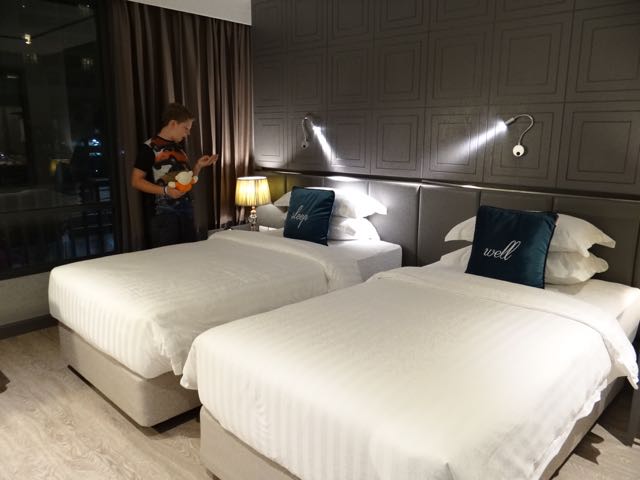 ©Exploramum and Explorason – Relax and sleep well at the Well Hotel
4. Eastin Grand Hotel Sathorn
Be rest assured, room service at Eastin Grand Hotel Sathorn is top-notch. Your luggage will safely get to your room and services will be rendered at a super-fast speed. It is conveniently located in Sathorn and has direct access to the BTS Skytrain station. A number of rooms overlook the city and offer a beautiful view of the skyscrapers of Bangkok. You get to enjoy exotic fruit juice, a wide variety of Asian and Western cuisine and happy hours at the bar. You should definitely consider this accommodation when you visit the country.
5. Bangkok Marriott Hotel Sukhumvit
Everyone talks about the sky top bar at the Bangkok Marriott Hotel Sukhumvit that offers a magnificent view of Bangkok at night and has some of the best staff in the industry. WiFi connectivity is high-speed and reliable, ensuring that you can transact your online business without any hiccup. It is also located close to the BTS train station and has beautiful interior decor that can be spotted straight from the lobby to the rooms. Breakfast is fantastic and has a variety of options.
6. Dusit Thani Bangkok
Don't be surprised if you make The Dusit Thani Bangkok your new 'home away from home'. The Dusit Thani Bangkok hotel is close to BTS train station and a walk away from the local nightlife. Suites all have magical views as this iconic triangle shape building overlooks the city or the park across the road.  The food is fabulous and there are a variety of casual and high-class restaurant and dining options at the Dusit Thani Bangkok.  This was our third stay at the Dusit Thani and we look forward to their new and exciting hotel that is opening after their major overhaul.
7. The Sukhothai Bangkok
Most people have been left speechless at how big of a land The Sukhothai Bangkok occupies. You are probably never going to keep bumping into people or creating space for them since the hotel is too spacious. This means that you stand a chance of enjoying a relaxed atmosphere as you walk past the manicured plants and bushes and admire the world-class installations at the hotel. The rooms are cozy and from them, can experience peace, away from the hustle and bustle of life. The staff is well mannered, and the ballroom is a lovely place to be in. You also stand a chance to enjoy some beautiful day and night views.
8. Anantara Riverside Bangkok Resort
Though the standard rooms at the Anantara Riverside Bangkok hotel might be a bit small according to some people, you will find this is often the case in a crowded city like Bangkok, but there is a very beautiful view of the nearby river through the wide windows and sizeable balconies. The hotel is in an excellent location, proximal to the rest of the city shopping area. One remarkable thing is that there is a free boat shuttle for anyone wishing to go across the river. It is another experience that would outlive your stay at the hotel. The hotel gives smartphones to its visitors to help them learn more about Bangkok and move around the city with ease without missing a thing. All vital information is saved in these phones.
9. Well Hotel, Bangkok
If you are one of the new era travelers that consider their health and well-being to be a top priority, then you will love the Well Hotel.  We stayed there and loved the infused water, the healthy menu choices, and the focus on fitness.  The in-house massage was perfect too. You can read our latest article here for more information. Funky and fn – you will love staying here.
10. Somerset Ekamai in Bangkok
For something completely different why not book a luxury apartment that is not the only state of the art but that has a hotel-style reception, a restaurant, health spa and much more?
As luxury travel experts Somerset Ekamai in Bangkok is one place we really enjoyed staying at in Bangkok. Brand new, and with a killer view of Bangkok, this is a great alternative for family travel.
With Bangkok being a destination we travel to nearly every year there are so many more luxury hotels you could choose from.  We have stayed in many more over the years and all lovely properties too, and you can check out more hotels in our other blogs, but these are just a few choices for you to consider.
We hope you can find the perfect place to stay in Bangkok using our Top Ten Luxury Hotels In Bangkok Thailand list we created just for our readers.
Questions and Comments
Are you thinking of a trip to Bangkok?
What is the most luxurious way to tour the world?
Share your experience with us in the comment section below.