Travelling is amazing!  You get to see so many new places and to explore and discover.  BUT – The worst thing about traveling can be when you get to your destination, only to realize that there is nothing planned for you to do as a family.
Often you are so busy snagging that last minute airline special and finding a great place to stay, that you fail to organize what to do and see in a city.
We have been guilty of this, and we leave a destination, only to discover we missed something amazing – and trust me, it is about then you want to kick yourself for not jumping online and doing a bit of research as to what there is to see and do.
This is why we have created a list of the Top 10 things you can do as a family when you get to Bangkok. No more being stranded – and no more feeling like you have wasted time or missed out.
Here we go and in no particular order:
Top 10 Things To Do With Kids
In Bangkok Thailand
Safari World
We've just left Africa and so safaris are high on our list of amazing things to see and do.  At the Safari World, you will be able to see all sorts of animals, including giraffes, tigers, dolphins, seals, and lions.
It is advisable that you get to the place early enough if you want to have a chance of feeding the lions and tigers hopefully. It is advisable that you get there by 10:00 a.m. if this is to happen.
There are so many other performances that you can witness and enjoy during the day. These include painting elephants and dolphin shows.  We learned recently that the animals are rewarded when they are trained, not punished, so these animals actually love to paint.
You might also be interested in the Wild West show which is equally exciting to watch as a family.
Chatuchak Weekend Market
Chatuchak Market – or JJ Market as it is also called, is the place you want to be over the weekend and a place we ALWAYS go to when in Bangkok – you can't beat the prices on the terrific shopping you will find here, and I do believe it is the biggest market in the WORLD – well, so I was told!
The market occupies a wide area of land that will require you to shop for hours before getting to the other end and I believe it is even open on Fridays now too – but do check that. there are some really weird sights here too – like the tattooed man who is blind and sings – and a whole lot more.
At the market, you can always get that fancy dress from your daughter, a military shirt for your husband, sports shoes for your son, or jewelry for your wife. Everyone in the family gets to experience the fun that exists in shopping in such a large market. There is also some tasty street food along the way for everyone who wants to have a bite in the course of his or her shopping spree.
There is also some tasty street food along the way for everyone who wants to have a bite in the course of his or her shopping spree.
We love the coconut ice cream that is served in a coconut, and I always get fresh coconut water here too – even before I enter the market there are two fabulous sellers so I tend to buy one on the way in, and one on the way out.
Finish off with a Tuk-Tuk ride back to your hotel for a little-added family fun!
Dusit Zoo
The Dusit Zoo is found within the city center, making it very easy to access.  We always stay at Dusit Thani hotel, so my guess is that the zoo is named after this iconic hotel region and that it is in close proximity.
While you will not be allowed to interact with the animals like in the other zoos, you still get that once in a lifetime opportunity of spotting different animals from a safe distance.
You also get to visit souvenir shops located in various parts of the zoo for some unique item to carry back home.
Don't miss the acrobatics show since it is one of the most exciting parts of the whole zoo experience.
The Floating Markets
There is nothing that is as exciting as doing a normal thing in a super-normal way. While shopping has become more of a cliché word in today's world, using a boat to access the market is not anything normal. It is a whole new experience that is both exciting and memorable and we LOVED our trip with Ganna Travel to the Damnoen Saduak Floating Markets the first time we visited Bangkok.
Also, at the Amphawa Floating Market, you can shop, drink, drink and shop some more before taking a boat ride out of the market with your goodies. Items sold at this market are very affordable and you don't have to worry about seafood since it is always very fresh. It is worth noting that the Amphawa Floating Market only opens on Friday through to Sunday.
When the sun sets in the evening, you can spot fireflies flying all around and creating that beautiful scene to behold.
Art In Paradise
For a whole load of family fun, head to Art in Paradise where 3D art comes alive.  We visited Art In Paradise last time and just had such a great time (you can watch our Youtube video here).  I'd go again in a heart-beat!
Lumpini Park
As a family, there are moments when you will just want to visit a part and appreciate the beauty of nature as you reflect on your trip. It is also a great place to play games, go cycling, jog or have a picnic.
Lumpini Park is however not like any other park since it has a number of GIANT Lizards that freely roam around.
You also have a choice of feeding the fish found in the ponds while at the park. You will definitely love this park if you are animal lovers or are just looking for a thrill.
MBK Center (Ma Boon Khrong Center)
I have been visiting the MBK Centre for over 30 years.  Yes, I came here in my early twenties, and I have seen this mall grow and become an amazing shopping institution.
As a family, you want to visit a mall that allows you to shop without exceeding your budget since there are so many heads to be catered for. This is a kid-friendly mall from where you can get affordable items and still have fun over a drink or food with the family.
It is big enough for the family to walk around freely, window shop, and hopefully, find items that are exciting to everyone. The kids will love this mall.
The kids will love this mall. Don't miss the huge world food hall on the upper level where you can select dishes from all over the world.
Museum of Siam
If you have never been to a palace, then all you need to do is visit the Museum of Siam since it is in a former palace. That in itself is a priceless exhibit that you will probably never find in any part of Thailand.
Within the museum building are exhibits that best define the history of the country in a fascinating way that will ensure that everyone, both old and young, is satisfied with the visit.
Note this museum reopens in November 2017.
Get A Thai Massage For All The Family
Nothing beats a fabulous massage after a long day shopping.  For us, we always visit Let's Relax Spa when in MBK Centre in Bangkok.  Usually, I head in there on my first day and make the booking for the end of the day and can recommend either a Thai Foot Massage for all the members of the family – even the kids, or a Thai Back and Neck massage for the adults.
On other occasions when we just need a break, I will get a massage while Explorason sits and plays a game on the phone quietly.  That way we both get a break doing something that relaxes us.  He doesn't like back massages much, but he enjoys having a head massage immensely!
Check Let's Relax Spa out as they are all over Thailand, not just in the MBK Centre too.
The Grand Palace
You might want to get to this historical palace by boat since this will add more to the great experience you desire to have.
Your eyes will definitely admire the unique architecture and excellent Thai art found within the confinement of the palace.
The decorations at the Grand Palace are also likely to fascinate you as you gain an understanding of the real value of royalty.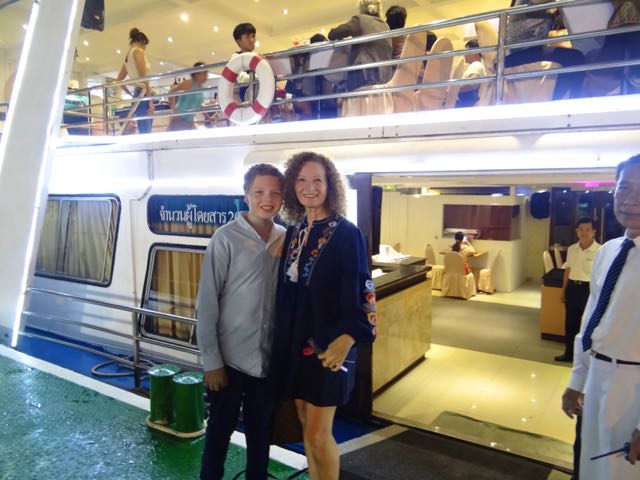 BONUS SUGGESTION!
Chao Phraya River and Dinner Cruise
The waters of this river flow deep into the heart of Bangkok. You can, therefore, tour Bangkok by renting a boat, which often comes with a driver, or by taking a cruise.
You will be able to go through canals, past palaces and temples before getting to the other end of the river. The ride is always worthwhile and part of the memory that most tourists long to create.
Personally, I'd recommend booking a dinner cruise and we booked ours through Absolutely Fantastic Holidays.  For us as long-term world travelers, this was the highlight of our events in Bangkok, and we always try to finish a major part of our world travels taking a cruise on the last night. We did a sunset cruise in Langkawi Malaysia when we ended the first leg of our world travels; after three and a half years! And on our last night in Bangkok, it was fitting for us to reserve a wonderful table right near the front of the boat and by the stage where the stars twinkled overhead; the music played; and the food was amazing!
We found the River Star Princess to be perfect for us – we loved how the entertainment was packed from the minute we launched to the end when we docked. we had fun interacting with the dancers and even the little kids were up dancing.
It was just beautiful on the river and I'd definitely recommend you book this. It doesn't matter what the weather is either as the roof retracts in fine weather right over your head, which Explorason thought was pretty cool!
If you are looking for more Things To Do in Thailand, I'd suggest heading over to their official page at Tourism Thailand where you will not only find great ideas for Bangkok but for all of Thailand!
Questions and Response
Are you planning a trip to Bangkok?

If so when are you going and what are you planning to see and do?