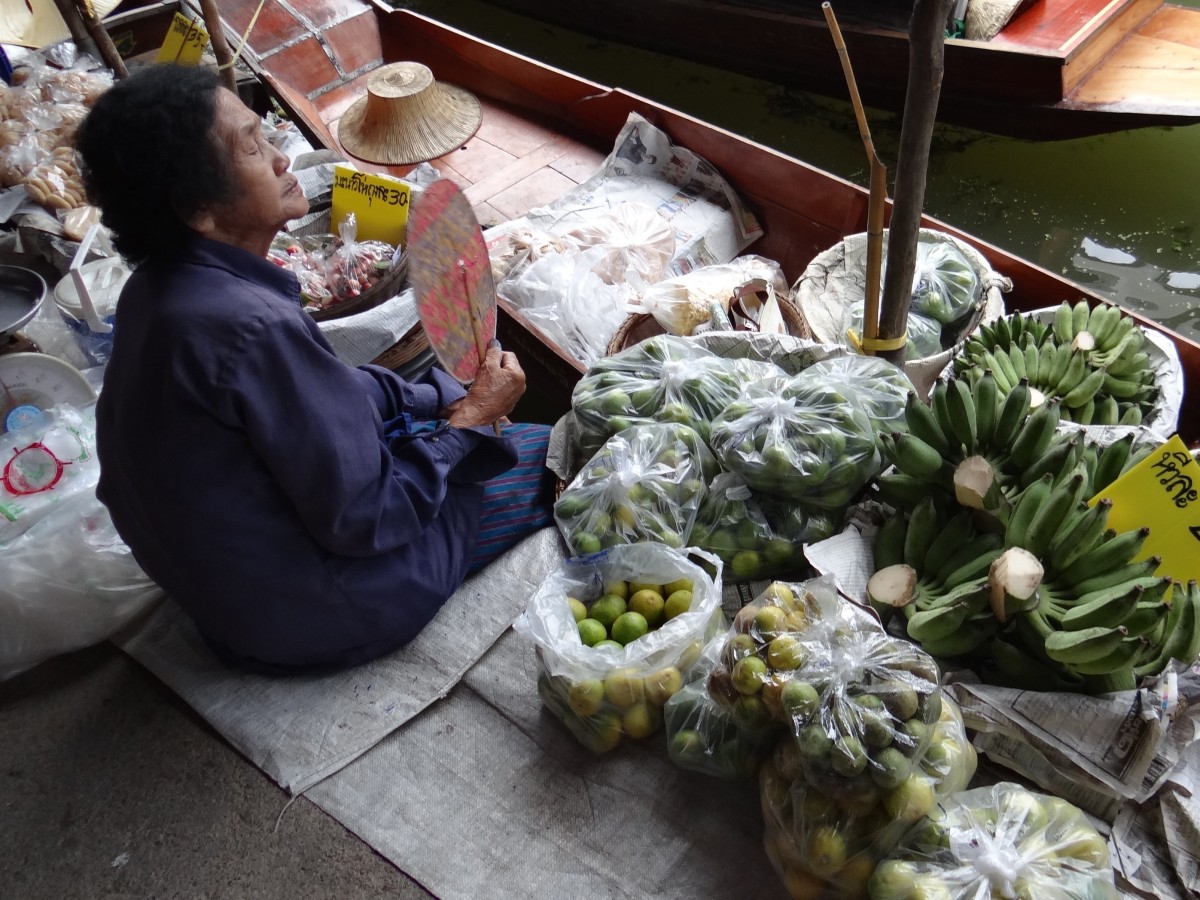 When we first arrived at Bangkok we were informed that the old Floating Markets of Bangkok were …. gone …. finished …. kaput …. over.
Oh No! Having visited them 30 years ago, they were one of my memories that I thought would remain institutional forever. A memory I wanted to share with my son.
I wanted him to see the way life has stood still in Bangkok, and the traditions of the "Venice of the South".
So I was so disappointed.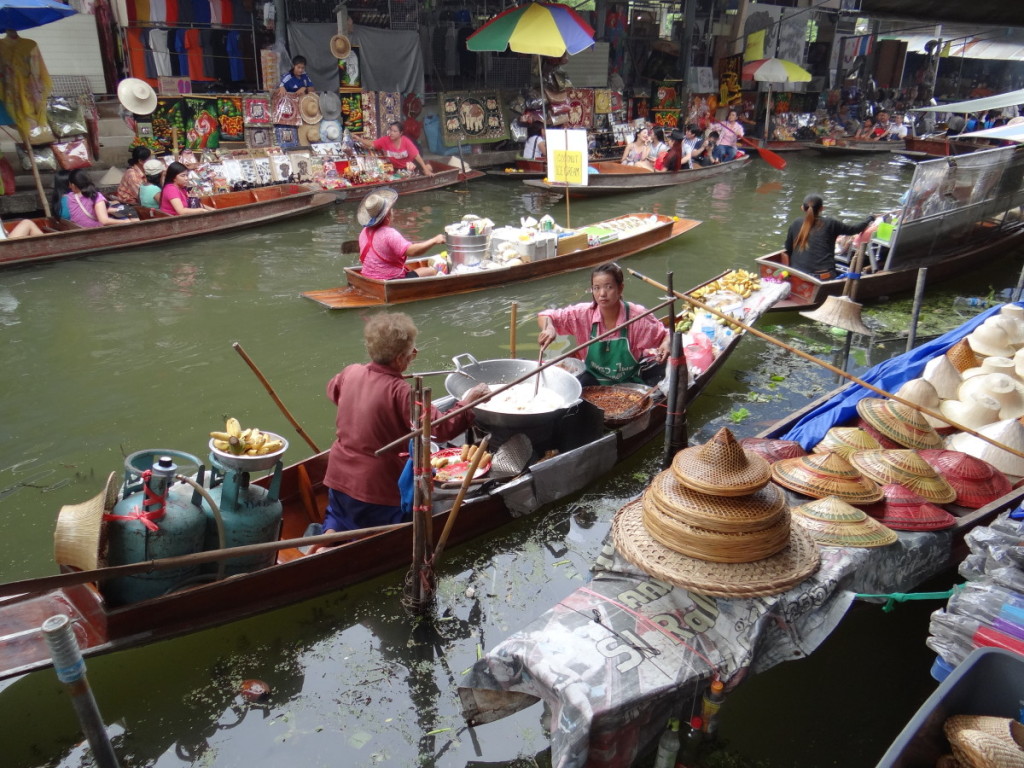 But after contacting the lovely Kannapad Kraithong (Gina) who specialises as a Private Thai Guide from Ganna Travel, I felt much better.
She answered my email right away, and said "YES they do still exist" – a little over one hour's drive out of the hustle and bustle of Bangkok.
She could organise us a Private Thai Guide for the day.
We could start with visiting the floating markets.
Then head on to a temple within a tree (Wat Bang Kung).
And finally finishing with a traditional Thai lunch – in a surprisingly international style classy restaurant with incredible food (Maria Pizzaria)
So we were pretty pleased that with a couple of contacts with Ganna Travel it was all organised for our 3rd day in Bangkok, and that they would collect us (not too early – 7:30 a.m.) after breakfast, and we would then drive out of the city.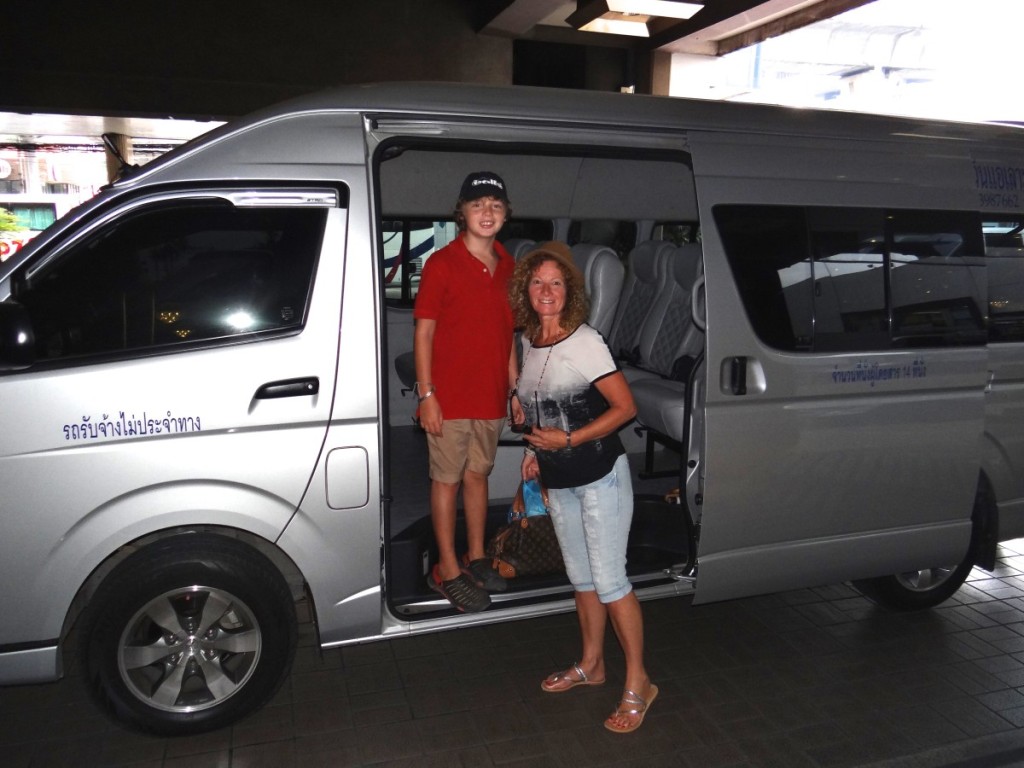 Explorason took the opportunity to ask a load of questions about how many temples or 'Wats' were in Thailand. The answer is 40000 Buddhist temples in Thailand.
As we continue to drive about 100 km out of the city toward Damnoen Saduak Floating Market, the landscape changed as we entered a tiny country town. People stood chatting with their motorbikes, and houses changed from concrete apartment blocks to wooden homes.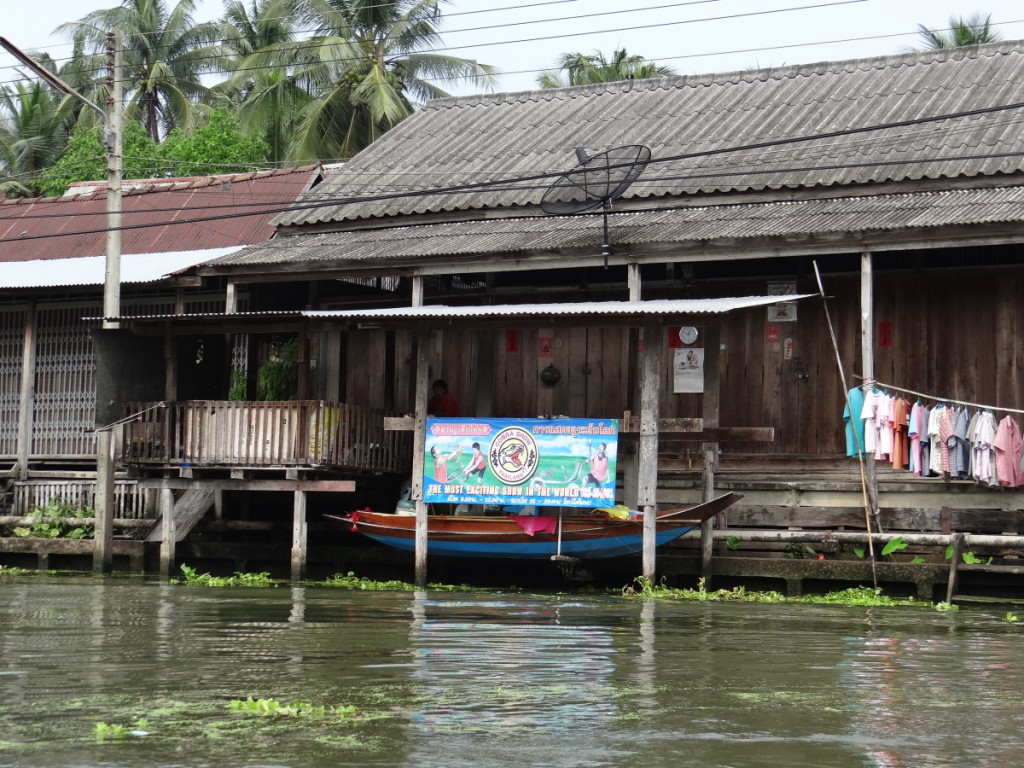 We arrive and park within a stones throw of the launching area for our private boat. The hustle and bustle of market life is all around us and we get rather excited.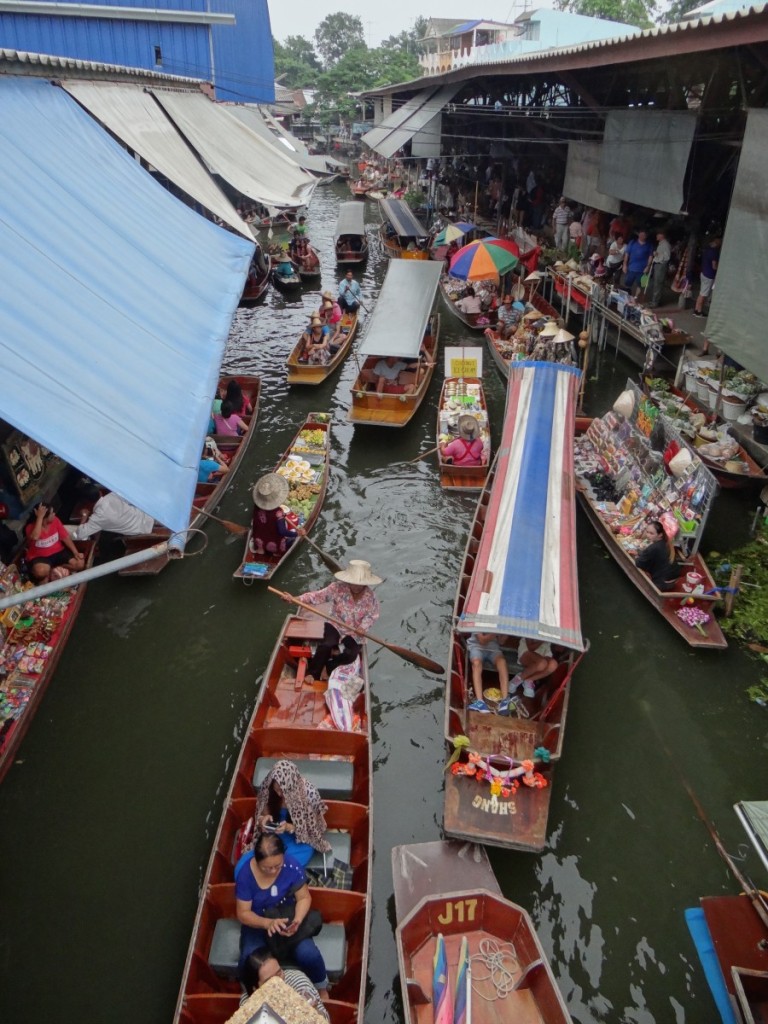 This floating market is like a magnet for tourists. Food stalls have grown from the riverbanks and stretched far into the surrounding streets.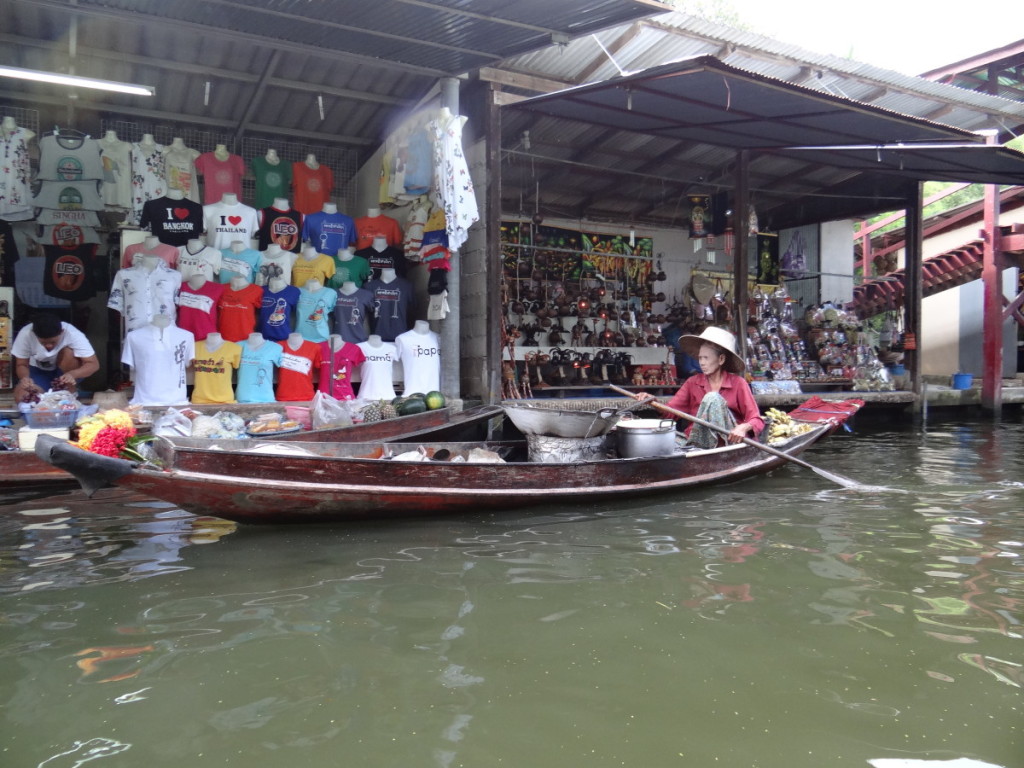 We get so excited we just have to have a hat, but we can't find a Thai traditional style one with the seller near our boat, so we grab a Vietnamese one – closest thing at the time.
But wish we had waited and bought one a few minutes later off another seller. We live and learn. But we were pretty happy anyway.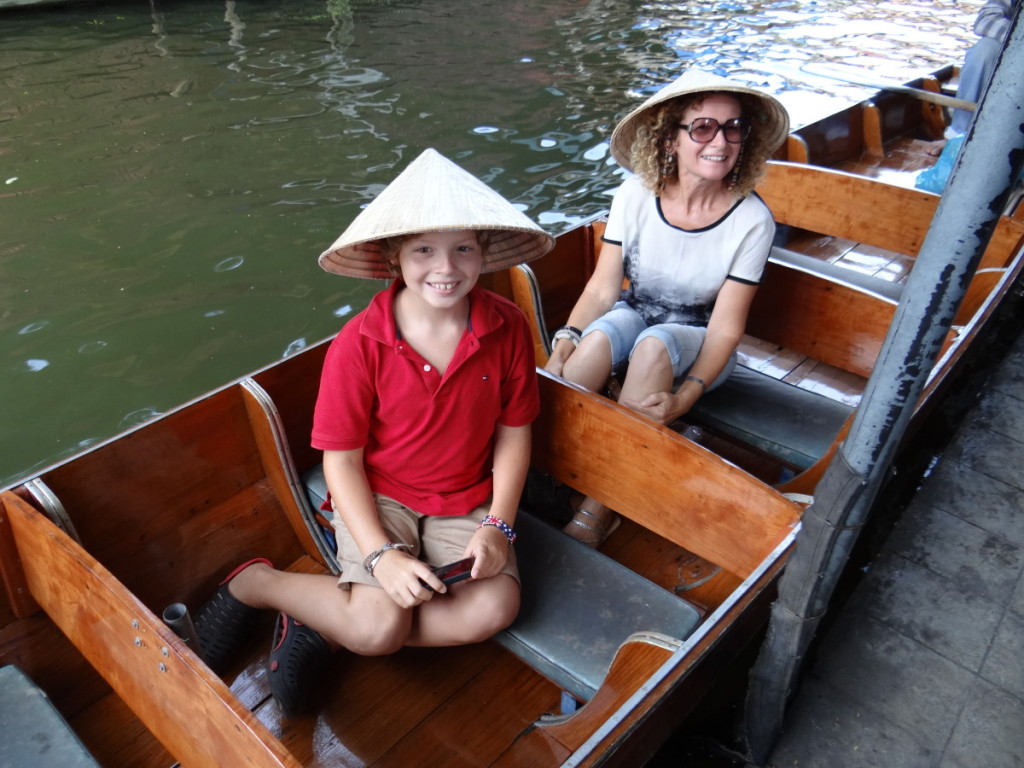 Next task is to get into the Thai feel, so I pop out of the boat and buy a new top and change. I like it. What do you think? We are really having fun!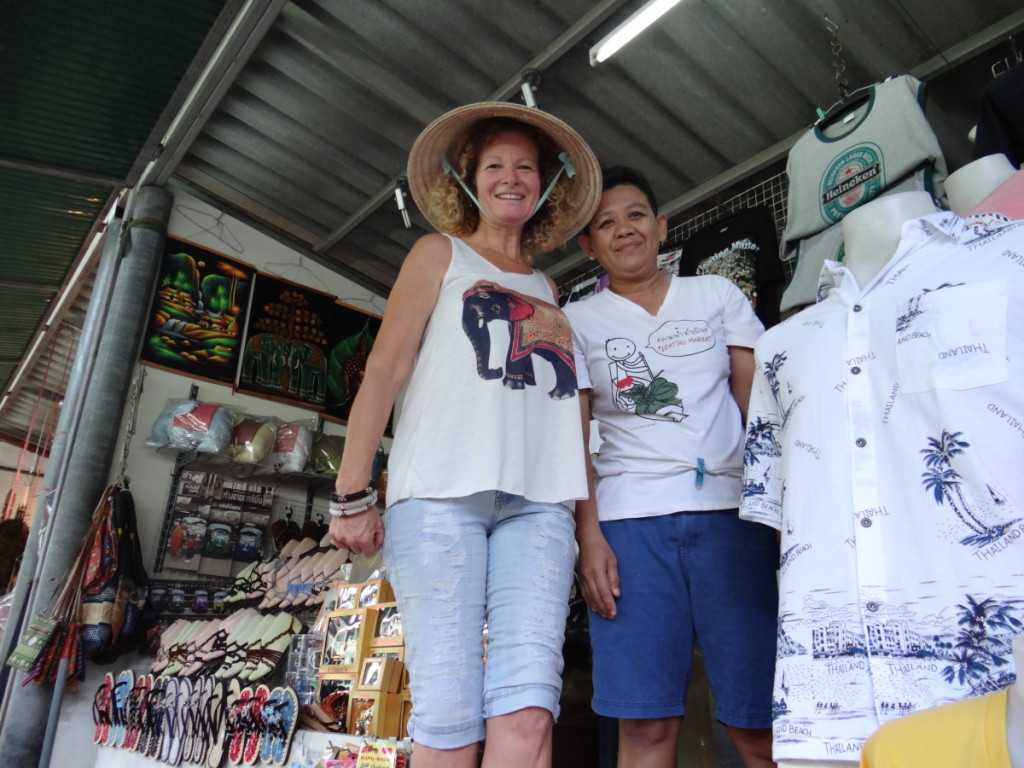 As we slowly are paddled in our own private boat I feel the stress of the hustle and bustle of the crazy last few days floating away.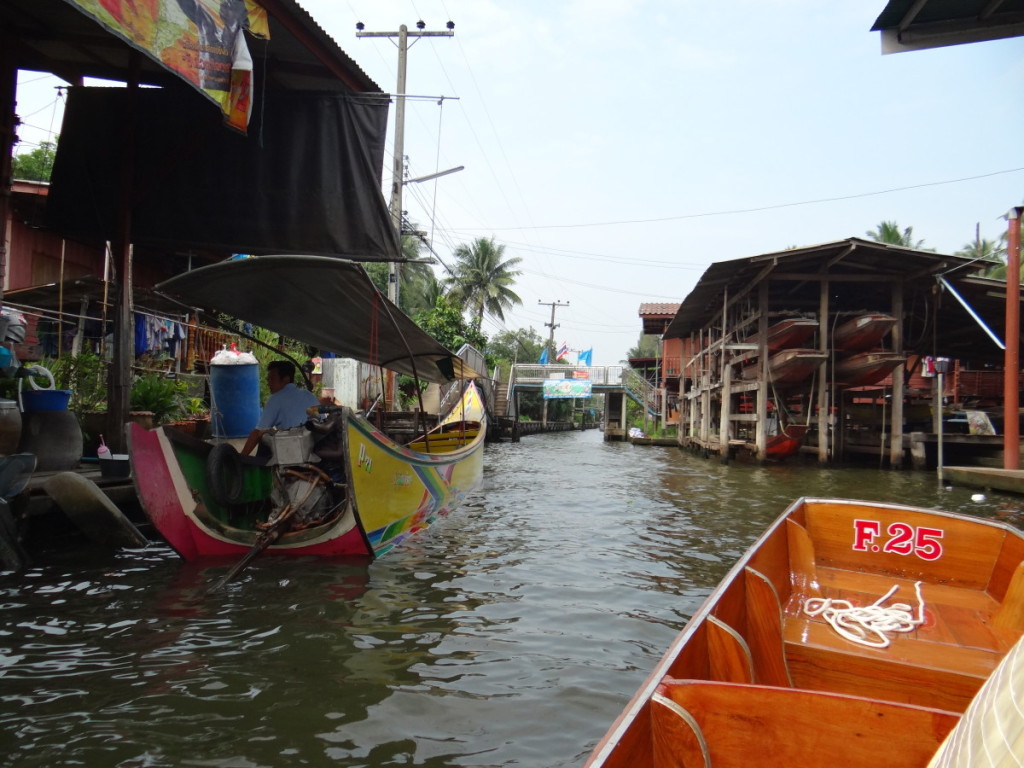 We meander along the canals and we seem to wander into quieter waters, away from the main market area. Being a week day some of the sellers are closed.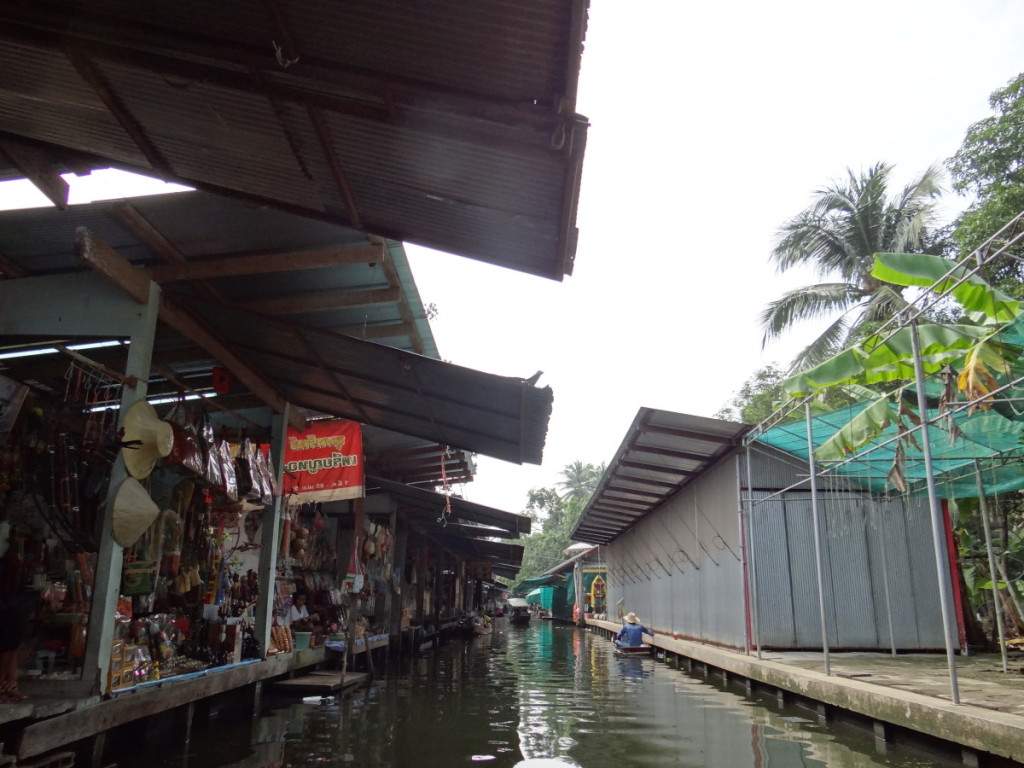 Colourful hammocks hang motionless on the sides. Not moved by the gentle breeze.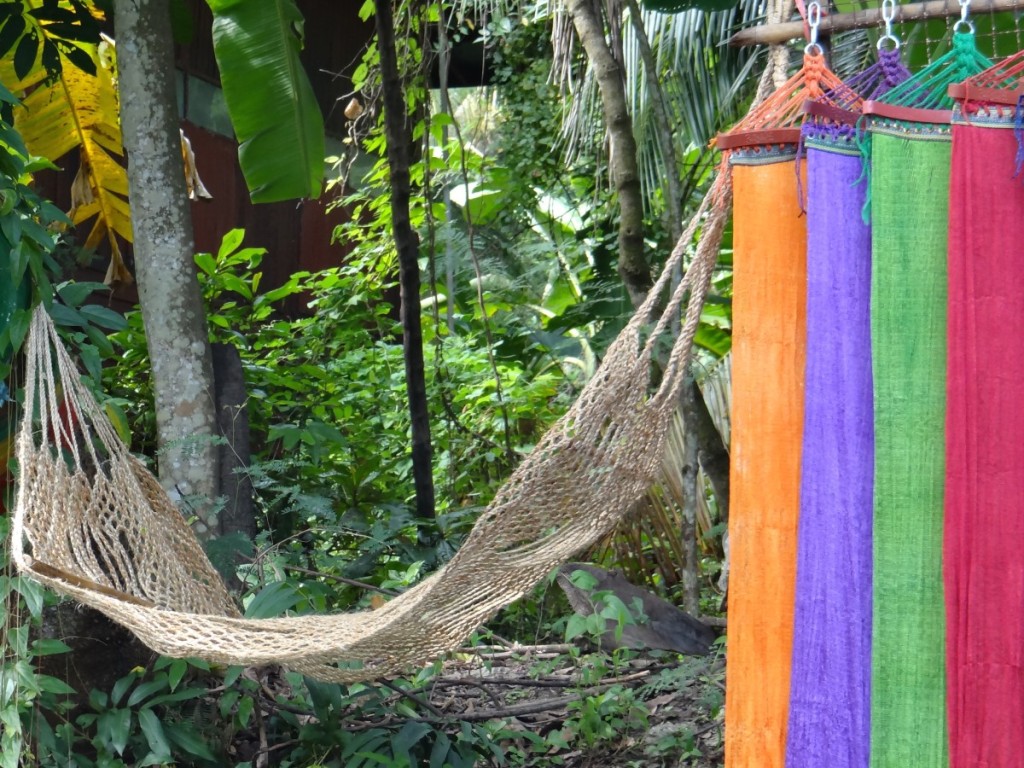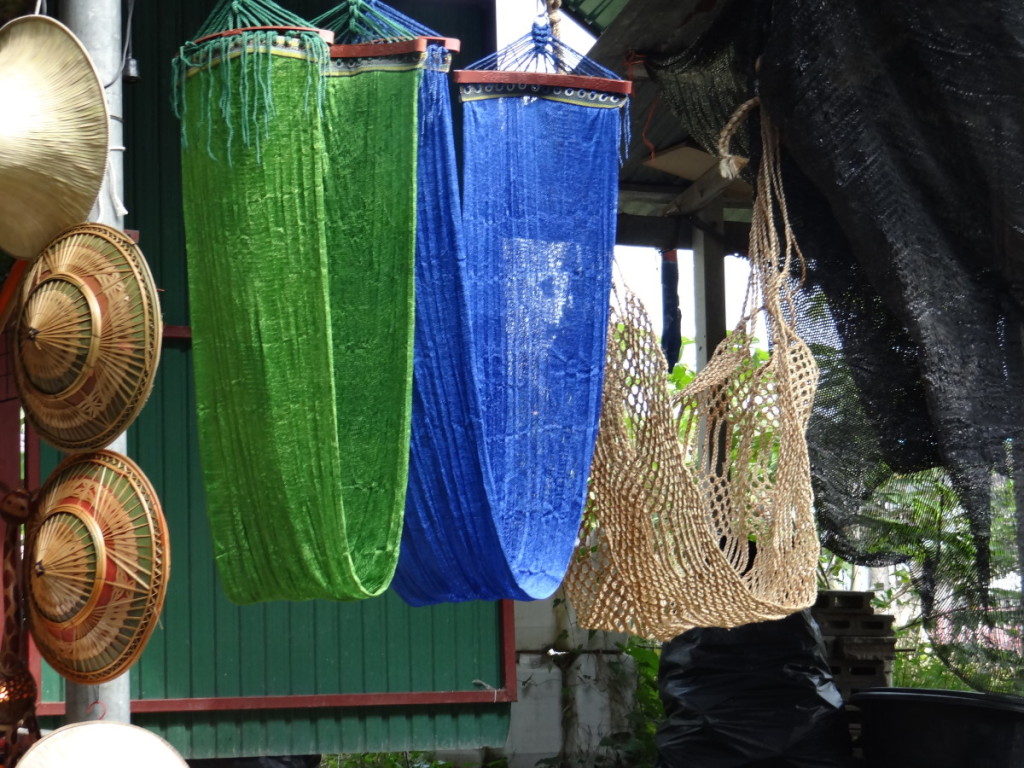 Local artists sell their pantings in the second area of the floating markets, and we are drawn to the elephant artwork.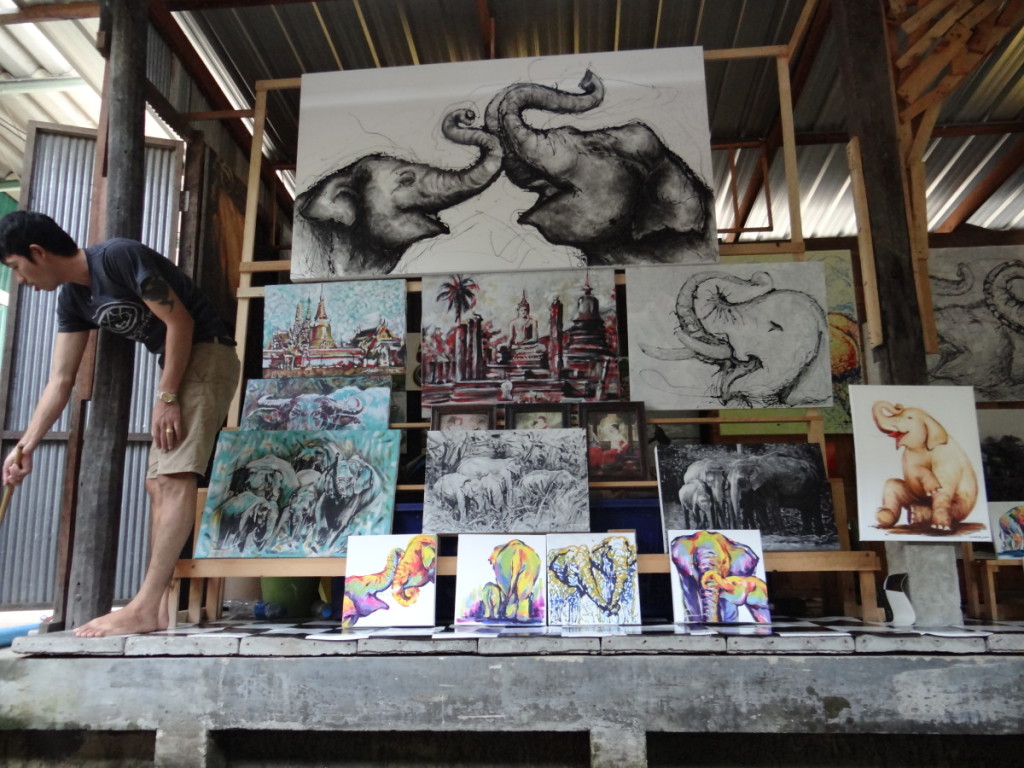 For those of you with children; men who don't like to get dragged around the markets shopping; the elderly; handicapped; special needs; injured; or weary traveller, then having Private Thai Guide from Ganna Travel organise a days outing like this is perfect for you.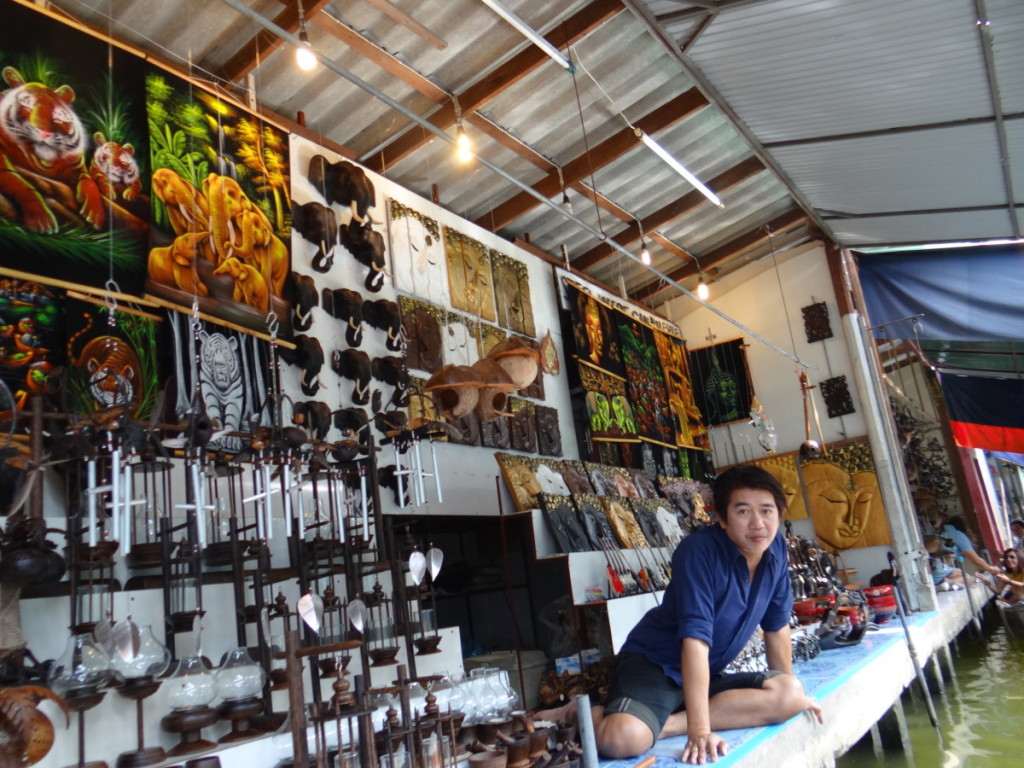 Along each side of the canals, we found old charming wooden shops and metal stalls selling souvenirs.
I bought a lovely butterfly dress, and Explorason bought a print.
There was everything from the obvious Thai beer T-shirt to some more interesting homewares and crafts.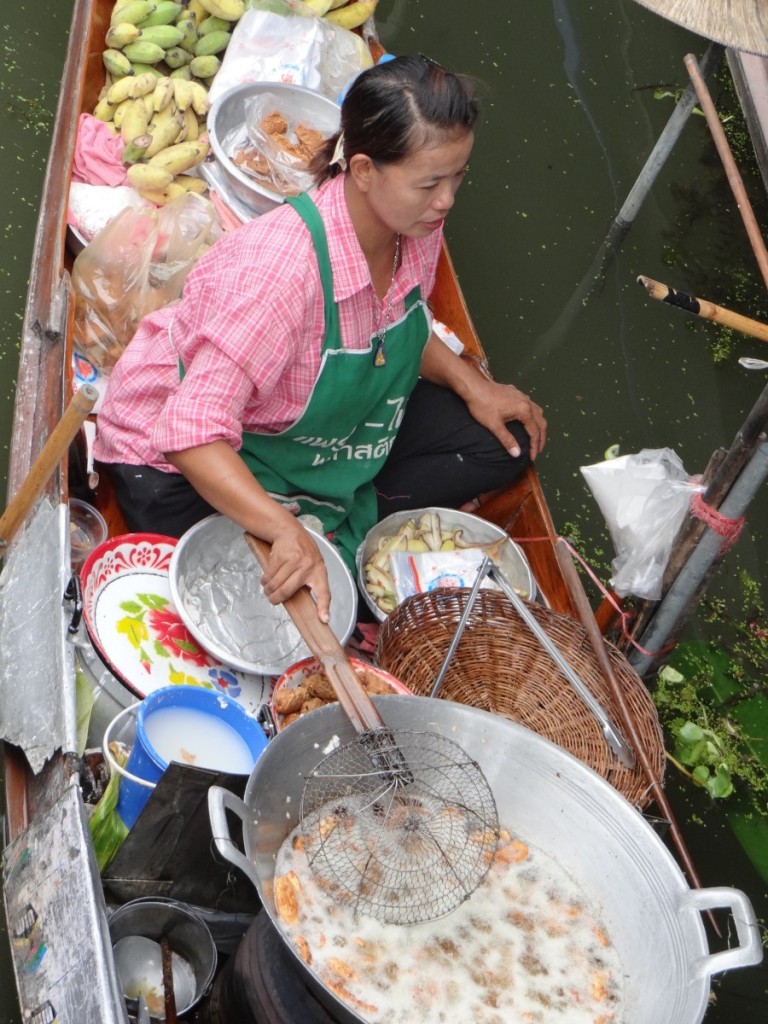 Food wise there was a real mix.
Traditionally known for its weekend local seafood, we found the floating kitchens interesting too.
Boats carrying colourful fruits, lots of sweets, snacks and ice cream – Thai people have a very sweet tooth so I'm told.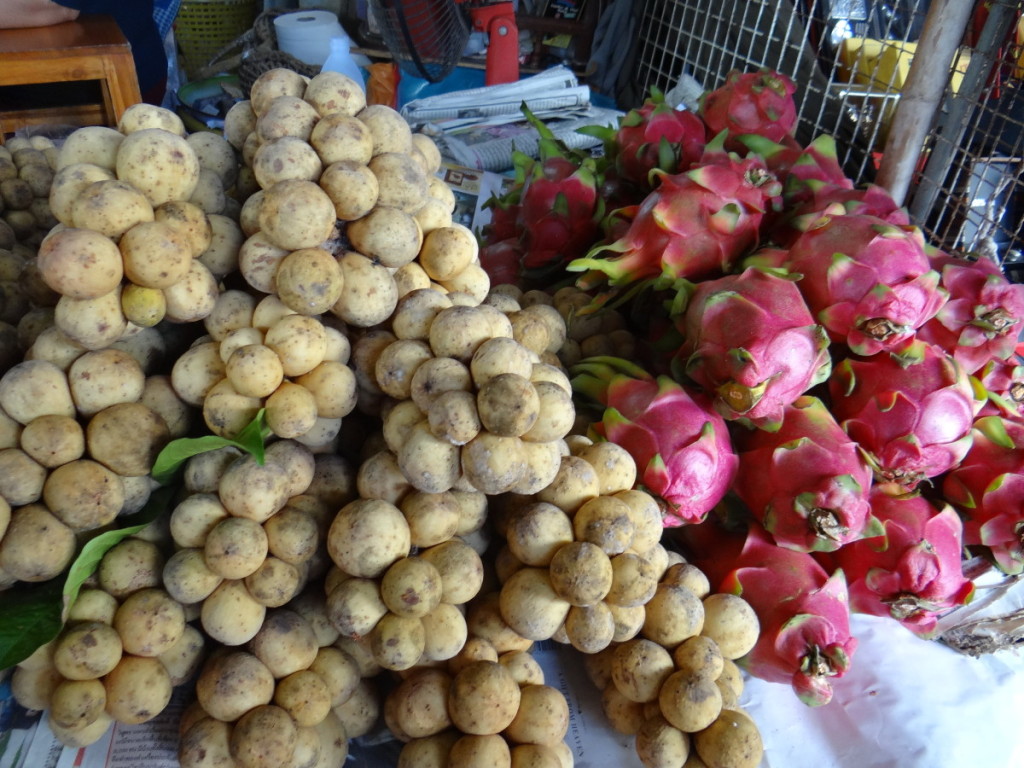 Most food looks familiar, but other dishes look unusual or even funny (and so is the aroma).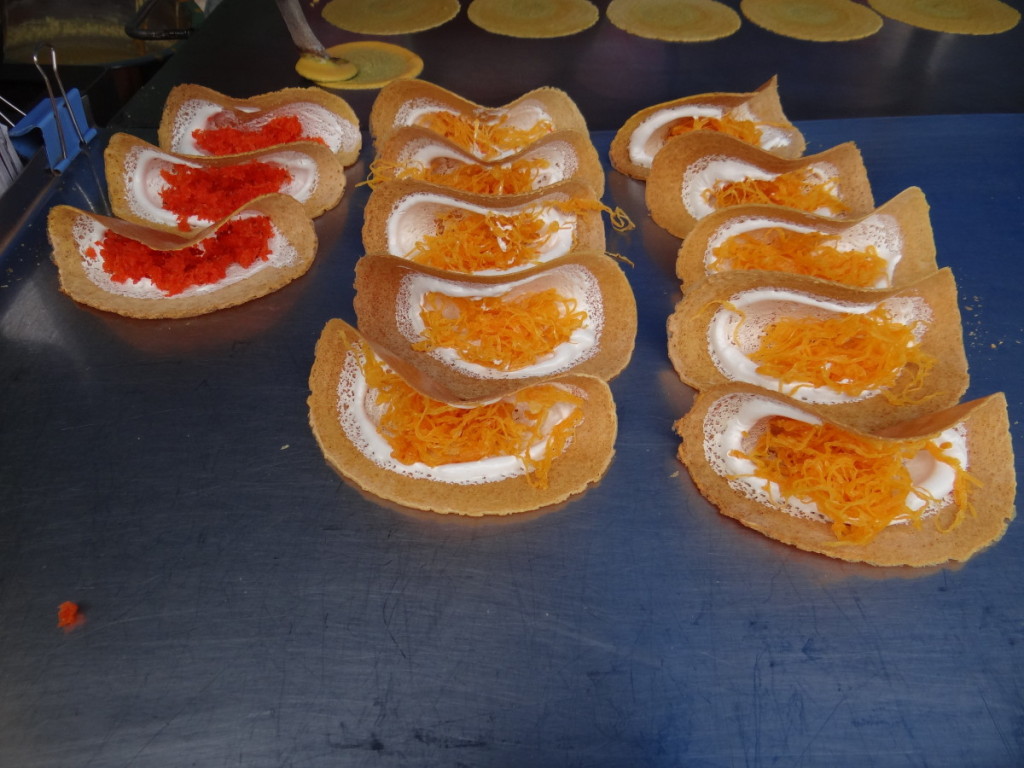 There is everything from ice cream sandwiches; weird egg looking pancakes; and alien-looking helmet crab egg salad (Yum Magda Talay).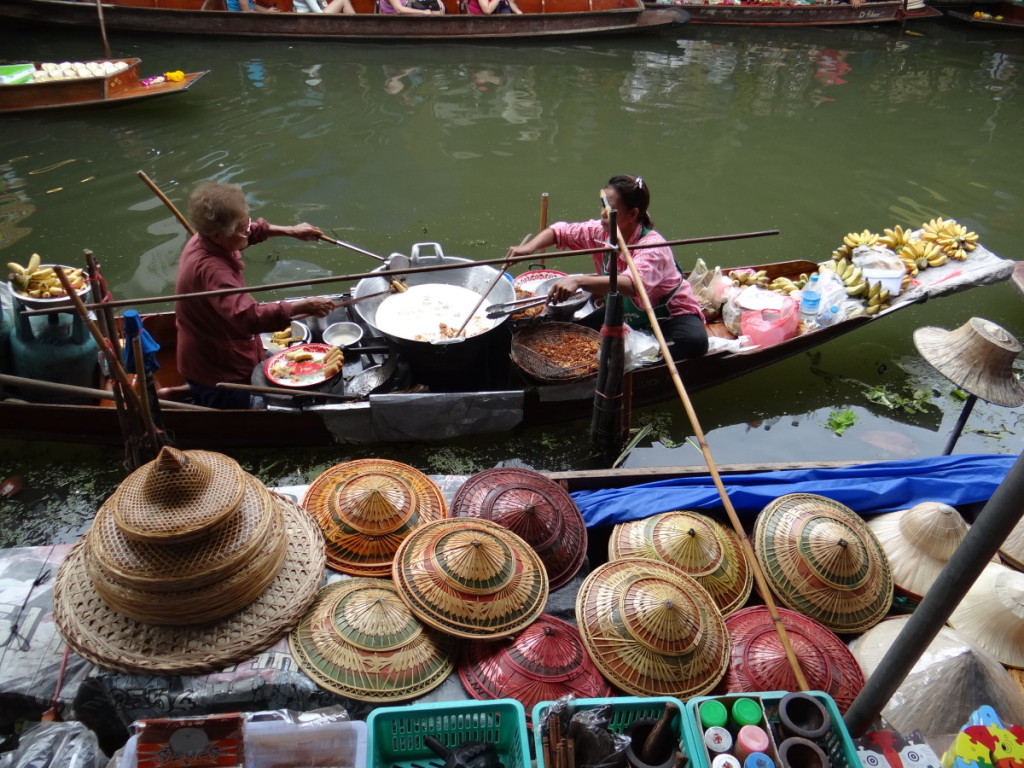 We stop off part way through to try a complimentary sample of sweet coconut nectar. I like it, but Explorason is not so keen, but he is at least always giving things a try.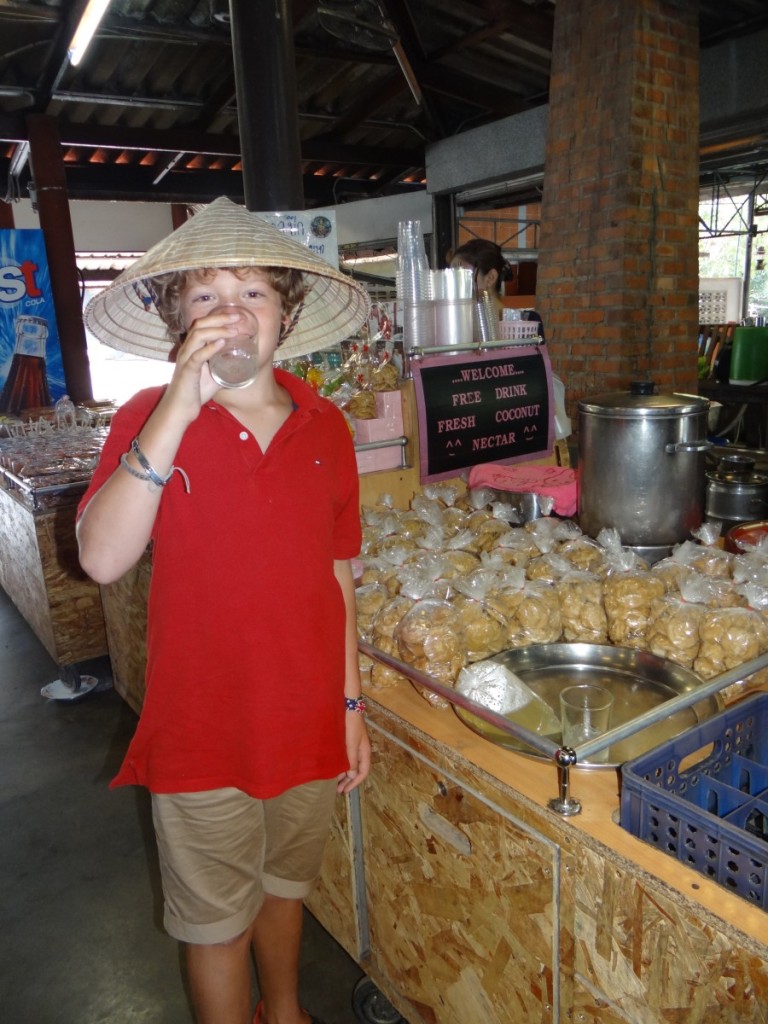 We have a little fun. We are such good spirits here. there is something about these floating markets that makes you feel relaxed and happy. Like I said – maybe your troubles float away here?
Maybe too it is because we have a Private Thai Guide and I know the whole day is taken care of, and I don't have to organise anything.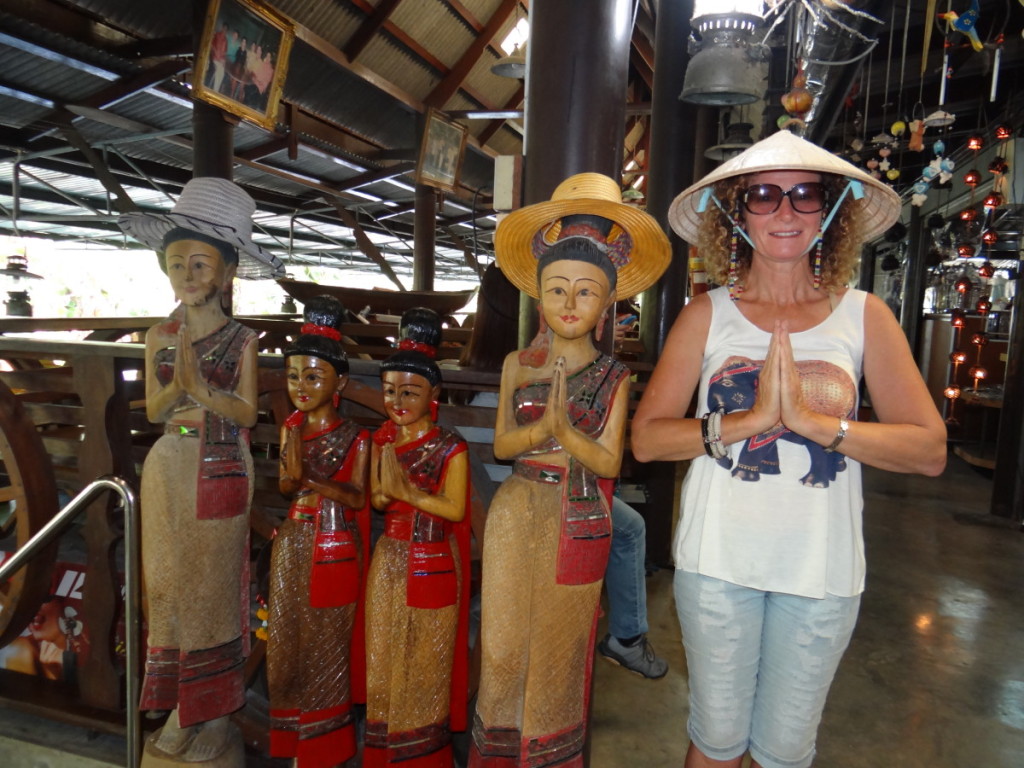 We then head to the traditional housing area and locals 'walk the plank' to get farmhouse to house.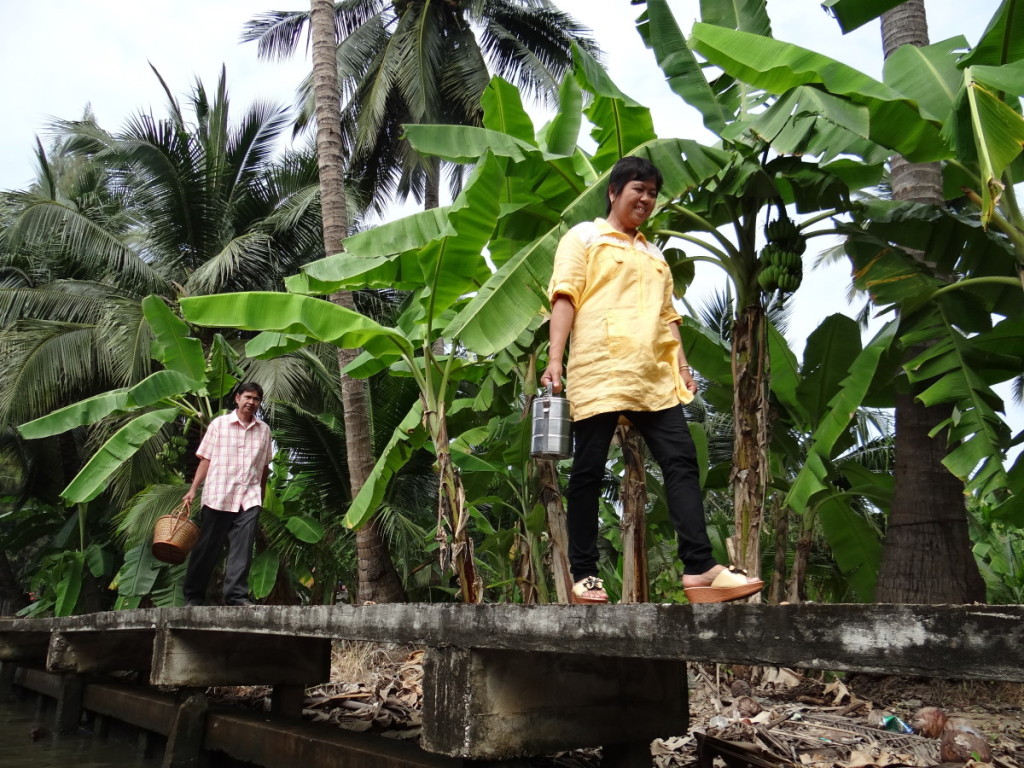 It was about now that both Explorason and I decided we would like to see more of Thailand. We realised that in just a week we could see some of the highlights of Bangkok, but there was no way we could see it all. Let alone my passion for 'The Road Less Travelled'.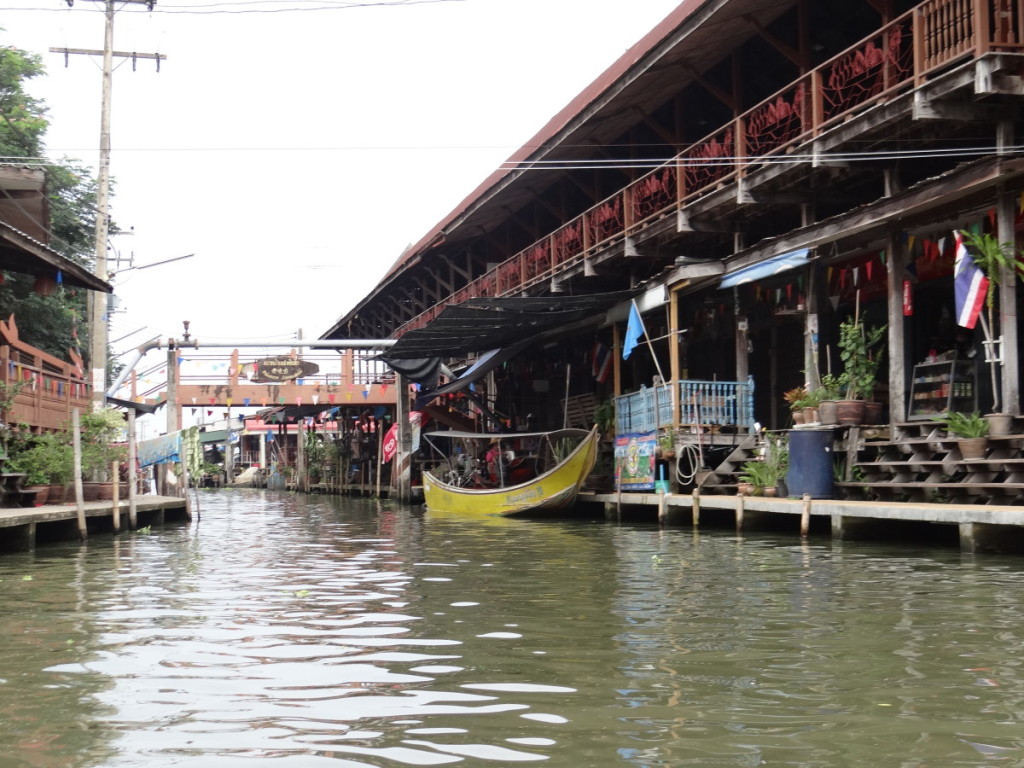 We want to see the traditional culture. The Thailand of yesterday.
We both realised we'd like to come back and see more. It would be perfect to use Ganna Travel for one of their other tours next time.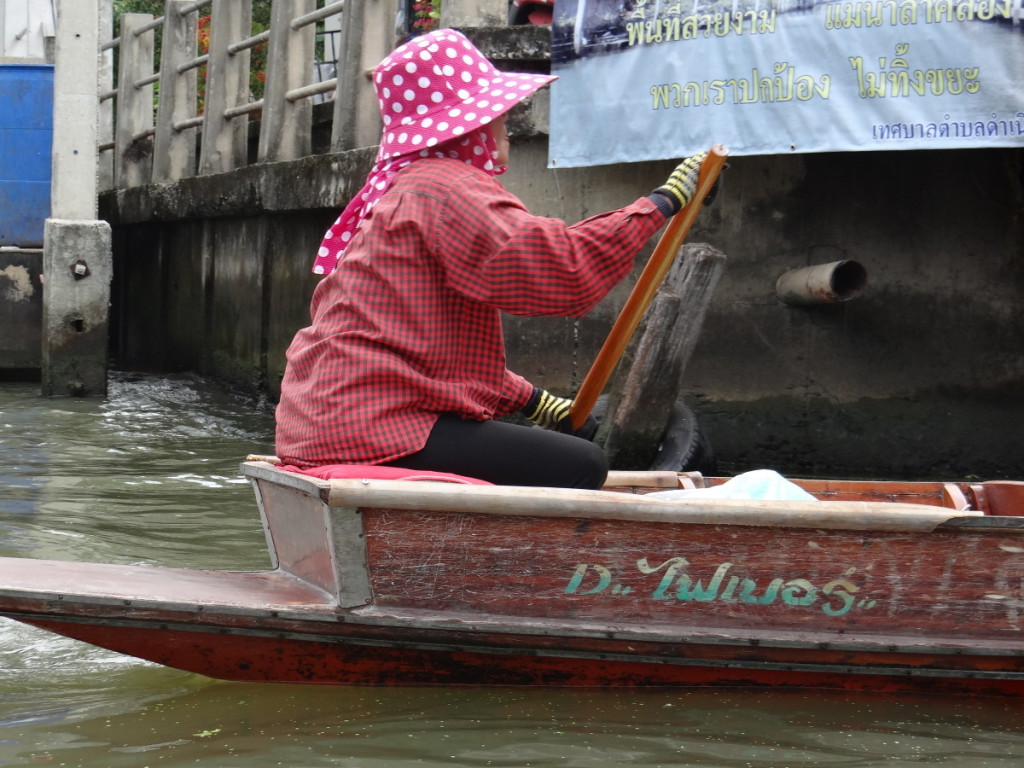 As we head past more food sellers, we realise we are getting hungry!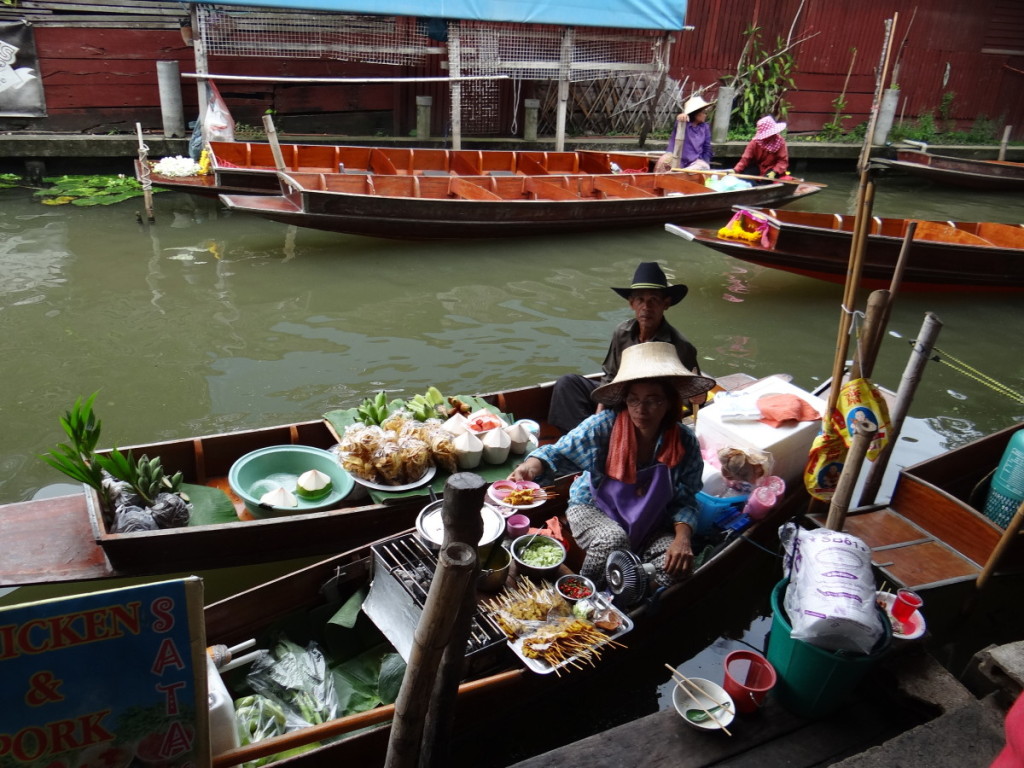 We hop off our boat, and meet the lovely Gina our Private Thai Guide again, and she shows us the land market area, and the main bridge.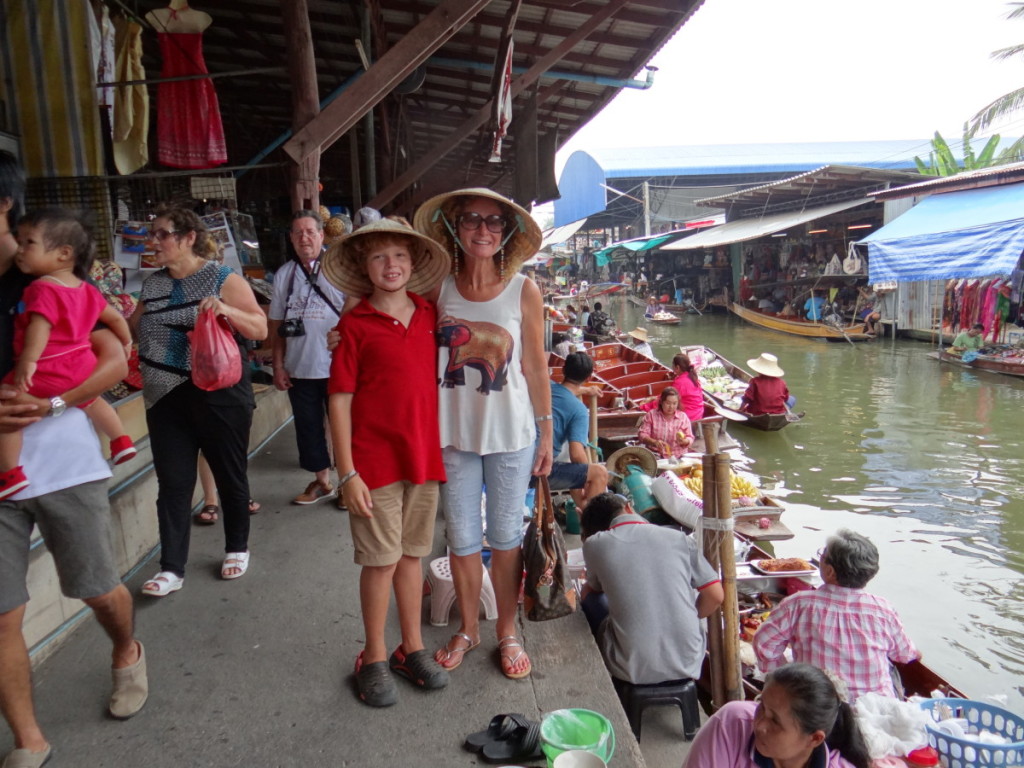 We are off for the rest of our day tour which we just loved!

'Stay tuned', and we'll show you all the exciting photos of what is next I'm another article soon!
Ganna Travel Co.,Ltd
Tel: +66 89 1245136 , +66 89 1168759
Please read our Disclaimer here
Disclaimer: This post may contain Affiliate Links, Sponsored Content, or .…