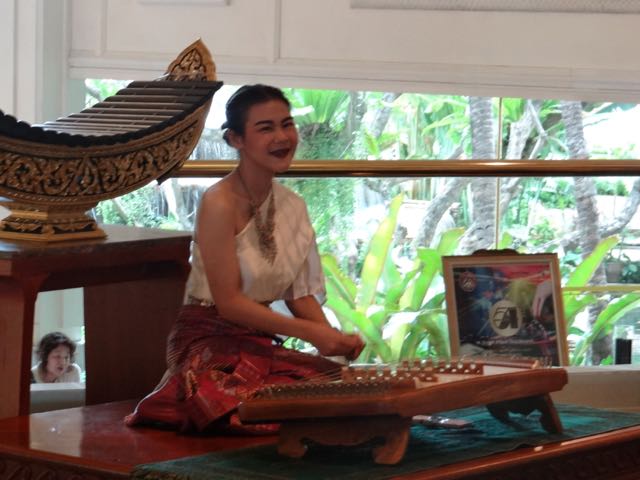 Our trip to Bangkok has exposed me to something new that we would like to share with the world.
I sat in shock talking to the marketing staff about one of our most favorite hotels in the world – The Dusit Thani in Bangkok.  This is the third time we have stayed at the Dusit Thani and we love it because of the quality of our stay, as well as the service, are always exceptional and consistent.
What Does She Tell Me?
I'm in shock. This is after learning about the planned renovation of the iconic Dusit Thani Hotel. I have to admit that I did not quite understand why such an iconic hotel would want to renovate when it already had some of the most luxurious facilities and services.
What more do they really need to add? These are some of the questions that I could not help but ask myself, and of course, asking her.
However, after a while, I came to understand that such top-rated hotels are always geared towards offering the best of customer care services. This is why they will go to the wildest of extents to ensure that they remain the best in the region.
So here it is …
WHAT HAPPENS WHEN AN ICONIC HOTEL GETS TRANSFORMED – AND WHY.
Keeping Up To Date
Bangkok is a modern and progressive city.  When I first came to Bangkok over thirty years ago, things were very different than now.  And in the past two years, we have made sure we include Bangkok as our Asian shopping destination, always including a stay at the Dusit Thani.
But the time has come for the Dusit Thani to update and modernize.  A structure of nearly 50 years old faces issues that often are easier to demolish and start again than just touch up.
So Dusit Thani is going to keep where it is but to completely have a whole new look over the next two years, with a better use of the ground area where it currently stands.
So exciting new changes are coming.
Customer Service
When iconic hotels have a major overhaul, everyone seems to be attracted to them. Dusit Thani is proud that they are can offer all of their staff positions throughout the company – right around the world, including their other properties within Thailand, of course – several of which we have stayed at in the past.  That is a big task and a major achievement.  They will have opportunities to learn new skills and to see how other Dusit properties work.
This means by the time the hotel is ready to reopen its doors, the staff that will be engaged here will be able to offer customers the highest level of service.  When professionals flood a hotel's corridors, then you can always be sure that you will be the happiest of hotel guests. I have actually realized that hotel staff contributes to almost 80% of all the customer reviews on travel blogs.
Comfort
Every new interior design decision will be focused on what the hotel guest needs and is an exercise that always brings total comfort and class into each suite and room. The new rooms are made more spacious as everything within it is rearranged and up-to-date amenities are installed. The air conditioners and lighting systems will be new; environmentally friendly and quiet too, and all these add up to nothing else other than comfort.
I just wonder how comfortable the rooms would be after the whole process since I feel like it is currently already a fabulous place to stay. The good thing about iconic hotels like Dusit Thani in Bangkok is that they never concentrate on the beds alone. They understand that even if there are comfortable beddings in every room, it would still be uncomfortable if they are poorly arranged or if every item within them is of poor quality. Comfort follows after quality, and this is exactly what such hotels believe in.
So just expect the best of the best when Dusit Thani reopens its doors, but you still have time to stay before they close now too – if you are quick.
Amenities
Most top star hotels have spas, swimming pools, gyms etc. These to me are some of the amenities that make such hotels more welcoming and will see me spend more nights just enjoying the services offered in these facilities.
It is great that hotels like Dusit Thani already have amenities that are fully and perfectly operation and great guest facilities. In other words, even before the new Dusit Thani Bangkok opens its doors, customers are satisfied now. It is almost hard to imagine how great the amenities will be after they are renovated.
I'm excited about what is ahead. And so are their guests, and of course their staff and management.
The equipment will not just be enough, but there will also be a proper system of management to ensure that they are appropriately used to the satisfaction of each guest. This is what everyone is looking for.
General Feel
Iconic buildings always have a feeling of two in one. As I said earlier, not everything will be changed. What will remain?  Some of the antiques on display, I believe hand painted pillars, and some surprises you will just have to go and see for yourself.
But the main thing that will stay the same is the excellence of the Dusit Thani in Bangkok. This means that you will still feel like you are in the same hotel while at the same time you feel the newness.
It will be like being in two top star hotels at the same time but at the cost of one.
What more can you really ask for?  Such a hotel will definitely be in high demand when it launches around 2022.
The good thing is that it will have an incredible new structure that will assure every guest of maximum satisfaction.
Exciting And New
The Dusit Thani in Bangkok is an institution.  It has been around for nearly half a century, and it is a place everyone knows. But it is time for it to modernize and to attract even more folks.  Already it has attracted celebrity guests from all over the world. Many come here for their fine dining at one of their many international restaurants because the food is always excellent, and the Thai service is perfection.
Dusit Thani has a great selection of bars, cafes and restaurants that in-house guests and external customers are welcome to visit including The Pavilion, 22 Kitchen & Bar, Benjarong, The Mayflower, Hamilton's Steak House, Thien Duong, Shogun, Dusit Gourmet and the iconic Lobby Lounge where every in-house guest receives a complimentary welcome drink.
We dined on our last evening here at the Benjarong Restaurant. Beng in Thailand it is almost a crime not to have a Thai dinner and to experience the signature dishes of this fantastic Bangkok restaurant.
If you are heading to Bangkok soon then don't miss farewelling the old Dusit Thani, and watch out for the new Dusit Thani.
Surprises will await you. What is next? Wait and see.
The best is YET to come!