It's my birthday – I can't believe I am turning 55.  How did that happen?  I really don't know, but I want to celebrate it in a new country, with new memories to start a new year, so we chose the tiny islands of Malta as country 69 on our world trip.
And OH MY GOODNESS – it was glorious from start to finish – Add Malta to your Travel Bucket List.
We've just spent one glorious week there, and I admit prior to visiting Malta my ideas of what I thought Malta would be like were wrong. Very wrong.  I thought it would have a kind of Italian feel to it. After all, it lies only 90 km south of Italy (Sicily).
And what I've learned in the last week, is that more of my Facebook friends also had no idea either where Malta was, or what it would be like, so we are here to tell you all about it.
A Little Information About Malta
MALTA is officially known as the Republic of Malta and comprises of three islands surrounded by the Mediterranean Sea, with the main island also being called Malta.
Malta is most famous for its biblical reference when one of the apostles of Jesus named Paul was shipwrecked in the northern part of Malta.
Malta is included in the list of top ten smallest countries in the world, and with a population of less than half a million, it is also one of the world's most densely populated countries.  Few ride scooters or motorbikes, so the traffic can be dense with nearly one vehicle being accounted for by every human inhabitant (allowing for trucks, buses etc).
Select Your Island
With three islands named Malta, Gozo, and Comino and only 316 square kilometers, it is important that when you come to Malta you select an area to stay that is right for you.
For us, we wanted to base ourselves on Malta, the largest and main island because we knew we could take a trip to the other islands if we wanted to.
Select Your Area
We chose St. Julian's Bay area because we could be close to a beach for morning walks or a view across the bay; a place that had both indoor and outdoor pool facilities (their 'winter' which is really mild); we wanted to be close to the shops, restaurants, and kid-friendly activities like movies.
Select Your Type Of Accommodation
There are family Spas, Boutique B & B's and Guest Houses, Hotels, Apartments, Air BnB, and Resorts.
We wanted a resort style property so if the weather wasn't so sunny or we were tired, we didn't have to leave. We will talk about our accommodation recommendations a little later in this article because we are in Malta to celebrate!
Celebrating My Birthday
There was no nicer place to celebrate my 55th birthday than here at the Marina Hotel Corinthia Beach Resort.
I woke to Explorason having wrapped gifts that he had purchased over several months. Some I admit I knew about, but there were others he had carefully purchased in private and the bags had remained unopened.
Metallic streamers and balloons covered the room.  This was an eleven-year-old who knew we were going to have a fun day.
Exceptional Service
We nearly didn't get to Malta!  We were booked on the catamaran from Sicily, but on Saturday it was canceled for three days due to rough seas and high winds.  The same rough seas that shipwrecked St. Paul were at it again.  So thanks to a marvelous man named Stephen who managed the Guest Relations, emergency plans came into play and a last-minute flight with Air Malta was booked.
We actually arrived earlier in the day, and at a less expensive overall price than the catamaran, and thankfully with not even a rough flight. The seas were horrendous, and I can see why the ferry was canceled. Stephen even organized our taxi to be waiting at the airport for us.  It was an incredible service, and something I am so thankful for.
The afternoon we arrived there was a knock on the door, and we were presented with a 'Welcome' card, drinks and fruit for the week – just perfect!
Birthday Breakfast
We started my birthday with a lovely breakfast down in the main restaurant directed to our table by one of the Maltese friendly staff.
After I was poured fresh steamy hot coffee, we then went to choose our food. crunchy crusted Maltese bread called
Eastern, Oriental, Western and of course Maltese food lay before us with many healthy choices.
Some of the foods included: crunchy crusted Maltese bread or 'Ftira'; a great selection of hot and cold meats, cheeses fruits and vegetables, and I was able to try traditional Maltese pastries called Pastizzi that were stuffed with either ricotta cheese or a paste of peas. I was so pleased to try Maltese food on my first day because a friend had already given me the 'heads up' that Maltese food was 'a-may-zing!'
Birthday Lunch
We decided to walk and headed first to the little beach at the bay. It was lovely and warm in the sun and we started to wish we had worn more summery clothes even in the middle of their winter around St Julian's Bay and down into Spinola Bay.
We then wandered the streets (and missed our turn) and found our way eventually around St Julian's Bay and down into Spinola Bay.
We walked right along the waterfront and I was surprised how alive Malta was compared to Italy (which seems to have closed 75% of its doors for winter).  Malta was buzzing in a relaxed kind of way, and tourists, Expats, and locals were all enjoying the sun.
We chose a restaurant overlooking the bay, and it was delightful. It was so warm we had to ask for a table in the shade when we first arrived, but later moved over to the sun.
I was overwhelmed with the Happy Birthday personalized and many private messages that I received (mainly over Facebook).  I think there were about 500, so most of our lunchtime I seem to spend sending 'thank you' messages.
We decided then that it was time to get into the day so we strolled back getting Explorason a haircut on the way, and buying a few souvenirs.
Birthday Cake
We looked in vain at cafés (during our afternoon stroll) as Explorason wanted to get me a birthday cake. So it was a lovely surprise when we entered our hotel room to find a Happy Birthday cake waiting for me!
Being such a perfect day, we sat out on our balcony whilst Explorason lit the candles and I made a wish.  It was really perfect! And I mean REALLY PERFECT. Overlook in the bay in the balmy Malta weather, this was working out to be just the kind of day I wanted.
We then went for a jacuzzi, and by then it was time to get ready to officially explore Malta.
Karozzin Ride
We were being taken out for a special treat.  A traditional Maltese Karozzin (horse and carriage) was awaiting us when we arrived at the entrance to the 'silent city' – ancient Mdina – the old capital.
As we entered through the gateway in the fortified walls it was like entering another time. We were alone in the old paved streets and only the sound of the horses' hooves could be heard!  It was incredible as we whisked down narrow alleyways and past old wooden doors and churches.  We huddled together in the cold as I wrapped my shawl around us, but it was worth every second. Mdina is also known as the Silent City, and this night it was just that – silent! It was something I've never experienced anywhere in the world before, but certainly a really great memory on my 55th Birthday.
Mdina Dinner At Medina Restaurant
My Birthday dinner was celebrated within the fortified city of Mdina.  And the restaurant was called Medina, like the old city name and of course, it served traditional Maltese food.  The Maltese sharing platter at the start was great, the Maltese wine was delightful, and the locally caught fish was perfectly cooked. Of course, I had to try the famous drink of Malta – Kinnie, and I loved it (but Explorason didn't).
The setting of this restaurant is ancient and it is located just off Mdina's main Cathedral Square, in one of the typical paved winding alleys and it feels like you have stepped inside a charming piece of history.  Warm fireplace with a crackling fire in winter and exceptional service greeted us. Inside it is full of Romanesque features, allowing for a uniquely Maltese dining experience with the honey-colored stone walls.
It was the perfect birthday – if you are celebrating your birthday, I'd recommend Malta. I told Explorason it was one of my best birthdays ever!
The night ended as our driver returned us to our accommodation.  Malta has great choices for accommodation but here is what we found and suggest.
5-Star Accommodation
Everyone loves to be pampered in style (including me) and Corinthia Hotel, St. George's Bay is the perfect 5-Star Accommodation. It actually joins hotels with its sister property Marina Hotel Corinthia Beach Resort – St. Julian's, which is 4-Star.
SHARING FACILITIES:
Both properties share facilities, so restaurants, bars, gymnasium etc can be used by guests at both hotels, giving us greater choice.
LEISURE AND SPA FACILITIES:
With a breathtaking view of the coast of Malta, there are six pools to choose from, and we loved the indoor heated pool and jacuzzi tub.
Right next to the indoor pool is the Spa area, and they have a unique and exclusive range of essential oil products like the candle I now have tucked in my suitcase.
We found ourselves relaxing on several occasions in either the jacuzzi or Explorason would have a swim in the pool after a day out sightseeing in Malta.
COMPLIMENTARY WALKING TOUR:
There is a complimentary once a week walking tour that goes between both of the watchtowers once a week, and although we wanted to do this, we found we just ran out of time. I heard rave reviews about the guide, and this needs to be booked in advance as it is quite a hit with the guests.
DECOR:
The decor is in keeping with the history of the islands, with the Knights Of Saint John and the Megalithic Sites all sharing some importance in the choice of decor, ornaments, and decoration.
RESTAURANTS:
There is a choice of several restaurants and bars, so whether you here day or night, in the heat or the cool, there is always somewhere to enjoy 5-Star cuisine or a relaxed drink. No need to even leave the property, as they seem to have it all.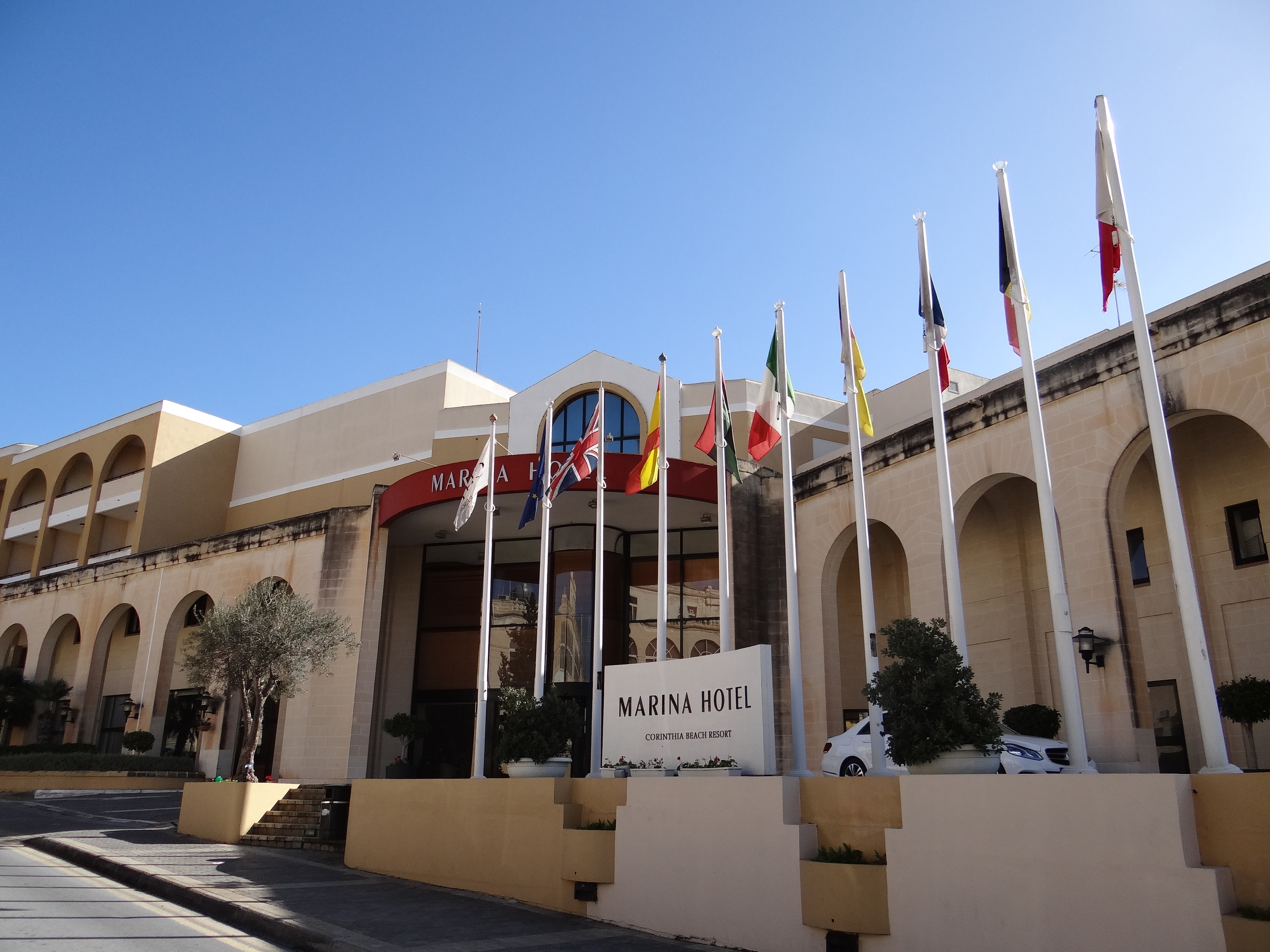 4-Star Accommodation
Marina Hotel Corinthia Beach Resort ended up being our home for the week because the 5-Star sister property was booked out.  Our room was probably the best in the whole hotel I think.
We had a killer balcony with seating that overlooked the bay and every morning I was greeted with majestic sunrises.
Our room was huge with plenty of room to pack away all our clothes, use the desk, the table and more.
We went out every day exploring Malta (we will write about that in separate articles).
The hotel staff was just so professional, booking taxis to collect us, helping us with our travel drama from Sicily, and much more.  We loved it so much that most nights we stayed in.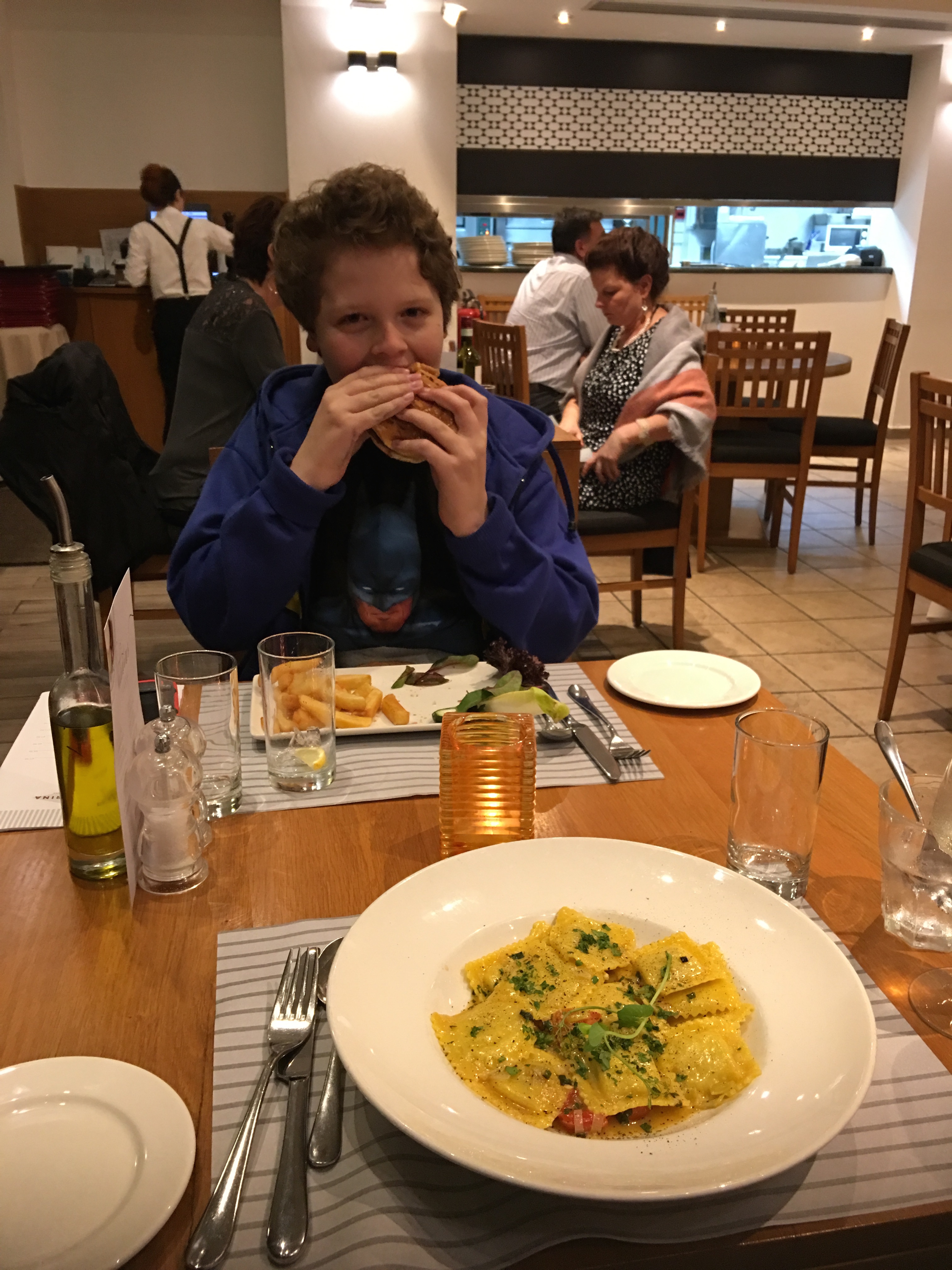 Like A Tree – We All Need To Eat And Drink
From a snack or drink to a stylish gourmet meal, our hotel had it all. Like a tree, we need to input to grow and sustain life.
There is Café 24 downstairs if we didn't want a full meal or needed a snack, where we could dine on Maltese home-style soup, pies and more.
After all, there was a brilliant Italian restaurant downstairs where Kids Eat FREE 7 nights a week.
So it was fitting that on the final evening of our stay in Malta that we dined at Da Marina.
With local Maltese wines and a great choice of dishes, it is not surprising that people not just from the resort, but all over Malta chose to dine here.  One evening we even needed a reservation, as they were packed out.  So on our last evening in Malta, this was our perfect last dinner.
We have so much more of Malta to share with you in our next articles.
But meanwhile, why not pop over to our Facebook to see some of the great places we visited, or look at our brilliant photos on Instagram.
… … … … … … … … …
Our Guide
We were blessed to have an amazing guide Father Nicholas also known as Dr. Nikola Soukmandjiev.
You can book him by emailing him at soukmandjiev.me.com
… … … … … … … … … … … … … … …
If you enjoyed this article or found it useful – please consider sharing it.
Questions and Comments
Do you have a bucket list?
Where do you see celebrating your next big stage of life -birthday?
Why not share with us your thoughts below? If you have no plans, wuld you mind trying ours?