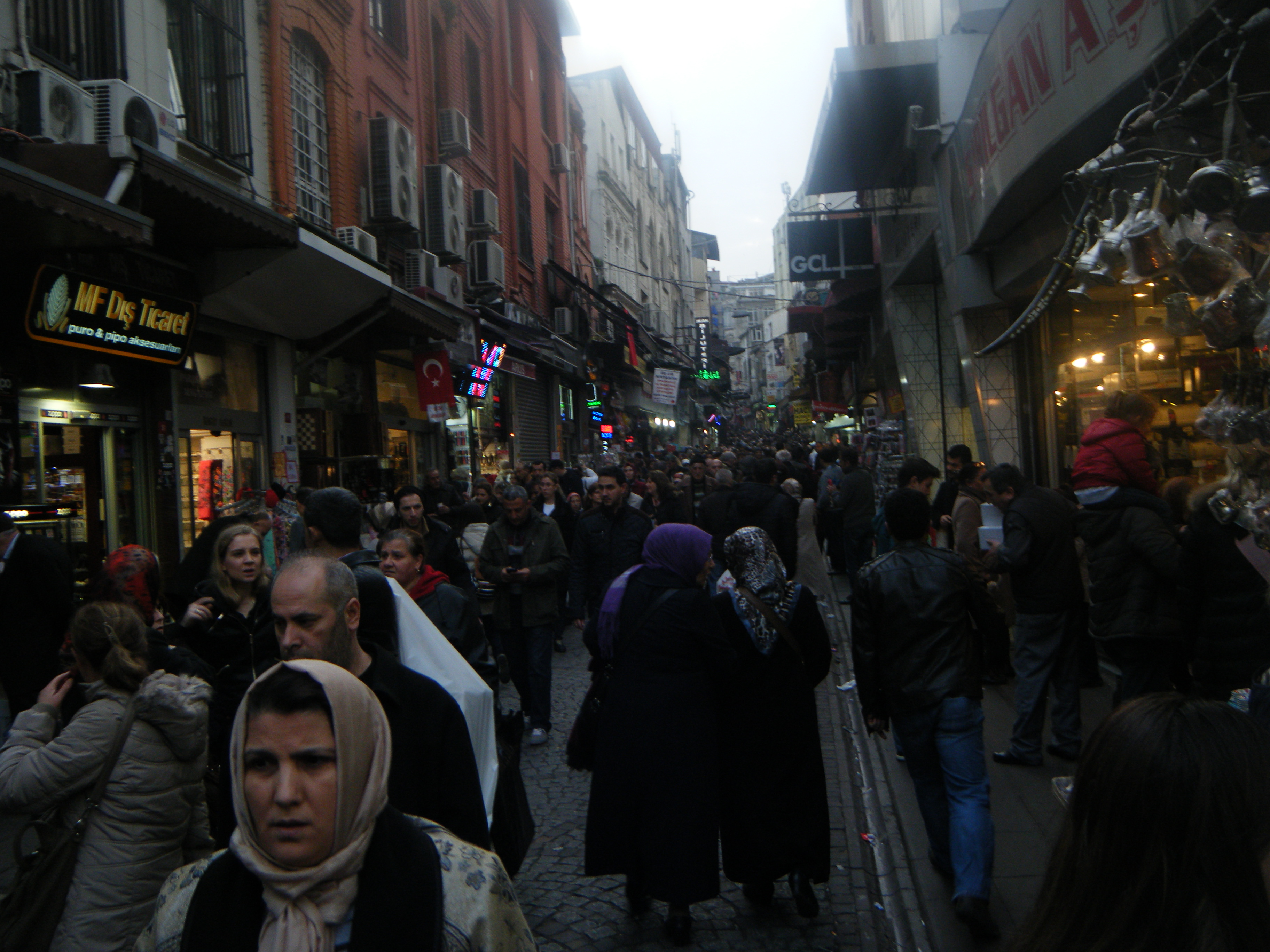 The Travelling Stranger In Istanbul Turkey or An Angel In Istanbul?
I drove into Istanbul for the first time in my life at peak hour – guided by a GPS that could not be trusted.  Dusk was creeping into the afternoon sky, and the voice that guided me from this device instructed me to turn right into a place I will ever forget.
As we drove down the one-way lane there was no turning back.
We turned another corner and a mass of people walked the street like buzzing bees to a hive – they were everywhere and packed the streets like sardines in a can! Throngs of pedestrians parted like Moses walking into the Red Sea as I drove our car deeper and deeper into 'trouble'.
Next, I look up and I am beside the Grand Bazaar in the old quarter of Istanbul! This is the kind of thing you see in a comedy movie, but this was the US in real life.
Yes! I was in serious trouble.
Driving a car through the Grand Bazaar?
You must be kidding me!

This is clearly not a place cars should be, let alone a single Australian Mum and her child driving their black car. My nerves were on edge, and my stomach started to churn as folks started banging on our vehicle glass and metal panels.
Tourists glared at us like we were complete idiots and laughed at our predicament, and I felt like a complete fool for listening to this British GPS that seemed so often to misguide us.
I wound down the window in distress hoping for assistance.
It was clear from the steering wheel being on the 'wrong side' plus our GB license plates (along with our dust-covered car stacked with luggage) that we were 'travellers in distress' and that we had no idea where we were meant to be going.
What happened next I will never forget.
Instead of an angry crowd, the local Turkish folk all gathered around trying to assist us. They stood around the car all speaking Turkish at us – we had no clue what they were saying – and somehow we did a U-turn on what felt like a coin-sized area. One man at each corner guided our vehicle as it somehow managed to do a 180-degree spin.
I pulled out my notebook and showed them the address of our Hotel, and a then one of the gentlemen offered to get in our car and 'show us the way'.
With the back seat full of bags, my son climbed onto his lap as we snaked our way through the back streets.
Closed off or barricaded streets blocked us. When we finally found the way, roadworks closed the way yet again as we looked on to a street with a gaping hole in the center.
Now many of you might think I was crazy as a single Mum to let a stranger into my car, but often a stranger can be trusted, and in this case, I felt I could trust him.
It took 40 minutes to find our way – even though the hotel was only a few blocks from where we turned off incorrectly in the first place.
When we arrived, he helped unload our bags, and then we both looked up and he had DISAPPEARED!
Sometimes I feel like an angel helped us that day.
Whoever he was we'll probably never know, but this total stranger showed us the true spirit of those that dwell in Istanbul.
We Are The Strangers
Istanbul is a city of humans (just like you and me) who welcomed and cared for us, for really we are the strangers visit their land.
Often tourists and travelers demand or act as though they have 'rights', but we believe we are guests in their country and in this case we were guests of Turkey.
Not a day went by as we journeyed through Turkey that a stranger did not help us. It was often directions, something a little extra for my son at a meal, or a smile. We stayed at a hotel and the owner (when we chatted and told him we had visited Troy) went and gave my son a little Troy statue that we will cherish forever because we remember 'the little things' and they hold special memories of the kindness towards us.
We stayed at a hotel and the owner (when we chatted and told him we had visited Troy) went and gave my son a little Troy statue that we will cherish forever because we remember 'the little things' and they hold special memories of the kindness towards us.
Istanbul Awaits You
Now – just a couple of years later, the streets of Istanbul are not so crowded. The tourists are few, and the travelers who stay certainly wouldn't be blocked by crowds like we were that day.
The Grand Bazaar is still packed with Turkish lamps, painted pottery and traditional wares for sale, as the seller waits in hope for a sale that day. But it is not packed with tourists.
The events of their land and neighboring lands in the past years has affected the Turks, but these individuals did not cause it. They are the people who live here and life goes on with hope in their hearts that one day tourists will again crowd the streets. They need to feed their families and they continue to welcome you here. They cannot change the past, nor give you a promise about the future.
But they can show you truly the true hospitality of Istanbul.
As they pour you a coffee and feed you your meal, take time to look at the person who serves you, for he too has a story to tell; a family to feed; a life and dreams; and a purpose on this earth – just like you.
Our world journey has taken us to 70 countries now over nearly 5 years.
We do not live with fear because we believe God takes care of us. I was recently told, "more people choke on a fish bone than get caught in a terrorist attack".
We look forward to traveling to Istanbul once more.
And as we do, we will keep our eyes open for the stranger who helped us that day.
Maybe he really was an angel – we will never know.
If you enjoyed this article or found it useful – please consider sharing it.
Questions and Comments
Do you have anything that freaks you out when you visit foreign nations?
How do you choose who to be friends with and when do you make that decision?
Feel free to leave us your thoughts in the comments section below this post.