Darling Harbour is a fabulous area that set on the water's edge of Sydney, Australia.
I know it is 'fabulous'. Why?  Because twelve years ago I lived right here!
In fact, Explorason was a bump in my tummy when we left Sydney to move to Adelaide. And we lived in an apartment right behind here I was staying (see the photograph above), so it seemed a perfect time to show Explorason where life all began for him.
It is also a perfect time to see how much Darling Harbour has changed – from when I was here as a DINK (double-income-no-kids) to now being a SMAK (single-mum-and-kid) with a pre-teen child.
Discover What's On
We had heard how Darling Harbour always has great activities for children, and particularly so in the school holidays. We'd heard that in years gone by they had run an event called Cool Yule (finished 17th July), so we decided to head there as our first Sydney destination in our latest city we would explore.
To find out what's on in Darling Harbour, visit their website.
How to get there
Darling Harbour is easy to get to if you are coming into the city.
Just get off at Town Hall if you catch the train (you'll need to purchase an Opal Card prior to travel), and wander down to the Pyrmont Bridge. This is now a pedestrian walkway and is an old bridge that opened to let sailing vessels into the marina area.
Cool Yule
We had a blast Ice-skating (and I loved that lockers were available to hire so we could lock away our valuables and be free to enjoy ourselves).
Cool Yule has run each winter for the past few years in the school holidays.
Warm your heart without burning a hole in your pocket. Cool Yule is a hot event in the coldest time of the year here in Sydney but check their What's On to see events when you plan a trip to Sydney.
There was lots of family fun at Darling Harbour with Cool Yule, including ice-skating; a Ferris wheel; a Snow Pit; walk through Frozen Forest; 
Snowflake Playground; 
night-time Fireworks; a Floating Iceberg; and much more!
I loved watching …..
Parents spend time with their children.
Children that don't know each other join in group play in the snow.
Toddlers & little kids build snowmen for the first time ever in their lives.
A Gourmet Delight
There is a dining experience to suit every budget.
Along Cockle Bay Wharf you can find some fabulous restaurants and bars, and choose to dine out in the sunshine, or inside in the shade. Perfect for people watching!
Or head on into the Food Court where there are a plethora of gourmet delights that will please every palate.  Countries of many nations present their favorite dishes.
We decided on a touch of French, and both had fabulous crepes made with fresh ingredients before our very eyes.
Free Playground
Explorason loved the climbing Spiders Web the most. The day we went it was packed full of children clambering to the top whilst the parents stood and sat in the sunshine.
There was also an interactive play area, where science and water teach children as they and have fun.  One boy set several others to work pumping the handles, so a torrent of water spilled down. Explorason was one of his happy laborers.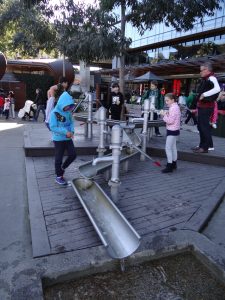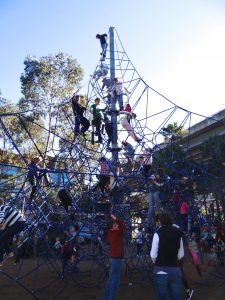 Other areas hosted giant toys to play and build with and whole families could get involved. This I believe is a school holiday only event.
Another area had a flying fox, and also a climbing wall with tunnels under it.
This was also a huge hit with the kids queueing to slide down.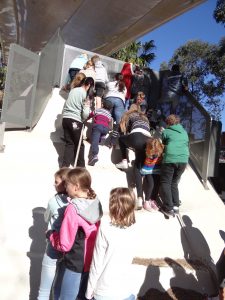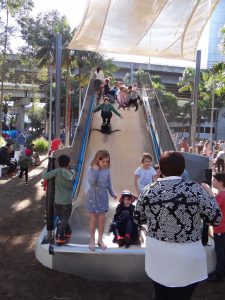 Chinese Garden Of Friendship
 Emperor's Quest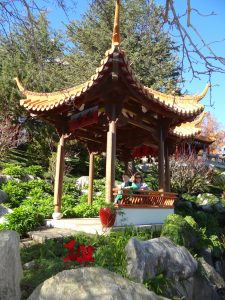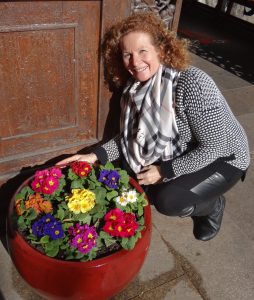 Get set for some family fun when you visit the Chinese Garden of Friendship.
Kids are given a map for the Emperors Quest and need to do find and learn about the symbols of the Chinese Calendar that are hidden around the garden.  You can see the red dragon in the photo above where we sit.
Wander The Gardens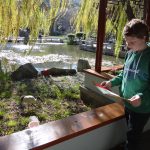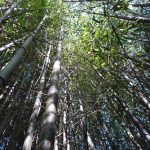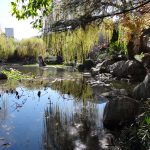 Whether it is playing hide-n-seek in the bamboo garden, or leisurely strolling the bridges.
Then there was admiring a pot of flowers, we had a load of fun in the Chinese Garden Of Friendship.
There were a lot of Ibis birds flying around, and we did need to dodge a few poops that came from the trees above!
I know it is meant to be good luck to be pooped on by a bird, but I think it is luck I can do without.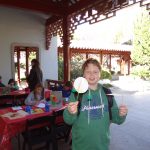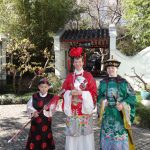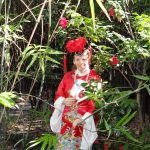 School Holiday Chinese Toy Making
Explorason had a great time learning with Chinese art.  Kids were busy making several musical instruments, puzzles, or toys that flew.
We allowed an hour for this time.
There was also an opportunity for the children to feed the fish, and the food is supplied.
Traditional Chinese Dress-Up
My favorite part of the day was our time dressing up!  Gosh, we had such a great time, and it is really reasonably priced too!
As soon as we entered, 'Sam' the manager treated us with care.
He is an Opera singer and as he dressed us, he explained to Explorason all about the reasons for the style of clothing and who was who in Chinese history.  He also had a lady assistant, who was a whizz with my camera.
They then assisted with taking our pictures and even allowed us to wander around the garden. This opportunity to wander the gardens in these beautiful garments simply amazed me.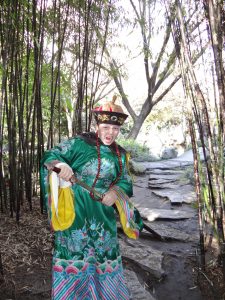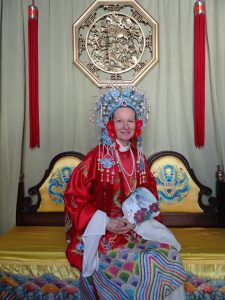 We then came in and had two further photo sessions.
The first photo session was fun – I wore the lighter headpiece (I had worn this in the garden) and Explorason wore a beard – it was so hilarious to see an eleven-year-old with a beard!
We then finished with a final photo shoot, with two traditional headpieces that weighed a tonne!
If you visit the Chinese Garden of Friendship, make sure you go and say hi to Sam.  He will allow you to select your favorite color to wear and it will be a great experience! Sam can even facilitate group dress-ups too so for further information and their amazing prices, please read here.
Where to Stay
If you'd like to visit Sydney, why not stay near Darling Harbour?
We had a great time at Darling Harbour and ended up spending the whole day there and leaving just as the sunset.  We thoroughly enjoyed our time, and I can definitely recommend this as a 'must do' location to visit if you head to Sydney – with or without a family.
Please read our Disclaimer here
Disclaimer: This post may contain Affiliate Links, Sponsored Content, or…