Ubud was once 'just' a tiny mountainside town in Bali, Indonesia.  Nestled in lush green forests with a deep river ravine etched between the rolling hills and rice paddies, Ubud has now become a haven for tourists visiting Bali.
Many travelers visit seeking peace, and serenity, and of course the traditional charm of the Balinese lifestyle.
When we last came to Bali in January this year with an Alliance Indonesia Tour, we popped in briefly to Kori Ubud Resort and Spa, and I was awestruck by the beauty and charm this property offered.
With that in mind, it seemed like the right place to come and have a rest here.
We've just finished an amazing time at Elephant Safari Park and Lodge – hugging, feeding and washing these amazing elephants at this sanctuary.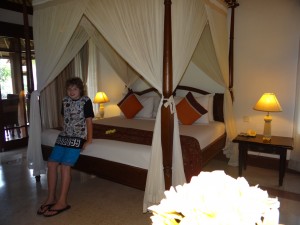 We arrive mid-afternoon on the first day and had a chance to look around the property.
We were invited to view several of their rooms and select which one we would prefer. how kind!   (This, of course, is only an option if they are not booked out.)  I chose the older and more traditional Bali style room upstairs, with a view toward the restaurant.
Everything is presented so tastefully, and I love the thatched roof.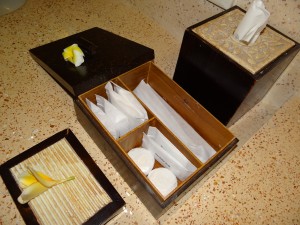 There are lower level new rooms, but they lacked the old-world-charm that I believe makes Kori Ubud Resort and Spa so special.
We just loved our Balinese high roofed room, and soon learned a very big harmless Gecko has a home in the roof – now that is Bali!  I really just love the charm and style here at this resort.
We unpack and enjoy a swim in one of their two swimming pools.  Both the pools are busy with tourists having a days rest between their tours.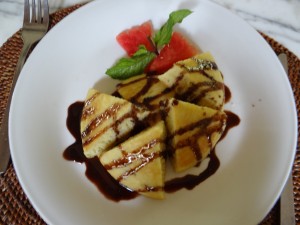 That evening I didn't feel like eating, but Explorason ordered from the restaurant.
Little did I know that on our very first night here, I would become incredibly ill.
Around midnight it all starts. By early morning my son rang the Kori Ubud Resort and Spa reception. They kindly called the 24 hour Ubud Medical Clinic, and the medical center sent out a Doctor and his Assistant to tend to me in our resort room.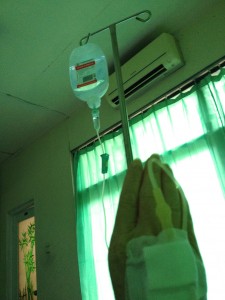 I was so sick for several days with a bacterial infection throughout many of my internal organs.
On two separate occasions, the doctor was called in – once in the middle of the night, and this resulted in me being taken into Ubud Medical Centre and spending those days on an IV drip.
As a single traveling Mum, this is probably the worst problem – to be very sick away from traditional support systems like family and friends in Australia.
Explorason was fantastic, and I must say that traveling has instilled in this boy 'good common sense', and a high level of maturity when a crisis occurs.
He messaged friends and family using social media (thank goodness for wi-fi), and informed them of my illness and updated them with day to day progress. As I was so very sick, he was fantastic and a very mature eleven-year-old.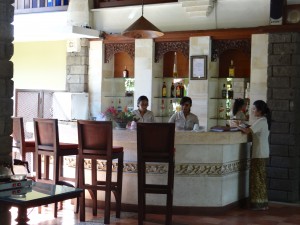 Fortunately, we did have traveling friends – who own a home in Ubud (now traveling overseas), and she organized local backup help if it was needed.
I even had another traveling friend – who is a mother of nine, who offered to come and assist me in Bali if things became worse.
Considering she has some special needs children and is in Israel, that was pretty amazing.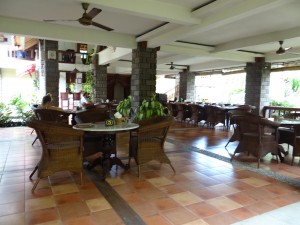 But meanwhile back at the resort, Explorason was tended to by Kori Ubud Resort and Spa staff with amazing concern.
I'd like to personally thank the man pictured above.
Not only is he the Resort Receptionist, but also a fellow Christian (rare in a Hindu country), also studying to be a pastor, and I knew I could trust him.
He came and was able to pray with me.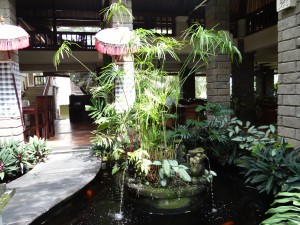 After that, I immediately started to slowly improve!
The staff had organized meals wither at the restaurant or with room service.
They also walked him over (for several trips to the supermarket) across the road for his snacks, whilst I'd been incapacitated.
Over the next days, I had enough rest as I prepared to leave Kori Ubud Resort and Spa and move down to Kuta.
Explorason had felt a little enclosed in the room, so he went and enjoyed the property, and grabbed the camera for me and took a few photos to share with you.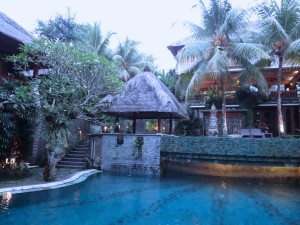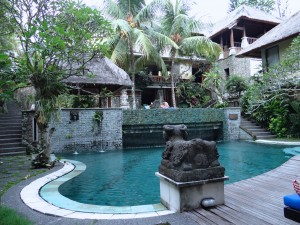 It is our last evening. I've hardly seen this property – apart from day one.
I sit out on the balcony and have to arrange another change of flights to return to Australia.
I have been advised not to fly for several days.
It is time for me to see my health improved.
Next morning I can hardly walk.
I sit as breakfast is ordered, but I can barely eat toast.
However, I'm thankful I can indeed eat. I can walk, and I am alive and on the road to recovery.
I'd like to sincerely thank Kori Ubud Resort and Spa and all their staff for going over and above the call of duty when I was so sick.
Thank you, thank you, thank you!
Contact Details
Address:
Jl. Raya Sanggingan No. 18, Ubud, Kec. Gianyar, Bali, Indonesia
Please read our Disclaimer here
Disclaimer: This post may contain Affiliate Links, Sponsored Content, or…