Think of Ubud in Bali, and you can think of either of two things.
The hustle and bustle of a once hippy town; now turned into a central bustling hub of modern earthy stores; fabulous restaurants; authentic Balinese culture; with hip and trendy hangouts.
Or …
You can think of the Ubud surrounding area.
Where yoga retreats, temples, and stunning resorts are set amidst the serenity of rice fields, and rainforests with river ravines etched deep between them.
But what if you could find a resort that incorporates both?
One that overlooks a rice field.
PLUS
One that fronts onto the shopping precinct?
Could that even be possible?
What if there was even more?
If it boasted a fantastic restaurant?
If it housed one of the most beautiful 5 star Spa Centres I've ever seen (DaLa Spa)?
We are pleased to say we discovered this very haven.
Modern Design mixed with Balinese Architecture
Alaya Ubud Resort has a groove.  A very open-air feeling sweeps through this resort – from the front to the back.
As we enter the reception area, you will note it is not enclosed with no front or side wall.  Seating overlooks the bustling street and steps down into the dining area of the award-winning Petani Restaurant.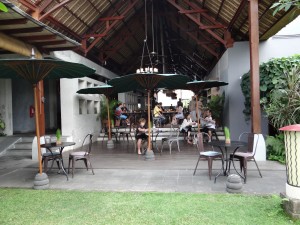 The dining area of Petani Restaurant then flows out into the garden.
To the side of the garden is the rice paddy.
And before us, fish swim in a pond that leads to the small Hindu offering site.
Perfect for children to feed the fish after a meal, and a wonderful place to feel the warmth of the sun at breakfast time, as it comes down from the east.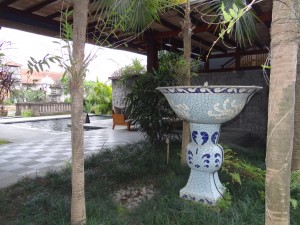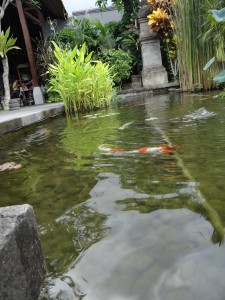 To the rear of the property is the swimming pool, and even further beyond is the DaLa Spa Centre – all set in a lush tropical garden bursting forth with local blooms.
Behind this area, Alaya Ubud Resort is expanding.
A new building is underway due for completion later this year.  To the side, surrounded by the rice paddy, another restaurant is being built.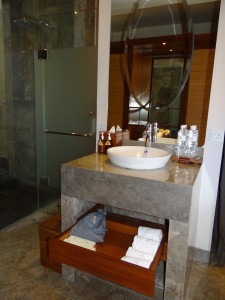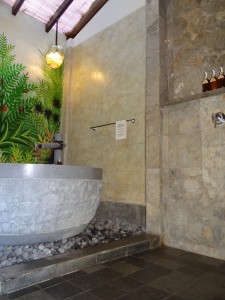 Upstairs we head to our lovely luxurious room.
(There are currently 60 guest rooms, and they were sold out when we stayed.)
Again the airy 'flow through' feeling makes this a very spacious area to stay.
The bathroom and dressing area is right by the front door that leads to a walkway that is authentically decorated with bamboo stalks.
Eco-Friendly Resort
I love the Eco-friendly attention to detail at the Alaya Ubud Resort.
Aromatic and essential oils are used in the toiletries they supply, and these are in large pump bottles. Practical to use, with no fiddly little containers or tiny pieces of soap to try and wash with.
My favorite was the lavender lotion – I used this each evening and found the aroma very relaxing.
With an eco-friendly theme, even the 'house-keeping' and 'do not disturb' signs were made form a large bamboo cane. Towels can be reused, not rewashed if you hang them back up. Only changed as needed. This helps lessen water wastage, and the use of unnecessary detergents.
Each day a fresh fruit was also left for us, as well as bottled water for drinking and for teeth-cleaning.
Relaxing Ambiance
Our large deluxe guest room overlooks the rice paddy, so my favorite morning and evening hang-out was the balcony – where a cushioned lounge, table and chairs are all set out to relax.
In the evening the staff offers a turn-down service, and mosquito coils are lit on the balcony area.
We came to Alaya Ubud Resort to relax.  We didn't go out too much.  We didn't want to. The room was comfortable. There was wifi. The pool was downstairs.  And I sat or lay – and read a whole novel! I can't remember the last time I did that in a long while.
I ended up going to the dentist for a check-up in Ubud whilst staying here, and also to the medical center to update my immunization for Hepatitis B (nothing quite like an injection in the arm).
The staff at the resort front desk organized all my appointments for me.
A note for travelers – it was a lot less expensive than Australia for both dentist and immunization.
Wait, There's More
With the Petani Restaurant downstairs, we ate 'in-house' downstairs both morning and evening.
I also visited the DaLa Spa on two occasions. I even lay in a bath of flowers – this you must read about!
So I want to make separate articles for each of those – 'keep it short and sweet'.
And whet your appetite for what we feasted on, and to show you the exotic DaLa Spa Centre.
Contact Details
Address: Jalan Hanoman, Ubud, Bali 80571 Indonesia
Website: http://alayahotels.com
email: experience.ubud@alayahotels.com
Telephone: +62 361 972200
Please read our Disclaimer here
Disclaimer: This post may contain Affiliate Links, Sponsored Content, or…