Can you believe we are in Bali – again?
Yes, even though we were only here in late January this year, with a gap in our world travel agenda, and great prices on flights, we have returned yet again to Bali.
So if you are looking at these awesome photos, you might be thinking it is time for you to book a flight here as well, so I'll tell you a bit more about this gorgeous property, and how we ended up here.
Some of you may have heard of an institutional resort named Maya Ubud Resort and Spa.  It is synonymous with traditional grandeur, Balinese style, and class, and is set in the Ubud forest region. Travelers seeking to relax in luxury on their trip to Bali can often be found frequenting this popular Indonesian resort.
So it is not surprising that Maya Ubud Resort and Spa have found the need to expand.
Now the Maya Brand has recently opened a new property – Maya Sanur Resort and Spa. A stunning beachfront property closer to the tourist area of Kuta, (but not in the crazy hub of it all), and conveniently located nearer to the Denpasar airport than their Ubud property.
When we visited Bali in January on our Alliance Indonesia tour, we came here to their beachfront restaurant for dinner, and as we looked around the property we just fell in love with it.
We loved the lush garden setting, and Explorason especially loved the long room side pool that stretched from the Maya Sanur Resort and Spa main reception building, right towards the foreshore bar and beach view restaurant area.
And we loved the peaceful and relaxing feeling Maya Sanur Resort and Spa had to offer. And the small family pool area – it all just looked so wonderful, new, and fresh – and inviting.  So we decided we would spend 3 nights here on this trip. A trip that has proved to be a very last minute arrangement.
As soon as we arrived we noticed not only the stunning architecture and interior design but also were impressed with the friendly staff. In usually five-star service, a refreshing non-alcoholic welcome drink and a cool towel were provided on arrival.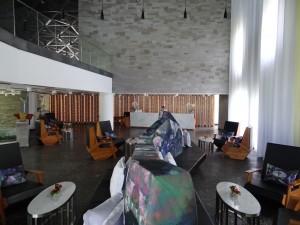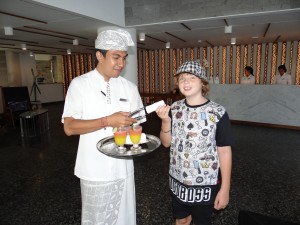 After checking in, we ventured on up to our room and loved the balcony and how spacious it all was.
We had booked a quieter Deluxe Garden View Room (overlooking the family pool area that you can see photographed above).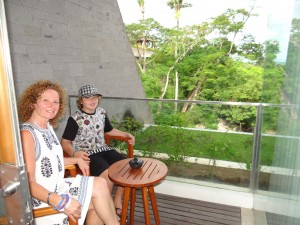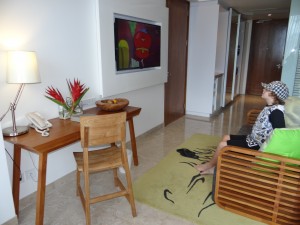 The room was ultra modern, and Explorason loved the large wall-mounted flat screen TV on an arm that could be directed to wherever he sat.
My worry – he wasn't going to want to leave the creature comforts in here to venture outside. Especially when he discovered the internet signal was also great!
The first thing I noticed was that the en-suite bathroom was massive!  A central bath with fabulous modern style and Balinese lanterns illuminated the room with soft lighting.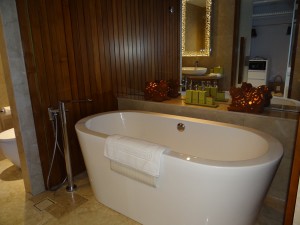 There were 'his and hers' basins and vanity areas, and a separate shower and toilet room on either side of the bath. Plus divine toiletries were plentiful.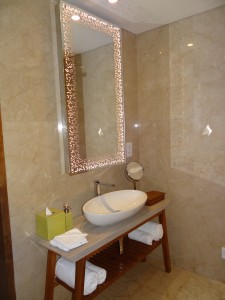 Opposite that, there was the foyer and dressing area. Complete with slippers, robes, and a lovely complimentary in-house woven carry basket to take our items to the swimming pool.  Then there was the room safe; a mini bar fridge; glass bottled water; and much more.
Another great feature was the power plug wallboard.  Sockets to directly charge USB cord technology and multi-country sockets were all there for us. No need to worry about lack of adapters. (Bali uses a different power socket than Australia).
There was even a pillow menu!
There was no reason that I could think of not to have the best night's sleep!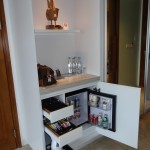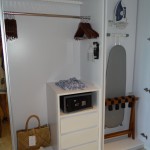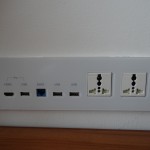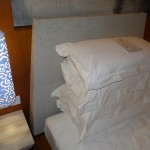 Once we had 'explored' the room and all it had to offer, it was time to head to the huge swimming pool, located towards the beach area.
One thing I love about travel is getting quality time with Explorason, and the incredible bond that is now between us as 'mother and son'.   This is really important to both of us.  I cherish every day that this is possible, and the wonderful relationship we have as a 'two-person' family.
Single parenting isn't easy, and there is always so much to do, but all children need love and attention, so time in the pool is often that – time for fun or to talk, or for me to watch his latest swimming achievement.
If you as a parent ever get the chance to travel with your child, please consider taking that time.  Children grow up so fast, and the time is gone before you know it.  It will be the most precious time. You can educate with travel, and grow so close as a family too, and your child will really blossom.
We had a great surprise – a lovely Canadian lady Jennifer, whom we had met in Peru (we hired a tiny plane and flew over the Nasca lines together 3 years prior), was also in Bali.  So she joined us in the pool and for the evening, and it was a great time.
It was great to catch up with another avid traveler, and I found I learned so much from her. New phone apps for travel; and tips and tricks for long-term exploring were all a part of the conversation.
After heading out for a bite to eat, we were back to the pool area where there was a band on the rooftop area of the Tree Bar.  Quite a few guests dined at the restaurant or relaxed to the music on all three levels.
This is a happening place!
We returned upstairs and settled in nicely for a relaxing night.  The friendly staff delivered our food, drink, and an ice-bucket to our hotel room. We did enjoy some nibbles and a movie night.
Wine glasses and an opener were provided in our room too, so we had all we needed.
It was time to eat, drink, and be merry!
We sadly said goodbye to Jennifer – especially as she is such a positive inspiration and we both love her, and we all wondered where we would meet up next.
Next morning we enjoyed the massive buffet breakfast.
Cooked breakfast is also available, and a choice of two restaurants.
The Reef at the front of the Maya Sanur Resort and Spa property, or the beachside one here.  A huge variety, with traditional Indonesian, western and creative foods awaited us.  I also loved we were served at the table too.
The first row of photos is from The Reef beachside restaurant, and the bottom row is the 'street front' Graze All-day cafe style. Both are available every day so guests and non-in-house customers can dine here.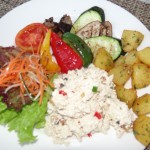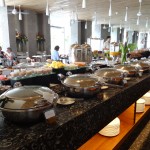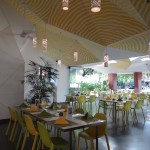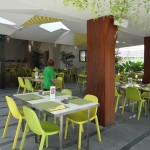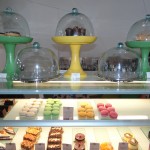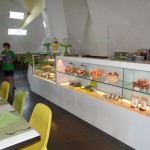 I am not an egg-lover for breakfast, so I chose tofu nonegg cooked breakfast instead. The photo does NO justice to the taste of this dish.  Honestly, the most amazing breakfast I've ever had in my life – so far.
(There is another restaurant – it is Japanese Kuu, but we did not get time to dine there).
We did love the outdoor seating that was on offer, as we enjoyed the gentle morning sea breeze.
But not only was the breakfast fabulous, so was the friendly service, and soon Explorason had made a new friend with the Reef Manager.
As a single Mum, I loved that!  To have someone make a child feel special is indeed a gift. A gift to the child, and a gift to the mother.  I saw over the few days we stayed here, just how positively this man inspired him and made the start of each day special.
With all that divine breakfast food; most of which I am pleased to say was really healthy, it was time to get some exercise.
Bikes are available for guests at the front of the property, and a ride along the beach walk or through the shopping strip area is a great idea.
In the end, we realized Explorason needed to improve his bicycle riding skills (we'll work on his balance and confidence on a bike at the next housesit), and we ended up going for a walk and doing some shopping instead.
If active fitness is not your thing, then Maya Sanur Resort and Spa also has a massive two-floor Spa And Wellness Centre; an area with library and seating for relaxation, as well as a gymnasium and yoga room.
Individual and group yoga and relaxation lessons are available each morning and can be booked through reception. So one morning I chose to give this a try to start my day.
I was so impressed with the friendliness and one-on-one assistance the instructor gave me.
Just look at his smile. Wouldn't you love to wake up and start your day with a positive attitude, and his welcoming smile?  He really left an impression on me.
Yes, it was that smile again. Something I kept finding with the staff at Maya Sanur Resort and Spa – genuine warmth and happiness.
On our last evening, it was time to enjoy the sunset.
A local D.J. is providing music on this particular evening at the Tree Bar.
There is a 'Cocktail Happy Hour', so the timing was perfect.  I noticed the Happy Hour really attracts other customers to the Tree Bar area each evening.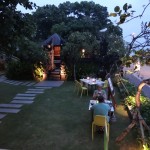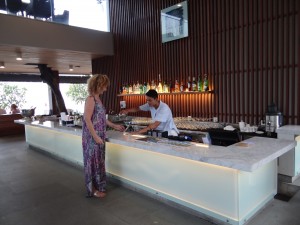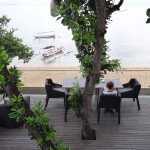 We must have been a bit of a strange sight that night, mainly because I kept moving locations.
First I checked out the view from the roof, but then decided I wanted to sit on the second-floor area, and next was downstairs in two locations – deciding where to watch the ocean as folks strolled by.
But as the sun sets behind us, we moved again.  The patient barman finally located us!
It was all so pretty, I wanted to enjoy it all.
Especially as it was our last evening here at Maya Sanur Resort and Spa, and our last evening on the beach in Bali that we had planned for this trip.
Being beach lovers, we set the alarm early for our last morning at this property and walked along the foreshore path.
Off in the distance is a temple and some hills across the water, and some fishing boats were anchored offshore. I paddled in for a photo and waited patiently for the sun to rise.
Next thing I know, about 15 photographers paddled right in of me and set up their tripods in the water.
The stillness and serenity of the morning broke.  The ripples permeated the once flat water, that had just previously seemed almost mirror-like in its stillness.
The lost moment completely ruined the photo I had planned.
They spoke no English.  I couldn't explain, and after all, it is a big world, and it is here for all of us to share.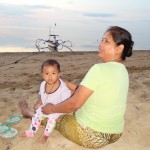 Rather than get upset, I went for a reflective stroll along the sandy beach instead.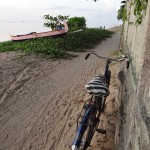 I met a lovely Indonesian Grandmother and her Grand-daughter and we sat and chatted.
She told me stories of how Bali was prior to tourism.
And I met an old man who was about 80 yrs old and rode an antiquated bike with a stuffed old saddle seat covered in a shopping bag.
Part of travel I love the most is meeting the locals and seeing local life.
As I came back to Maya Sanur Resort and Spa to get ready to pack our bags and move on, the gardener greeted me with the biggest smile !!!! 
… And I think to myself, 'Maya Sanur – you definitely are 5 Star Style With A Smile'.
Address:
Jl. Danau Tamblingan No.89M, Sanur, Denpasar Sel., Kota Denpasar, Bali, Indonesia
Please read our Disclaimer here
Disclaimer: This post may contain Affiliate Links, Sponsored Content, or…