Mention " Bali ", and most Australian families will instantly tell you that a MUST visit is Waterbom Park, and experience The Boomerang.
So on our second day in Bali, Explorason could wait no longer and we caught the hotel shuttle bus to Discovery Shopping Centre in Kuta opposite.
Waterbom Park is the #1 Waterpark in all of ASIA!  It is famous. A 'must do' for both adults and kids – I know – I will be celebrating my 54th Birthday this month, so although not a 'spring chicken', I try to keep fit and healthy so I keep up with my ten-year-old son, and enjoy all the world has to offer.
There is a lot of this big wide world we are yet to see and explore.  I must say, if you want to see a top view of Kuta, then climb to the top of one of the towers for a superb view of the park or the city (depending on how high you want to go).
We walk around Waterbom Park when we first arrive and get a bit of a feel about the place, and head to the back to get a locker which is near the younger kiddie area.
Waterbom Park is a cashless park, so once our things are safely tucked into the locker, we are free to relax and not have to worry about carrying money or a credit card.
We have purchased a wristband on entry, and we choose how much we want to add in value in cash to the wristband.  We then just have the wristband scanned, and that buys us the size locker we wish to rent for the day.
there were rides we couldn't take the action camera on, so we were given a wristband and they cared for it – another great idea!
We also get a wristband for the locker, and a wristband for photographs within the park, which is a great idea as even though we have the iPhone and the action camera, most of these photos are not of the two of us together.  The park photographers are there to take whatever photos we want and had I thought about it, we'd have asked for more – it is a great service and they can be purchased individually, or on disk.
We then find ourselves a sun-bed but opt for the shade of an umbrella. I'm impressed there is no charge for the sun-beds, unlike some parks we have been to in the past – to me this shows added value.
Our first ride was the SuperBowl.
We were pretty happy and excited to be here – you can tell by the look on my face when we are next to have a turn.
Explorason is keen to go on the Lazy River next. In fact, we go on this many times throughout the day.  We found it a great way to relax after an exhilarating ride.  We used both the double and single tubes.
Being school holidays in Australia, the lines were quite long, but I was so incredibly impressed with the professional attitude of the staff.
Even when they ran out of tubes, they had riders waiting in line and then would pass the tubes to them as they become available.
The staff all over Waterbom Park were always friendly and nice, even when I heard a few people being a bit snappy.
Next up was the famous Boomerang ride.
It is where you go down a steep skinny slide on a double tube, and are shot onto a wide slide high in the air.
The thrill is how close you get to the top, and/or the edge.
We then head down the double slide towards the large pool below at great speed.
It is really 'full-on' and we laughed so hard!
We then ventured onto the Twin Racers.  We raced each other. I won the first time, and Explorason won the second time.
I think there is a total of about 22 slides all up in Waterbom Park.
By then it was time for lunch. We headed to The Shack.
There is a wheel you can spin if you are unsure of what food you would like. We spun Nachos, and it was a great choice.  We also ordered what Explorason describes as one of the best Banana Milkshakes ever.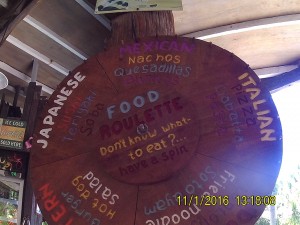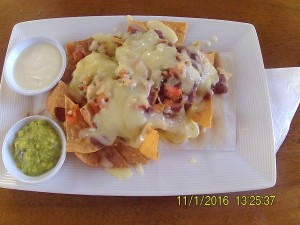 I'd suggest giving your tummy a bit of time to let the food settle before heading to a ride, but we made the mistake of lining up on a ride immediately after, which was a bit 'curlier' than the Python name.
The tube can carry 2 – 4 people and we just made the minimum 100 kg weight restriction for 2 of us, so we had the raft to ourselves which was nice.
By the late afternoon, Explorason was exhausted, and we both had quite a rest to recharge our batteries.
Obviously, this worked for Explorason. After one last turn on the Lazy River, we headed to the Euro Bungy.
He has wanted to try this for ages, so it was great that the staff had the patience to teach him how to perform backward somersaults.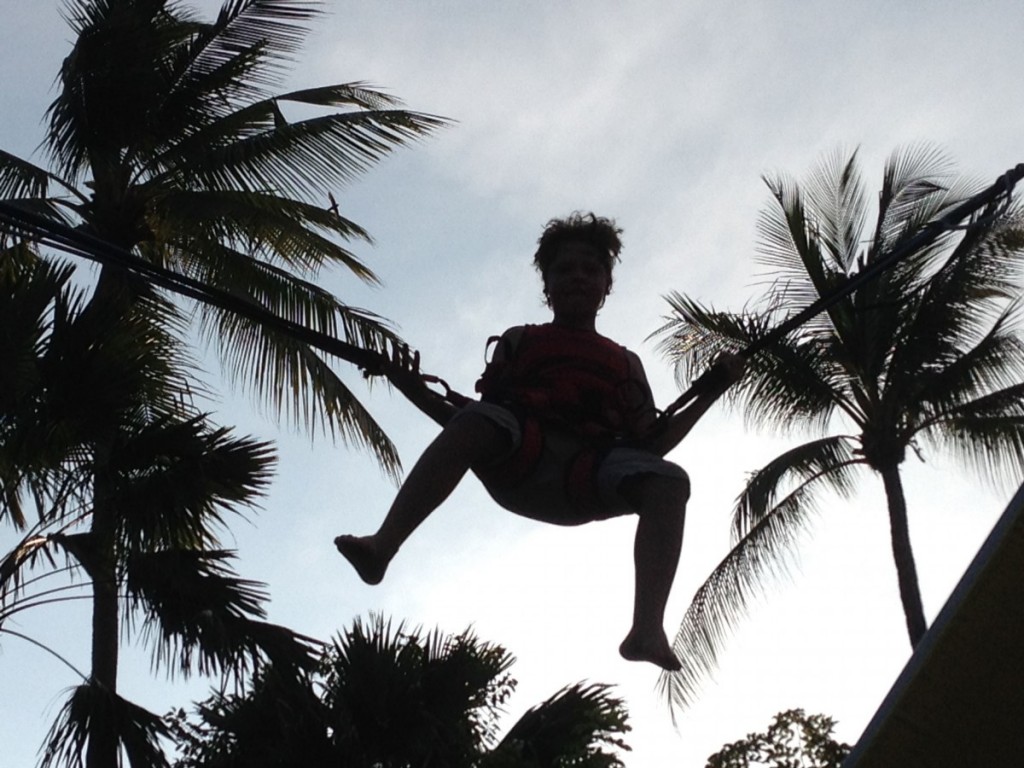 Considering I arrived at Waterbom Park with a headache, I had managed to keep up quite well.  But I made the mistake of going on a ride straight after lunch, and that made me somewhat nauseous, and didn't help my headache one bit!
But when Explorason ended up with a blister on his foot, we found ourselves at the First Aid Centre.
When I mentioned I had a headache, they provided me with two pain relief tablets, and I was ever so grateful.  I also showed them a burn on my hand I had from New Year's Eve that was weeping, and they treated and dressed the wound.
We left with far more than we came for.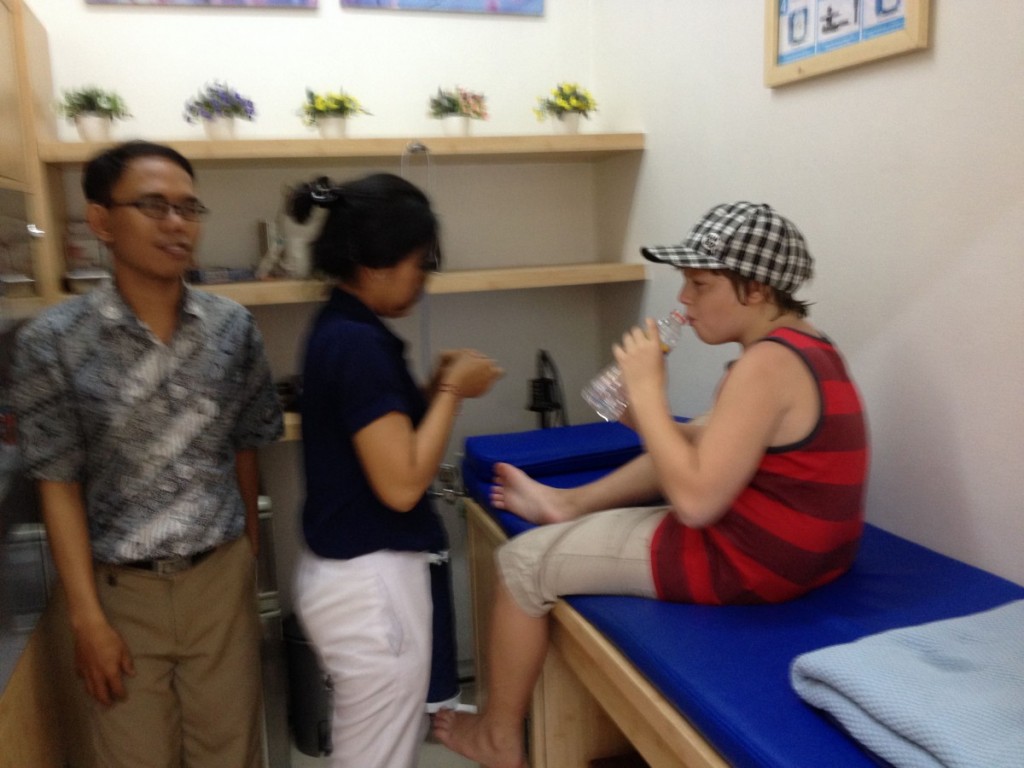 We'd definitely go back to Waterbom Park again.  It was such fun; great value for money; and the staff were so friendly and nice.  It was a ten out of ten days for us!
Website: http://waterbom-bali.com
Address: 
Jalan Kartika Plaza, Tuban, Kuta, Kabupaten Badung, Bali 80361, Indonesia
Please read our Disclaimer here
Disclaimer: This post may contain Affiliate Links, Sponsored Content, or…