Villa de Leyva
A Gorgeous Colonial Town Colombia
One of the most incredible Colonial Town Colombia has to offer is awaiting you with Villa de Leyva and we are here to tell and show you why.
As our bus from Guatavita comes to a standstill we are confronted with outstanding architecture in this beautiful piece of paradise.  We have just arrived at the most gorgeous villa – Posada San Martin. at Calle 14 9-43, Villa de Leyva.
It has traditional decorating and antiques with a quirky feel in the courtyard and sensational colors.
Interior of the Posada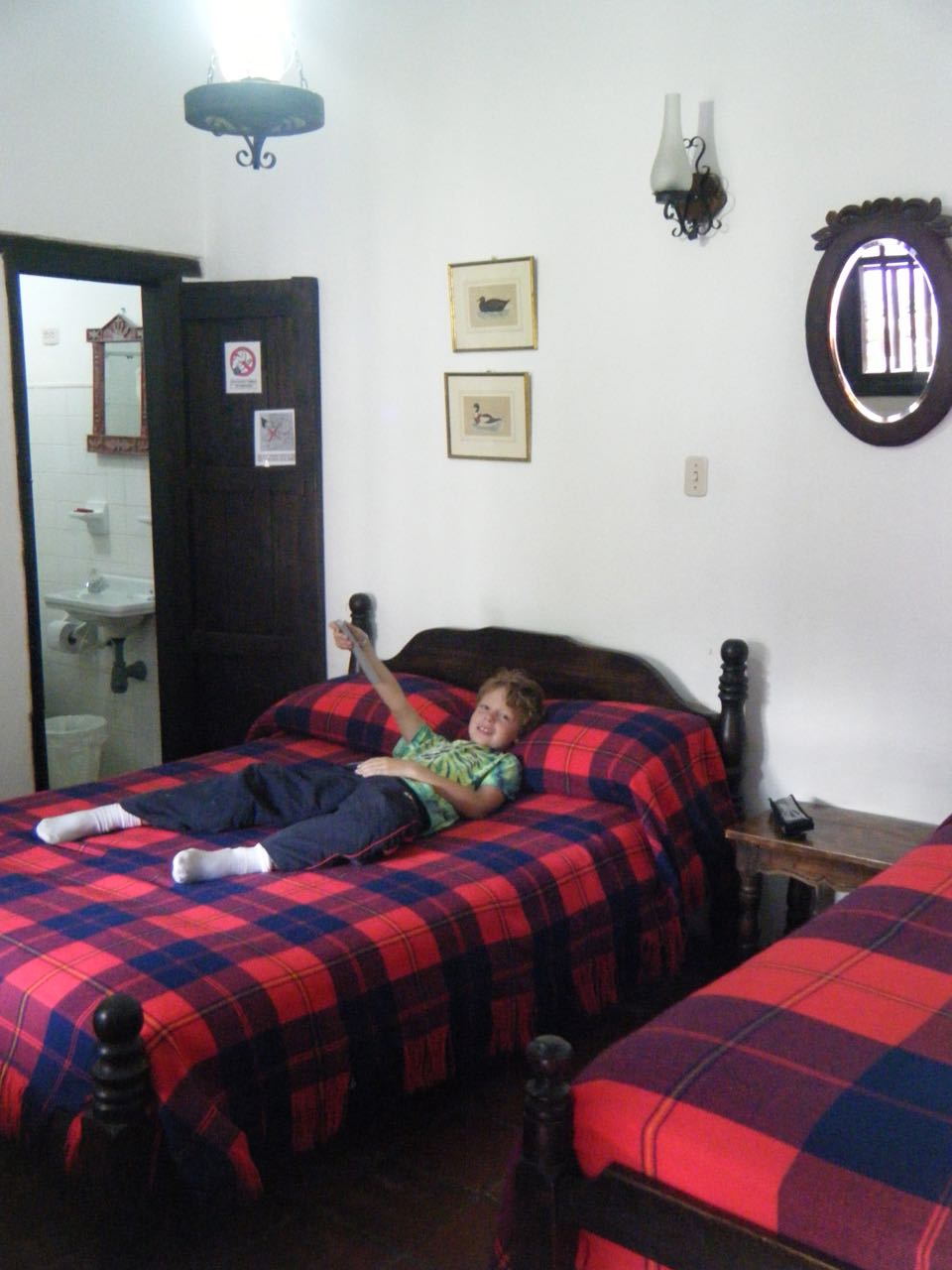 Inside our boutique hotel room is just gorgeous. There are antiques everywhere, but because it is light and airy, it has charm, therefore no dampness or coldness to it.
Cobblestone Streets
All the streets are stone and most places you walk. Not too flash for my sore foot that I injured last week, because the stones twist even in sneakers. But a great relaxing town, with an incredibly safe, feel to it.
As the sun sets on our first night, my son enjoys the huge square. Chasing the dogs and testing his strength.
Restaurant Charm
Today is a chill day but it feels cozy inside as the sun streams through the lace trimmed window. We are the only people staying here last night. The manager has a little girl the same age as my son. The dining room is all ours as management has gone into town to do some shopping. Great – catch up on web-pages we can use for our insect studies.
Colonial Town Colombia Has Charm
In the afternoon we wander the streets of Villa de Leyva with the aid of a printed map. It is quiet in this town as once again, most hostels and hotels close on Monday and Tuesdays in the off-season in Colombia. This can be a challenge to find somewhere to stay as we found out.
Villa De Leyva Church
We visit the church, and once again there is a stack of gold. The antique paintings on the walls are worth a look too.
Opposite us is a lovely hotel and we have a good chat with the owner. He speaks 5 languages. We try to tee up a time for a lesson as he won't charge us (he insists), but each time we go, his wife says he is out. Maybe tomorrow?
Fossil Paving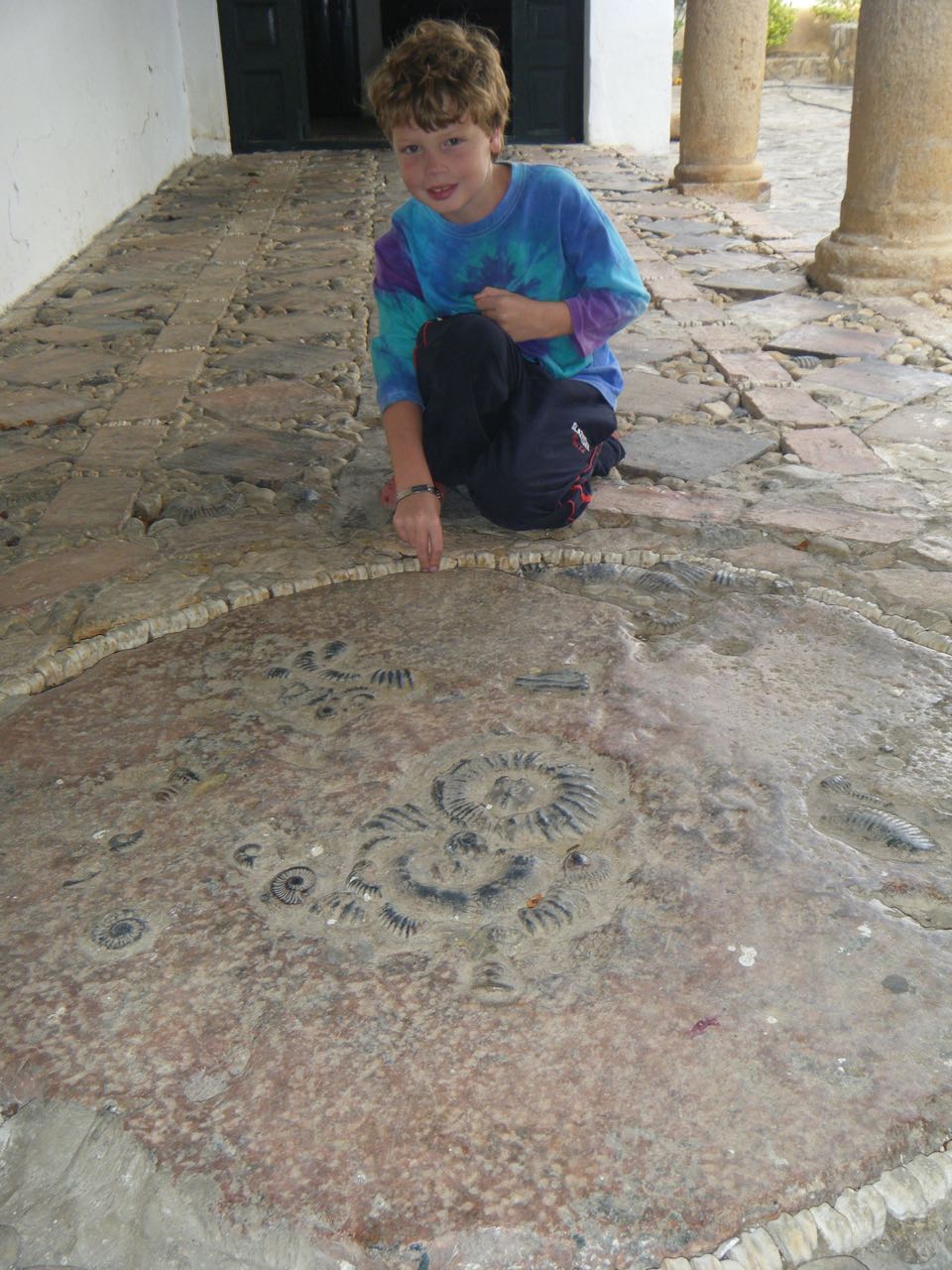 As we wander the old buildings and museums we notice a lot of the paving. Genuine old fossils from the area and deer bone make great patterns.
Sunset In The Town Square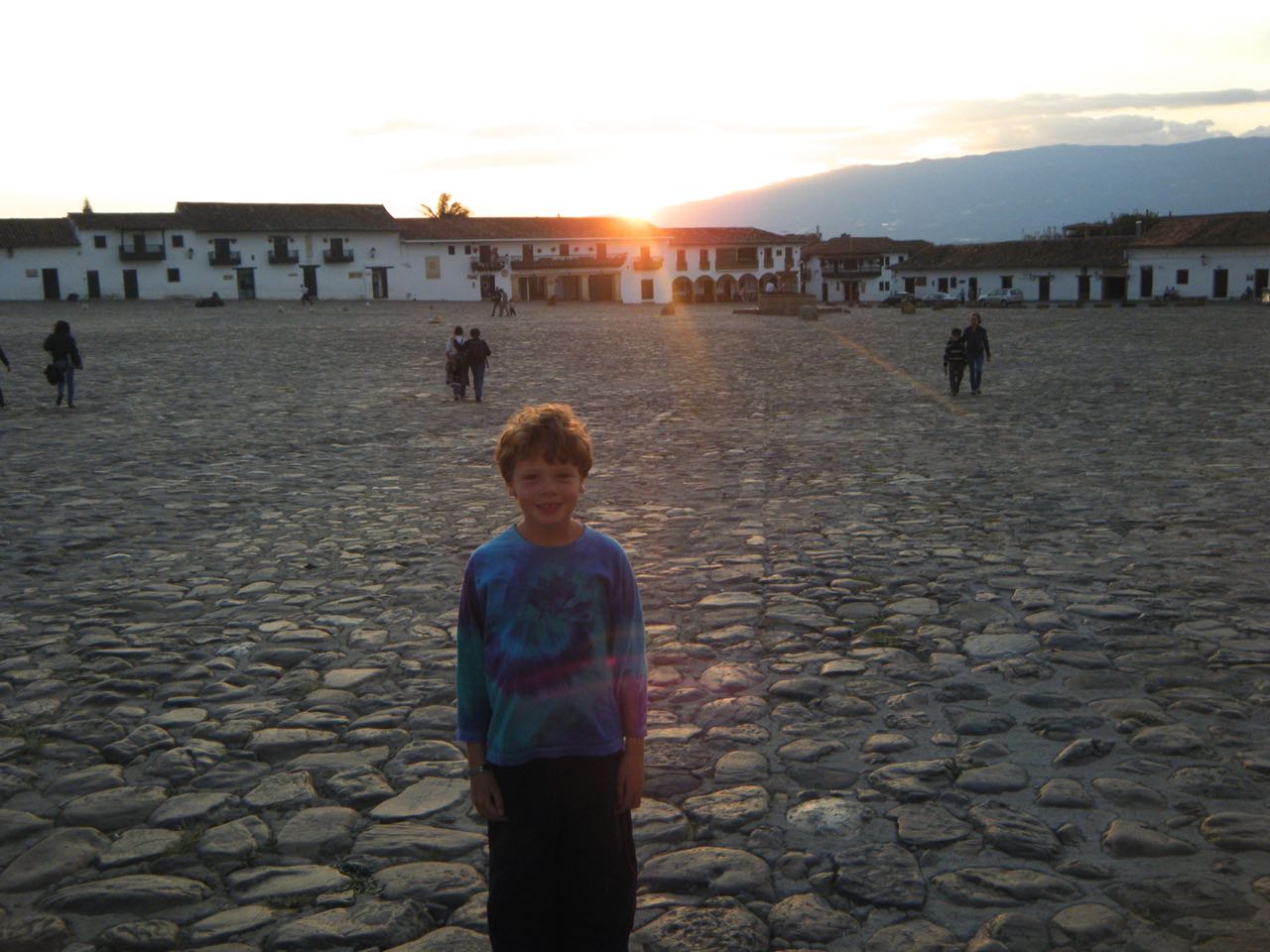 As the sun sets on the square of this Colonial Town Colombia, we head out for dinner. This town is completely geared for tourists and so are the prices but being in the off-season we find they are more generous with us.
Dinner
We find a lovely courtyard. In the distance, you can see a church and the terracotta tile roof from the restaurant in this Colonial Town Colombia.
It overlooks the Blue Mountains as they call them – a lot different from the Blue Mountains of Australia!
With our tummies full and feeling relaxed, we wander back to our posada via the cobblestone streets.  Here my son meets some local kids and they invite him to play ball in the street. He learns a few Spanish words and they invite him to go to their school tomorrow.
Colonial Town Colombia is a perfect place to relax.
Questions and Comments
Have you ever been to Colombia?
Would you like to visit here?
What attracts you to explore here do you think?