We were in Singapore only a week ago – here to write about 'Top Things To Do For Kids', and we were shocked.  Despite our research, we found Singapore had far more to do than we had anticipated!
We've just had a week on the neighboring Indonesian islands of Batam and Bintan.
We were in for a bit of a surprise when the ferry docked from Bintan.
The Customers and Immigration / Terminal was out towards the airport, and not anywhere near the city (where we had departed to Batam.)  The departure terminal was in a shopping center, so we had planned to eat there prior to going to our hotel but in the end, we found ourselves in long queues waiting at a very different location about 20 – 30 minutes by taxi out of town. There were no shops, restaurants or cafés in sight.
So we jumped in a cab and gave him the hotel address.  He looked clueless with our directions, and he was driving and trying to read a paper map at the same time, swerving all over the road but only doing about 40 KMPH! Most unlike Singaporean drivers who are usually top-notch.
Our taxi driver spoke little to no English – clearly had no idea where the hotel was!  This had nothing to do with the hotel by the way, as they had given us a clear address.
But we had been drawn to this iconic hotel the week before when we found ourselves in this region (we had the wrong MRT station directions by a passing pedestrian) and we were in awe of the vertical garden that climbed and cascaded over the red skyscraper of the Oasia Hotel Downtown.
So as we drove into the city we could see the hotel in the distance and pointed the taxi driver in the right direction.
The Oasia Hotel Downtown is not your usual kind of hotel for us.
It is a brand new Business hotel that is only a few months old, and it is in the Financial and Business District, so is suited to professionals finding themselves working or visiting Singapore.  It is also unusual; firstly because it is covered in vegetation, and secondly, because it has two check-in areas.
Guests would usually check in – not on the Ground Floor Level where the Concierge desk is, but on the 12th Level where the hotel rooms start.
Then there is a second check-in area on the Club Floor at Level 21 which is an exclusive check-in area for guests who have booked Club Rooms or Suites only.
As we are ushered up by the Concierge to Level 21, we sit and relax in the very airy and fresh reception area, sipping my favorite cool 'coconut water', and look out onto a stunning infinity pool.  The reason we feel a gentle breeze is because this is an open floor, and much of the building has no walled areas, allowing the tropical Singapore breeze to flow freely.
We head on up to our 28 sqm Club Room (Space in Singapore is at a premium price but they manage to pack a lot into this Club Room, yet it doesn't feel cramped.
Some of the features our room include:
55 inch LED Smart Television, Cable TV Channels, Wireless Broadband Access, Temperature control panels, Iron & Ironing Board, A groovy pull out In-room Safe Box with upward opening, Hair Dryer, TWG Tea (gorgeous!), Nespresso Coffee Machine with Australian Brand Coffee Pods I believe, Handheld plus also Rain Shower Heads, Free Standing Bathtub, Robe and Slippers, Mini Bar Fridge stocked with Still and Sparkling Waters and Wellness Drinks including Coconut Water, Lovely Essential Oil Bath amenities from Thann.
That is enough for us to not even want to leave the room!
Plus the view is stunning!
We then have a bit of fun.
Not only does the door slide to the lavatory area, but there are two walls that really are doors, and can slide open to the bath and shower area.  So you can watch TV from the bath should you choose to!
Explorason loved the speaker volume control know he located in the bathroom.
Being a Club Room we have exclusive access to some areas including the Club Lounge and Infinity Pool where you can literally swim to the edge and get an unsurpassed view of Singapore.
This is really an adult area, so Explorason needs to be on his best behavior.  Children under 12 are not encouraged, which we fully respect.
It is now about 4:00 p.m. and we still haven't eaten, so we pop to the Club Lounge for a refreshing drink and a snack – I so appreciate this extra feature of booking a Club Room.
I so need a good cup of coffee to keep me going, and apparently, nearly all the staff here are trained Baristas so I'm told.  Yes, the coffee is good!
Before we go to the Gardens By The Bay Light and Sound Show.  It was awesome.
Tiredness comes upon us as we finish up with our tour of 'Singapore by Night' before heading back to Oasia Hotel Downtown.
Explorason crashed out in no time. I get to jump on the super fast wi-fi in our room and plan our next day.
To think we started the day on an Indonesian island with our toes in the sand, and the day ends looking out over the twinkling skyline of the city of Singapore!
The life of a traveler is never dull!
Next day we are up early for breakfast.  We have a choice of the Club Lounge for a more private breakfast or go to the Ground Floor for the full buffet at The Marmalade Pantry.  Explorason selects the Ground Floor.
It is a lovely breakfast but we do 'down it' rather speedily. Why? Because we have the day at Sentosa Island planned for Kids Things To Do (we'll write that article soon).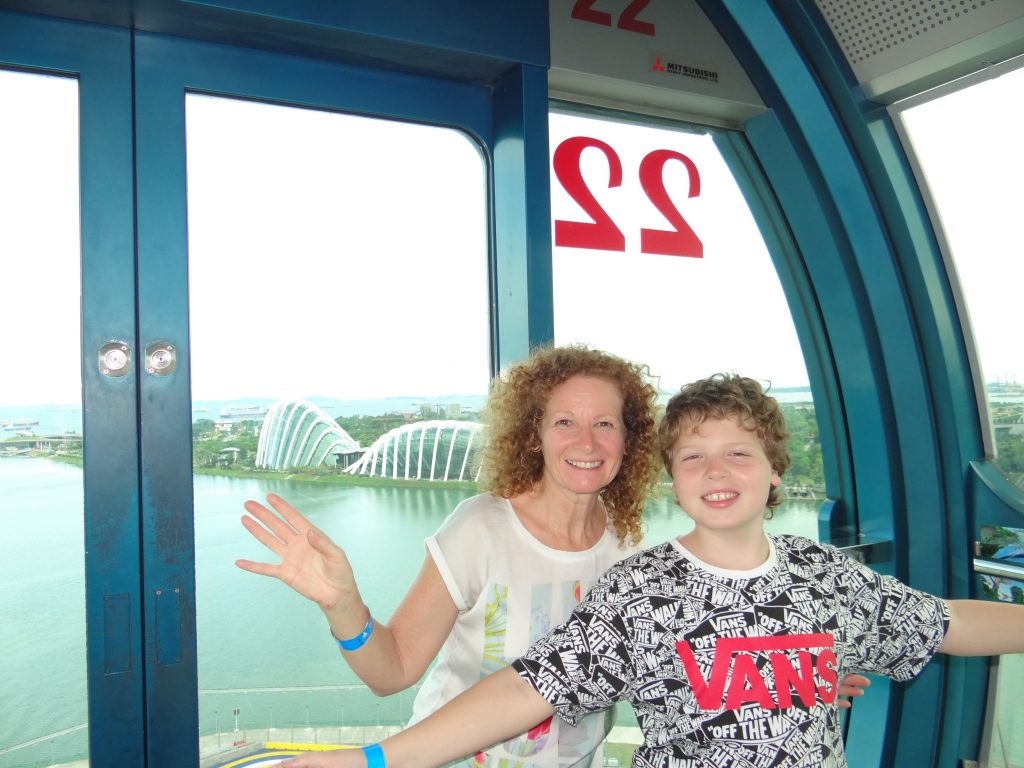 We finish the afternoon with the Singapore Flyer, and then I decide I'd like a bit of adult relaxation.
As the evening sky changes color, we look up to see our stunning hotel – covered in plants – it is an incredible sight to see a vertical garden of this magnitude.
Changing our outfits, we make our way to the Oasia Club Lounge for complimentary Cocktail Hour (which is actually 6 – 8 pm).  Nibbles and drinks are served.  I end up trying a Singapore Signature Cocktail and then sip a refreshingly cool and crisp glass of white wine, and Explorason was treated with a chocolate milkshake.
The moon is shining as we take a wander to the rooftop area and wade in the pool, and lounge in the hanging chairs.
Dressed up we might be, but Explorason decides we need to go for a night-time swim. We are back changing and in the Club Infinity Pool before I know it.  I don't last long, but he has a swim and a chill-out time in the water.
It is now time for me to go and plan more of our travels using the in-room high-speed wi-fi. Explorason is soon asleep, and I work in peace.
Our last full day in Singapore rolls around too quickly. We pack before breakfast and then head downstairs once more to The Marmalade Pantry.  Today we have a little more time to enjoy our delicious food.
It is ideal that we can then pop our luggage down to Concierge so they can store it, and then it is to the MRT to ride the famous Singapore Duck.
It is awesome that we get to cruise the bay and see the city of Singapore in yet another new way on the Duck, and then we 'disembark' and take a taxi to Chinatown where we do some last minute shopping.
Souvenirs
We always buy a small flag of each country we visit, plus a keyring that we turn into a Christmas Tree decoration for our world tree.
From Chinatown, we emerge to see the Oasia Hotel Downtown in the distance and decide to walk back through an area that is full of restaurants – a lot of them being Korean.
Now it is time to pop back up to the Club 21st floor for our official check-out and my last coffee and snack before heading off to Raffles for a Singapore Sling.
As the taxi pulls away from the curb I look back to see the first Rain Tree Hotel I have ever stayed in, diminish into the distance.  
Wow, we get to stay at some special and unique locations and properties.  I can't wait to show you where we stay next!
Singapore, you are amazing!
Now watch our latest YouTube Video about Oasia Hotel Downtown and see this lush and ultra-modern hotel for yourself.  (I love the start of this clip. Explorason collates and edits these, puts them to music etc. I think he does a great job and is very talented for an 11-year-old. )
What do you think?
Leave us a comment below – we love to hear from those following our world journey.
website: Oasia Hotel Downtown
Address: 100 Peck Seah Street Singapore 079333
email: info.ohd@fareast.com.sg
Phone: Hotel: +65 6812 6900 / Reservations: +65 6881 8888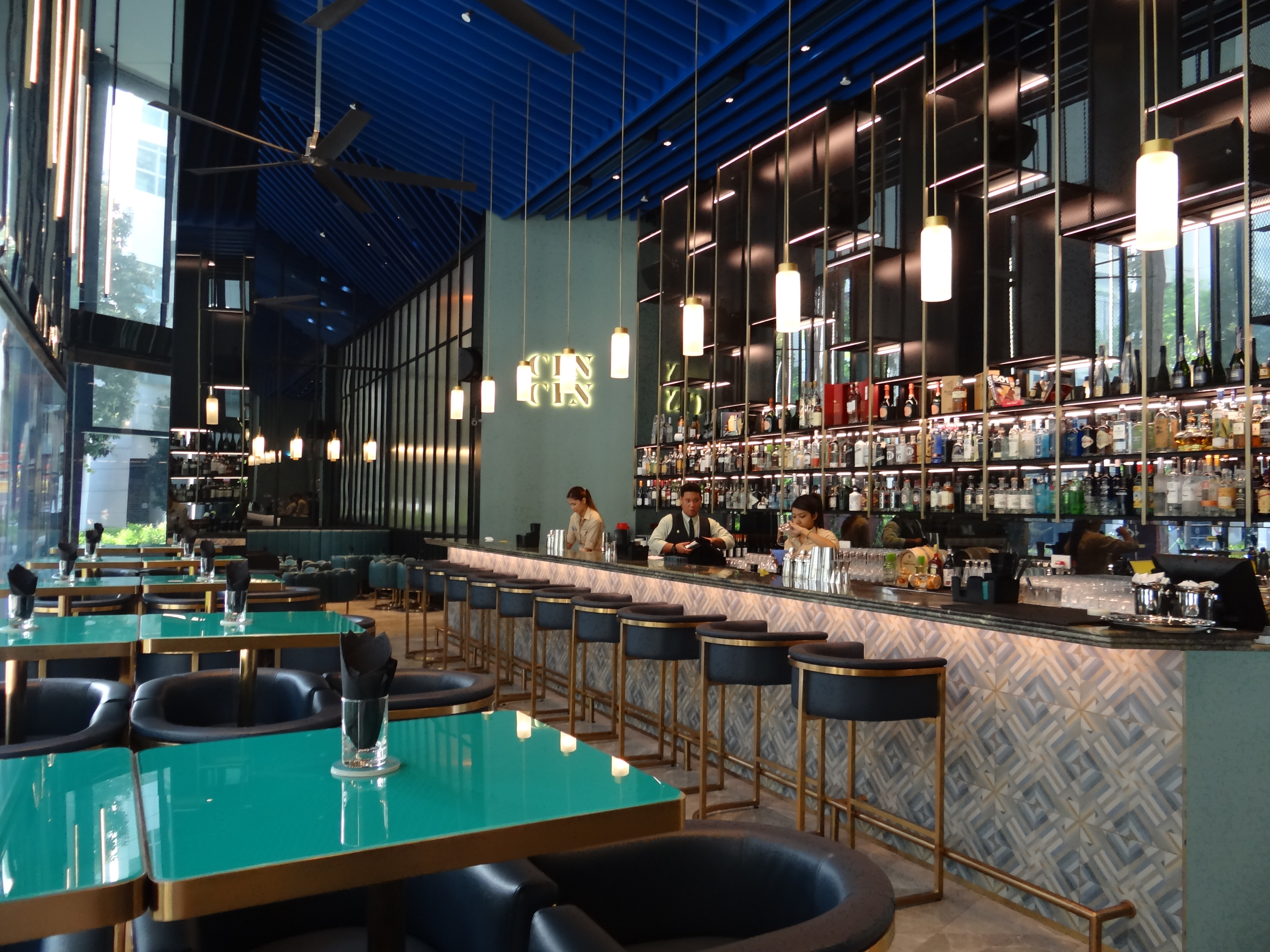 ©Exploramum and Explorason – Singapore – Oasia Hotel Downtown – Ground Floor CIN CIN Bar