Before we set out to travel the world, my son and I went through magazines. We cut out pictures and we made a 'Dream Board'.
This was four or five years ago now.
We added the places we wanted to visit, and things we wanted to do.
Not all managed to get onto the Dream Board, but many dreams were birthed in our hearts at that time.
For me, one dream I had was to stay on a canal houseboat in Amsterdam.
That was so many years ago. So I ask you.
Did YOU "Ever had a dream come true?" I did in Amsterdam
We have been in The Netherlands a few days now.
We started out exploring the more rural and smaller towns outside of Amsterdam and you can read about that here.
And earlier today we explored the city of Amsterdam and you can read about that here.
We had parked our car in a secure underground overnight parking building new the central station.  We had walked around all day with the backpack containing our things for overnight.  We don't have any perception of the size of Amsterdam.
First, we had headed to the Visitor Centre opposite the Central Station to get a City Card.  We used this City Card for the tram, and really we could have left the bag in the car and come back for it later.
That way we would have been able to check in after 2:00 p.m. for the houseboat in Amsterdam, instead of the 4:00 pm that I had selected. We could have enjoyed it for longer – darn!
When we arrived at the houseboat in Amsterdam we were so tired. We had walked all day, and with a heavy load.
I was so tired from traveling fast the last few days; weeks; and months!  I was really thankful there were a few things there so we could make a nice hot drink.
I sat out and watched the world drift by. Explorason was off exploring the houseboat.
Looking through portholes and making new discoveries.
He instantly decided we should live on a boat.
It will be interesting to see if we ever do.
As we headed downstairs, it felt very safe and secure too.
This houseboat in Amsterdam was lovely and freshly painted and clean. The light and airy feel were superb.
I loved the sheepskin on the couch, and the various lights scattered around too.
It had a great bathroom and all was very compact and functional too.
There was a sofa bed that turned into an extra bed. we were going to make this up for Explorason, but I talked him into sharing the double bed with me.
Mainly because there was a cute porthole right by our pillow. (We swapped the pillows to the opposite end for the night).
As it was moving into summer, the days were getting longer, and the evening took a long time to come upon us.

So it was really cool for this kid to lie in bed and look out of the porthole.  Who needs a sofa? Who needs a TV?  This was a living experience to enjoy.
I think that is what I liked most.  When we really do relax like here, it is "being in the moment that counts".  I had that experience here, and so it was special for me.  To stop and let the world drift by, and to sit and watch it with my son. Doing nothing. Just being in the moment.  We had talked about this when we saw Thai monks at Keukenhof the other day too.
We ended up walking back to the car after all.  There was a bag of food in the car, and we had to use it up as this was the last night before we head on the ferry from The Netherlands to the UK to take our car back there.  So rather than waste it, we decided to go and fetch the food and cook a dinner.
After all, we had a fridge and a great little kitchen.
We ended up 'slapping up' a pretty nice dinner.
I sat out on the deck and had a glass of wine.
We ate up there too Until the odd mosquito decided to annoy us, so we headed in.
So as it became dark around 10:00 p.m., we looked out to see the lights go on the bridge.
We lay around in the cozy houseboat, again watching out the portholes as boats glided by, and realized that this was my dream come true.
I was "Living the Life I imagined!"
To many of you who have heard the saying "follow your dreams", or "dreams do come true", then I can testify that they do.
Do not give up on your dreams.
Mine came true staying on a houseboat in Amsterdam.
Your dreams can come true for you too.
Believe in your dreams – you can achieve them.
And remember to enjoy the moment when they do come true!
………………….
Accommodation Name: A358 Amstel – B&B on a Houseboat
Location:  252-G Amstel, Amsterdam 1017AL, Netherlands.
Telephone:  +31.6.4671.6676  Skype: Amsterdambooknow
email: info@amsterdambooknow.com
Website: http://amsterdambooknow.com/
Facebook: https://www.facebook.com/AmsterdamBookNow
Date stayed: May 2015
Breakfast: No – Be aware BnBs in Amsterdam only provide beds – not inclusive of breakfast unless specified.
Although this is called a B&B, there is no breakfast included.
Bar: no
Kitchen: yes
Wi-fi:  yes
ChildChild-friendly suitable for smaller children, and suggest a life jacket if you bring them on board.
Check with the owner prior to booking.
The sidewalk is narrow and even adults need to hold a rail.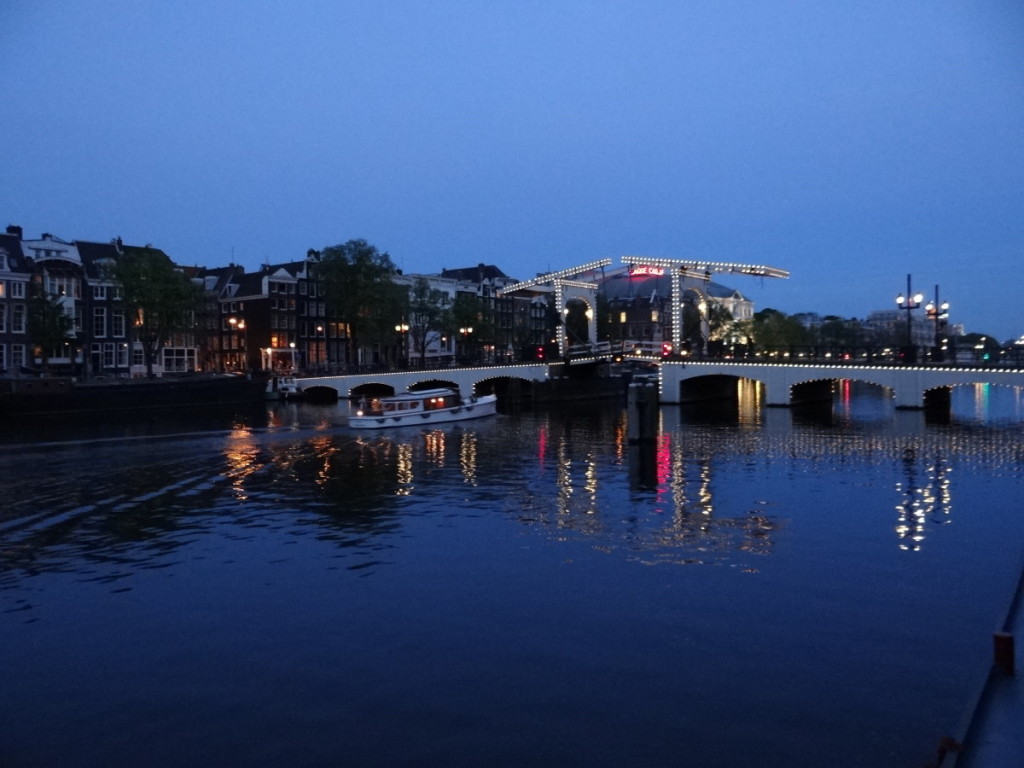 Disclosure – I would like to thank Amsterdam Book Now and Amsterdam Marketing for all their assistance. These are solely my personal opinions/experiences and I was not financially compensated for this post.
Amsterdam Marketing: www.iamsterdam.com De Ruyterkade 5 | Amsterdam
T +31(0)20-7026032 (direct) | T +31 (0)20-7026100
*Disclaimer / Photograph Consent:   Amsterdam Book Now herewith declare that they give permission to include footer of Houseboat A358 to use on website www.exploramum.com and all associated social media.